Shipyard Shakedown
By Joe Hudspeth, Vice President of Business Development at All American Marine, Inc.
Shipyard selection, whether it involves newbuild or repair, can be a daunting task. It doesn't have to be that way.
Selecting a shipyard is a challenging proposition, an investment really, but how does one choose the right one? Location, capabilities, price, and availability are always among the first variable to consider. Equally important, but sometimes relegated to secondary concerns are craftsmanship, safety, integrity, and technology. On the other hand, some operators remain tied to the same yard forever, owing to a comfortable familiarity and/or simply due to a lack of consideration.
With respect to the Jones Act, the U.S. still enjoys a healthy shipyard industry with yards dotting most maritime communities nationwide – something to strongly consider, the next time reform is mentioned. Today, there are many yards to work with, not all are the same, and by establishing a few priorities, setting realistic expectations, and knowing what to negotiate will smooth out the process and ultimately, drive successful results.

Betting on a Newbuild
Finding a new shipyard for new vessel construction is very much like walking down the Vegas strip in search of the most propitious casino. If you are a new vessel buyer, you may feel like you are holding all the cards as shipyards across the country would probably love to have your business. Vessels can easily ship from coast to coast via ocean liner in as few as 20 days – so the west can play in the eastern division and vice versa. The risk is realized once you step up to the table, throw down a stack of cash, sign a contract, and indicate that you are all-in. But, just because the dice have now been thrown, it does not have to take nearly a year before you discover winning success.
Seek a shipyard with in-house design capabilities, or least aim for one in with prior experience dealing with the desired design firm. Avoid coming to the yard with pre-paid and pre-designed plans as the yard will be forced to interpret and redesign according to in-house construction practices. This will add additional time and cost. If necessary, select a designer to represent your interests, but have them work in conjunction with the yard to get on the same page before a bid and contract are created.

Numbing the Bite of Repairs
Taking your vessel to the repair yard is akin to a dentist visit. No one ever wants to go, but you have to before things get worse. Anxiety looms over what damage may be found and there is always concern regarding how much it will cost before all is said and done. Location is critical, as getting in-and-out as quickly as possibly is the only way to mitigate downtime and revenue loss. Vessel owners are sometimes limited in their selection of a preferred repair yard and can be at the mercy of any yard with availability and adequate hauling capacity for their particular vessel. Owners in the position of settling for the backyard yard as opposed to a properly vetted one should be upfront that they want a clear scope of work, itemized estimate (avoiding allowances), and a commitment to minimize change orders. Arguably, yards with a history of welcoming change orders are either unscrupulous or not experts in the work they perform. Change orders are not bonus revenue and always come at a cost for both the owner and yard.

Setting Up for Success
A lot can be said for a yard that stays clean and organized on a regular basis. This is perhaps the best indicator of quality, pride, and commitment to safety. Ask your yard about their safety record, safety program, and make sure you get a safety briefing before entering the yard. Surprisingly, many owners fail to inquire about the shipyard's internal communication and information dissemination process. A good system will document work requests from either the owner or project manager, resulting in both a tracking log and specification revision that eventually flows back to a contract modification. Similarly, expectations should be set in the contract regarding the level of quality and inspection as well as a defined role for the owner or owner's representative.
While it is helpful to have an owner's decision maker on site at various times to expedite feedback and approval(s) at certain stages, it can also be a distraction to have the customer hovering, which in turn slows the process. The best balance involves customer meetings with the project manager on a regularly scheduled basis. All good contracts must include a decision-and-supply schedule that provides a commitment of progression by the shipyard and expectations set for involvement of the customer for owner-furnished equipment, determine preferences, and sign-off at points of inspection. Keep in mind that owner furnished equipment is not always a money saver, as the shipyard will never quite know what they will get and OEM support will be limited on used goods. The yard is forced to charge a premium for all these unknowns.

Doubling Down
With any yard work, most problems will not appear until after the vessel is launched and sea trials have commenced. This timeframe also coincides with pressure from the owner to take delivery and put the vessel into service. The builder will need adequate time to complete a thorough set of dock trials and sea trials. It really is not the builders fault if an OEM supplied part has failed at commissioning and its replacement will delay delivery by a week or two.
Defensive customers will seek to insure against such potential delays by inserting terms for liquidated damages into the contract. While liquidated damages can be motivation to keep a yard on schedule and may provide some relief against delays, they can also backfire by causing the yard to cut corners and rush. Very aggressive contract language and schedules complimented by hefty liquidated damages may also be enough to make even the best shipyards to walk away from quoting a project in the first place. If liquidated damages put you at ease, be willing to also provide incentive pay for early completion. Bonding is another layer of protection, but unlike liquidated damages, the cost is realized from the get-go. Taking the less legalistic approach and employing a skilled owner's representative may prove to be a win-win for both the yard and owner as a more tangible investment.

Great Expectations
The end goal is for both the operator and the shipyard to end up in a good position to do business again in the future. That being said; some business just isn't worth it. Savvy yards will steer clear of customers who are notorious for being litigious or have a history of leading yards down a path towards financial trouble, through demands, debates, or payment delays.
Shipyards are loath to turn down work due to the poor planning of operators, hence, if you need to do scheduled maintenance and repairs – then go ahead and schedule it. If you think you need a new boat for next season, don't wait until the current season is over to secure a build slot. For new construction or major overhaul work, lead times can range from 18 months to 2 years, especially in what has been in the last five years, a robust up cycle for U.S. yards. The best yard experiences begin with realistic expectations, fair contracts, and sufficient compensation which will create a lasting partnership and ensure smooth sailing for next time.

(As published in the April 2015 edition of Marine News - http://magazines.marinelink.com/Magazines/MaritimeNews)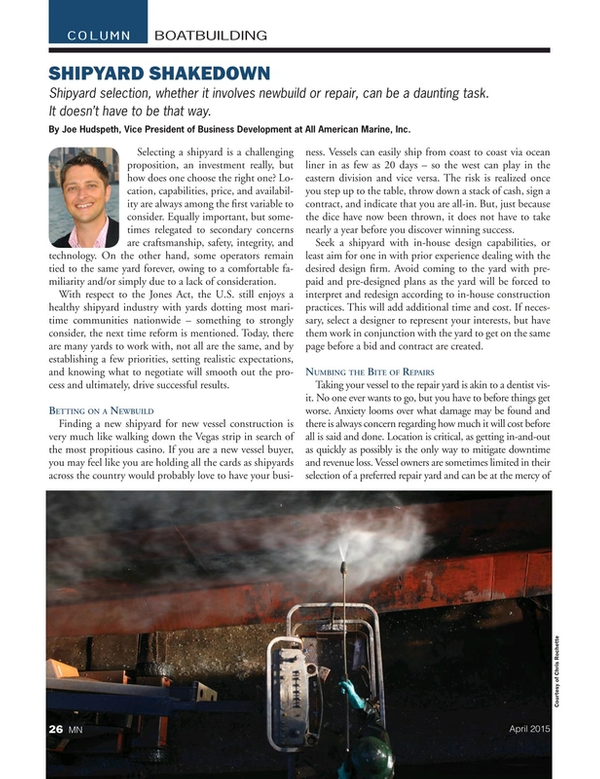 Read Shipyard Shakedown in Pdf, Flash or Html5 edition of April 2015 Marine News
Other stories from April 2015 issue
Content