U.S. Coast Guard Looks beyond Mooring Lines
By Brian Hostetter
Strength, Safety and Sustainability are at the heart of this Homeland Security stakeholder's mission set.

For over 30 years, high performance fiber rope manufacturer Phillystran has worked with the U.S. Coast Guard to supply mooring and towing lines. As innovations in fiber rope technology have enabled lighter and stronger ropes, the Coast Guard has not been slow to take advantage of these and other developments.

In step with most maritime stakeholders, NAVSEA approved fiber ropes are widely used by the U.S. Coast Guard. The advantages are obvious; fiber ropes are lighter and easier to handle than steel wire ropes and are just as strong, if not stronger. Applications range from routine mooring and towing lines to the provision of lifelines together with boat preventer stays, lashing ropes, rigging lines, through to 'fast' ropes for Coast Guard Maritime Security Response Team helicopter deployment.

Improving With Every Change
A common thread, often discussed, is the rope industries' ability to 'fine tune' rope materials to meet the challenging and rapidly changing requirements of the Coast Guard. There is a continued push for lightweight materials that increase safety, are easier to handle to reduce labor hours and are more suited to the changing demographic of Coast Guard crew personnel. New materials for mooring and towing ropes with higher strength and smaller diameters have outstanding handling properties, combined with high energy absorption capability and abrasion resistance. For example, when compared to a steel wire rope of the same size, these new ropes will match the breaking strength at only 20% of the weight.
Rope construction, too, has played a part. In addition to the traditional 12 strand rope constructions, four and seven strand wire lay constructions have emerged for dock mooring lines, (floating) dry dock tending lines, breast lines, storm lines. As well as being stronger, these ropes are easier to splice. Typically, they comprise four aramid fiber strands around an independent synthetic core, with a range of jacket types to protect the rope from abrasion and thus increase rope service life. Typically, ropes are supplied with an eye splice suitable for the size of quayside bollard. As part of their training, coast guard personnel are taught how to splice ropes in the event the rope is damaged, or, conversely, simple wear and tear dictates part of the rope is removed.
Taking advantage of the broader rope selection, Coast Guard vessels use a mix of ropes for mooring and towing that on one hand provide the levels of service needed, but also raise the bar for rope knowledge and handling.
Compared with steel wire ropes, fiber ropes need more careful handling. The desire to reduce the effects of abrasion on the rope caused by rubbing against a rough surface on a bollard, for example, has led to the development of jacketed ropes where the core load bearing rope is protected by a non-load bearing jacket made from a hardy, resistant yarn. While the jacket does a great job, it can make the ropes difficult to inspect for signs of damage. If damage to the rope is suspected, the rope industry recommends the jacket be cut and a visual inspection made after which the jacket can be repaired. Ropes breaking in service is a rare occurrence and a generally caused by shock loading or over loading the rope. To provide early warning of a rope failure, reduced recoil ropes have been developed in consultation with both the U.S. Navy and Coast Guard.

Reduced Recoil
So far, fiber ropes made from HMPE (high modulus polyethylene) and Aramid (Twaron or Kevlar) have been developed with a reduced recoil feature. In the event the rope has been overloaded previously, one of the rope strands will break giving an early warning that the line is about to fail, allowing crew to get to safety before the line completely parts. The sequential strand break technology together, with the rope's outer abrasion resistant, protective jacket, significantly reduces the effect of the rope's recoil. This is an important safety feature which is now mandated on many US Navy and Coast Guard vessels. These reduced recoil ropes have been specifically designed for mooring lines, headlines, and breast lines, but can be used for any application where rope overloading is a potential risk.

Safer Lifelines
The availability of high tenacity, high performance yarns and finishes has broadened still further the maritime applications for ropes. High tenacity polyester fiber, for example, provides excellent dimensional stability in the manufacture of ropes for naval applications and is ideal where moderate elasticity may be useful, but superior strength and durability are essential. Both the Navy and Coast Guard have been quick to identify new and novel uses for these materials.
In particular, the Navy addressed the challenge of safety concerns emanating from using steel wire lifelines due to metal "fish hook" injuries and the risk of failure of corrosion-weakened steel wire ropes. Aramid fiber ropes, on the other hand, provide the strength and low-stretch characteristics of steel, yet are also lightweight and noncorrosive, making them an ideal replacement for steel cables in hand rails, as well as jackstaff and canopy-awning lines, boat gripes and spanwires, lashing ropes and rigging lines and boat davit preventer stays.

Antennae Enhancing
An unexpected side effect of replacing ship steel hand rails with Aramid has been a significant improvement in antenna received and transmitted signal patterns. The dielectric properties of Aramid, and other fiber ropes, coupled with its electrical transparency has eliminated Inter-modulation interference (IMI) and Electromagnetic interference (EMI), as a result the US Navy and Coast Guard have approved Phillystran rope for mast and antenna stays. Replacing steel wire stays with fiber rope also removes the need for painting, greasing, and de-icing. Moreover, the rope's resistance to corrosion from sea water and stack gases greatly increases the length of service life.
Unlike mooring and towing ropes, mast and antenna stays require a special termination where the Aramid is bonded to the end termination. Typically, these Aramid fibers terminations can have up to 1.7 million pounds breaking strength and are supplied as a complete assembly and fabrication for Lifeline and Flagstaff guy lines based on Navy approved, termination technology.

Beyond Safety – Sustainability Also Counts
It is safe to say – no pun intended – that the U.S. Coast Guard's selection and use of high performance synthetic fiber ropes places it at the forefront of maritime rope users. Along the way, virtually every opportunity to take advantage of the benefits of fiber ropes over steel wire has been taken. Looking ahead, and acknowledging the growing concerns about sustainability and the maritime environment, the Navy along with the rest of the maritime industry is now being challenged to look at alternatives to current rope disposal practices and in doing so, is taking into account the whole life cycle of their ropes.
Polymers used in fiber rope yarns are not biodegradable and so Phillystran has begun looking at ways to repurpose the ropes when they reach the end of their service life. To that end, it is drawing on Lankhorst Ropes' rope recycling know-how within the wider WireCo WorldGroup where the company has successfully recycled rope yarns as alternative plastics products such as picnic sets, plastic poles, planks and even complete landing stages, riverbank bank protection boards and bridges. The approach has been to design the rope to be recycled at the outset. Phillystran is deploying a similar methodology with ropes that continue to set the pace for fiber rope performance while building in recyclability. The number of recyclable ropes is relatively small at the moment but growing. For example, and over the next 5 years, it is expected that the majority of Naval and Coast Guard ropes will be recyclable.
The U.S. Navy and Coast Guard's willingness to embrace the use of fiber ropes has encouraged manufacturers to raise their standards and ability to provide technical support, as well as advice on rope selection, construction and terminations. It also challenges the rope manufacturer to raise their game from supplier to 'problem solver' in a constructive working environment where both sides are looking to achieve a common goal – excellence in the application of fiber ropes – before, during and then after the lifespan of that rope has expired.
Brian Hostetter is Marine Sales Manager at Phillystran, a WireCo WorldGroup company, based in Philadelphia. A technical sales professional, Brian has worked in the Maritime (Navy) and Oil and Gas market for the past 10 years since joining Phillystran in 2004.
This article first appeared in the February print edition of MarineNews magazine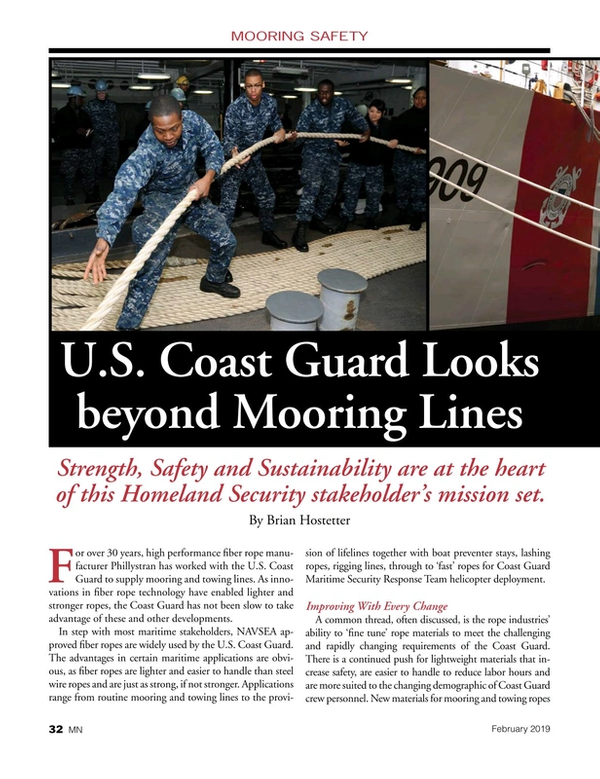 Read U.S. Coast Guard Looks beyond Mooring Lines in Pdf, Flash or Html5 edition of February 2019 Marine News
Other stories from February 2019 issue
Content