Ports of Indiana: Big Successes, with Big Projects in the Wings
By Tom Ewing
For Indiana's state-established, but autonomous Ports of Indiana, 2018 was a record setting year, both for system-wide numbers and among the three individual Ports. These consist of Burns Harbor, on Lake Erie; Jeffersonville, on the Ohio, across from Louisville, KY; and Mount Vernon, also on the Ohio River, about 140 miles downriver from Jeffersonville.

Not only were actual numbers robust, but Port officials reported "unprecedented tonnage increases" within the three-port system. Total system volume was 14.8 million tons of cargo; a 25% increase over 2017 and a 21% increase over 2015, the previous record-setting year. Moreover, the statistics have depth – each quarter saw a new tonnage record. Beyond this, 2018 was the fifth consecutive year that the Ports handled more than 10 million tons of cargo.

Key Drivers
Key drivers in 2018 were coal shipments (up 58% from 2017), soy products (up 26%) grain (up 17%) and steel (up 4%). Burns Harbor and Jeffersonville collectively shipped more than two million tons of steel, each Port's largest commodity. Mount Vernon, which has been breaking volume records for the past four years, handled 61% more coal this year than it did it 2017, and experienced increased shipments in ethanol, soy products and dried distillers grain.
Mount Vernon Port Director Phil Wilzbacher said that "continued strong international demand for coal sourced from the Illinois Coal Basin, overseas and domestic demand for agricultural products and investments to increase Port capacity" were the critical factors underlying this success. Mount Vernon, covering 1,240 acres and 8,000 feet of Ohio riverfront, is one of the largest inland ports in the country. Not only did it set quarterly records all through 2018 but it had two monthly peaks: May was a record breaker, then December tonnage surpassed May.

The C-suite View
Vanta Coda II is the new CEO at Indiana Ports, officially taking over on July 1, 2018. Coda has an extensive background in maritime and multimodal operations on the Great Lakes, the Gulf of Mexico and the Ohio River. He was most recently the executive director of the Duluth Seaway Port Authority.
Coda was asked about factors driving the Ports' growth and how that growth is linked to its 2019 business plan. Infrastructure development, Coda said, is at the top of the list. "The Ports have significant projects through (DOT's) FASTLANE and TIGER (grants) that we will be completing," Vanta explained, adding that "we are reinvesting in the infrastructure that draws traffic."
Those DOT grants are for rail-multimodal projects. In addition, though, Mount Vernon is investing approximately $2 million in its general cargo terminal. That work includes replacing a 60-ton overhead gantry crane – a project that actually started last year – capable of transloading any general cargo between barge, rail, truck and the warehouse.
Another big transportation project underway at Jeffersonville will establish new direct highway connections, for heavy trucks, from the Port site to I-65, I-71 and I-64, all of which converge near the Port, within the Louisville, KY metropolitan area. Coda described these types of investments as "long-term plays because in our industry we, metaphorically, run marathons."
Regarding markets, Coda was asked whether shifting, and unsettled, federal tariff issues were impacting Ports' business. He said that tariff actions "have caused some degree of dislocation in the supply chain," adding, "the Ports are being "affected negatively and positively by these (tariff) actions." Nevertheless, he conceded, that it will take time to assess long-term impacts from the tariff uncertainties.
Coda said that "agriculture and steel form the bedrock of our system in Indiana." One operational change at Jeffersonville is that trucks are now hauling more steel because steel imports are down. Coda expects, however, that these perturbations will play out and wane. Confident that trade policy negotiators will resolve tariff issues, he offered, "Neither side benefits from a protracted high-tariff environment."
Regarding coal, the Ports are benefiting from continuing, strong international demand for coal, again, sourced from the nearby Illinois coal basin. Coda said these coal operations had a "significant effect" on Mount Vernon's 2018 coal volumes. He said that the world market is "still a relatively strong market for coal." Conversely, in the United States, it is Coda's view that coal has bottomed out and that natural gas is stabilizing, a status linked to the fact that electric generation utilities have taken inefficient plants off line.

Building for the Future
The completion of the Olmsted Locks and Dam this past summer is another big positive for Port operations. Roughly 100 miles downriver from Mount Vernon, Olmsted is already eliminating extensive – and costly – delays. This has obvious operational and logistical benefits. The Ohio River is working "a lot better for the inland water carriers," Coda said. Additionally, though, and importantly, Coda added that "the greater efficiency on the Ohio River creates opportunities for us." One reason: Port services are subject to less risk, schedules are now more dependable because of reduced delays.
Indiana Ports' year-over-year growth is impressive but it's important to keep in mind that it's occurring even before the completion of two big rail multimodal projects at Jeffersonville and Burns Harbor. These aren't incremental projects – they will really scale up operational assets and abilities, promising big payoffs. The projects – both partially underwritten by US DOT/MARAD grants – have been in planning for a number of years. They should be ready to come on line this year and in 2020.
Jeffersonville received a $10 million TIGER grant in 2015. This will enable unit train delivery to and from the port and reconfigure waterfront rail infrastructure. It also promises to increase operational efficiencies and allow development of a new intermodal facility. These changes could more than double the capacity of rail to barge transfers.
The Jeffersonville construction project has started, in phases. A first phase - 1,650 feet of new railroad track – was completed last summer. Next, bulk-to-barge terminals will be under construction during the first quarter of 2019. Total project cost is $17 million; a full funding package was not available for review.

Burns Harbor: take the Train
The Burns Harbor DOT grant, awarded in 2017, was for $9.85 million. Total project cost is almost $20 million. It's worth a closer look at some of the details. Specifically, the overall project includes a new bulk transload facility and expansion of the east side rail yard; Dock and apron improvements and a new west side rail yard; and a new truck marshalling yard.
The new transload facility includes construction of a 2.3-acre bulk berth facility with a conveyor system and bulk truck-rail dump. New mooring cells will provide a dedicated space for high-speed loading and unloading of waterborne vessels with trains and trucks and the conveyor will establish a direct link for rail-to-water, meaning that trucks won't have to support all intermodal transfers.
The new rail yard will have capacity for 93 rail cars and the current single-track will expand to four unrestricted tracks complementing the conveyor system and rail dump. The new yard will accommodate a 75-car unit train, allowing increased grain terminal shipments and a chance to take on new commodities currently transported by trucks.
A series of new connections will allow rail freight to bypass congestion at Norfolk Southern's (NS) 19-track switching yard, moving to new Port-owned tracks that will allow the Port to take on its own switching duties, with big operational benefits. Another new rail yard, on the Port's west side, will have capacity for 90 rail cars on US Steel's 57-acre parcel. All told, Burns Harbor rail storage will go from zero to 2.3 miles.
Dockside improvements at Berths 16 and 17 will support an increase in maritime freight at the Port's western end adjacent to the new west side rail yard. These upgrades will add 1,200 feet of dock space. Taken together, the dock and rail improvements will deliver a significant increase in maritime capacity at Burns Harbor and create the potential for intermodal synergies not currently possible.
The new six-acre truck marshalling yard at the southern end of the Port will accommodate a total of 135 75-foot trucks across 15 lanes. Two environmental efforts are also worth noting: parking runoff will be collected and treated to avoid contaminating Lake Michigan. Additionally, the marshalling yard will be signed as an idle-free zone providing significant reductions in exhaust and greenhouse emissions, a huge concern in many larger multimodal ports.

Unanswered Questions, Unlimited Upside
The DOT/MARAD work at Jeffersonville is underway. The Burns Harbor work, though, has not yet started. Coda would not discuss total project financing at Burns Harbor. It remains unclear how the project's $20 million package is funded beyond the $9.85 million federal grant. Despite direct links to Norfolk Southern's trackage and facilities, NS is not contributing to project funding, Coda said; neither is NS involved in any aspects of the Port's rail upgrades.
Coda said that the Port and MARAD finalized their grant agreement in late 2018. In January, the Port issued two RFPs for rail development and general engineering. Coda predicted that "we will be getting shovels in the ground on two of the five segments later this year. We are on schedule and on budget." He said all projects will be complete in 2020. If so, the future is bright indeed for the Ports of Indiana.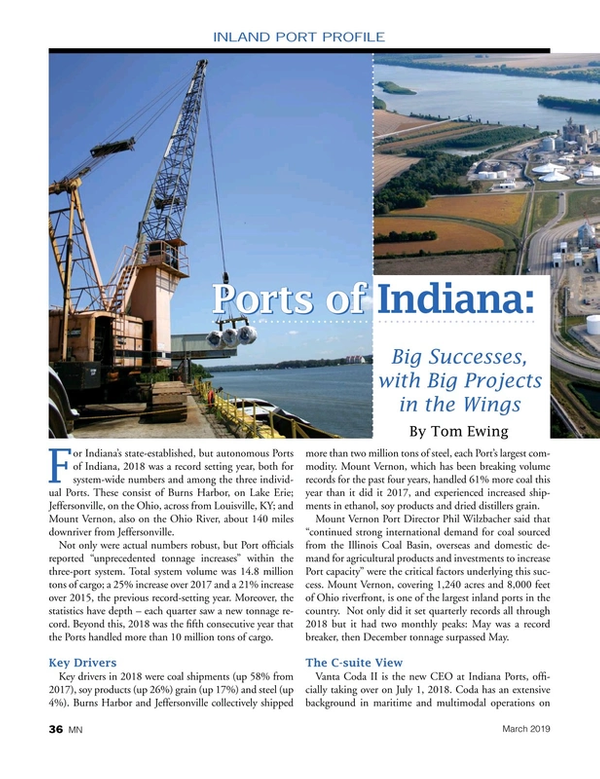 Read Ports of Indiana: Big Successes, with Big Projects in the Wings in Pdf, Flash or Html5 edition of March 2019 Marine News
Other stories from March 2019 issue
Content