Support for Uniform National Discharge Legislation Builds
By Joseph Keefe
AWO Pushes VIDA as the solution to the confusing patchwork of federal and state regulations that makes compliance unnecessarily complicated and costly.
Even as the ballast water treatment issue becomes more and more confusing – both here and abroad – a united coalition of maritime stakeholders has expressed strong support for S.373, also known as amendment number 3170 (for the current energy bill). The law, known simply as the Vessel Incidental Discharge Act (VIDA), would establish a nationally uniform and environmentally sound standard for ballast water and other vessel discharges, in lieu of the current overlapping patchwork of federal and state regulations that makes compliance complicated, confusing and costly. The ongoing effort is the product of seven years of work spearheaded by the American Waterways Operators (AWO).
Today, regulations from the U.S. Coast Guard, the Environmental Protection Agency and as many as 25 individual states have spawned more than 150 state-specific requirements. Backing the unified AWO approach include nearly 60 organizations representing U.S. and international vessel owners and operators; fishing vessel, passenger vessel and charter boat operators; labor unions; industries that rely on marine vessels to transport essential cargoes in domestic and international commerce; marine terminals; and port authorities. Separately, (identical) companion legislation was also introduced in the House of Representatives in August of 2015.
AWO Vice Chairman James Farley, President of Kirby Offshore Marine, explained at a Senate Commerce Committee hearing last February, "The problem is not that vessel discharges are regulated; it is how they are regulated. The current unclear and inconsistent regulatory system makes compliance confusing and investment decisions uncertain."
In October, the U.S. Court of Appeals for the 2nd Circuit ordered the Environmental Protection Agency to reassess the standard to which it requires vessel operators to treat ballast water to prevent the spread of invasive species. EPA's current ballast water treatment standard, which is aligned with the Coast Guard's, is widely believed to be the most environmentally protective standard that can be achieved with existing commercially available technology. But, the recent ruling adds further uncertainty to an already untenable situation for vessel operators, and reinforces the need for Congressional action to fix this broken regulatory regime.
SITREP: VIDA
In March, Marine News caught up with Craig Montesano, AWO's Vice President for Legislative Affairs, who provided a close-up on the progress of VIDA inside the Beltway. Montesano, in two decades of experience in field of government affairs, has served in positions in the legislative and executive branches of government and in the energy industry, including the office of Congressman Frank A. LoBiondo and NOAA. Arguably, his work on the Hill on behalf of AWO stakeholders is his most important assignment ever.
AWO had hoped to get the VIDA language placed into the Coast Guard Authorization Act. But, that didn't happen. As Marine News was going to press, AWO had set their hopes on the Energy Bill. Montesano explains, "The problem there was simply time. And I think that there was a desire on a lot of our supporters to bring the Coast Guard bill to the floor and move it along that way." Beyond that, he admits, "Since VIDA is a somewhat controversial issue, it necessitated basically pulling VIDA out of it and letting the Coast Guard bill proceed without it. So, a tactical setback, but the plan moving forward had always been let's try to attach VIDA to any piece of viable legislation that is going to be moving from the Senate – that's how the energy bill figures into this. We see a real opportunity to attach the VIDA amendment to that bill and push it out of the Senate that way."
Defining VIDA
When it comes to defining what exactly VIDA will accomplish, Montesano distills the entire process down into one neat package. "The purpose of VIDA is to enact a single, national standard for the regulation of ballast water and other vessel discharges. That's important because it provides a regulatory certainty, number one, for our members who build new vessels. And right now, the uncertainty that comes with the building or even the refitting processes, if I install a ballast water treatment system, will that system be acceptable wherever this vessel calls?"
Unsuccessful in using the Coast Guard Authorization bill, and now, trying with the energy bill, Montesano is confident that the VIDA language will pass at some point during this session of Congress. He adds with enthusiasm, "We're very optimistic about our chances. We have the support of several key figures in Senate leadership on both sides of the aisle, and we'll be working with them and our cosponsors to push this forward, but we're feeling very, very good."
Meanwhile, back on the local level, progress is also being made. And, that's important because just because the federal government passes a statute doesn't mean that the states won't chafe under its yoke. According to Montesano, New York sent a letter to EPA that endorses the idea of a national standard. Separately, California, late last year, actually enacted a long-term delay of implementation of its ballast water standard. And, Montesano insists, "We believe that the California – what California did last year, in essence, made the closing argument for the need for a national standard."
Beyond the need for a uniform standard, AWO says that the bill will save the taxpayers a lot of money.
Montesano explains, "Precisely. There's really no need for duplicative federal regulations. In fact, there's an attorney who works for the American Maritime Partnership who, having done a survey of federal regulations, is convinced that this is the only instance where you have two federal agencies regulating the same thing." Asked who would ultimately be in charge of a uniform standard, Montesano responds without hesitation, "That's an excellent question and VIDA does define that. Under VIDA, the Coast Guard would be responsible for – in consultation with EPA – for developing and implementing the standard and enforcing it." He went on to tout the value of including EPA expertise on the ballast water and vessel discharge regulations. "You don't want to lose that expertise, but at the same time, dual federal regulation is not a construct that works. So the lion's share of the implementation would be on Coast Guard – as well as enforcement – and we think that since they are the maritime agency, that they are best-equipped to handle that." He continues, "It is also worth mentioning that the second circuit remanded VGP back to EPA, and so that certainly raises the potential of EPA redeveloping its VGP in such a way to exacerbate the problem of two federal agencies regulating the same thing."
State's Rights: in the Mix
Ending the federal question, however, doesn't necessarily prevent states from pushing back. We asked Montesano what would happen in the case of legal action on the part of an individual state, post-enactment of VIDA. "My 'crystal ball' is no more clear than anybody else's, so I wouldn't want to get into the business of predicting what might happen after the bill is signed into law, but to go back to your original premise, for us, this is definitely an interstate commerce issue. The patchwork of regulations potentially impairs the ability of our members to deliver goods from point to point in a low-cost manner."
Addressing the issue of disagreements directly, he added, "The states still do have a role – first of all, they can petition for a higher standard, and if the Coast Guard determines that that standard meets the necessary criteria, they could nationalize a state standard. So there's that. Second of all, there's a lot of latitude for states to work with the Coast Guard in developing vessels' discharge regulations in ways that are tailored to the concerns that states have for their water. So whether it's biofouling in Hawaii, other concerns in another state, there is that latitude ... it gives them an avenue to petition for a higher standard and to work with the Coast Guard in developing sensible and state-oriented vessel discharge regulations." Because of that, support for VIDA is building.
At AWO, they are confident that the end of the legislative process is near, and that means the beginning of the "problem solving" can begin. And, that's good news for everyone.
(As published in the April 2016 edition of
Marine News
)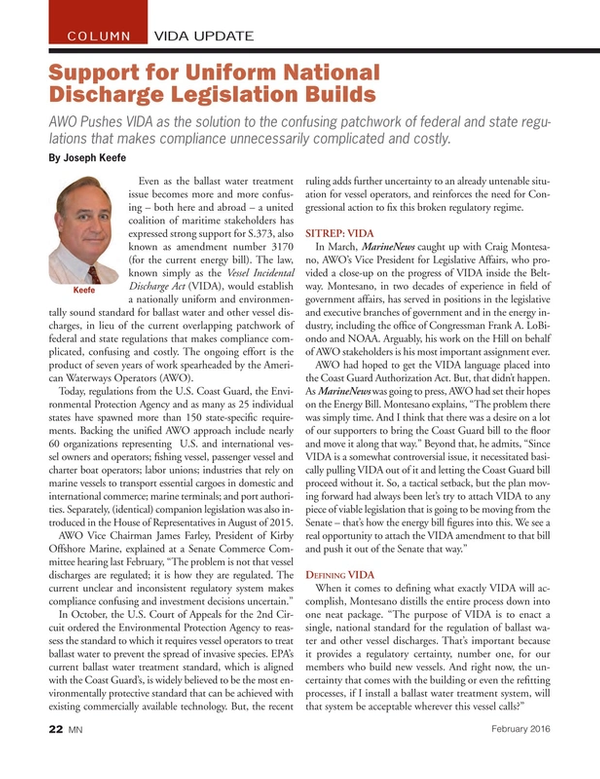 Read Support for Uniform National Discharge Legislation Builds in Pdf, Flash or Html5 edition of April 2016 Marine News
Other stories from April 2016 issue
Content