Interview: Terry MacRae - CEO, HMS Global Maritime
Marine News
Terry MacRae founded Hornblower Yachts, LLC (doing business as Hornblower Cruises & Events) in 1980, and serves as Chief Executive Officer, the President and is also its owner. MacRae is the Co-founder of HMS Global Maritime and the American Queen Steamboat Company, and serves as Chief Executive Officer of Alcatraz Cruises, LLC, Statue Cruises, LLC, Hornblower Canada Co., Hornblower Cable Cars, Inc. and HNY Ferry, LLC (doing business as NYC Ferry). He leads one of the largest and fastest growing charter, dining cruise, and ferry operating companies in the nation.
Among other things, MacRae is an expert in the design, renovation, construction and operation of green/hybrid passenger vessels, and a highly regarded leader in the fine dining, entertainment, tourism, and ferry transportation development sectors. He leads the team that successfully won 10-year-long contracts, awarded by the National Park Service, to provide the exclusive transportation of visitors to Alcatraz Island, and the Statue of Liberty National Monument and Ellis Island Immigration Museum, the contract to provide boat tours to the Niagara Falls in Ontario, Canada, and most recently won the NYC Ferry (Citywide Ferry System) in New York, NY.
He began his career as an environmental engineer with Industrial Clean Air, Inc. Quickly climbing the corporate ladder, MacRae served as Vice President and Vice President of Sales following the acquisition of Industrial Clean Air by Ecolaire Systems, Inc., where he looked for exciting and memorable venues for entertaining clients and soon began frequenting Hornblower Tours in Berkeley. By placing a great deal of importance on customer service, safety and teamwork, he grew the original two-boat acquisition to a +80 vessel, $260 million company with over 2,000 employees, who will serve an estimated 12,000,000 guests in 2017.
He has served as President of the Passenger Vessel Association (PVA) and helped to create the joint U.S. Coast Guard/PVA Partnership Action Team and is a past member of the Society of Naval Architects and Marine Engineers (SNAME). Notably, he was selected as California Travel Industry Association's Entrepreneur of the Year in 1999. Active in other roles as well, MacRae also served in the past as a board member for San Francisco Travel, the U.S. Travel Association and as a Commissioner and Vice Chairman for the California Travel & Tourism Commission, which promotes travel to and within the state. He is currently the Chairman of the National Parks Hospitality Association an organization of national park concessioners, and the Chairman of the National Parks Promotion Council, and organization that promotes visitation to our national parks. Mr. MacRae is a graduate of California State Polytechnic University at San Luis Obispo with a Bachelor of Science degree in Mechanical Engineering. Listen in this month as one of the most recognizable stakeholders in the nation's ferry and passenger ship industry shares his thoughts on the current state of the domestic passenger vessel industry and where it – as well as Hornblower itself – might be headed next.
Hornblower's footprint across the maritime sector certainly has changed and expanded over time – mostly under your leadership. It also has many divisions. Tell us about your firm as it exists today.
Hornblower is a diversified organization established to focus on multiple segments of the passenger vessel side of the maritime industry. We provide commuter ferries, ferries to national parks, such as the Statue of Liberty through Statue Cruises and Alcatraz, overnight river cruises and corporate events, brunches and party cruises. The underlining theme across our various business units is to create an amazing experience for our guests.
Perhaps one of the most exciting stories of the year has to be the NYC Ferry system and the plethora of vessels being added to that system under your supervision. Give the readers a sense of how well that is going, how many passengers you are handling and any particular issues / problems that you've had to overcome while executing that contract.
Hornblower went to great lengths in order to design, build, finance and deliver a fleet in order to begin operations for NYC Ferry service on May 1st, 2017 with the launch of the Rockaway and East River routes to overwhelming success. A month later on June 1st, 2017, the South Brooklyn route launched followed by the fourth and final route of 2017, Astoria, on August 29th to complete the 2017 system milestones. With any project of this size, there are hurdles to overcome. We have what I believe to be the best team in the industry working day-in and day-out to make sure we have the safest, most reliable and efficient fleet. As things arise, we solve them and keep moving forward. In 2018, we will welcome an additional three 350-passenger vessels into the fleet and launch the Lower East Side and Soundview routes to fold the borough of the Bronx into one of the world's largest public passenger ferry systems. The entire system once completed in 2018, will operate 20 ferries and serve six routes spanning over 60 nautical miles of New York's waterways. Ridership for the entire system was anticipated at approximately 4.6 million riders. The widespread success of the ferry system is exceeding original projections. Demand for ferry transportation to specific summer-related destinations, such as Rockaway Beach, required proactive planning and unanticipated trips to service demand throughout the summer season. Even as we're heading into the winter, we're still seeing strong ridership from our core commuter base, which really shows us that we've built something that New Yorkers can rely on.
What's the next big thing scheduled to come out of your shop?
There are a lot of exciting things we are working on right now. In reflection on our work with the City of New York, I believe the turn-key solution we provided them is one that other municipalities can quickly adopt to get benefit of a public private ferry partnership, where Hornblower is the turn-key solution to design, build, finance and operate the system for the municipality for a fee. It's a simple and effective way for many municipalities to quickly expand their local transit options. I'm really proud of the work we've done with Hybrid technology. We built our Hybrid fleet to be flexible and to be able to plug-and-play with new power sources as they became available. We're seeing battery technology continue to improve as well as Hydrogen Fuel cells becoming more viable. There are some exciting things on the forefront and while I can't go into all the specifics, between expanded ferry opportunities, the propulsion systems we're working on, and additional overnight cruise opportunities - we're excited for the future.
What is the latest trend in passenger/ferry services and why? How is Hornblower involved and where are you showing leadership?
Hornblower has always been a leader in our industry. However, as one of my Directors of Marine Operations reminded me once, the cutting edge is very close to the bleeding edge. Not many others are willing to be the first adopter. We have continued to demonstrate advancements in hull design, propulsion systems, passenger technology and passenger services. Passenger technologies, integrations with third party services and collaboration with others are going to be a trend we see coming. Download the latest NYC Ferry app and come for a ride on NYC Ferry to see just a few of the advancements I'm talking about.
PVA's safety management system called Flagship. Tell us about it. Who is using it (are you?) and what are some of its measurable benefits?
Flagship is the PVA's SMS. It was developed through the PVA Safety & Security Committee, PVA members and PVA resources. Hornblower operates our own ISO integrated Safety, Environmental & Quality Management System called Respect Our Planet, which covers many of the same topics as Flagship, but with much greater detail to our operations. The PVA members are currently introducing Flagship into their operations. Wendella Sightseeing in Chicago is one of the first PVA members utilizing Flagship.
Arguably, the most frustrating aspects of the Coast Guard's casualty investigation and reporting processes are its perceived inconsistent application, inappropriate restriction of operations and an outdated reporting form. Has there been any progress in the past 12 months on this front?
Recently, the USCG has introduced new 2692 incident reporting forms and instructions into the industry. The feedback from our team is that has helped with some of those previously mentioned concerns.
If you had to choose just one issue that is facing your firm and other PVA members that you deem the most important to address in the coming year, then what would that be, and why?
As our natural waterways have become cleaner and more inviting to the recreational passenger industry, two areas are of interest. (1) The shared waterways of human powered vessels (hpv) and finding a way to operate safely for all users of the waterways. (2) Illegal charters and those boats being used that are dangerous to the waterways, by not operating within the same inspection structure and regulatory requirements. Additionally, those charters are potential lost business to the passenger vessel industry.
In a post-9/11 world, security has to be an issue of enormous importance to all passenger vessel operators. PVA, for example, has worked to exempt vessels of less than 150 passengers from security plan and TWIC requirements. At the same time, what has been done to improve the security awareness footprint of this class of vessel?
PVA recently released its latest update to their Alternative Security Program/plan. This program update includes focuses on some of the newer security threats known to the industry such as cyber security and introducing controls on that front. The beauty of the PVA security program or other programs is that they can be tailored to smaller classes of vessels, as operators deem best to serve their operation.
Are there any other regulatory changes looming for the industry that give you and your collective management team particular concern? If so, which ones and in what ways do the new rules impact operations?
At any point the Jones Act is discussed, it brings attention to our industry. The modern maritime industry is built from the Jones Act and our operations and business opportunities are tailored to working within its perimeters. If the Jones Act was to be repealed, it would drastically alter the way our industry and business environment is viewed and planned for now and the future.
PVA Green WATERS program was developed exclusively for members as a voluntary program aimed at reducing waste and operating in a cleaner, greener, and more sustainable environment. Has that program yielded fruit for a cleaner environment? Is it still being used?
Our team was part of the PVA Green Waters program development team. Hornblower has always been at the forefront of implementing smart and innovative environmental initiatives into the industry, either through introducing hybrid technology into our fleet to demonstrating local support to our parks and waterfronts. The PVA Green Waters program has helped PVA members and the environment, specifically to each of the PVA members' specific ports. One gleaming sign of its success can be attributed to the continued renaissance of the public's recreational use of our natural waterways.
(As published in the January 2018 edition of
Marine News
)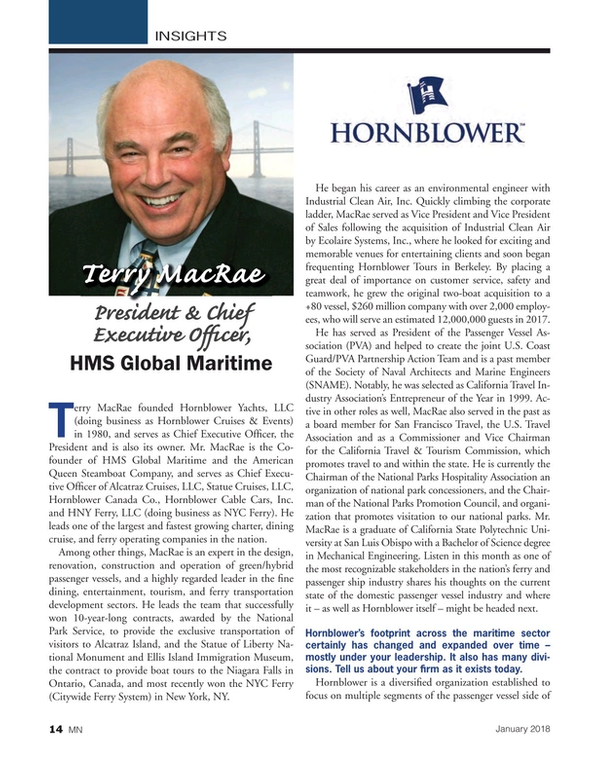 Read Interview: Terry MacRae - CEO, HMS Global Maritime in Pdf, Flash or Html5 edition of January 2018 Marine News
Other stories from January 2018 issue
Content