Exhaust Economizers: A Silent Contributor to Green Technology
By Sveinung Odegard
Next generation economizers are being introduced by Ulmatec Pyro. This will carry on the history of 35 years of heat recovery from ship's exhaust – a technology that's still unknown for many in the marine industry.
Those Painful Losses
You can't ignore waste energy recovery systems if you want to participate in discussions about efficient marine designs. That statement is based on the fact that most diesel engines on board a vessel still operate on an efficiency scale in the 30 percent range. The remaining 60-70 percent represents losses, converted into heat. That being said; there are also engines that have efficiency factor in the 40s. Larger engines, and slow- to medium-speed engines have efficiency rates in the upper 40s, but only at optimal and steady load scenarios. And that's a challenge to achieve for any vessel.
The efficiency numbers lead to the painful rule-of-thumb that for each 1 kW of usable power, another 1.5-2 kW of heat losses are created as well. It becomes clear that using diesel power for electrical heating is not recommended from an efficiency point of view. Electrical heating is therefore practical only at the dock, connected to shore power. On the other hand, active re-use of wasted energy while at sea can improve the vessel overall efficiency significantly.
Capture and Reuse
Heat losses can be captured, and reused as energy for many types of applications. But there are still more engines at sea without recovery systems than those who have them. Among those with systems installed, majority of them are based on jacket water cooling systems, even though the exhaust heat typically represents more potential energy.
There are technologies for recovering the exhaust heat. Ulmatec Pyro is a company that started making exhaust economizers already in the early '80s. The economizers have been proven to be reliable and long lasting, as they tend to stay operational throughout the vessel's lifetime. A robust, efficient and simple design with few moving parts has been the recipe for extraordinary long lifetime of the units. Many of the units goes through a complete lifecycle of 30+ years without any major retrofit, which probably explain why the products does not necessarily get the attention they might deserve.
How it Works
The technology is quite simple; the exhaust is distributed and allowed to freely flow through multiple pipes submerged in water. The circulating water surrounding the pipes absorbs the heat from the exhaust and transports it into the waste heat recovery system. Despite the desire for simplicity, a control system is needed to ensure a healthy engine. The unit will manage the back pressure, exhaust outlet temperatures, and ensure all conditions are within OEM requirements. Ulmatec Pyro's exhaust economizers also have a bypass function, enabling free flow when engine conditions call for that, or if there is no need for more heat. A new generation of the economizer is recently being launched. One of the new built-in features includes a bypass. This will ease the shipyard installation work significantly, compared to the external bypass fitted on older generations. Beyond this, the built-in bypass will reduce the overall footprint of the unit.
Double Down
When recovering heat from both jacket water cooling and exhaust, a tremendous amount of energy is then made available with virtually zero increase in fuel consumption. Total amount of heat recovered would in that case have potential to be more than the power taken out of the engine. That can be called a 'double down.' And there are vessel types that actually are capable of utilizing this huge amount of heat. Fishing vessels operating in cold water are excellent examples of vessels with high demand for energy. The heat is used for fresh water production, processing of the fish, accommodation, de-icing, sanitary water, tank heating and many other purposes. But fishing vessels are not the only one. Any vessel operating in temperate climate zones, having large accommodation, producing fresh water or for any other reason require heat on board will see the benefits.
Short Payback Times
A well-designed waste heat recovery system will have short payback time. That, however, depends largely on vessel design, engine types, and operational profile. For many cases, amortizing this cost will take one to two years of operations. If any additional heat is needed beyond what a waste heat recovery system can deliver, a direct diesel burner represents better alternative than electrical heating.
"We don't have an exact count of the early units," says Palmar Bjornoy, Managing Director of Ulmatec Pyro, adding, "If we include the units we have delivered for shore plants, and other tailor-made units, we have surpassed 500. The first units were made in the early 1980s. And many of those units are still operating. Typically, they typically stay on board producing heat throughout the lifetime of the vessels."
Ulmatec have also delivered units to the offshore and onshore industry as well. Troll Research center in Antarctica is the southernmost unit, and Kings Bay in New Alesund the northernmost. For offshore projects, the new Statoil's new drilling rigs, Askeladden and Askepott, are good examples of heat recovery systems. They have four exhaust economizers installed on each platform.
Workboats: A Good Fit
The concept is a good fit for applications, especially in the workboat markets. Indeed, the use of this technology can be sized quite far down in capacity, as long as there is a vessel that needs heat. Inland water transportation and smaller ferries, for example, can especially benefit. On the other hand, slow-speed engines typically used in larger containerships and the larger cruise vessels are above Ulmatec's range.
The F/T Northern Glacier, built in 1983, is still running at full capacity. Based out of Seattle, it spends most of its time in Alaskan waters. The original exhaust economizer is still on board, contributing to significant fuel savings. Separately, the Norwegian Coast Guard NoCGV Svalbard uses the heat for de-icing, watermakers, accommodation and sanitary water among other things. This vessel was built in 2001 and still patrols Norwegian Waters.
Looking ahead, the new British research vessel RRS Sir Attenborough will have no less than five exhaust economizers on board, together with a complete waste heat recovery system. As the vessel is planned for research in polar areas, environmentally friendly heat is essential.
Centralized Heating System
Typical heat recovery configuration for multiple engines is a centralized heat recovery system that automatically takes the heat from the engines. It can also use the energy to pre-heat engines in standby, allowing for a quick start. Intelligent flow control is managed through a patented control system that monitors consumers and heat contributors. As heat demand rises, the system will increase flow to transport more energy from the source to the consumer side of the system.
More Heat Than Needed?
With a fully recovery system, that might be the case for some. But as the drive for more efficient vessels continue, new products constantly emerge with focus on reusing the heat losses. As these products become more common, many vessels will have real opportunities to save even more fuel, and improve the efficiency of their vessels.
One such product is produced by Climeon, a company that turns heat into clean electricity. Another, Gadcooler, has an absorption system which uses waste heat to generate all or a portion of refrigeration needed by a passenger ship. Ulmatec's Pyro heat recovery systems focus on identifying, capturing and recovering the heat losses. The captured energy will be distributed to any consumer capable of taking advantage of the heat.
Ulmatec has roughly 500 exhaust economizers in its reference list, and has nearly 100 vessels with its complete waste heat recovery system. It's a product that fits in well, from OSVs, icebreakers, expedition cruise and downwards – or in other words – your workboat.
The Author
Sveinung Odegard is the North American Representative for Ulmatec Pyro. He graduated from Bergen Maritime Academy in Norway with a major in Marine Electrical Engineering. Working on maritime projects worldwide throughout his career, he moved to Seattle in 1993.
(As published in the March 2018 edition of
Marine News
)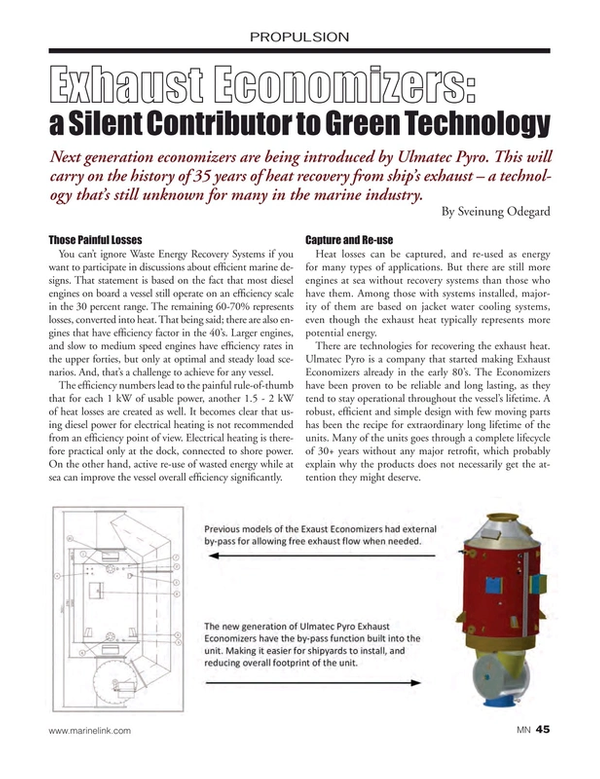 Read Exhaust Economizers: A Silent Contributor to Green Technology in Pdf, Flash or Html5 edition of March 2018 Marine News
Other stories from March 2018 issue
Content