Emissions Regulations: 'It's Not Easy Being Green'
By Robert Kunkel
Nor is it getting any easier to understand when, how and why to comply.
Whether your marine operation is a major corporation or a family "mom and pop" company, the type of fuel you now burn or for that matter what emanates from your stack each day after the burn has now become a major source of confusion. As Kermit the Frog once said, we will now know what its like to be green.
New Slant on an Old Topic
Some believe the discussion is a new subject. It is not. Those of us that work the oceans, rivers and sounds for a living always had a concern of how much fuel we burn and what the quality of that fuel was. We did not need to be tagged 'ECO.' We worked for efficient combustion simply because it affected our bottom line. When it comes to a diesel combustion engine or for that matter, a propulsion boiler, most of us have at some point in time cracked open the upper deck door to see if we were pushing black or white smoke. The decades of that business efficiency have now been driven into a regulation that controls the quality of our emissions. And make no mistake about it, at some point in time you WILL have to comply.
Many previous industry articles have addressed Tiers one, two or three (EPA or otherwise). Others have defined the difference between EPA standards and the International standards of the IMO. Many owners and operators struggle to understand the installation of and difference between 'scrubbers' to meet SOx standards versus 'SCR' or 'EGR' to meet the latest NOx requirements. Add to that discussions of converting to Liquid Natural Gas (LNG) and being 'LNG Ready' and the list of questions grows longer each day.
Real World Experience
We provide construction and repair supervision at Alternative Marine Technologies (AMT). In recent projects ranging from 50,000 and 25,000 deadweight product carriers at our Hyundai South Korea office, all the way down to 185,000 barrel U.S flag Articulated Tugs and Barges, we have seen how these new regulations have not only created confusion in purchasing and installation but also in commissioning and delivery trials. These experiences only add to the growing discussion.
It starts with a January 1, 2016 deadline to "lay a keel" or a keel "block" that moved your emission requirements from IMO Tier II to IMO Tier III. Working on foreign flag new construction post compliance date, we were interested in inspecting an IMO Tier III large two stroke engine to see how compliance with the regulations could be met. Visiting many of the major licensees, we found NO Tier III main engines under construction. All of the engines in the test beds were IMO Tier II. Simply put, there were loopholes around the regulation and without a proven method of NOx compliance available to meet IMO Tier III, most if not all owners contracted were willing to take advantage of that loophole. We continue to question how compliance with these emissions will be monitored until such time Class or Flag are capable of reviewing actual emissions from the stack.
Separately, and in the U.S domestic market, we watched the confusion continue in the smaller engine market of 130kW to 600kW. Manufacturers serving the workboat, tugboat, offshore and domestic barge markets provide smaller generator engines, cargo pump prime movers and propulsion. Under domestic EPA requirements, the engines are required to meet EPA Tier III. That said, if the vessels completing the installation travel outside U.S waters and then attempt to return to the U.S. ECA they must meet IMO MARPOL Annex VI, Tier III Regulation 13.5.1 under the provisions of 13.5.2.2, as enforced under US Law in 40 CFR Part 1043.
Here, we see the real problem: there are no 130kW to 600kW engines manufactured worldwide that meet those IMO Tier III emission requirements. That said; if you want to trade in the U.S. ECA you must comply. It is interesting to note that these engine sizes are not required to meet the next EPA Tier IV because of their size. Regulators speak to "aftermarket" compliance with SCR and again what looks to be a simple answer is not. With such a limited market, none of the 'family' engines have been tested for compliance with SCR installed.
We recently provided service to a client who was building an ATB unit here in the United States. In this particular build, seven engines on the barge were affected and the Owner was looking beyond a "Jones Act" trading limit. The Builder in turn has asked for an exemption based upon Annex VI of the MARPOL Protocol, Regulation 13 allows for certain exemptions to IMO Tier III. Under Regulation 13 - 5.2.2, which states:
"The standards set forth in paragraph 5.1.1 of this regulation shall not apply to a marine diesel engine installed on a ship with a combined nameplate diesel engine propulsion power of less than 750kW if it is demonstrated to the satisfaction of the Administration that the ship cannot comply with the standards set forth in paragraph 5.1.1 of this regulation because of design or construction limitations of the ship."
Upon delivery, the U.S. Coast Guard and the Class required the barge and tug to comply. The exemption request is under discussion. The barge is not "self propelled."
Tier IV EPA Compliance
In the larger medium to high-speed engines, we have been very satisfied with the General Electric V250 using EGR compliance to meet these emission regulations. Purchase, Factory Authorized Tests and installation moved along well and without problems. Trial issues effecting normal Class testing and construction occurred as a direct result of tier compliance. When taking an ATB tug outfitted with two GEV250 propulsion engines out on initial sea trials, we were required by Class to complete a normal "crash astern" test. Those who have attended this trial test or for that matter spent time in the wheelhouse will understand the definition of "crash."
To complete this test with a combustion engine, the reversing procedure whether direct reversing or by clutch and declutch requires the engine to start or quickly climb above idle while overcoming the forward motion of the vessel and the propeller dynamics associated with that movement. Prior to the regulations under discussion being in effect, large amounts of fuel were "dumped" into the engines to allow them to produce enough power to overcome that inertia. That "fuel dump" is no longer allowed and as a result we witnessed a new definition of "crash."
Our first trials resulted in multiple engine stalls and failures. With idle speed and clutch-timing adjustments, the stall was overcome. The next set of trials resulted in a "crash" period extending five minutes before an astern bell was answered and a Captain who quickly and loudly offered his opinion. Three trials later, that period was reduced to roughly two minutes by continued discussions with the clutch manufacturer and increasing the engine starting rpm to the maximum allowable limit. In the wheelhouse and as the throttles were pulled back to simulate the emergency crash astern; suffice it to say, it was a long two minutes.
We have, over time, witnessed purchase, installation and now trials in both foreign and domestic construction. From our experience, expect to see continued adjustments as these regulations take effect and the associated propulsion power moves into operation. The decision to comply is not an easy one.
The Author
Robert Kunkel, President of Alternative Marine Technologies, previously served as the Federal Chairman of the Short Sea Shipping Cooperative Program under the Maritime Administration and the USDOT from 2003 until 2008. A past Vice President of the Connecticut Maritime Association, he is a contributing writer for Marine News. A graduate of the Massachusetts Maritime Academy, Kunkel sailed as a licensed engineer and continued his career in ship construction at NASSCO and Hyundai Heavy Industries, among others. He is a senior member of the Special Committee on Ship Operation with ABS and an elected member of the NCB.
(As published in the March 2018 edition of
Marine News
)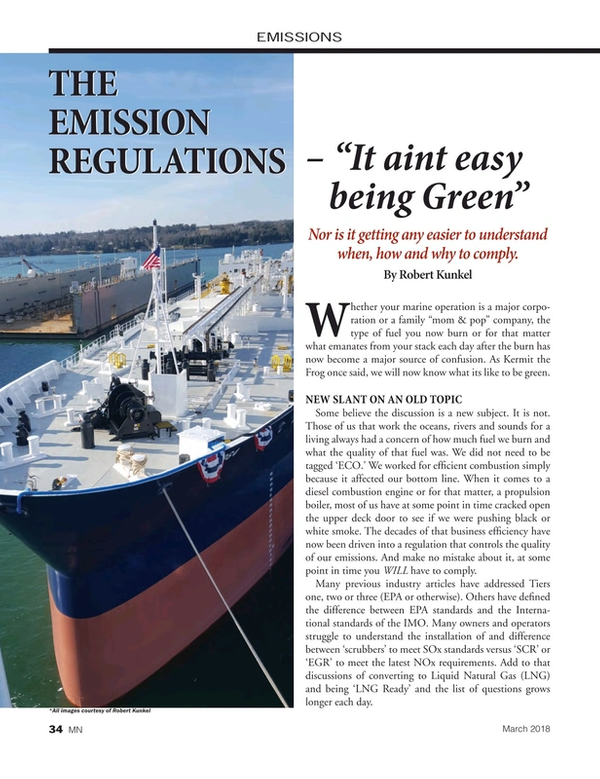 Read Emissions Regulations: 'It's Not Easy Being Green' in Pdf, Flash or Html5 edition of March 2018 Marine News
Other stories from March 2018 issue
Content