INSIGHTS: Lorry Wagner, Ph.D., President, LEEDCo
Dr. Lorry Wagner has served as president of the Cleveland-based Lake Erie Energy Development Corporation (LEEDCo) since May of 2010.
LEEDCo is the public private partnership behind the effort to construct Icebreaker Wind, a 6 turbine 20.7 megawatt offshore wind energy demonstration project in Lake Erie, 8 miles off the shore of Cleveland. LEEDCo has received funding from the U.S. DOE under its Advanced Technology Demonstration Projects award and has partnered with Fred. Olsen Renewables of Norway. Dr. Wagner's previous energy project experience includes nuclear, hydroelectric, solar, as well as wind.
He received his undergraduate and graduate degrees from Purdue University where he developed several new heat transfer technologies for fusion reactors. Dr. Wagner has developed innovative solutions to industrial sensing challenges as well as building a land based wind project in the U.S. He previously served as CEO of several startups and is a member of Cleveland Underwater Explorers (CLUE). He brings extensive knowledge of the maritime environment, central to the deployment of offshore wind turbines. Dr. Wagner was awarded the Purdue Distinguished Engineering Alumnus award, was appointed by then- Governor Ted Strickland as the Public Member of the Ohio Power Siting Board, and has served as Chair of Purdue's School of Nuclear Engineering Advisory Committee. In 2016, he helped secure a $40 million Cooperative Award from DOE for Icebreaker Wind and in 2013 he was integral in securing the first offshore wind submerged land lease option in the Great Lakes. Separately, he was previously a Project Developer for the CWRU Wind Energy Research and Commercialization (WERC) Center Wind Turbine Research Facility and the Project Developer for the urban wind turbine at the Great Lakes Science Center.
In a nutshell, Wagner is bullish on Cleveland, offshore wind, and, if he has his way, his vision for the first offshore Great Lakes wind project is about to become a reality. Listen in this month as he as explains how and why.

Tell us about LEEDCo – where and how it started and, more importantly, where it is going.
It goes back to 2004 to the Cleveland Foundation – the world's oldest community foundation and also one of the largest in the US – when Ronn Richard came in as the new CEO, and he asked, "What are we doing for economic development because we're losing jobs." And so they created an initiative to determine what the next big thing would be. Cleveland has done a lot over the years, but it effectively missed the IT boom, and was late to the biotech boom, etc. But, believe it or not, in 2004 they said, "The next big thing is energy." After all the research and looking at what skill sets were in offshore wind, it was clear that it [offshore wind] could be a real benefit to the region. The Great Lakes region is an ideal location to build an offshore wind industry: we have a fantastic offshore wind resource, we have an established and extensive advanced manufacturing sector, we have transmission capacity, we have retiring coal plants, and we have need for more clean energy, cleaner air and water. A number of community engagement and public meetings led to LEEDCo being created in 2009 as the vehicle to move things forward. I was brought on in 2010 and since then we've been working to secure the one dozen plus state and federal permits needed, get the public to understand that this is really a good thing, secure off takers for the power output, and help develop the supply chain so that we can build a competitive industry.

You talk about this in terms of LEEDCo being a "public private partnership." What does P3 mean in the context of offshore wind?
Early on, it became apparent that there was a strong public component. Cleveland actually built a couple of the stadiums with a public-private partnership, so that was the genesis of the idea. We got the counties along the lakefront to join together with the City of Cleveland, the Cleveland Foundation, the Port of Cleveland and at the time there was a group called NorTech, which was a cluster development group. So, the private entities are the Cleveland Foundation and NorTech and the public entities are the City of Cleveland and the Counties. For us to secure site access in the lake we needed the Port Authority to co-sign a lease to allow us to get a lease with the state. The idea was to join the lakefront counties together where offshore wind could develop, and make them part of the team and then we're all working together and more importantly, that everybody shares in the benefits. For example, we have a revenue sharing agreement such that no matter which county the project goes in, the other counties benefit. The idea was to create this synergy between what was happening along the lakefront and then, of course, the City of Cleveland and the other groups. Initially, we were thinking we would be a pre-developer, to get things ready and then a private entity would come in. And in the early days, we actually attracted and engaged with a developer. But then they realized that offshore wind was not the kind of thing that suited their business model. So they left, and LEEDCo became the developer and then we won the DOE grants and we've attracted Fred Olsen Renewables to come in and actually build out and operate the project.

In terms of this whole public-private thing and the revenue-sharing and the collaboration along the waterfront, has that pretty much dissolved most, if not all, of the sort of NIMBY – Not In My Back Yard – thing that you see elsewhere on Cape Cod and places like that?
It has been very successful, and the support for Icebreaker is very broad and deep. We have support from the business, labor and environmental communities. But, like with all things these days, there is still some opposition. In our case, much of the opposition is funded by coal giant Murray Energy. And, despite the fact that wind projects do not pose a significant threat to birds, that myth has been perpetuated by a few birding organizations, some of which are funded by the oil and gas industry. We've given presentations at well over 400 public meetings and we continue to speak at events. So all things considered I think we've done really well.

The permitting process is very important. But, you've made real progress. For example, you've gotten your major federal approval (Environmental Assessment and FONSI), your Water Quality Certificate, and expect your section 404/10 permit in the next few weeks. The Ohio permit, most stakeholders agree, will come in early 2019. When that happens, will you be ready to go for construction?
I think what we've learned from the state permitting process is that it takes longer than we had hoped. I would agree that early 2019 for the permits is realistic. In theory, then we'd be ready to go. But what you have is a two-year run-up to the actual installation of the turbines from the day you get all the permits; to get to financial close, order equipment, steel, etc. So yes, while it's true that the project is a "go" at that point, it will take two years before construction starts.

Give us an estimate in understandable language of the capacity of this initial project and what it will mean for the area.
It was always intended to be a small demonstration project. The project will power about 7,000 homes. As far as the city goes, that's roughly 10% of the Cleveland Public Power customers. Project construction will create 500 jobs and the project will create $168 million in economic impact over its life.

One of the biggest obstacles for the first offshore wind project that went in off of New England has been the competitiveness of the cost of the energy. Will any of this be subsidized by the government in any fashion? And, will it be competitive with the current local power provider, in terms of ultimate cost to the consumer?
The most important thing to understand is that all forms of electricity in this country are subsidized. The illusion is that the market determines it. But that being said, as a small demo project in an industry still in its infancy in the U.S., our price is above the market price for electricity. We are the recipients of a Department of Energy grant for $40 million, which will help defray some of the costs. We also will take advantage of some potential tax credits, assuming they still exist when we go to build. We always knew we would be above the market price for electricity, but what I can tell you is that in Europe, where this industry started in 1991 and really, in earnest, over the last 15 years, it is now cheaper than coal or nuclear, and so it is competitive at scale. And if we look at the east coast and the US, the target pricing for the Maryland, Massachusetts and Rhode Island projects will be about half of what Block Island was. And so they're not going to be at market yet, but I think that they're definitely leading up to that. What is hard to capture in a conversation is that the development and scale up of every form of energy – let's take nuclear energy for example – has been funded significantly by the federal government. And, the first plant in the U.S. was 50 cents per kilowatt hour. Then, through subsidies and private investment, but also very good, private innovation and growth of an industry, nuclear power became competitive and a very good source of zero carbon energy. It takes time, it takes scale, and it takes government support. As the industry grows I have no doubt we will be competitive. It's just going to take time to get there.

So, the initial infrastructure, you're going to amortize that to a point where that's paid for, and once it is, then the cost of the energy will come down a bit. Would you agree with that?
Yes. Absolutely.

Where do you intend to get your blades and build the jackets for these things, and you've got these steel tariffs now looming. Has the price of your project just gone up? Can you do this domestically, or will you have to get foreign steel?
That's a great topic that everybody is interested in. Let's start with the turbines themselves. They typically come out of Denmark or Colorado. They're made in Colorado, they're made in Denmark, and one of the challenges we have is getting these large blades over the road from Colorado to Cleveland. So we'll be developing a process to see if we can, indeed, get them from Colorado as opposed to just putting them on a boat in Denmark and shipping them to the Port of Cleveland. So that would be the blades, and then the towers – we are trying very hard to use a US supply partner. They currently make towers and they're certified by most of the manufacturers, but an offshore tower needs a separate certification process. Let's just say they are heavier steel and the coatings are much more robust. So, a worst case scenario we think would be the towers come from the US and then the nacelle and blades come from Europe. And then as far as the foundation goes, we always intended to build that in the US, and so we went out for a first round of bids and we found five suppliers that were competitive and also had the requisite quality control system, safety, good history, and understanding of making large steel fabrications.

Are you worried about the tariffs adding to your costs?
What I can tell you is that the day the tariff went in place, all the domestic steel went up 25%, because they now found that they could demand that. We are concerned about that and going forward we're glad we don't have to order steel today because the foundations would be more expensive. So we're hoping that we would be ordering steel maybe a year from now and that prices will have stabilized, but that is a big concern because they could just as well could go even higher if there is a trade war.

MarineNews resaders will want to know the types and numbers of vessels you plan to use to build this offshore project. Will they be Jones Act-approved? Where do you intend to get them? Will you build? And can you even get the equipment in through the Locks? Lead us through the marine aspect of the particular project – something no less complicated than the rest of it.
From a development standpoint and cost standpoint, the marine aspects, the marine installation, is the biggest challenge. And it is because the St. Lawrence Seaway was built a little bit narrow to restrict competition with the east coast. So, we do have that challenge. We've looked at a number of solutions, including modifying a US vessel. If you turn the page back, how did Europe start? And if we go back to 2000, that's exactly what they did – they modified existing barges or crane vessels to be able to handle the load. So that's one path. We also have looked at non-US vessels – there are several that will go through the locks and do the job, and so we would attempt to do something similar to what was done at Block Island and follow the Jones Act where the vessel stays offshore and you use feeder barges.

That particular vessel would only handle the equipment once it was brought out there and you would have your Jones Act feeder vessels bringing your equipment to you?
Right. While that, in a way, is the most straightforward solution, once that vessel leaves, you're stuck in the sense that you'll need something for maintenance – although this would be a smaller vessel. But, that leaves you to start all over again if another project is built. So our "51 percent lean" is toward using a US vessel and modifying it, and then it would give us an operation and maintenance solution. There are some solutions very close, but it is using, shall we say, what the Europeans did 15 years ago.

Over time, the Europeans have developed what we would consider the "gold standard" in those sorts of vessel designs simply because they've been doing it longer than we have. In fact, the only US flag crew-tender that's in use in the United States was built by Blount Boats in Rhode Island, but it was built to a Southboat design, which is a UK-based company that's been doing this for years. Tell us a little bit more about your thought process.
The other thing we're looking at is crew vessel solutions. Part of the beauty of the Great Lakes is that, certainly in Lake Erie, we've got the chop but we don't have the swells that you get in the Atlantic. And you can look at the distances involved, ours is about 10 miles, but if you think about other lakes, you're probably looking at 25 miles. So, there are other vessel solutions and they're more cost-effective. Looking at what Europe has done and then looking at our own situation, we can come up with hybrid or new solutions that haven't been used. That's because the offshore wind industry started with oil and gas people, and oil and gas solutions. Similar to the Gulf, you have crew boat solutions that are very robust, but they're designed around carrying a lot of people. All that said; we, and our European partners, have started looking at things that are much more tailored to the Great Lakes. We've looked at some of those laid-up Gulf of Mexico vessels and while we would never build one like it, we can get it at the right price, and it will work just fine. So, we do have a lot of options in that area.
This article first appeared in the December print edition of MarineNews magazine.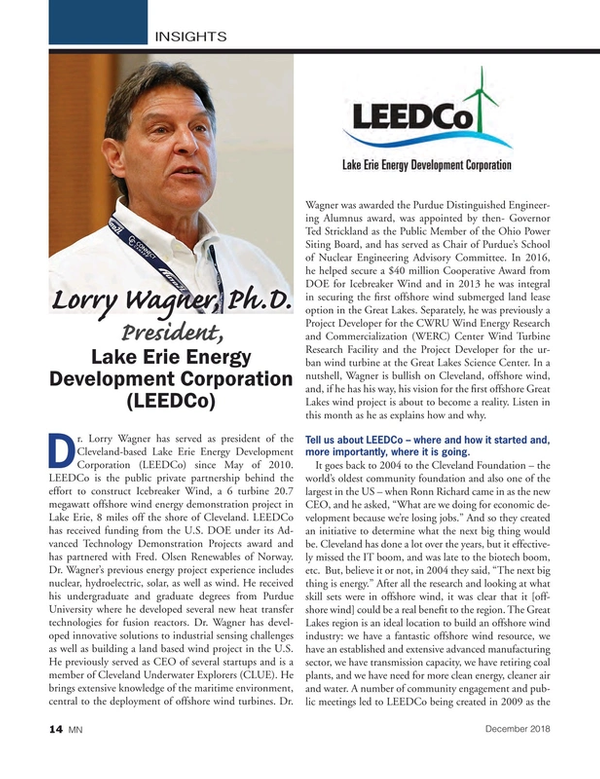 Read INSIGHTS: Lorry Wagner, Ph.D., President, LEEDCo in Pdf, Flash or Html5 edition of December 2018 Marine News
Other stories from December 2018 issue
Content