Electric & Hybrid Drives Are Gaining Steam on the Waterfront
Marine News
Demand for electric mobility is sweeping across the globe, and it's rapidly gaining traction in the marine industry.
The electric mobility revolution is largely being driven by the land transportation sector. Industry statistics predict that electric vehicle sales will surpass combustion engine vehicles within the next 20 years. Many countries in Europe and Asia have already adopted aggressive deadlines to phase out sales of combustion-powered vehicles, and some cities such as London are planning to banish them from their roads entirely. The same rules will likely also be extended to their waterways.
Some of the world's largest auto manufacturers have announced plans to convert their entire production from combustion to electric or hybrid drives within the next couple of years. Recharging infrastructure will quickly spread to meet the demand, in the same way that filling stations became ubiquitous in the early days of motor vehicles. On the other hand, recharging will be less of a problem in the marine industry, since most docks and terminals already have shore power hookups.
At the recent International Work Boat Show, Marine News caught up with Torqeedo, a German company that is at the forefront of bringing electric and hybrid technologies into the light commercial marine marketplace.
Early Adopters
Torqeedo has been in business for 13 years, initially selling small lightweight electric outboards for RIBs, dinghies, kayaks, canoes and pontoon boats. Over time, the company has increased its horsepower range and the complexity of its integrated systems. It is now equipping larger leisure yachts and commercial workboats with electric outboards and inboard systems with shaft or pod drives, in either all-electric or hybrid configurations. Torqeedo claims to have more than 70,000 electric motors in service. The product range runs from 1 to 80hp.
The primary limiting factor in electric mobility, according to Torqeedo, is not the electric motor but energy storage technology. Happily, batteries are getting better every day, again driven by automotive scale R&D. The company projects that energy density in batteries will improve by 70 percent over the next two years, while the cost in terms of dollars per kilowatt hours will fall by one-half over the same time frame. It's noteworthy that Torqeedo has signed an agreement with BMW to integrate marinized i3 automotive lithium batteries with its Deep Blue systems.
The Case for Electric
There's a compelling argument for electric propulsion – for specific types of boats with specific usage patterns. Torqeedo itself concedes that a pure electric drive system is not currently suitable for vessels that travel at high speeds for long periods of time. On the other hand, electric provides unique advantages over gas or diesel systems for slower vessels with shorter run times. And hybrid solutions – although more costly in terms of capital expense – can push larger boats at higher speeds for longer times. Solar panel recharging can also extend the range considerably.
The higher CapEx of electric or hybrid propulsion versus a comparable engine running on fossil fuels is offset by lower OpEx; in terms of fuel savings, reduced maintenance costs and increased uptime. Moreover, electric prices are more stable than fuel prices, giving more predictable costs. Torqeedo calculates that if a boat's annual fuel costs exceed $6,000, electric propulsion will yield a return on investment in just a few years. After that, the savings really start to kick in. Torqeedo offers a long-term battery capacity warranty of up to nine years after commissioning, guaranteeing that the batteries will retain at least 80 percent of their original capacity, even if they're being used every day. There are also intangible benefits, such as the health of crew and passengers, by reducing their exposure to noise, exhaust, vibration and fumes.
Sustainable Waterways
Municipal authorities around the world are actively searching for ways to clean up their air and environment and improve quality of life for their communities. One way to do this is to shift people-moving traffic from congested roadways to waterways by creating fleets of electric ferries and water taxis. For these applications, electric propulsion can be an attractive alternative to meet clean-air goals. It's been calculated that one single 80 horsepower four-stroke outboard motor puts out as much NOx and hydrocarbon emissions as 350 automobiles, so electrifying workboat fleets will make a significant contribution to reducing air pollution.
To meet this growing demand, Torqeedo is focusing on water taxis, excursion boats and passenger ferries. The company points to a number of successful deployments over the last 12-18 months.
The city of San Antonio, for example, has just put into service a fleet of 43 electric passenger boats for its iconic River Walk downtown canal system. The 27-ft vessels, designed by Metalab and built by Lake Assault Boats, are each driven by a Torqeedo electric propulsion system that consists of a 20hp electric outboard, 16 lithium batteries, with a built in shore power connection for fast recharging. The barges seat up to 40 passengers and can be configured for multiple roles for tours, dining, water taxis, entertaining and water parades. They cruise at about four knots and can normally operate up to 12 hours without recharging, according to the vessel operators.
The largest 100 percent electric passenger boat in Canada, the Queen Elizabeth Dr., has been operating on Ottawa's scenic Rideau Canal since 2016. The 75-ft excursion boat is powered by two Torqeedo Deep Blue 80hp outboards – one at either end, since the boat is too long to turn around in the narrow waterway. The vessel makes up to eight 90-minute tours at 4.5 knots per day. The operator reports a rapid ROI. The electric power system was about $90,000 more than comparable gas-powered outboards, but the higher original cost is offset by $26,000 per year in reduced operating expenses, giving a break-even point in 3.5 years.
Separately, Watertaxi Rotterdam added the first hybrid vessel in its fleet in 2016. The boat is powered by a Torqeedo Deep Blue 80hp electric motor, with an integrated energy management system. Two 20kW generators keep the batteries charged when operating at speeds up to 13.5 knots on the River Meuse in the center of the city. The operator claims that the new boat is 70 percent more fuel efficient than the other 15 water taxis in the fleet.
Also in the Netherlands, the first purpose-built solar/electric passenger ferry commenced operations at the Port of Harlingen in late 2017. The boat has a unique integrated propulsion system with two independently controlled Torqeedo 8hp counter-steering pod drives fore and aft, providing an extraordinary level of maneuverability. The boat can be driven in a 90 degree angle to port or starboard, and perform a 360 circle in either direction within its own 28-ft length. The 48V lithium batteries are automatically charged from the 12 rooftop thin-film solar panels, and the boat can plug into shore power during stopovers for an additional recharging boost.
Heavy Metal
Torqeedo insists that vessel size and weight are not a challenge for electric propulsion. That's because electric motors have an extremely flat torque curve when compared to combustion engines. The high-torque motor provides the power to drive a much larger propeller capable of pushing very heavy loads. A case in point is a company operating dredging barges in inland gravel pits in Germany. The quarry owner, Kaspar Weiss GmbH, specified the zero-emission electric system for its dredges to provide a highly efficient green solution to protect the local groundwater and keep the air clean. The 44-meter barges, which haul loads up to 120 metric tons, are powered by a Torqeedo Deep Blue high-voltage system. The vessel typically moves about 500-600 meters at a speed of about 3 knots, opens its trap doors, then drives back and plugs in the chargers – about one to ten times per day. This owner has also installed Torqeedo outboards on pusher boats used in waste byproduct removal.
(As published in the January 2018 edition of
Marine News
)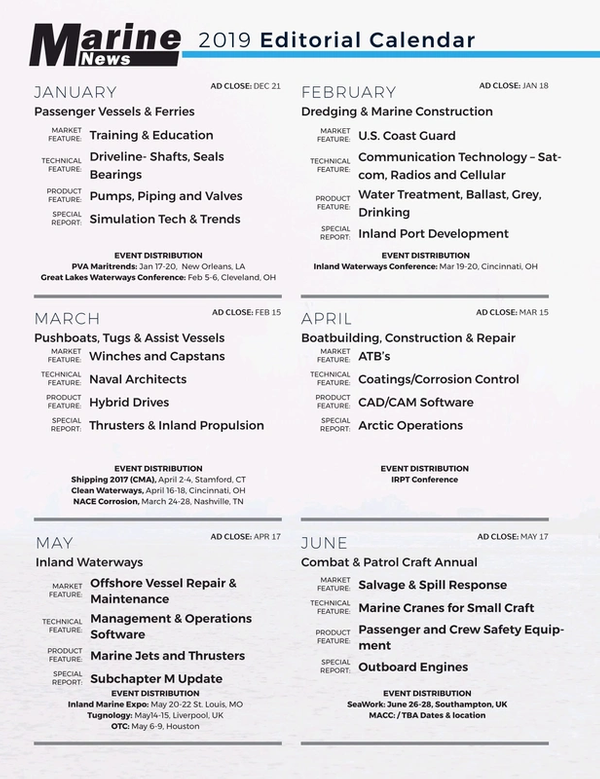 Read Electric & Hybrid Drives Are Gaining Steam on the Waterfront in Pdf, Flash or Html5 edition of January 2019 Marine News
Other stories from January 2019 issue
Content