MN100: Cimco Marine and the OXE Diesel Outboard
As Trace Laborde, Marine Manager for Laborde Products, says, "The OXE diesel is the complete package, a true diesel engine. It's great for any maritime application that requires fuel efficiency, simple maintenance, compliance with all European and EPA Tier 3 regulations, and unmatched performance." That's high praise, predictably coming from one of OXE's authorized North American distributors, but in this case, the talk is matched by this OEM's proven performance.

The OXE was recently approved by the United States Environmental Protection Agency as the first and only Tier 3 diesel outboard for commercial use. This is important for all maritime agencies; local, state and federal who apply each year for the millions of dollars available for FEMA Non-Disaster Grants in the Port Security category.
With diesel engines – also known as CI engines – the combustion of fuel takes place due to the heat generated by the compression of fuel and air inside the cylinder. CI means 'compression ignition' and is far safer than petroleum ignited by a spark plug, or any other spark.
Pim Polesie, Chief Marketing Officer for Cimco, explained, "The approach was to take advantage of the automotive diesel engine's inherent high performance, substantially increased life and substantially reduced operational cost and compliance with environmental laws and regulations and combine it into a more reliable drive train suitable for the commercial market." The OXE outboard weighs 700 pounds and will sell from Cimco at 43,000 to 47,000 Euros. Cimco recommends service every 200 hours and belt checks at 800 hours. The average weight for a 300-hp gas outboard is 551 pounds.
OXE's technology eliminates beveled gears and transfer shafts, the weakness found in other outboards and inboards. The commonly used dog clutch system used mainly on outboard systems has been substituted with more sophisticated electro hydraulically operated solution, located above the waterline. The gear box makes it possible for the operator to change from left hand to right hand rotation on the propeller by simply opening it up and switching the two gears. This more sophisticated electro hydraulically operated gearbox is water-cooled for operation at load. It makes possible a gear ratio communicated through the throttle that operates like a trolling gear; together eliminating over heating while simplifying continued low speed operation.
The use of the Euro 5 diesel combined with the streamlined engine design reduces fuel consumption by up to 42 percent. The result is an outboard unit of similar size and dimensions to conventional two- or four-stroke petrol outboard for the same power output that is also compliant with the emission regulations established by the Environmental Protection Agency (EPA), European Union (EU) and the California Air Resources Board (CARB) and is certified by IMO Tier II, EPA Tier III and RCD, according to Cimco.
The OXE is engineered for both long duration trolling speed and high performance. On the water, environmentally compliant and versatile enough to appeal to the needs of commercial, government, military and yacht sectors alike, the OXE outboard has something for everyone.
This article first appeared in the August 2019 MN100 print edition of MarineNews Magazine.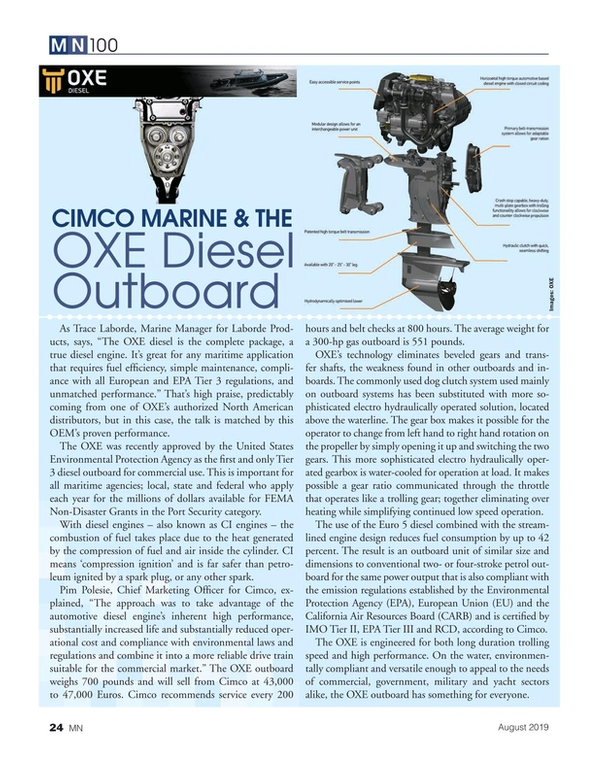 Read MN100: Cimco Marine and the OXE Diesel Outboard in Pdf, Flash or Html5 edition of August 2019 Marine News
Other stories from August 2019 issue
Content