VDRs for Inland Vessels? Does It Make Sense?
By Joseph Keefe
It just might. And, you've got options.

The Voyage Data Recorder (VDR) carriage requirements apply to all passenger ships regardless of gross tons or year of build, and to all cargo ships 3000 gross tons or larger built after 2002. A simplified VDR (S-VDR) is allowed on older ships built before 2002. The performance standard was updated in 2014. That said; a full type-approved VDR is not a requirement for inland vessels under 3,000 GT. Nevertheless, a good case to be made for installing a (less costly) data recording device on such vessels, ideally with remote access and reporting as part of an Internet of Things (IoT) solution to monitor the vessel and its installed equipment. Both Danelec and Orolia (who collaborates with Radio Holland in its offering) offer such capabilities.

On the Market, Available Now
Orolia recently announced a partnership with Radio Holland that includes the development of a Voyage Data Recorder (VDR) specifically designed for inland shipping. This solution is designed to enhance safe navigation and vessel performance and provide tools for understanding the cause of incidents. Radio Holland will also be installing Orolia's Netwave VDR NW6000 series as its preferred global VDR solution for retrofit and new build projects, while Orolia will utilize Radio Holland's established global network as one of its globally preferred service partners.
The architecture of Orolia's renewed Netwave NW6000 VDR system, which has a global install base of more than 6,000 vessels, is based on latest ethernet technology, making full use of so-called PoE (Power over Ethernet) solution. This leads to reduced need for cabling saving in installation time – and it saves space on workboats which typically have a limited physical footprint for any additional equipment. As an increased number of navigation and communication equipment with ethernet output will become available on board of ships, the NW6000 VDR can provide additional tooling for performance measurements. Next to the standard VDR function, the NW6000 VDR can be used for optimizing ship performance.
Paul Smulders, CEO Europe for Radio Holland explains, "we partnered with Orolia on the new and unique Inland NW6000R VDR, which registers all movements and communications on and around the inland vessels. The VDR is obligatory in Deepsea Shipping, but for inland shipping it is also a relevant tool to enhance safety and ship performance. The NW6000R VDR is perfectly suitable to monitor, measure and improve the performance of the ship. Based on the interest we have found with inland ship owners; we believe this innovative product is a relevant addition on board of inland vessels."
Separately, Danelec Marine was an early provider of VDRs to meet the original IMO carriage requirements in 2002. Since then, they have supplied more than 6,000 VDRs and simplified VDRs (S-VDRs). In recent years, Danelec broadened its marine portfolio with ECDIS products and a universal ship Internet of Things (IoT) platform, which they call DanelecConnect.
Additionally, Light VDR (L-VDR) is a version for non-SOLAS vessels. It does not have a hardened data capsule and it is not governed by the IMO carriage requirement. We asked Hans Ottosen, CEO of Danelec Marine, if it was practical to put VDRs on inland vessels? "The short answer is probably not. The cost for a full type-approved VDR is significant. The biggest cost item in the VDR is the hardened fireproofed data capsule. The L-VDR does not have a data capsule and is a good deal less expensive," he replied, adding quickly, "First and most importantly, there is the obvious safety consideration. The L-VDR records and stores data from the vessel's navigation and control systems and voice recordings from the pilothouse. This information would be extremely helpful in investigating accidents and near misses, to determine causation and develop remedial training for watch standers."
Beyond that, he explained, there is considerable commercial benefit to be gained from monitoring the performance of the vessel and its critical equipment. The IoT connectivity revolution is sweeping through all industrial sectors, including marine transportation as a key tool for increasing visibility into the full value chain. Increasingly, manufacturers of modern engines, auxiliary machinery and electronic systems are designing remote access capability into their equipment, so service technicians can log into the machine for trouble shooting, uploading new software versions, etc.
Ottesen continued, "The problem for the vessel owner is that these different systems from multiple manufacturers may have totally different data output formats, and it would not be cost effective to install separate remote connectivity interfaces for each of them. What's needed is a universal onboard device that accepts data in all different formats and makes it available for download at shore offices."

The Case for VDR's
The original performance standards for VDRs came into force in 2002. Ten years later the Maritime Safety Committee of the IMO adopted a revised recommendation for new VDR performance standards. The new requirements are defined in MSC.333(90) and apply to all full VDR systems installed on or after July 1, 2014.
According to Hans Ottesen, when Danelec set out to develop next-generation VDR to meet the new performance standards in 2014, its second-generation DM100 was a total redesign, with special attention given to selective remote access features. That's because, he says, Danelec recognized that the data stored in the ship's VDR could have value to the vessel manager beyond the primary safety requirement. He explains, "It could give shore staff greater visibility into what's happening with onboard systems in near real-time. So, we developed a new separate IoT hardware module, DanelecConnect, to serve as a 'clearing house' for data flowing from the various shipboard systems.
The DanelecConnect device accepts data in analog, digital or serial formats from sensors and systems throughout the vessel – including the engine room. The DanelecConnect box outputs the data to the vessel's existing communication infrastructure (satellite or terrestrial wireless) for transfer through a cloud-based server to the operations center ashore."
DanelecConnect with 'mini-VDR' functionality would cost about 10 percent of a full type-approved VDR. And like Orolia and Radio Holland, Danelec has also been in the VDR game for a while, supplying L-VDRs for inland operators since 2011. Ottesen told MarineNews, "One of our earliest customers was Crowley in the United States. We continue to have steady demand for this solution, and we see increased interest worldwide in our new dedicated and very cost-efficient DanelecConnect solution with extra ship-to-shore features."
VDRs serve a very important role in safety at sea – just like the flight data recorders (black boxes) on commercial aircraft. MarineNews readers are of course familiar with the loss of the El Faro with all hands in 2015. The ship had a Danelec S-VDR on board. The data storage capsule was retrieved in 2016 from a depth of nearly three miles, and the data, including bridge voice recordings, were recovered. Without the S-VDR data, the accident investigations would have necessarily been based on conjecture and not facts.
And, even if your workboat isn't required to have a VDR on board for the usual reasons, there are dozens of reasons why an inland fleet operator might choose to install one. If you do, it's good to know that you have options.
This article first appeared in the October 2019 print edition of MarineNews magazine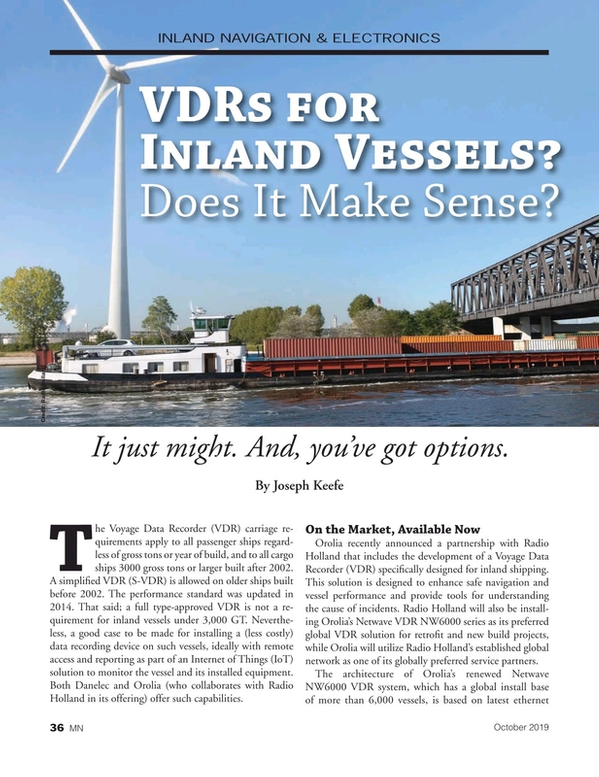 Read VDRs for Inland Vessels? Does It Make Sense? in Pdf, Flash or Html5 edition of October 2019 Marine News
Other stories from October 2019 issue
Content