Rewrite the Rules: The Path to Zero Emissions
By Robert Kunkel
With social media updates and conference agendas addressing the subjects of climate change, emissions reductions and alternative fuels, it's a wonder we are not climbing the Himalayans in search of the Jedi Master that will provide us with the magic potion. Yoda's blessing with a calming breath, "You have chosen wisely."
Government emissions intervention started with a move to reduce energy and fuel consumption measured in greenhouse gas (GHG), at a time when the world and our politicians spoke about global warming. Chapter 4 of MARPOL Annex VI circa 2011 introduced two mandatory standards with the objective of reducing GHG using improved ship design and operations. The Energy Efficiency Design Index (EEDI) and the Ship Energy Efficiency Management Plan (SEEMP). Most owners and builders when reviewing the six-foot-long EEDI formula wondered if the International Maritime Organization (IMO) understood we practice fuel efficiency each operating day as it affects our bottom line. Few rarely speak of the regulation these days, and many flag states "waived" the new ship requirement until 2019 with shipbuilders manipulated the formula as a beginning of "ECO" sales.
As research continued and carbon dioxide (CO2) reduction was debated, the world turned to sulfur (SOx) and particulate matter (PM) to address the new tag "climate change" in the established Emission Control Areas (ECA) zones. Monitoring and enforcement of the new limits fell to government agencies as sulfur was slowly being removed from our fuel sources. As a result of current 2020 IMO requirements, sulfur content is now .1% in the ECAS and .5% worldwide.
Again, not to beat a dead horse about the industry's bottom line, owners got pummeled with the costs of cleaning fuel tanks, facing a decision to scrub or not to scrub or absorb the cost of experimenting with ultra-low sulfur fuels. Within months operators invested nearly $100,000 in their two-stroke engines, watched a rise in lube oil prices exceeded 7% due to lack of lubricity in the new fuels and suffered quality issues with sediment, plastics and chemicals added or blended into very-low-sulfur fuel oil (VLSFO).
Has the use of VLSFO solve the climate change issue? Not according to the International Council of Clean Transportation and a measurement of "black carbon". This emission category appeared with blended aromatics of the new fuels. According to their research, black carbon remains in the atmosphere for only weeks as a short-lived pollutant and traps heat. An estimate of nearly 3,200 times more heat than CO2 measure over a 20-year period. The effects are devastating in permafrost areas and as a result VLSFO may be restricted or banned in future Artic shipping. Another continued attempt to extend the use of heavy fuels in our propulsion systems despite continued technical research needed.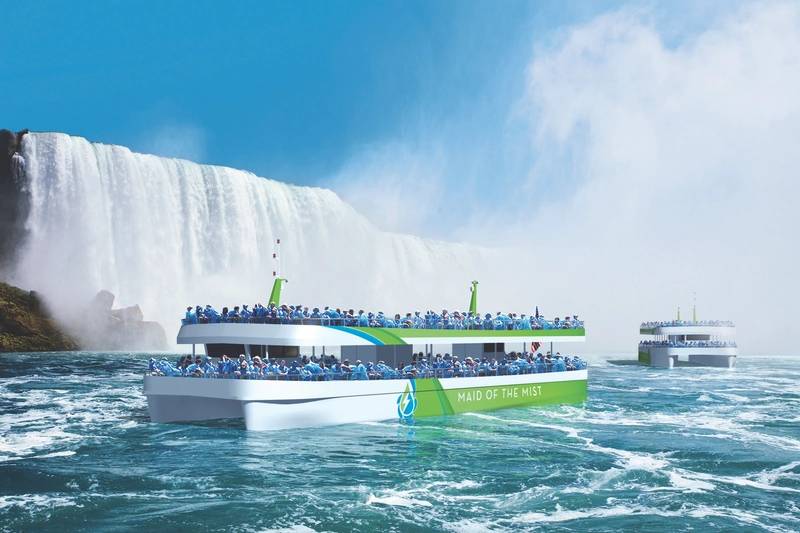 Niagara Falls tour operator Maid of the Mist ordered a pair of passenger vessels that will sail on pure electric power, enabled by ABB's technology. Each of the vessels will be powered by a pair of battery packs with a total capacity of 316 kWh, split evenly between two catamaran hulls. (Image: ABB)
We can continue the decades of discussion with the introduction of the "Tier" concept, with IMO and U.S. Environmental Protection Agency (EPA) giving us Tier I, II and III and IV. The goal being reduction of nitrogen oxide (NOx) in new buildings after January of 2016 and the move toward selective catalytic conversion (SCR) or exhaust gas recirculation (EGR) to meet the NOx reduction goals. In our opinion the NOx reduction is now the most important change in the historical path of petroleum-based fuels. Reducing NOx levels opened the door to alternative fuels – liquefied natural gas (LNG), propane, methanol and ammonia continuing the development of the internal combustion engine (ICE). Many of these fuels are far beyond the testing stage and in full operation despite the fact no one has determined this is the final solution or if a bunkering infrastructure is available worldwide. As the stricter requirements were put into place, we again remind everyone that not one small engine manufacturer worldwide was cap
able of meeting the NOx goals under 600 kilowatts (kW).
This may be a quick recap of "emissions reductions" and we should take into account that decades have passed as government intervention slowly propels petroleum-based fuel oils forward. The quest for "zero emissions" can be a simple repeated Jedi mantra: "Go electric", and that decision needs to be made now as government regulatory dates of 2030 and 2050 may be too late for our industry to be actively involved in the zero emissions solution.
We would be proud to say the electric decision is based upon environmental stewardship, sustainability goals and an effort to save the planet. Our Hybrid and EV projects with Harbor Harvest, First Harvest Navigation, Amtech, BAE Hybrid, ABB and Tucker Yacht Designs have proven we chose the correct path. Beyond our climate change concerns we see it more as economic survival of the marine industry as a mode of transportation. Maritime needs a new definition of emissions reduction and pollution prevention beyond fuel. We need only to look at the automobile and trucking industry as an example of their accelerated efforts to embrace electric vehicles.
Many in our industry have suffered through the extended collapse of the offshore sector. The market for oilfield services in the U.S. Gulf has been historically cyclical, and the current down cycle has extended well beyond those historical trends with near disastrous economic results. There are many who are looking at offshore wind energy to replace major oil needs and create a new maintenance and service sector utilizing the skills and experience offshore oil provided. Certainly, the technical requirements of the wind market will require new construction, new designs and new services in the U.S. workboat sector. If we are to invest hundreds of millions of dollars to create clean alternative energy offshore, we would suggest the marine service and construction sector be built with hybrid and electric vessels. If not, servicing offshore wind energy with current fuel oil emissions would not only be strangely ironic but an oxymoron "clearly misunderstood".
Let's also look at highway congestion and public transportation when we discuss emissions reduction. Has government supported the use of hybrid or electric marine vessels while acknowledging these problems exist? They have not. New York City recently built and employed 26 new ferries, a successful operation supporting a reported 50,000 passengers a day. Not one city or state program or for that matter one vessel was built with electric or hybrid technology to reduce emissions.
Harbor Harvest and First Harvest Navigation built and delivered into operation the first U.S.-built hybrid cargo vessel with private funding. They have waited over four years for the promise and award of a Marine Highway grant from the Maritime Administration (MARAD) and the Connecticut Port Authority to support the growth of the infrastructure and follow on vessels tor the program. To date no funding has been provided. Private investors answered the call, delivering the first emissions-free vessel into operation on the Long Island Sound.
ABB Marine & Ports recently delivered testimony in the U.S. House of Representatives Committee on Transportation and Infrastructure about the future of marine technologies. This year, the first all-electric vessels ever built in the U.S. – the Niagara Falls tour operator Maid of the Mist tour boats – will start operation, powered by ABB's zero-emissions technology. Tucker Yacht Designs, one of our network partners, handled design integration and construction supervision of a very successful operation. This project too was supported by private funds and an owner with a drive to answer the climate change call.
There are other leaders worldwide. Bangkok, Thailand as part of its "Smart City" project is building 42 electric ferries to restructure the city transportation hub with private industry funding. Hurtigruten delivering the first hybrid cruise vessels in Norway and the Brim Explorer built by a simple whale-watching family touring the Norwegian Artic on battery power. Ultimately it will not be government regulations or programs solving climate change problems. It will be the private sector, and industry leaders that understand the problem needs to be solved now – not 30 years down the line.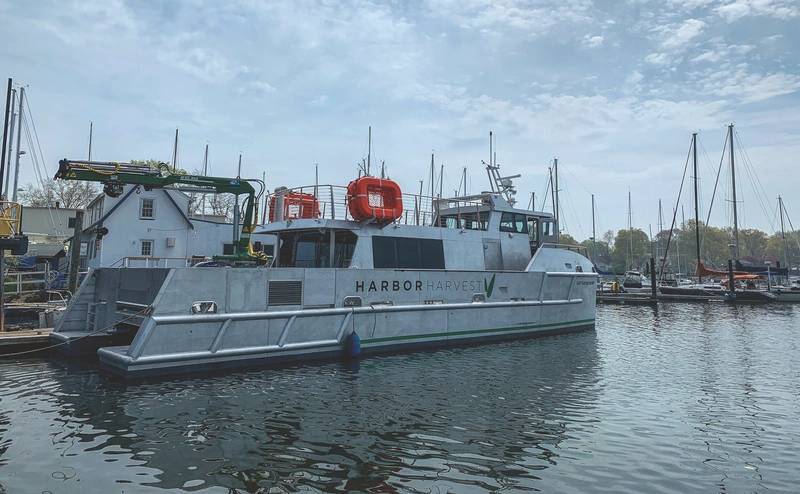 Harbor Harvest's
Captain Ben Moore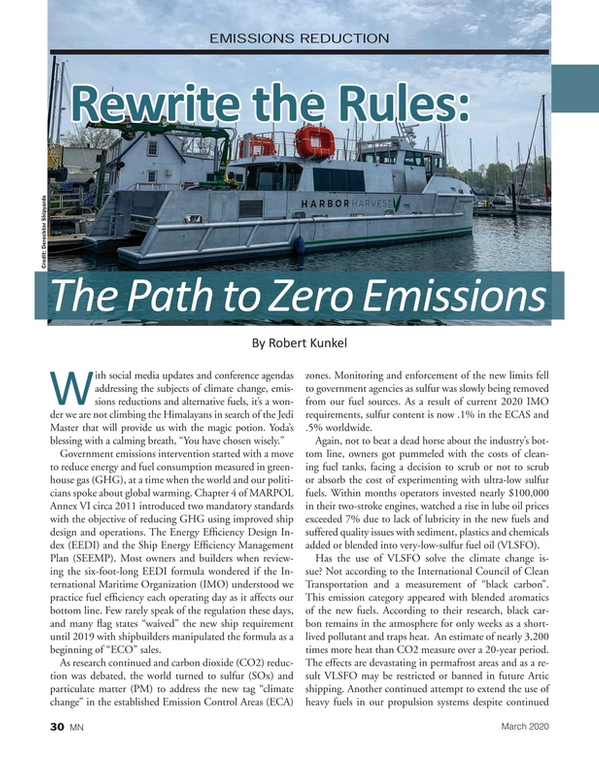 Read Rewrite the Rules: The Path to Zero Emissions in Pdf, Flash or Html5 edition of March 2020 Marine News
Other stories from March 2020 issue
Content