Tech File: Reliable Lifts
By Eric Haun
Patterson Manufacturing's new davit cranes are designed from the ground up for improved safety, ease of use, durability and reliability. What more could you ask?
Patterson Manufacturing has supplied equipment into the marine market for more than 160 years, consistently expanding its lines of winches, rigging and fittings to meet evolving demands along the way, and even engineering custom products when the job requires. Now the Pittsburgh-based manufacturer is adding a new line of davit cranes to the mix.
The new cranes, available in 0.5-ton and 1-ton capacities, are both an answer to customer requests and a natural addition to Patterson's existing catalog, said Taylor Grapes, President, Patterson Manufacturing. "Patterson had regularly received requests for products in various lifting applications for a long time. Having made many custom lifting products in the past, we felt that it was a natural extension to our product line," Grapes explained. "From both a functionality standpoint and the high volume of marine applications, we knew our expertise was a match for the market's need."
Grapes said the new davit are hot-dipped galvanized/saltwater ready with no plastic sheaves or pulleys, designed from the ground up for improved safety, ease of use, durability and reliability. "Because we are not relying on legacy designs or iterations, we were able to incorporate the highest quality components and finishes, which will benefit the customers in a variety of ways," he said. "A fully galvanized body means there is no concern of scratched paint or flaking powder coats, which can lead to corrosion and eventually failure. Steel sheaves, as opposed to plastic, offer significantly longer life and extended duty cycles between replacement."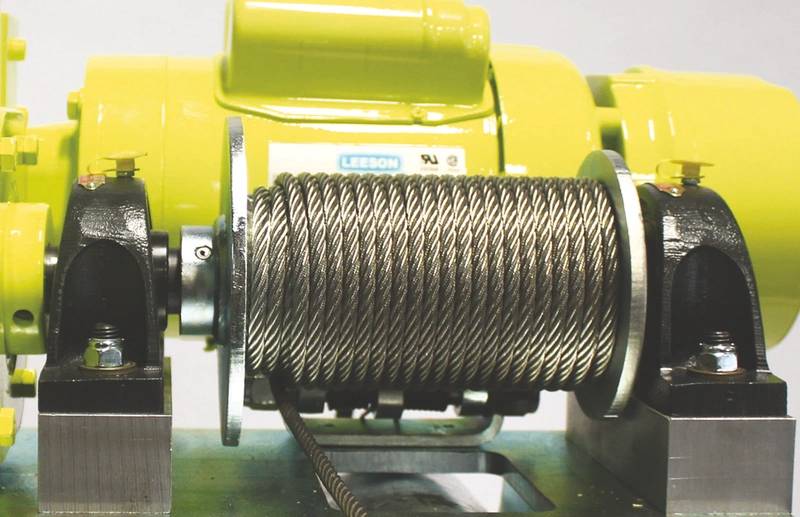 (Photo: Patterson Manufacturing)

"The simple design, durability and overall quality lead to minimal maintenance and downtime, which reduces cost and increases efficiency making operations faster and easier. The mobility of these units, also allows customers to service multiple locations with a single crane, which minimizes upfront investment and makes the Patterson Davit Crane an easy choice for operators and purchasing agents alike."
"Patterson has consistently expanded our line to offer a wider variety of high-quality options for deck equipment. With the addition of the Davit Line, our customers now have one more spot on their deck where they can be sure that the equipment that they purchased will be rugged and reliable for years to come," Grapes said.
These claims are backed up by thorough digital and physical testing. "Using ANSYS for digital finite element analysis, we can see where problems may surface due to focused stress–in a part or assembly–before we ever physically build something," Grapes said. "Once a prototype has been made, we perform thousands of loaded cycle tests at various loads and positions, and other conditions depending on the product. Lastly, all products are tested to yield and to failure, either in-house on a hydraulic test bed, or by a certified third party."
"Patterson is very cautious in our go-to-market strategy," Grapes added. "We go to great lengths to bring a concept to fruition and maturity internally, as opposed to using customers as guinea pigs."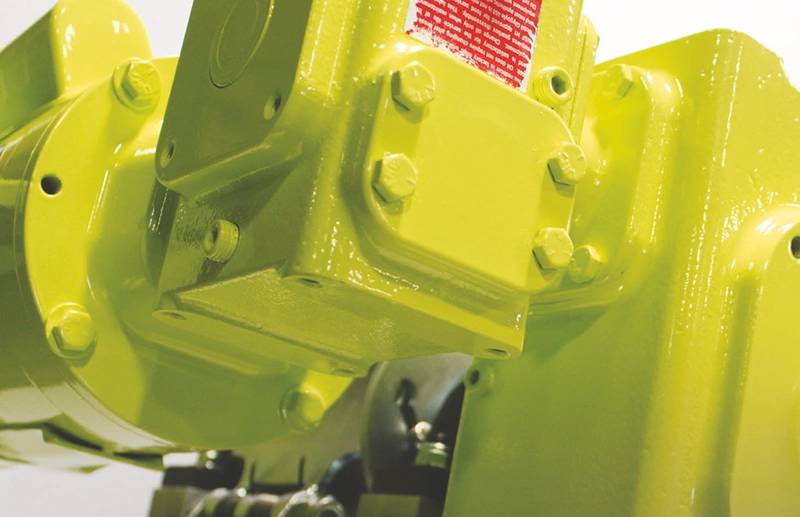 (Photo: Patterson Manufacturing)

The U.S.-built davit cranes are due to officially hit the market in March, and Grapes says Patterson is already in talks with multiple customers (marine or otherwise) who plan to place orders once the first production runs are completed.
"While our core market is marine, and more specifically inland marine, this product line has broad use in a plethora of industries including wastewater management, general construction and more," Grapes said. "It is a great fit in any application where you need a stationary or portable solution for repeat lifts."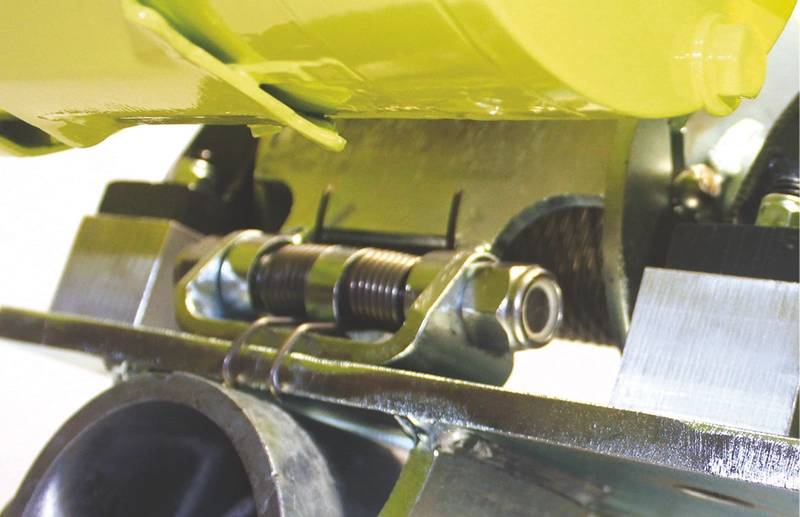 (Photo: Patterson Manufacturing)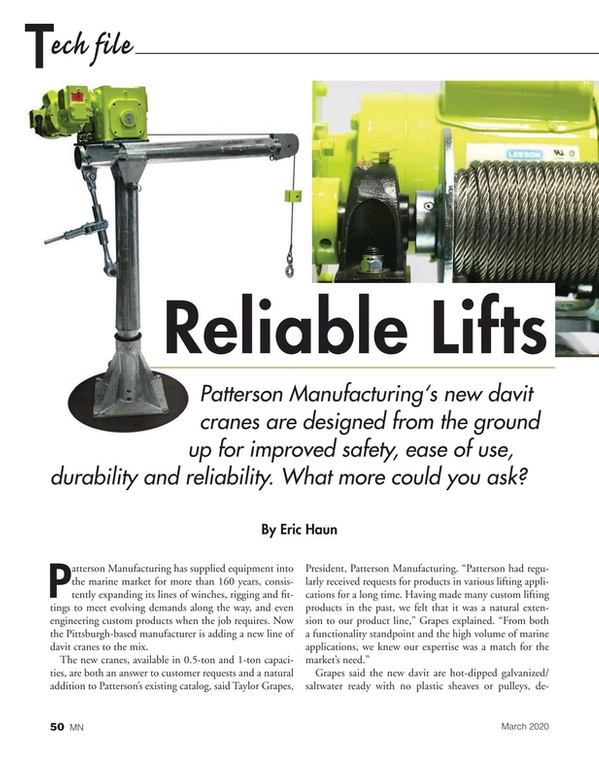 Read Tech File: Reliable Lifts in Pdf, Flash or Html5 edition of March 2020 Marine News
Other stories from March 2020 issue
Content