Keep It Steady
By Eric Haun
Gothenberg, Sweden based Humphree was founded in 2002 by a team of engineers that sought to leverage their expertise in high-speed marine propulsion – or more specifically, hydrodynamics, electronics and digital controls – to create vessel stabilization packages that would be easy to install and use. And thus, Humphree's interceptors were created.
The compact and robust transom-mounted units feature an adjustable blade that activates vertically into the water stream beneath the hull to create a lift force. "Deployment speeds are virtually instantaneous with none of the delays of traditional horizontal trim tabs," says Sean Berrie, CEO of Humphree's U.S. arm, established in 2012 to provide sales and service for a growing customer base in the Americas.
Today, Humphree's interceptors are offered in several different models and sizes for vessels from 8 to 150 meters in length, including monohull and multihull configurations, and can be found on thousands of vessels, from utilitarian pilot and patrol boats to ultra-luxurious superyachts. Most models can even be custom shaped to fit the hull exactly.
In addition to interceptors, Humphree's product lineup includes fins and computerized controls – all electric powered with no hydraulics and constructed of corrosion-free composites. "We have also recently expanded our line of course stability solutions to provide an integrated package specifically designed for waterjets, including electric rudders, fixed fins and interceptor steering," Berrie says.

(Image: Humphree USA)

"Humphree's fins provide complete active stabilization for roll and pitch, and are especially effective at slow speeds, or when riding at anchor or station-keeping. We also offer fixed fins for improved course stability," Berrie says. "A combination of interceptors and fins can be installed together to provide a comprehensive stabilization solution at all speeds from zero to wide-open throttle."
Humphree's computerized functionality has expanded to include options for automatic trim, list and heeling control, as well as coordinated turns, made possible by technical advances in electronics, digitization and software algorithms developed in-house over the last decade. "At the top of the line is our Active Ride Control, which uses a digital controller with adaptive control algorithms and an advanced sensor package consisting of GPS, three electronic gyros and an electronic accelerometer in each direction of movement to measure 3D rate of turn and accelerations and counter hull motions in real time," Berries says. "The result is fully automatic roll and pitch damping, and trim and list adjustment at planing and semi-planing speeds."
Berries says the proportion of installations with computerized control functions is rising. "Active Ride Control provides fully automatic adjustment of the stabilizers to optimize trim and reduce rolling and pitching motions without constant operator adjustments. The savings in fuel consumption alone provide a relatively rapid return on investment. By reducing resistance, the vessel can run at any given speed at a lower engine RPM, minimizing engine load, prolonging engine life and reducing emissions. It also reduces crew and passenger fatigue and enables operations in more diverse and adverse sea conditions."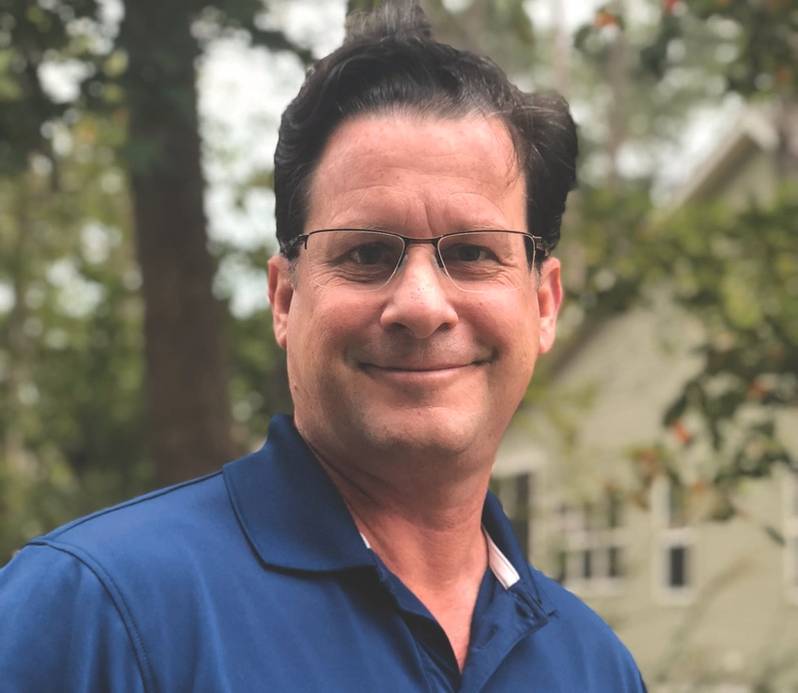 Sean Berrie, CEO of Humphree USA (Photo: Humphree USA)

Among Humphree's top commercial market segments are ferries, passenger excursion vessels, pilot launches, patrol boats and – more recently – wind supply vessels, Berrie says. "The reasons are obvious," he explains. "A smoother stable ride translates into lower fuel costs, improved productivity, fewer injuries to passengers and crew – not to mention less seasickness – higher safety margins and reduced downtime."
The majority of new pilot boats being built in the U.S. are equipped with Humphree interceptors, and an increasing percentage of them with Active Ride Control, Berrie says. Recent projects include newbuilds for the Brazos Pilots, the Southwest Alaska Pilots, the Lake Charles Pilots in Louisiana and the Tampa Bay Pilots. Under construction currently are boats for the Virginia Pilots, Seaway Pilots and Long Beach Pilots.
Humphree also supplied stabilization systems for New York City's entire fleet of 30 ferries and the 600-passenger Seastreak Commodore running between Sandy Hook and Manhattan, as well as the new ferries from Dakota Creek and Mavrik Marine for the San Francisco Bay Ferry fleet, and three whale watching vessels in New England and Alaska.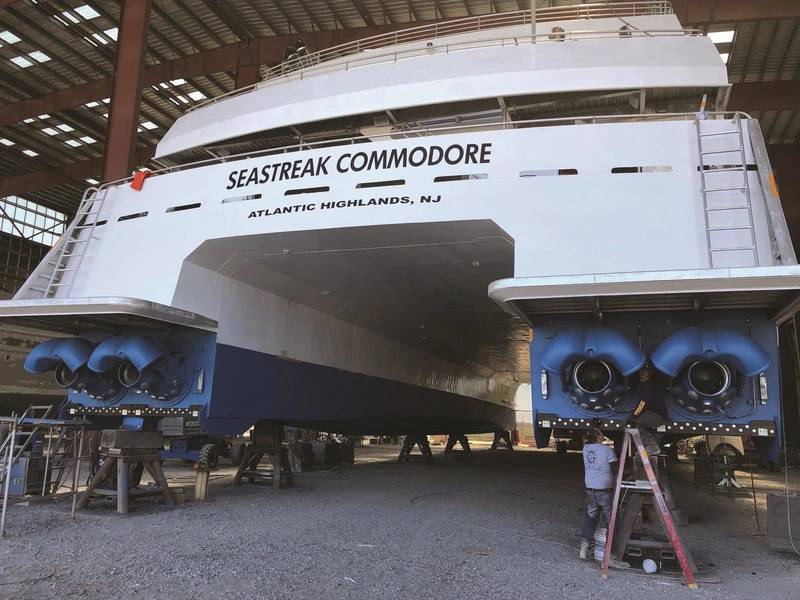 Seastreak commuter ferry – showing interceptors on transom of each hull (Photo: Humphree USA)
Patrol craft are another major focus area for Humphree, whose interceptors are standard fit on the new class of patrol boats being built by Metal Shark for the U.S. Navy's Coastal Riverine Forces.
Berrie says Humphree's interceptors have been specified for the new wind farm support vessels under construction at Senesco and Blount shipyards. "We see [offshore wind] as a significant growth market for the U.S. workboat industry and for our stabilization systems, which provide a comfortable ride for crew and passengers in all sea states and maximum maneuverability for operating safely alongside wind turbine towers."
While most of Humphree's installations in the commercial market are for newbuild vessels, about 25% are refits. "It's fairly easy to add interceptors with minimal disruption of the boat's operational schedule," Berrie says.
Recent retrofit projects include the MV New York and MV New Jersey for Seastreak and pilot vessels for Delaware Pilots, Long Beach Pilots and Federal Pilots. Humphree is currently refitting Bar Harbor's AtlantiCat with ride control interceptors and steering assist interceptors, and Berrie says commercial fisheries present a lively retrofit business.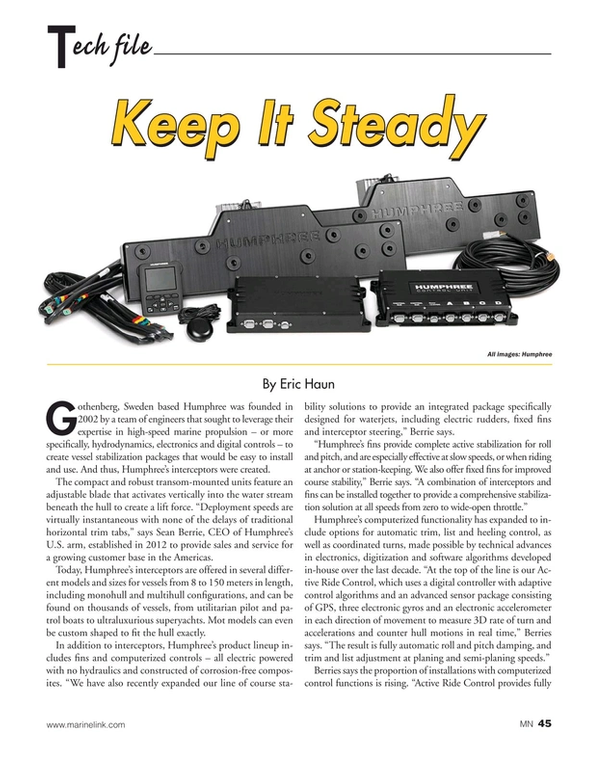 Read Keep It Steady in Pdf, Flash or Html5 edition of June 2020 Marine News
Other stories from June 2020 issue
Content