Maritime Security: Failing to Prepare is Preparing to Fail
By Nathan Ryder
North America is historically one of the world's safest regions for maritime transit and operations. Our data shows that of the 2,915 reported global maritime crime incidents that have occurred in the last decade, only nine of them took place in North America. This figure comes from a range of threats against both commercial, and pleasure craft vessels, primarily, attempted, or successful: attacks, suspicious approaches, illegal boardings, hijackings, kidnappings, robberies and exchanges of gunfire. This is what many of us boil down to the eye-catching buzzword "piracy". One of these incidents took place in a port in Louisiana in 2015, involving an exchange of gunfire.
However, there are areas we should focus our concern within North America. A recent trend widely noted in the maritime industry concerns the Gulf of Mexico. In 2019 and into 2020, there has been a surge in pirate attacks, primarily targeting oil platforms and supply vessels. These incidents took place between Ciudad del Carmen and Paraiso, in Mexico's Bay of Campeche, along the southern rim of the Gulf of Mexico. These incidents constitute the remaining eight incidents previously mentioned, from 2016 to as recent as April of 2020.
Despite these increased incidents, I do not think we should rush to hire armed guards for transits in the Gulf of Mexico. Additionally, there is little evidence to suggest that the current security situation in the Gulf of Mexico, or the Caribbean for that matter, will "spill over" into other areas closer to, say, the coasts of Texas, Louisiana or Florida. We will, however, have to monitor the physical and economic impact of COVID-19 in vulnerable areas.
Under regular circumstances, there is a range of socio-economic factors, beyond unemployment, regarding risk climates for piracy. Large scale income inequality, multidimensional poverty, violence, underdevelopment, pollution, government corruption and poor governance all contribute to a climate where piracy can thrive. Piracy can be an attractive alternative in regions where local marine industry, such as fishing, decimates, in conjunction with a lack of other sustainable opportunities for that community. When local waters have a high volume of traffic, largely unguarded by a naval force, it opens opportunity for attack. This is why it is more prevalent for commercial and pleasure craft vessels transiting global hot spots like the Gulf of Guinea off the coast of West Africa, or Gulf of Aden (Yemen) to have armed guards, or additional enhanced security measures.
COVID-19 caused unemployment to skyrocket across the world because businesses have been forced to shut down and whole economies placed in cold-storage.
While COVID-19 could be a factor in the global rise in piracy seen in 2020, some of the increases in incidents we witness predate the pandemic. We see this in the Strait of Malacca in Southeast Asia for example. We need to remember that most of the world has only been dealing with this for four months (though it has surely felt longer), with every country addressing it their own way. At this time, no one can reasonably draw a direct line between COVID-19's economic impact and piracy until enough time has passed, and we see how respective countries adapt to their new normal.
In North America, lockdown restrictions are beginning to loosen in both the U.S. and Mexico, shifting the focus of our fears from the consequences of unemployment, to fears about a rising second wave of cases. From a maritime security perspective, a major concern for operators is ensuring that vessel crews are prepared for the infection risks on land, where they anchor. At this time, mariners need to take extra precautions, and take stock. Does your crew have enough personal protective equipment (PPE) for your journey? Who in your crew is more vulnerable to the symptoms, do you have the capacity to quarantine, and what is the risk ashore for your destination? While most commercial ports continue to operate, many are operating under new quarantine protocols. To minimize the risk of infection, many ports are not allowing crew transfers, and have made it difficult for arriving crews to relieve previous ones. How does that factor into your timeline? We need to keep these questions in mind as we navigate a pandemic.
While governments, ports and private industry spend millions on physical security, cyber-attacks on vessels are an overlooked emerging threat. For commercial vessels especially, this manifests in email scams impersonating trade partners or coworkers. Be aware of these threats, practice due diligence. This is as simple as double checking the email address and spelling of a sender before opening links. Scammers often have addresses that do not match up with who they are impersonating. Ensure that you have standard reliable cyber defense software and onboard WIFI networks are password protected.
Transiting anywhere in the world, vessels should always have a security plan. Best Management Practices 5 (BMP5) is the industry standard guide for keeping crews safe from maritime crime. In it you can find a spectrum of solutions for safeguarding your vessel. Understand the risks associated with your route. Consider consulting with a maritime risk management firm, like Dryad Global. Among our services, we provide transit and port risk assessments, drawing from decades of combined experience in government, private and military intelligence, giving you objective, data led assessments. On your end, continue to report anything suspicious to the appropriate reporting centers. When it comes to risk, always remember that failing to prepare is preparing to fail.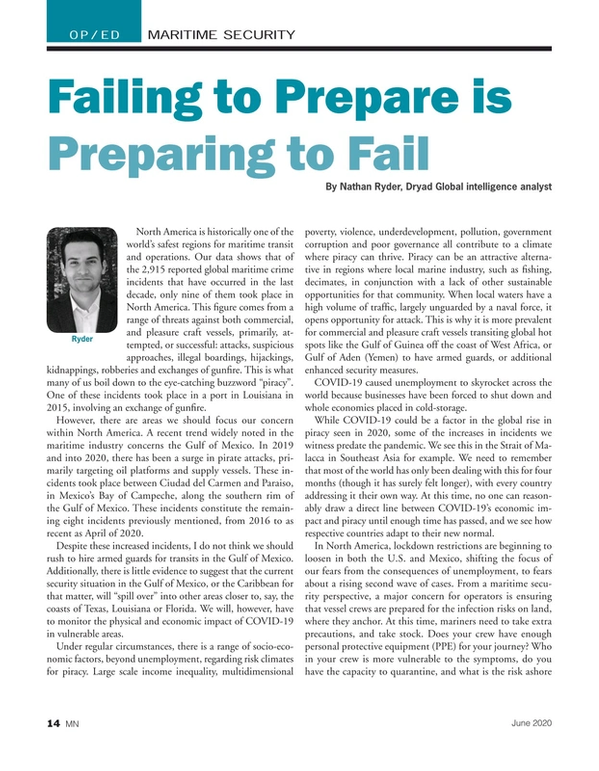 Read Maritime Security: Failing to Prepare is Preparing to Fail in Pdf, Flash or Html5 edition of June 2020 Marine News
Other stories from June 2020 issue
Content