Naval Fuel-related Assets Protected by Coatings and New Robust Standards
By Terrance Mayes
The U.S. Navy has many assets other than its seaborn vessels to care for, and recently it adopted new standards to protect those that are fuel-related. Naval Facilities Engineering Command (NAVFAC) contracted with Master Painter Institute (MPI) services to establish product standards for interior carbon-steel fuel pipes, interior welded fuel tanks, exterior steel systems and waterfront steel structures. These new standards, known as the MPI 500 Series Standards, are for use in numerous aspects of work involving specialized Department of Defense (DoD) petroleum, oils and lubricants (POL) facilities as well as shoreline structures and construction.
Naval coating origins
The Navy's love affair with paint has a long history, and in its heyday involved a robust program for paint chemists and labs to develop and manage their paint standards. These Navy and U.S. federal paint standards were based on the chemical composition of paint and bore names like TT-E-489 Enamel, Alkyd, Gloss, Low VOC Content; TT-P-29 Paint, Latex; and A-A-2962 Enamel, Alkyd.
In the 1990s, the U.S. government determined it was cost-prohibitive to run their own paint lab and test regimen, so a presidential order directed the Navy to seek out and adopt the best available alternative system of paint standards.
MPI offered two critical advantages over the current Navy/federal program:
1. Performance-based standards
Traditional paint standards were composition-based and essentially prescribed a recipe for a particular kind of paint and most were for product types with well-established performances and service lives. This approach worked well enough with the industry producing the same technologies for decades, but proved to be a liability when the leap was made to develop new chemistries for lower volatile organic compound (VOC) products that had no track record of field performance.
By contrast, MPI standards defined what good looks like, by defining the level of performance the product should provide based on a regimen of tests tailored to each type of coating. MPI standards are classified around basic paint types such as alkyd versus latex, and clear versus pigmented, with the requirements to pass these standards being virtually agnostic to the composition. This protocol of approving products based on performance gave specifiers an invaluable compass with which to navigate the sea of new low-VOC and water-based products.
2. A strong lab testing/approval program
Products approved by MPI were proprietary paints supplied by a wide range of industry suppliers with distribution capabilities across the U.S. and Canada. This list of approved products offered the Navy ready access to source the products they needed.
Over the course of three days, Naval paint experts reviewed MPI standards and, ultimately, the decision was made for the Navy to adopt MPI standards and Approved Products Lists.
Application of the MPI 500 Series
With more than 70 bases worldwide that can span areas up to 149,000 acres in size, the Navy owns a vast inventory of POL systems. These are considered among the most critical of land-based Navy assets in terms of a combination of risk from corrosion; the need for continuous direct support of base operations; and the life cycle cost effectiveness of utilizing appropriate corrosion control systems.
Exterior corrosion such as pitting and surface erosion on above-ground POL facilities can occur due to the following atmospheric effects: temperature, humidity/atmospheric moisture, precipitation, salinity, topography, ultraviolet (UV) light, winds, chloride deposition, sulfur dioxide deposition and other pollutants.
Other coating requirements
In addition to rigorous performance testing, the 500 Series includes material-based requirements that impact personal and environmental safety as well. Products submitted must be free of lead and chromate, benzene, chlorinated compounds, or ethylene-based glycol ether and their acetates; have a maximum VOC of 340 g/l (2.8 pounds/gallon); and have a flash point (the temperature at which a particular organic compound gives off sufficient vapor to ignite in air) below 95*F.
There are also requirements around ease of application, including viscosity, pot life, dry time, condition in can, storage stability and fineness of grind.
Testing and performance parameters
Performance tests in the series include:
Knife test: Adhesion is verified by measuring the coating system's resistance to a cutting force.
Reverse impact test: The lining's ability to maintain integrity and adhesion is measured if the exterior of the tank gets dented. The uncoated side of the test panel gets hammered, and the coated side checked for cracking or any other loss of adhesion greater than 15 mm in diameter.
Fuel and water resistance: Test panels are immersed for 21 days in glass jars containing a mix of JP-8 fuel and distilled water. The surface is then checked for blisters, darkening, or any indication of loss of adhesion (like softening).
Color: The difference in color between the primer and the topcoat helps the inspector verify the coating's coverage, which is far more crucial with linings for immersion service than paints for atmospheric service.
Immersion testing: Coated panels are submerged in various fuel/water mixtures at an elevated temperature for 180 days to simulate extreme usage condition.
Freeze-thaw stability: Coated panels are exposed to a 30-day cycle of freeze/thaw that includes 16 hours at -30°C followed by 4 hours at 50°C.
Accelerated weathering: Coated panels are tested for 50,00 hours according to ASTM D5894, varying between a UV/condensation chamber and a salt fog/dry chamber. Panels are evaluated for rusting and blistering every 1,000 hours during the process.
Conclusions
With the adoption of new robust standards, the Navy has positioned itself to protect its fuel-related assets including transportation and storage of fuels, fuel tank interior structures, steel sheet piling, and other steel waterfront structures for many years to come. Consideration was given to both performance in the field and the safety of those applying the coatings. These standards are such that adoption by other organizations would be simple and save the associated organization the time and effort spent specifying, testing and evaluating coatings for their use.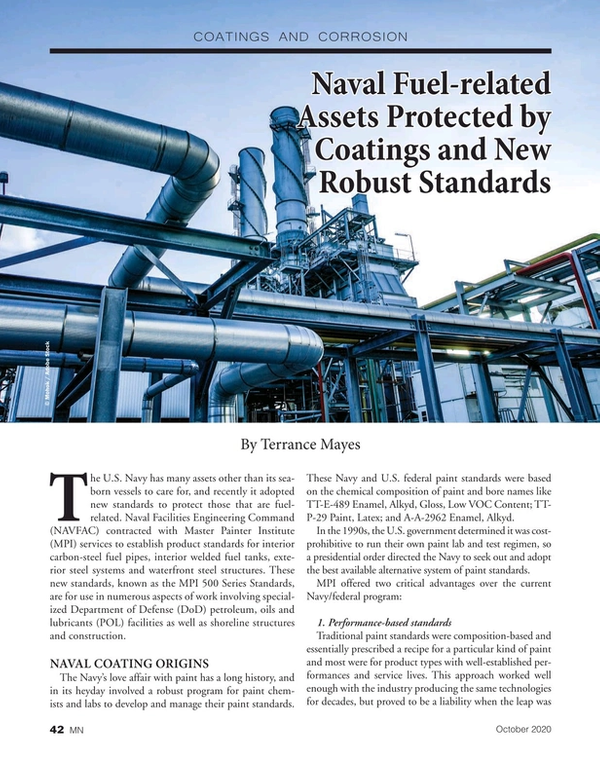 Read Naval Fuel-related Assets Protected by Coatings and New Robust Standards in Pdf, Flash or Html5 edition of October 2020 Marine News
Other stories from October 2020 issue
Content