In Rhode Island, the Future is Blowing in the Wind
By Patricia Keefe
It's powerful, it's clean, and it's something the Ocean State has plenty of: energy-rich offshore winds. Rhode Island, along with its designated developer, Deepwater Wind, hopes to be the first in the U.S. to harness that blow, starting with an initial, five-turbine, 30-MW demonstration project off Block Island, to be quickly followed by the nation's first 1,000-MW farm situated further out in federal waters.
Besides bragging rights, successful deployment could put the state well on its way to diversifying its energy resources and reducing its fossil fuel consumption. From an economic standpoint, the Rhode Island projects, coupled with other anticipated wind farm developments in the region, are expected to provide the state and its subsea maritime industry with a significant payout via the creation of new jobs, new job categories, the facilitation of new and existing business expansion, increased shipping and rail traffic, and manufacturing and vessel-building opportunities – all combining to infuse new life and a brighter future into existing ports.
The potential for the marine industry is enormous, agree many observers. "We're talking hundreds of jobs," said Fara Courtney, Executive Director of the Cambridge, Mass.-based U.S. Offshore Wind Collaborative (USOWC). Moreover, as the industry grows there will be a need for larger scale, specialized vessels to handle construction and transport. "If you look at the supply chain in Europe, the amount and types of equipment used for wind farming are incredible. It's a huge industry just waiting to start up here," said Grover Fugate, executive director of Rhode Island's Coastal Resources Management Council (CRMC).
For example, the economic benefits from Block Island alone could net Rhode Island an estimated $107 million in constant 2010 dollars terms or $92 million in net present value (NPV) as of Jan. 1, according to a July 2010 report prepared for the Rhode Island Economic Development Corp. (RIEDC), by Boston-based Levitan & Associates, a management consulting firm specializing in energy. (Levitan based its calculations on an assumed January 2013 startup date.) It also estimated that a then 385-megawatt proposal by Deepwater would provide the state $886 million in constant 2010 dollars or $659 million in NPV terms as of January 1. That proposal has since been bumped up to 1,000 megawatts. Do the math.
Deepwater, meanwhile, claims that even a single 1,000-megawatt project might be enough to "entice both domestic and foreign suppliers to seriously consider establishing significant parts of their fabrication, manufacturing, assembly, and support services" in Rhode Island and Massachusetts. The developer is already committed, under a joint development agreement with the state of Rhode Island, to doing pretty close to that. It will be leasing 117 acres at Quonset Business Park, for the storage, fabrication, and staging of its offshore components; locating its regional headquarters and foundation manufacturing headquarters in Rhode Island, and encouraging its vendors to use local workers where possible.

A Three-Hour Tour
The course to getting there, however, is both arduous and studded with obstacles. Hauling in offshore wind power is neither easy, nor free. It currently takes developers years to navigate their way through the choppy slop of appropriate siting, analysis and mapping of waterway traffic, including marine and avian patterns; wind and ocean currents and speed; a host of ecological and environmental concerns; supply chain issues; utility contracts and connection; financial commitments; and a veritable sea of state and federal regulations from seemingly all possible angles and agencies.
Rival Cape Wind in Massachusetts, for example, is more than a decade into the process, and despite having won construction permits, must surmount legal challenges before it can start. And in Rhode Island, lawsuits have similarly forced Deepwater to ratchet back to 2014, the planned spring 2013 launch of its $250 million Block Island pilot, which is designed to power about 10,000 households in the region and cut by 40% power rates on Block Island, currently among the highest in the nation.
That delay could push out the start date on its utility-scale, regionally focused project, the roughly $6 billion Deepwater Wind Energy Center (DWEC). The large scale wind farm is designed to function as a regional energy center, producing 1,000 megawatts off 200 turbines, most of which will be located in the ocean waters of southern Rhode Island Sound 20 to 25 miles from the shoreline. The DWEC would feed into a cable system called the New England –Long Island Interconnector, which will deliver energy to Long Island and Southern New England, enough to power 350,000 homes. Leases for federally-sited wind farms are slated to be auctioned in the first half of this year. Deepwater has said it expects construction to begin in 2014 or 2015, with the first wind turbines in operation by the end of 2016 or 2017.
Federal legislation passed in January may help speed things up a bit. The new law extends production and investment tax credits for wind-energy projects that begin construction by Jan. 1, 2014. There are also state and federal mandates to get going on renewable energy goals, pressure that has particular resonance for the 28 coastal states that consume 78% of the US electricity production.
A July 2008 U.S. Department of Energy's report, "20 per cent Wind Energy by 2030," found that offshore wind capacity could provide 54 gigawatts (GW) of the 300 GW needed to deliver 20% of the nation's electricity from wind energy by 2030. As luck would have it for Rhode Island and Massachusetts, about a quarter of the country's wind reserves are located in an area south of Martha's Vineyard, which also happens to be the Bureau of Ocean Energy Management's designated range for large wind farms.
Even better, wind farm developers and their backers aren't just wading through regulatory marshes. They are closely examining the region's harbors and ports, looking for proximity to projects, access to water and space availability. Ports with channels deep enough to accommodate the huge vessels needed by the industry, and sizeable staging areas for assembling components, are going to be critical to the construction and maintenance of these farms, and both states are determined to win the lion's share of that lucrative business.
Tiny R.I. has already taken some giant steps toward that goal, compared to other states. "Rhode Island has really stepped out in advance of many other states and done some very innovative things to help the industry move forward," said USOWC's Courtney.
"Rhode Island is very well positioned to be a winner, than any other state," said energy analyst Steven Kopits, managing director of Douglas-Westwood in New York.
The CRMC in particular draws special praise for developing the Rhode Island Ocean Special Area management (SAMP) plan, a spatial marine mapping of a defined area of the ocean floor off the Rhode Island coast. (See RI SAMP). The SAMP provides regulatory standards for offshore development and was used to designate siting areas for wind farming in both state and federal waters. President Obama's Ocean Policy Task Force called it a national model for marine spatial planning.

If you build it, they will come
In New England, where the battle to be first in the water has now extended from the wind farm proposals out to the ports, yet another ace in Rhode Island's pocket is The Port of Davisville at Quonset Business Park in North Kingstown. One of the largest ports in the northeast with 3,200 acres, it is also the seventh largest importer of autos in the country and home to 168 companies that employ almost 9,000 people. Longtime, key tenants include Electric Boat Corp. and Senesco Marine. Located near the mouth of Narragansett Bay, the port features four berths and five terminals with over 58 acres of laydown and terminal storage.
"To have that much property on the waterfront with a combination of rail connects, airstrip and deep water access at one facility – I think it is a fantastic asset," said Jim Dodez, Vice President of Marketing and Strategic Planning, KVH Industries, Inc. in Middletown, R.I.
Steven King, managing director of the port, believes wind farm activity could muscle its way into the number two or three spot in the port's business lineup once the market takes off, some three years or so down the road. To get ready, Quonset has made $30 million in infrastructure improvements, including a $7.5 million dredging project, the purchase of a $4 million Gottwald 7608 Mobile Harbor "super" Crane that can lift up to 140 metric tons and stands approximately 126 feet high, structural improvements to Pier 2 to support the crane and the addition of lighting and new fendering to Pier 1, King said.
Hot on Quonset's heels, though, is a $100 million project to build South Terminal in in the economically depressed fishing and shipping port of New Bedford, Mass. The project will "purpose build" a multi-use terminal to serve foremost as a base of operations for the assembly, staging and transport base of offshore energy-related projects. Cape Wind has committed to working out of the new terminal.
Rhode Island is betting that Davisville is ideally suited and situated to serve as the preferred base port for primary staging and maintenance for a collection of regional wind farms, and it's not alone in that assessment. Although they believe there will work enough to go around eventually, right now, industry observers say there is no doubt that Davisville is the most attractive option.
"From an economic development point of view, Quonset, by any metrics is an ideal port from which to support offshore wind development," said Malcolm Spaulding, co-founder of South Kingston, R.I.-based ASA Sciences and URI Professor Emeritus of Ocean Engineering. "The biggest competition to supporting offshore wind at Davisville is really the port's other businesses, primarily auto imports, which like wind farms, gobbles up a lot of space."
Beyond the ports, the double-edged sword of offshore wind offers still more economic opportunities. It will create more construction, design, transportation and maintenance jobs, but that's partly because the offshore environment is more complex and more hostile, and easily accessed. "You can't just put two guys in a truck and send them out to fix X number of turbines a day," said Kopits. "For starters, you need a vessel , and it has to be crewed, and you'll probably need a barge as well – you can see how much more expensive this is going to be."
And there are the project-specific vessels that will have to be built to construct the platforms and haul huge payloads once the industry gets underway. These include new-generation purpose-built vessels heavy lift vessels, jackups, offshore supply vessels, transport vessels and barges and cable lay vessels. The available fleet of construction vessels today are in the Gulf of Mexico or off the coast of Europe, where Kopits says most are booked out for the next year. He estimates a combined total of 20-25 new ships of all kinds may eventually be needed, but he suspects they'll mostly be built in non-union shipyards in the South.

(As published in the March 2013 edition of Marine Technologies - www.seadiscovery.com)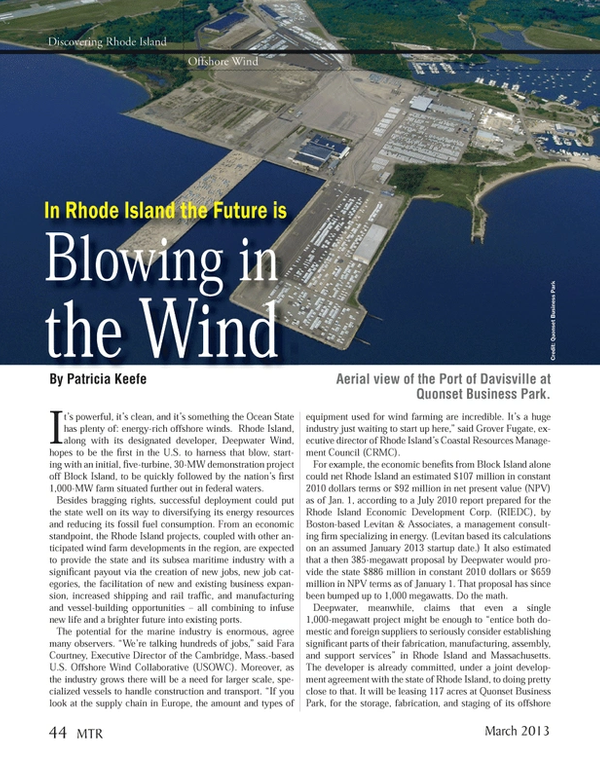 Read In Rhode Island, the Future is Blowing in the Wind in Pdf, Flash or Html5 edition of March 2013 Marine Technology
Other stories from March 2013 issue
Content