View from the Top: Casey Moore
By Greg Trauthwein
View from the Top: Casey Moore, President, Sea-Bird Scientific
MTR caught up with Casey Moore, the ubiquitous president of Sea-Bird Scientific, at the 7th Annual Blue Tech & Blue Economy Summit in late 2015 in San Diego. His candor and insight during his presentation makes him a natural selection for MTR's April 2016 "View from the Top."
Here are Casey Moore's thoughts on:
The ability to look ahead and predict the course of the subsea market for the next 20 years.
"I find that I'm bad at predicting how long things are going to take when it comes to product innovation and new developments. To that point I'm going to be introducing some things today that is part of my vision cycle for 20 years from now that really was part of my five-year plan when I started my business in 1992!"
Challenges inherent in this business, balancing everyday work versus long-range predictions.
"I'm a nose to the grindstone kind of guy. There is a perspiration/innovation equation that's going on with all that we're doing here. In this business, the perspiration is a big part of it. We innovate new sensor technology, we get it out in to the field and we learn, and then it is a long road to getting it really right to provide the quality of data necessary for a lot of today's scientific problems. The ocean is a big body of water and when you're measuring a lot of small variance, you have a lot of challenges."
The size and scope of the company's task at hand.
When Moore looks at his companies business, he sees it in the following context:
1. Ocean as a Climate Engine;
2. The Carbon Cycle and the sequestration of carbon in the ocean (ie. Ocean Acidification);
3. The Industrial Ocean, meaning people using the ocean as a space to work, using the ocean as a resource, or using the ocean to extract resources (ie. transport, oil & gas, fisheries);
4. The Ocean as a Habitat, meaning the eco diversity and productivity of species living in the ocean, as well as human habitation in coastal community.
"These are all significant and distinct issues, but what really makes them compelling is when you realize that they are all inter-dependent, and they impact each other. Ultimately it comes down to 'how are we going to sustain this space over the next 50 years to maintain a viable human habitat."
Importance of issues surrounding the ocean.
"It is in my opinion that this is going to be the problem for the 21st century for ocean sciences. It is today, and it's going to be there in 20 years; we'll learn new ways to cope with it, but it's not going away."
The future funding of ocean science initiatives.
"It is unrealistic to think that funding is going to ramp up wildly … we're going to have to learn to work with limited resources. That means we have to get more efficient, and driving down acquisition cost is a big priority for our company. It's not all about lower cost sensors; that's important, that something that we can do, but the cost of getting good data out of the ocean is really driven by deployment and operations and maintenance and assimilation of the data. We've got to make it easier for people to do that."
"I think the second big thing for us is we're in this era of biogeochemistry. (To be fair) I could have said that 15 years ago that we're entering the era of biogeochemistry (and been correct then, too). In order to do this job well, to understand eco diversity and all of its impacts we're going to have to move things along; we need to improve biological sensors, we need better in-water chemistry, we need new and improved multi-parametric techniques."
The need to develop the workforce of the future.
"One of the biggest gaps is the cross training of the workforce. We can get good engineers, we can get good scientists, we can get good commercial leaders, but what really will drive our business forward is getting scientists that understand the commercial business; getting engineers that understand science; commercial leaders that understand the science."
"When it gets too cut up and sequestered, you find yourself simply providing products to customers, and you lose contact with the fundamental problems."
Casey Moore, President, Sea-Bird Scientific, explaining the nature of his company:
"Sea-Bird Scientific is approximately 200 employees across four locations in the U.S., Canada and Europe. It develops and manufactures sensors, systems, and platforms for in-water analytical measurement of natural waters. "We build CTDs, we build sensors that go with CTDs, we build analytical instrumentation."
In 2013, Sea-Bird Scientific reorganized to provide more focused support for its expanding customer base. Today it provides products and services through two commercial businesses: The Ocean Research Business Unit and The Sea-Bird Coastal Business Unit. "When it comes down to it we are an Ocean Science business, and we build sensors for ocean scientists … that's at the core."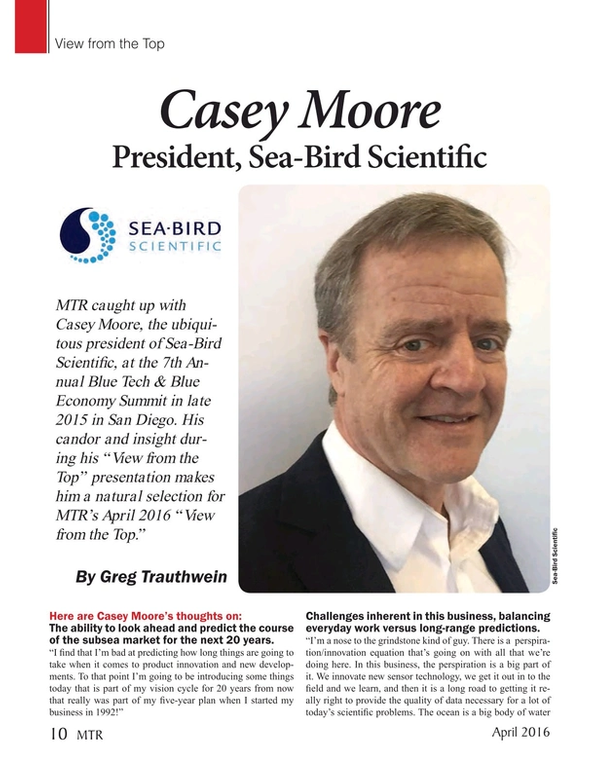 Read View from the Top: Casey Moore in Pdf, Flash or Html5 edition of April 2016 Marine Technology
Other stories from April 2016 issue
Content