Case Study: Cables in Underwater Missions
Chad Murdock, Applications Engineer, Cortland Company
The US GEOTRACES program is dedicated to collecting trace elements and their isotopes from the world's oceans for scientific purposes. Oceanographic working environments can be harsh, so durable equipment is essential for successful underwater missions.
Electromechanical cable specialist Cortland supplies equipment which is used by research institutions around the world to help track and monitor changing ocean conditions. Our team led by renowned biogeochemist Dr. Greg Cutter, Professor of Ocean, Earth and Atmospheric Sciences at Old Dominion University, Virginia, developed an oceanographic solution for US GEOTRACES.
To support the scientific challenges, a suitable cable had to be non-metallic to meet non-contaminating criterium as any exposed metal can interfere with the sample quality of trace elements, such as iron and zinc, by the time they return to the surface. A lighter-weight solution would also allow deeper ocean sampling, compared with metal-clad electromechanical cables ordinarily used for campaigns. These older models of cables are considered too heavy for winching within safe working limits when lowered to depths of more than 5,000 meters.
Ideally, the solution had to have no exposed metal, lower the weight and deploy rapidly. It also had to be strong enough to handle variable loads under tension due to the movement of the ship and be long-lasting. The cable and connected hardware would also have to endure more than 100 deployments per expedition.
Cortland's cable has now been used on more than 600 ocean research deployments. It safely holds the weight of 500 kilograms of equipment, including a carousel of 24 12-liter sample bottles. As it is lowered through the water column to depths of 7,000 meters, it endures factors including cold temperatures, bending, tension cycling, corrosion, marine abrasion, compression and even attack by sea-life. It must flex and bend to deal with winching, marine currents, and pressures exceeding 550 bar (55,000 kPa).
Each cable provides the physical connection for real-time power and communication connectivity. Designs have to be rigorous, and manufacturing takes attention to detail and proven processes.
Material gains
The requirements for underwater sampling and monitoring are diverse. Projects can include seismic surveys, marine life studies and pollution tracking. The cables are manufactured differently from general industrial versions, hand-build for often unique purposes. Notably, Cortland has worked with the School of Marine Science and Technology at the University of Massachusetts to produce a specially designed electrical coaxial cable to conduct a census of Atlantic sea scallops, and with the National Oceanic and Atmospheric Administration to decrease deployment infrastructure and costs for tsunami warning buoys. Both projects needed cables which were not commercially available off the shelf to provide the protection, accuracy and durability required.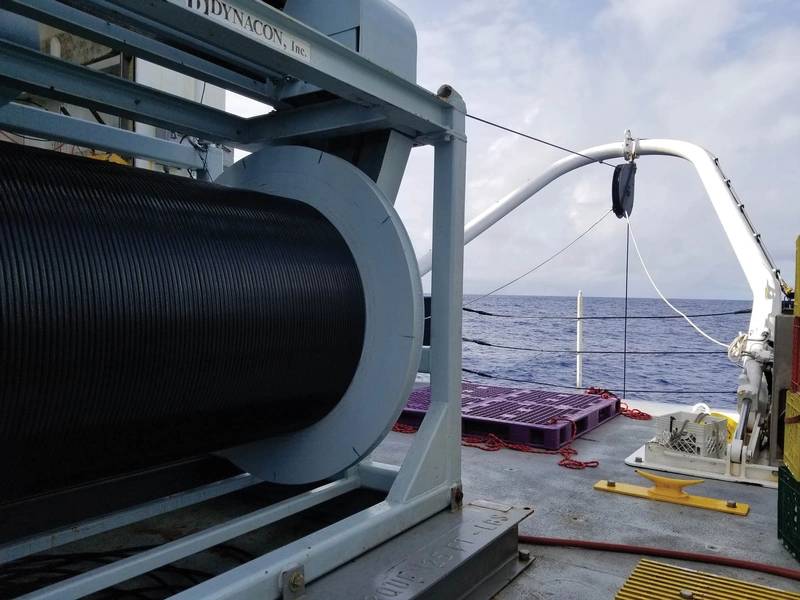 Image: Cortland
For US GEOTRACES, a 14 mm Vectran cable was designed, manufactured and supplied by Cortland for the deepwater oceanographic research application. The use of Vectran, a high-performance synthetic fiber, provided the high-strength, low-stretch and flexible properties needed as the cable's strength member.
Within the core, Cortland supplied electrical and communication wiring with the capabilities to relay signals through deep ocean depths. Surrounding the entire cable construction was an abrasion-resistant, extruded polyester outer jacket.
The materials used were strong, but lightweight and flexible. The outer coating was durable enough to handle deck and overboarding activity on the vessel, and to withstand potential damage from temperature changes, tension cycling, and ultraviolet light.
These protective elements allowed uninterrupted signals between surface and carousel for crucial real-time data monitoring. US GEOTRACES could monitor temperature, pressure, conductivity and other sensed parameters throughout the lowering process, and trigger sample bottles during ascent. Cortland's synthetic version was designed to have all the functionality and capabilities of steel cable alternatives, yet at much lighter weight, while also eliminating metal contamination.
Future use
US GEOTRACES has achieved the capability to lower the carousel deeper than ever before without weight concerns. The researchers can collect more samples faster and there is virtually no risk of contamination from exposed metal components.
The organization has now used the custom cable for dozens of missions, in regions as diverse as the Arctic to the tropical waters of Polynesia. It has proven ideal for the expeditions, carried out every two years since 2008. It is set to be deployed again in 2021. Near identical cables are now in use in China, Germany, India and Antarctica.
We've learned through experience that cables used in dynamic subsea environments have to be custom designed and built for the specific harsh environments our customers encounter. The properties of synthetic strength members and outer jackets can make the difference to scientific expeditions, particularly those performed over long-time frames in remote locations and at great expense. Our teams aim to be an extended part of these missions and take pride in their successes too.

About the Author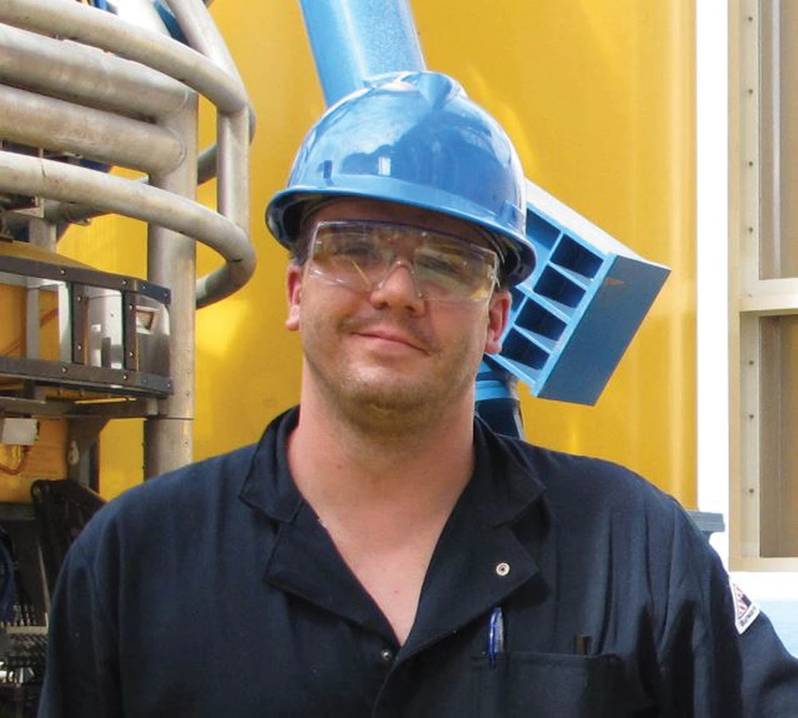 Chad Murdock is a lead applications engineer at Cortland Company. He manages relationships with strategic key accounts in a wide variety of industries to provide highly engineered custom electromechanical cable solutions. Chad has experience in mechanical product design, manufacturing, and testing for custom cable applications ranging from oceanographic research to aerospace. Driven by technical expertise and a problem-solving-approach, he provides innovative solutions and support to customers around the globe. He has also been instrumental in promoting synthetic strength member components as part of cable solutions instead of steel, providing the benefits of high temperature resistance, high strength to weight ratio, excellent cut resistance, low electrical conductivity and low interference properties, low stretch and good chemical resistance.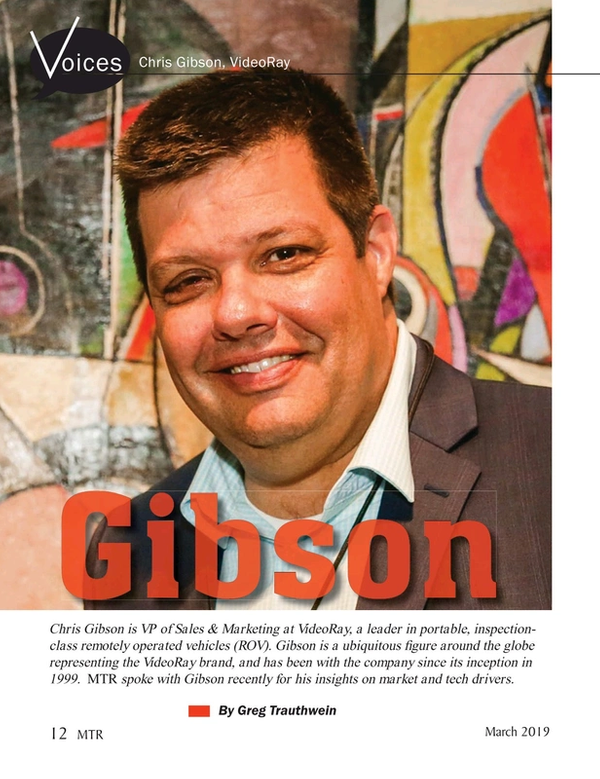 Read Case Study: Cables in Underwater Missions in Pdf, Flash or Html5 edition of March 2019 Marine Technology
Other stories from March 2019 issue
Content