'Birgit-N'— First Crabber/Trawler From Tacoma Boatbuilding For Bering Sea Service
The newly christened fishing vessel Birgit-N is the first crabber/ trawler built by Tacoma Boatbuilding Co., Inc., Tacoma, Wash., for service in the Bering Sea.
The Birgit-N (shown above) was built by Tacoma Boatbuilding Co., Inc. for Peter Njardvik and A.O.
Nordheim to join their other vessels in the rigorous and highly competitive Bering Sea crab fishery.
The design, by B.F. Jensen and Associates, incorporates several features improving the efficiency of the vessel.
The Birgit-N has four crab tanks, each tank being insulated with 6 inches of closed cell urethane foam. The four-tank arrangement allows for ease of loading crab, and also facilitates handling of salmon when the vessel acts as a tender during the Alaskan salmon season. A 60-ton refrigeration plant is installed to maintain fish in the tanks at a temperature of 3 0 F in chilled seawater. Sumps located in the forward tanks and a sliding watertight door between tanks will allow rapid discharge of the frozen salmon via a fish elevator through the forward tank hatches.
A major benefit of the fourtank arrangement is a shaft alley allowing access from the engine room to the steering compartment and lazarette below decks.
The circulation pumps are located in the shaft alley, thus leaving more usable space in the engine room. All compartments below the deck are protected by watertight doors.
The efficiency of the Birgit-N's design is enhanced by the use of two 10-ton cranes, both fabricated by Northern Line Machine, a division of Tacoma Boat. The forward crane has a reach of 36 feet, and will serve as the picking boom. The aft crane is a unique level luffing design with a reach of 48 feet. The level luffing feature of this crane allows the operator to raise and extend the boom without the need to constantly pay out or haul in line.
No matter how the boom is manipulated, the line length remains fixed. This arrangement is safer, faster, and more precise than existing installations. Both cranes are controlled by hydraulic servos on the main control valves which are located in the engine room.
The boat is also equipped with a pair of trawl winches, a stern ramp, and a Northern Line net reel to allow the Birgit-N to trawl for bait fish.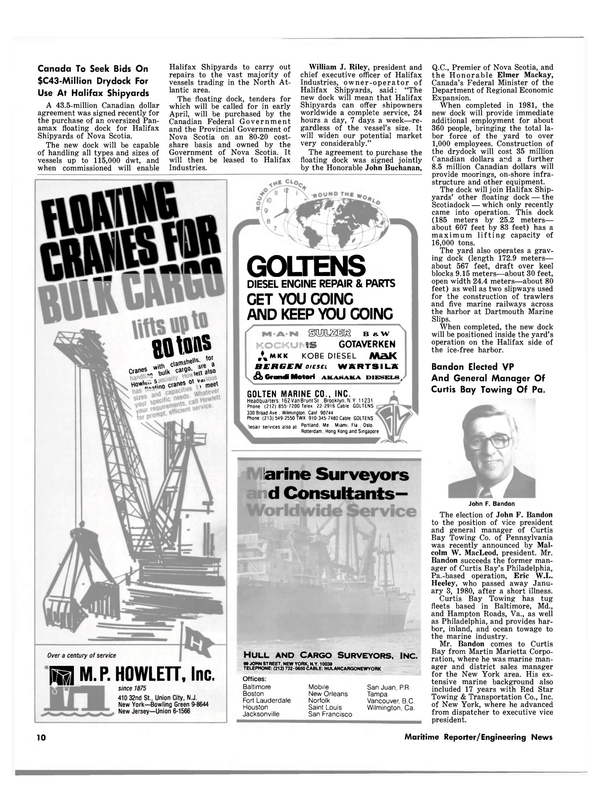 Read 'Birgit-N'— First Crabber/Trawler From Tacoma Boatbuilding For Bering Sea Service in Pdf, Flash or Html5 edition of March 1980 Maritime Reporter
Other stories from March 1980 issue
Content