Maersk & New Containership Economics 101
By Greg Knowler, Hong Kong
Capacity management is firmly on the minds of Maersk executives as the largest container ships in the world steam into service.
Photographs of Maersk Line's 18,000 TEU ships are flooding in from ports around the world as the carrier phases its giant new vessels phase into the AE10 string between Asia and North Europe.
It's a "Where's Waldo" with maritime characteristics. Shanghai, Ningbo, Yantian, Hong Kong, Tanjung Pelepas, Rotterdam, Aarhus, Gdansk – the giant Triple-E Class ships are making history with each port call and tugboats with water cannons firing have been rolling out the aquatic red carpet.
Maersk Mc-Kinney Moller was the first of 20 Triple-Es ordered by the carrier and it sailed into service with plenty of fanfare on June 28. In August she was followed by Majestic Maersk, and Mary Maersk was scheduled to join the fleet in mid-September.
Five of the giant vessels will be in service before New Year celebrations begin and by 2015 all 20 will be in business, an incredible 360,000 TEU of capacity shuttling between Asia and North Europe.
It is this enormous amount of container space that has alarmed the industry. The Asia-Europe trade is already reeling under a glut of capacity and weak freight rates with few expecting a European economic recovery anytime soon.
Market watcher Drewry believes that even when the industry's most recently ordered ships are delivered in 2016, Europe and the U.S. are still likely to be climbing out of recession, which means that capacity in the east-west trades will continue to outstrip demand.
Maersk Line, however, insists that the introduction of the Triple-Es will be managed carefully to avoid flooding the market with capacity.
"In the volatile global economy and shipping environment, it is very important that we find a balanced way of introducing new and efficient tonnage without increasing the total capacity of the market unnecessarily," said David Skov, head of South China for Maersk Line.
"We took out the AE9 string on the Asia-Europe, and even with the five Triple Es by the end of the year the total capacity will not have grown. It is a responsible way of introducing new capacity while not making a difficult situation in the trade even worse."
Since the global financial crisis in 2008, the trade has struggled to balance demand and supply. The European recession and falling exports from China have put the brakes on container trade and, when combined with a trend towards ordering smaller volumes more frequently, has reduced peak season spikes and flattened out exports.
The impact of the excess capacity on Asia-Europe freight rates has been brutal, with rates falling to their lowest level ever earlier this year and shippers resisting general rate increases. As it phases in the Triple-Es, Maersk Line is working hard to avoid placing any additional downward pressure on rates.
"Until we have a full string of Triple-Es we will only load the new ships to 14,200 TEUs, which is the capacity of the Emma Class vessels, the next biggest we have employed on the string," Skov said.
But surely the lower unit costs will be lost if the vessels are sailing with a utilization of 78%?
Not so, said Skov. It turns out that the Triple-Es breakeven point is below even 70% utilization before the unit costs reach uncompetitive levels.
"We have reduced the capacity by almost 10% compared to last year and are running with a much higher utilization, up in the 90s, on average. That is very high and will have to fall to unrealistically low levels before it will become a problem."
Maersk Line may be managing its capacity, but the Danish carrier is not the only line introducing ultra large container ships. In fact, by the end of next year Maersk won't even have the biggest box carriers in service. China Shipping Container Line has ordered five 18,400 TEU vessels, the first of which will be delivered in the fourth quarter of 2014.
This trend towards bigger ships will continue to grow, predicted analysts. Alphaliner expected 18% of the global fleet to comprise ships capable of carrying 10,000 TEU and more by 2015, and Drewry warned that China Shipping's decision to "follow Maersk Line down the 18,000 TEU road" was likely to be followed by most of the other carriers.
Mediterranean Shipping Co. is leading the way, but has decided to take the charter route. The world's number two carrier will charter three 18,400 TEU ships ordered by Hong Kong Asset Management for delivery from early 2015, and it will take another three 18,400-box boats on long-term bareboat charter from the Bank of China Financial Leasing, also from 2015.
United Arab Shipping Co. has five 18,000 TEU vessels that will be delivered from late 2014. China Shipping and UASC will use their vessels in a joint service.
But biggest and best comes at a price, and the first 10 ships cost Maersk Line $190 million each. The carrier expects optimization and energy improvements to the second 10 should see the price dropping to an average of $185 million per ship. Raw materials comprise most of the cost with each vessel requiring 55,000 tons of steel.
China Shipping paid $136.5 million for its 18,400 TEU ships, although the single engine design has been described as "fairly basic." Hong Kong Asset Management is believed to have paid $140 million per ship, Bank of China $140.5 million and UASC is understood to have paid $150 million each.
The ripple effects of these mega vessels will be felt throughout the shipping business. Introducing large new tonnage to a trade without increasing total capacity means smaller ships have to essentially ship out. The preferred option is to cascade the excess vessels down to other trades, which often means merely transferring an overcapacity situation from one trade to another.
The transpacific and north-south trades have borne the brunt of cascading, as mega ships were inserted into Asia-North Europe services, the world's busiest container route. To absorb as much capacity as possible, lines have employed super slow steaming, accelerated scrapping, handed back chartered tonnage and pulled in orderbooks.
Despite initial resistance to slow steaming, shippers have grown accustomed to longer voyage times and have adapted their supply chains accordingly. Guaranteed times have replaced speed, even though it now takes six days longer than in 2008 to ship containers from Shanghai to North Europe.
The two-propeller engine that can push the Triple-Es to 23 knots while operating at slower speeds gives the ship an operational sweet spot lower than the Emma Maersk. Design improvements see the engines in the second batch of 10 vessels reduced from eight cylinders to seven cylinders.
The more efficient engines make low fuel consumption one of the Triple-Es greatest advantages. Compared to the 13,000 TEU ships of competitors, vessels of 18,000 TEU are believed to burn around 35% less fuel per container. In fact, Maersk said the vessels will burn 30,000-35,000 tons of fuel a year, which over their lifetime will be close to three times the price of the ship. As fuel accounts for well over half of all voyage costs, this kind of fuel economy is a powerful incentive for ordering the new generation of container ships.
Then there are the much vaunted per slot costs, which on an 18,000 TEU ship are $10.96 per TEU per day at sea, almost the same cost as a vessel half its size.
The main drivers behind building the Triple-E in the first place were to achieve greater container capacity and better fuel efficiency. Its "Triple-E" moniker refers to economy of scale, energy efficiency and environmental improvements made possible through advances in ship design and technology.
At 400 m, the ships are just four m longer than E-class vessels (Emma Maersk) yet can carry 2,500 more containers. An expanded inside cavity in a wider hull with a more bulbous bow allows the additional 16% of boxes to be piled in without significantly increasing the draft. Moving the navigation bridge and accommodation five bays forward and the engine room and chimney six rows back created more space.
"There is incremental change going on all the time during the building of the Triple-Es," said Skov.
Change is also being driven at ports around the world that will handle the giant vessels. Ports are under pressure to improve gate and yard efficiency, beef up feeder and barge services and intermodal connections. Skov, however, did not believe the ports would have problems with the larger vessels.
"Compared to the Emma Class ships, the Triple-Es bring a big jump in total numbers but percentage-wise it is not that big and nothing our terminal partners can't handle," he said.
"In Asia and Europe ports they are already very efficient and ships of this size will not stretch terminals beyond what they can handle."
Despite the increase in container capacity, the Triple-Es will only be one row wider than the E-class ships, 23 rows as opposed to 22. This means the ships can be handled with cranes currently in use in the hub ports.
Skov also pointed out that Asia-Europe trade has been flat for a few years and will be flat again this year.
"So it is not like in the old days with double-digit growth that led to bottlenecks at terminals. In South China there is decent spare capacity at the major terminals. Berth and yard utilization is good but nowhere close to maximum operating levels."
Maersk believes its 20 Triple-Es will be enough new capacity for the next few years and has long since declined to exercise an option for a third round of 10 Triple-Es.
Still, the trend towards deploying bigger ships will continue and all other areas of the container shipping business will simply have to fall in line. So far China Shipping has had the last word with its 18,400 box ships, but as soon as a recovery in global trade brings improved profitability, liner executives will reach for their orderbooks and before long, the industry will tumble into a new cycle of over supply.

Why Size Matters
Container Ship Economies of Scale

Maersk Line's first 18,000 teu vessel has prompted much speculation on her economies of scale, particularly as HHI has just confirmed that it is negotiating an order for five slightly larger ships with UASC, said Drewry Maritime Research in a recent paper. The economies of scale offered by Maersk Line's 18,000 teu vessels are so great that few can ignore them. Assuming the Triple E's consume 164 tons of fuel a day (excluding diesel), the estimated IFO bunker cost of the Maersk Mc-Kinney Moller (18,270 teu) would already be 35% lower than a typical 13,100 teu vessel on a per teu carried basis – $218/teu versus $333/teu. Apart from the fact that the ships are bigger, their hulls are reported to be designed around an average ship speed of only 23 knots, compared to over 24 knots for the first 13,000 teu vessels, enabling them to glide through the water more efficiently.
The unit cost comparison is based on an average westbound ship speed of 20 knots for both sizes of vessel, and an eastbound ship speed of 14.6 knots which is the average of Maersk's services between Asia and Europe according to Drewry's Carrier Performance Insight. The ships are also assumed to be 85% full westbound, and 55% full eastbound, which may only be achieved in steady state conditions, when all of the vessels deployed in the AE10 service are Triple Es.
As bunker consumption tables for 18,000 teu vessels are not readily available, and Maersk does not disclose such information, the daily consumption has had to be extrapolated from those of vessels ranging between 10,000 teu and 16,000 teu, but they do more-or-less tie in with public announcements from Maersk and national press reports. Maersk claims the vessels to be 35% more fuel efficient per container carried than the first 13,100 teu ships, and the Daily Telegraph has reported that their westbound fuel consumption is approximately 150 tons/day, compared to normal consumption of over 214 tons/day.
Ship operating costs, including manning, insurance, stores/lubes, R&M and
Admin, are also an impressive 11% cheaper – $76/teu carried versus $85/teu carried, although here again, the result has had to be extrapolated from Drewry's analysis of vessel sizes ranging between 3,000 teu and 12,000 teu in its report entitled 'Ship Operating Costs 2012-2013 '. It is based on 2011 costs, which are currently being updated.
The Maersk McKinney Moller is manned with a crew of just 21, which is not unusual these days, but it is possible to run her with just 13.
Putting both IFO bunker and ship operating cost savings together reveals that Maerk's 18,000 teu ships are a massive 30% cheaper than 13,100 teu ships on a round voyage basis – $294/teu carried versus $418/teu carried. This does not include Suez Canal and port costs, however, so is not a total slot cost, but the differential in ship operating cost is clear.
Other savings include faster cargo handling. According to APM Terminals, berth and crane productivity of the Maersk Mc-Kinney Moller (18,270 teu) last week already reached a record 215 and 37.1 gross moves per hour respectively in Rotterdam. This compares with a 'normal' berth productivity average of between 140 and 150 moves per hour and a crane productivity average of between 32 and 33 moves per hour for a well stowed 14,000 teu vessel. Because of its greater size, an average of seven cranes could be worked on the Maersk Mc-Kinney Moller, with the maximum going up to eight, whereas only six can usually be worked on a 14,000 teu size vessel.

Source: Drewry Maritime Research
(As published in the October 2013 edition of Maritime Reporter & Engineering News - www.marinelink.com)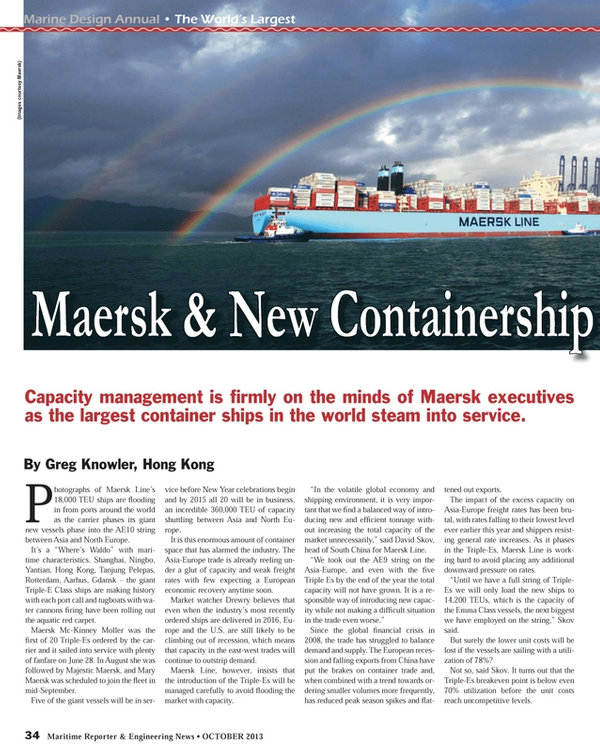 Read Maersk & New Containership Economics 101 in Pdf, Flash or Html5 edition of October 2013 Maritime Reporter
Other stories from October 2013 issue
Content