Simulation: Maritime Professional Training
Maritime Reporter & Engineering News
Maritime Professional Training
1915 S Andrews Ave.,
Ft Lauderdale FL 33316 USA
Tel: (954) 525-1014
Web: www.mptusa.com
COO: Captain Ted Morley
In South Florida sits MPT, one of the most prolific and progressive maritime training facilities. Already fully stocked, MPT added significant weight to its offering in 2016 with investment in 25,000 sq. ft. of new training space and technology.
Overview
MPT handles more than 12,000 students a year from all segments of the maritime industry and from more than a dozen countries. With that range MPT has students from ship operators, tug companies, passenger vessels, offshore and energy exploration companies, inland operators, port operators, pilot groups, large yachts, ferry operators, as well as government and military personnel.

MPT simulators include three FMSHS bridge simulators: two DP2 classed 240° HFOV and one 325° HFOV; four all weather simulators with Sperry ARPA and Transas ECDIS; six DP simulators integrated with ECDIS, single visual channels, ARPA, MT DP hardware panels, and manual controls; eight Transas GMDSS student stations; one Class A LCHS for petro, chemical, and LNG; one Class A ERS for diesel, steam turbine, and gas turbine; and six Tec-Sim student stations for peripheral system training.
Recent Developments
MPT's new facility expansion added 25,000 sq. ft. with more than 15,000 sq. ft. dedicated to simulation, with additional classrooms and student areas making up the remaining. An additional 9,000 of existing space was remodeled with new classrooms, meeting areas, and a conference center. All four of our Broward County campuses received significant technology upgrades allowing for live streaming and cloud-based data sharing between them. Our campus is now 61,000 sf and able to host 350 students a week in our classrooms, not including the conference center or meeting halls. MPT's investment in this upgrade was entirely self-funded and exceeded $6 million.
Investment in the Future
MPT will continue to invest in all facets of our facilities, improving simulator interactions for Total Crew Training, VTS Operations, and again expanding the Engineering Simulation Department. It is also looking at several other opportunities to expand simulation courses. "If you're not moving forward, you're moving backwards," is the philosophy, and MPT strives to maintain a high level of technology via a constant evaluation and upgrade process. It is looking at its databases, courses, and assessments constantly. Software and hardware upgrades occur at least twice a year.
The Evolution of Simulation Training
Simulation has changed dramatically in the past five years and operators are able to utilize simulators for much more than simple regulatory training. Being able to conduct realistic vessel familiarization, port building projects, dredging impact studies, and realistic tug/ship interactions are vital as our ports get more congested and the ships get larger. Simulation is a major component of port safety, from the ship and tug operators up to the VTS controllers.
The Market Today
MPT cuts a wide wake in the industry focusing on five primary areas: passenger vessels, commercial deep-draft vessels, energy exploration and support vessels, tug and barge vessels, megayachts, and inland vessels. The offshore energy sector has suffered with the precipitous drop in oil prices but many of those mariners are looking at ways to improve their skill set to either compete for the remaining jobs, or move into other segments of the marine industry.

There are growth opportunities, as international regulations are not going away, nor is the efficiency of maritime commerce being challenged any time soon. Shipping remains the most environmentally friendly, budget-friendly, and low impact method of transporting goods around the world. It also remains one of the most sought after methods of exploring the world. With that, training opportunities exist with port development, man power creation in developing countries, streamlining of corporate training, and creating more efficient mariners. These areas are all key to future growth as the ships may be getting larger, but crew size is getting smaller. More efficiency, more technological ability, and a higher level of competence are vital for future growth.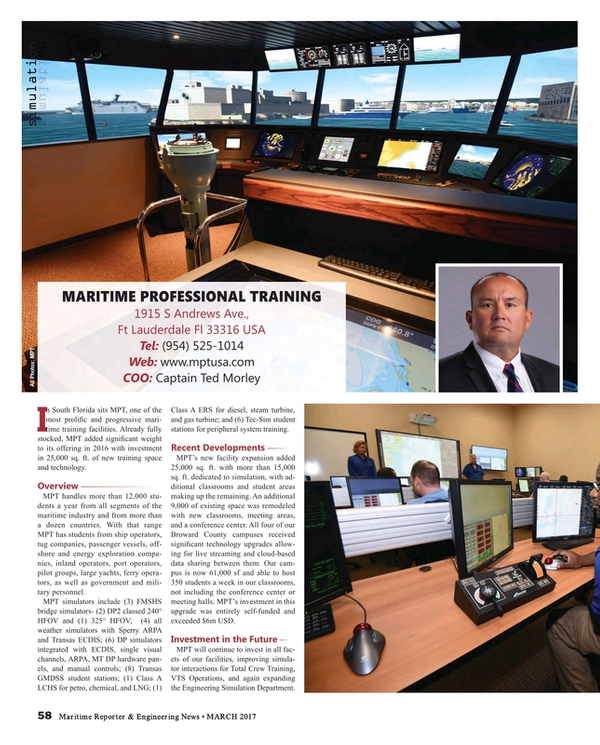 Read Simulation: Maritime Professional Training in Pdf, Flash or Html5 edition of March 2017 Maritime Reporter
Other stories from March 2017 issue
Content