Data is the New Oil and Satellites Are the Pipeline
By Stephen Conley
As the shipping industry embraces digitalization, it's time for a new era of fresh thinking that recognizes the potential of satellite communications in delivering financial, environmental and safety improvements.
If shipping awarded a 'word of the year' in 2017, digitalization would have been a clear contender. The term has become a mainstay of commentary in maritime media and a key topic of debate at our industry's conferences and exhibitions.
But the reality is that digitalization is more than just a word or catchphrase that's captured shipping's attention. The work being done in its name is set to transform the sector.
The risks and rewards associated with digitalization are plentiful. Shell, for example, has fitted its fleet of liquefied natural gas (LNG) carriers and tankers with more than 500 data points and connections to shore, creating a flow of information between vessels, ports and terminals that is enabling an efficiency of operations that would have been unthinkable in the analog age. Equally, Maersk experienced first-hand the risks associated with digitalization during a widely publicized cyber attack on its IT systems in 2017. And despite the scars of footing a $200-$300 million bill for the incident, Maersk remains a staunch supporter of digitalization, calling it a 'key part of its future' on its webpage dedicated to the topic.
Exponential Growth
As notable as the risks and rewards of digitalization is the speed at which it's being deployed. While its true potential for the industry remains unknown, what is clear is the exponential growth of digitalization and the solutions that it enables, not least in the ability for companies to manage vast flows of data. For example, according to satellite consultancy COMSYS, the number of active maritime VSAT installations, which send and receive data at broadband speeds on board vessels, has quadrupled from 2008 (6,001) to 2014 (21,922), and it is predicted to exceed 40,000 this year. Moreover, according to DNV GL, the Maritime VSAT network has nearly doubled in the last two years from 8.7 Gbps (Gigabits per second) to 16.5 Gbps. If this trend continues – and there's no reason to think it won't – this capacity will reach 217 Gbps by 2025. Unprecedented growth that reveals the industry's eagerness to exploit the opportunity that digitalized satellite communication brings.
You don't need to understand the intricate working of VSAT to appreciate that exponential growth in capacity requires the support of reliable, high performing and scalable satellite infrastructure to transmit and receive data. This is essential to enable a plethora of connectivity solutions including supervisory control and data acquisition (SCADA), the Internet of things (IoT), remote sensing and capturing data from remote locations to input into big data solutions. Indeed, today almost every form of communications worldwide travels via satellite for part of its journey.
New Mindset
While the rampant grow of data in shipping is well acknowledged, the satellite infrastructure required to enable data flows has lagged behind, with under-developed, fragmented and unreliable systems leaving ship owners and operators with low expectations -- until now. SES Networks believes this needs to change so that ship owners and operators adopt a new mind set where service consistency becomes the norm, not the exception.
The power and effect of data in shaping the shipping industry is huge. With more, and more accurate, data, businesses are discovering that it is essential to stay abreast of developments in order to make better informed commercial decisions, and in so doing, remain competitive in an increasingly challenging and commoditized marketplace. Faster data can also improve vessel and fleet performance through 'real time' data transmission between vessel and onshore; including fuel consumption, routing and navigation, engine, hull and propeller optimization.
Beyond the fleet, data can enable predictive analysis such as, for example, regional economic demand variation, ship type demand forecasts, or predicting new commodity markets that are spawned a decade from now. Currently, the industry seldom collects satellite data to use for this purpose.
However, SES Networks believes forging new partnerships between satellite communications providers, ship owners and operators and navigational, security data providers, and blockchain and AI ventures, could unlock unlimited new possibilities for the application of satellite data to predict performance. We also believe a manageable and robust platform such as Maritime+ is key in enabling the shipping industry to access these services.
In 2018 alone SES will launch six new high-throughput satellites. SES-12 will provide spot beams of Ku-band over Asia and the Middle East and SES-14 will deliver broadband over the Atlantic Ocean and the Caribbean Sea, as well as four O3b satellites that will provide low latency connectivity globally. Through continuing innovation and subsequent launches of our fleet, we will be able to ramp up the maritime platform services to deliver large scale managed data solutions which are optimised for ships; therefore injecting true value for end users.
Enabling Digitalization
Ship owners and operators continue to experience unprecedented challenges, encompassing weak demand, higher costs, increased regulation, and a lack of credit and capital liquidity in the market. Amid these market conditions the exponential growth of digitalization should present an opportunity, not a concern. If data is the new oil, then reliable, available and high performing satellites are the modern day oil pipeline; with an essential role in facilitating the effective use of more, and more accurate, data in shipping.
The Author
Stephen Conley is a Maritime Market Segment Lead, SES Networks, responsible for developing and maintaining an in depth understanding of the maritime market and ship owner and operator's connectivity requirements.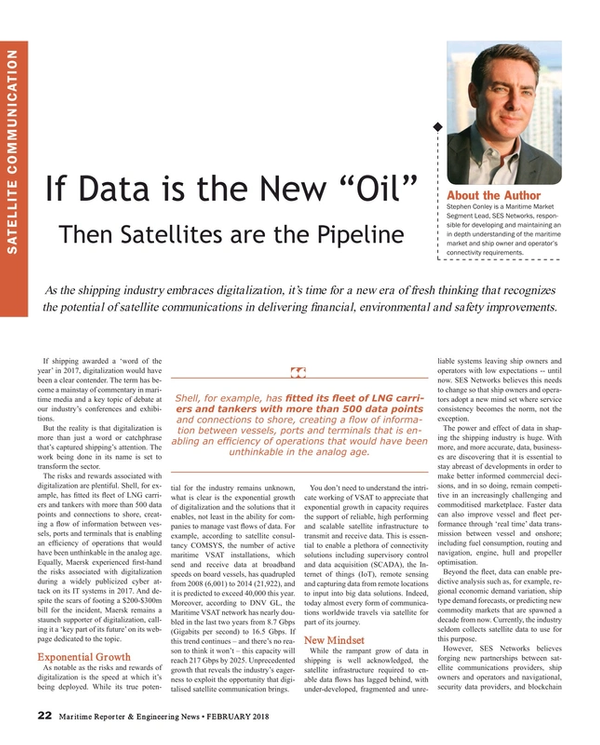 Read Data is the New Oil and Satellites Are the Pipeline in Pdf, Flash or Html5 edition of February 2018 Maritime Reporter
Other stories from February 2018 issue
Content