Interview: Bourbon CEO Gael Bodénès
Greg Trauthwein
Bourbon Corporation CEO Gael Bodénès & his team plot a bold new course for this offshore industry stalwart.

Your career with Bourbon has traversed many industry fluctuations. Looking back to when you joined the company, how is Bourbon today most the same, and most different?
Bourbon has transformed from a small regional company to a world recognized leader in offshore marine services. It has seen its teams grow from a 3,000 to more than 8,000 employees of 88 nationalities, the fleet has grown to more than 500 units, a new vessel being delivered every 10 days over several years.

Bourbon today is very different from what it was 10 years ago and it will be very different in the next 10 years to come.

Please describe your business management style, and discuss how (or if) it has changed over the last five to seven years.
My management style is participatory. I am very much attached to being close to the teams and to operations. I also believe in close relations with our clients. It is paramount to always focus on the essential: clients' needs and operational excellence.

I am convinced that management should be aimed at supporting the teams who are in a key position to support clients and provide the best services at optimum costs. More generally, I have not changed my management style over the years. I am still attached to the same values: diversity of cultures and backgrounds, multicultural spirit, multiplicity of points of views and constructive exchange. I believe in listening to the others in order to best respond to their needs and even anticipate them. I am attached to working hard in order to support Bourbon's teams. I believe in Eisenhower's motto: "Take your job seriously, never yourself"

With this historic swoon in energy prices, today we hear of "the new norm": adjusting business practices to the new per barrel level. What does "the new norm" mean to Bourbon?
We are in the worst crisis that we have ever seen on this market…. well beyond the Lehman Brothers crisis of 2009. Even in the 1980s oil crisis was not as violent as the situation we are facing today!

We therefore cannot wait and shall be proactive and take exceptional measures to adapt to this situation.

Let's recall that we are in an exceptionally long low cycle but that things will start to pick up in 2019. Some positive signals are worth mentioning:
•The first is the price of the barrel. It has been stable for a year now at over $50. $50 is the threshold at which oil companies continue to reinvest, as this is where shale oil and deep offshore begin to make sense.
•Oil companies have indeed begun to regain some leeway, and once again generate positive cash flows.

As a result, the marine services market is starting to be positively impacted. We believe that we reached a low point in 2017, and that the activity is gradually starting to recover.

In that environment, the new norm for offshore marine services means we must be able to deliver operational excellence at optimum costs. It means deploying low cost structure and inventing new business models.

We, at Bourbon, think we must innovate and find new ideas in terms of services and technologies to answer this challenge. That is why we have announced our #BourbonInMotion strategic action plan mid- February.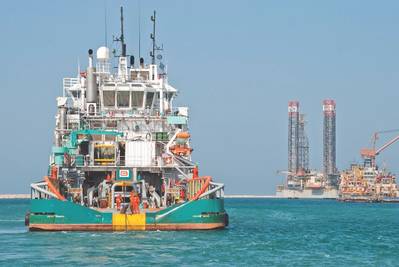 (Photo: Bourbon)#BourbonInMotion. Please give our readers insight to the new, recently announced plan for the company.
In today's environment, waiting is not an option for Bourbon. The crisis has highlighted the need to change our model. We have to evolve. We have to reinvent ourselves. That is what the #BourbonInMotion plan is all about.

This plan means better serving our clients through
•Developing integrated services with performance based on data. Not simply by adding new functions, but pragmatically, step-by-step, taking measured risks thanks to digital technology.
•Splitting Bourbon into three independent companies:
•Bourbon Marine & Logistic: Marine integrated logistics services
•Bourbon Mobility: Passenger experience transportation
•Bourbon Subsea Services: Light turnkey project & integrated solutions

#BourbonInMotion means enhancing operational excellence at optimum cost by
•Capitalizing on digital revolution to connect the fleet ie. our Smart Shipping program will improve safety and reduce crew onboard from 15 to 10,
•Building on technological partnerships (like the ones we signed with Kongsberg or Bureau Veritas, for example), and
•Divest what we identified as a "non-smart fleet" (41 vessels)

Finally, #BourbonInMotion also means changing culture and communication, monitoring the human revolution, which is clearly the most complex and exciting aspect of this business. Everyone's roles and responsibilities, skillsets and organizations will and are already changing.

I would say that positioning ourselves in the best competitive conditions to benefit from the recovery to come, is definitely the objective of this strategic plan for us.

In announcing #BourbonInMotion you said "tomorrow will look very different from yesterday." Can you please expand on this?
As already said, we think business models are going to change under the influence of this severe downturn but also under the impact of the digital revolution, which is also touching our industry and the behavior of all market players. We think it will mean integrated services business model more than day rates business model, sharing more responsibilities and risks with customers (in terms of chartering, fuel oil consumption for instance). Today, we have the possibility to share those risks: we have the data, the skills and the assets to jointly participate with our customers to deliver effective solutions. There is therefore an issue at stake here: we need to accept to take more risks to bring value added to our customers. Tomorrow will be the era of cooperation and partnerships, both technological and geographical.

The Smart Fleet: We see there will be a 75 million euro investment over the next three years to connect Bourbon's "smart fleet". In as much detail as possible, can you discuss the specific technologies and points of investment that will be made?
To connect this fleet, we have developed the Smart Shipping program, a program we've been working on for two years. Smart shipping is the operational backbone for the group's transformation. Through digitalization, this program will give us the opportunity to offer our clients more reliable, more efficient and optimally streamlined operations. We target an operational cost reduction of 20 to 30% by optimizing our processes and by transferring vessel-borne functions to land.

It is based on three levels: the vessel, local shore-based support and overall performance management. For the vessel, we intend to refocus the crew on running operations in order to deliver operational excellence to our clients. As for local support, it will be in charge of the technical and operational vessel support as well as contractually interfacing with the client representative on site. And lastly, overall performance management will provide remote support, based on consolidated and analyzed data feedback.

We will need to invest approximately €500,000 per ship to connect these vessels, representing a total CAPEX investment of €75 million. We have planned deployment over three years.

To carry out this fleet conversion, we will be strengthening our technological partnerships and will be open to new ones. I strongly believe that tomorrow will be the era of cooperation and partnerships!

Looking at the offshore energy market today, where do you see challenge?
The challenge today is to reinvent ourselves, to innovate, and to recreate value in this sector.

Where do you see opportunity?
Our customers are very open and demanding about these changes and this revolution. Having already started to connect their FPSO and their offshore installations, they have showed us the way. The major opportunity for us is to develop more services so that they can concentrate on their core business. I believe that the digital revolution brings us plenty of opportunities in order to be more efficient and cut our costs.

If #BourbonInMotion works as planned, what will Bourbon look like in three to five years?
In five years, I see Bourbon more towards as a services company focused on operational excellence and innovation, supported by data management.

If you had to pick one technology that you see as the clear leader in making maritime operations more efficient, what would it be?
Data management and process digitalization.

New tech and new information are part of the equation, moving these new tools and data into actionable results is another. What is the key to success in this regard?
I think "proof of concept" can really help us to test project in "real life", learn and optimize to get the real project on the market. Also, explore and co-develop in a collaborative manner with our clients and technological partners will help us implement new ways of efficient operations in the offshore services industry, with a fast time-to market, while enhancing the level of operational excellence.

We talk more often these days of autonomous operations. Can you discuss Bourbon initiatives in regards to autonomy?
Beginning in 2018 we have taken another step into fleet digitalization through the strategic partnership we signed with classification society Bureau Veritas. With help of our strategic partner Kongsberg Maritime we are going to develop and deploy automation and real time monitoring fleet applications, while mitigating cyber risks. The partnership will thus deliver advanced automation of dynamic positioning systems to enable: Improvement of DP operational safety through real-time advisory tools for bridge operators and remote support for onshore teams; Streamlining of onboard organization leading to potential reduction of manning; A reduction in fuel and DP maintenance costs.

A pilot of "proof of concept" has been implemented on the Bourbon Explorer 508 operating in Trinidad waters with the support of BP. Certified by Bureau Veritas, it collects data from the DP system and drives the development of novel decision-making and verification applications for both offshore crew and onshore support teams. The autonomous vessel is not a goal in itself. We rather need to innovate in the way we operate vessels in order to bring a response to this new cycle focused on operational excellence at optimum cost. Streamlining work organization onboard vessels, we also want to deploy innovative technological solutions offering tangible benefits to our customers.

Finally, every position has its challenges. What do you consider your biggest challenge to the success of Bourbon today and in the future?
The major challenge is human evolution and change management. It is clearly the most complex and exciting aspect of this business. Everyone's roles and responsibilities, skillsets and organizations are changing. The technology and the machine are not going to replace the human being. But little by little, the machine or artificial intelligence will take on certain functions: the analysis of information and, why not, in the long term, decision-making and action undertaking.

Then, in parallel, the roles and responsibilities of humans will evolve towards more vision, action, management, risk analysis and monitoring of global activities.

This is a major change, and it is the path that is being taken by the men and women of Bourbon. Change has always been in Bourbon's DNA and, once again, I'm confident in our ability to deliver on it.
(Photo: Bourbon)
The Future of Bourbon is Smart, Connected
#BourbonInMotion evolves the Bourbon business model, now. It's about developing integrated services with performance based on data. It's about capitalizing on digital revolution to connect the fleet, a Smart Shipping program to reduce crew, costs and increase performance. It's about building partnerships with industry partners, locally and globally. Finally, it's about changing culture and communication. Everyone's roles and responsibilities, skill-sets and organizations will and are already changing.

Meet the New Bourbon: Three Independent Companies
Bourbon Marine & Logistics
•A young fleet, built in series, of 210 vessels (including the 130 "smart fleet vessels").
•Operations in 39 countries, generating sales of over €400 million.
•4,500 employees and eight ship owners who manage day-to-day operations.
•A unique business model: the company is international, the fleet being located in most offshore areas. Hopefully, the company is also very local. This is the result of Bourbon's strategy of gradually setting up operations, generating growth in partnership with strong local partners.
Key expertise:
•Supplying offshore installations and vessels.
•Towing, anchoring and positioning of offshore installations.
•Support to floating oil and gas production, storage, and unloading units.
•Its strategic objectives: connect the fleet to deploy the Smart Shipping program.
Bourbon Mobility

•Leader in the market of high-speed passenger transport at sea for majors and contractors, carrying about 3 million passengers this year.
•A fleet of nearly 270 high-speed crew boats, the so-called surfers.
•A turnover of €216 million in 2017, generated in over 10 countries.
•A strong local presence also with a team of over 2,300 employees based in these countries.
Key expertise:
•Crewliner services, focusing on speed, punctuality and comfort.
•Interfield services, ensuring employee and light equipment daily transfer.
•Specific support services, on customers' request.
•Its strategic objectives: move to a passenger centric services.
Bourbon Subsea Services

•A fleet of 22 MPSV and 25 ROVs for €220 million in 2017 turnover.
•A team of 1,000 men and women around the world, 100 of whom work in our engineering offices.
•Core subsea expertise: engineering, supervision and management of subsea operations.
•A track record of 500 subsea connections and 350 wellheads installed.
•The fleet is positioned in West Africa, Asia, the Middle East and India.
•Its strategic objectives: develop light turnkey project business.
(As published in the April 2018 edition of
Maritime Reporter & Engineering News
)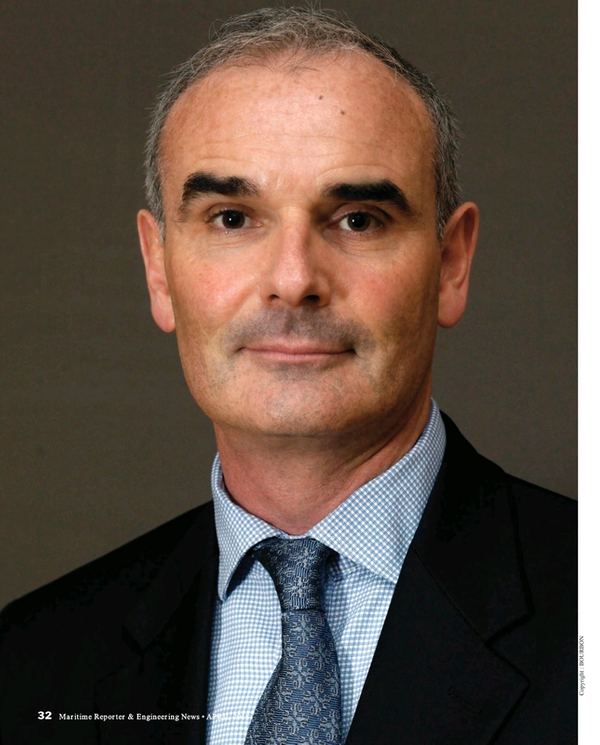 Read Interview: Bourbon CEO Gael Bodénès in Pdf, Flash or Html5 edition of April 2018 Maritime Reporter
Other stories from April 2018 issue
Content