Odin's Eye & the Quiet Trawler
By William Stoichevski
When it was time for France Pelagique to start renewing its fleet, an electric-power alliance of Dutch and Scandinavian yard interests formed up and delivered. The result was the first installation aboard a trawler of NES's Odin's Eye, a DC grid solution to integrate another first for trawlers — quiet-running permanent magnate, or PM, propulsion.
Where to begin a fleet modernization that ends with green credentials and richer harvests? Well, there are multiple points of contact, if you opt for a certain Scandinavian electric-power alliance.
That's what France Pelagique and its Dutch owners, Cornelius Vrolijk Group, found when they encountered just such a power alliance in generator-set provider, The Switch; system integrator, Norwegian Electric Systems, or NES, and their collective client, Havyard Ship Technology, a yard and designer with a track record in the design-and-build of offshore and fisheries vessels.
With the European Union demanding power-management systems aboard-ship; with Europe's ports increasingly finicky about who they want quayside, and with seafood consumers seemingly needing some sort of green reassurance, the owner of a new ship has a lot of concerns. That's why France Pelagique is expecting a lot from the shipbuilding alliance piecing together their 80-meter pelagic trawler.
"This is a very exciting build and no-doubt challenging to the extent that there are a lot of features," Havyard Ship Technologies' Lars Conradi Andersen tells Maritime Reporter & Engineering News. "They're renewing their fleet, so they're into getting the best technology that's available. It's a very modern fishing trawler."
Fast Fish
To catch and process herring, mackerel and blue whiting, the new vessel will sport sustainable-catch equipment and processing equipment from separate suppliers. The speedy mackerel are the stuff of record North Sea catches in recent years. To catch them, you need speedy, manoeuvrable trawlers on-the-spot when they school or surface to prey on herring.
"With this new fishing vessel, we will strengthen our efforts in future fisheries, with a focus on maintaining healthy fish stocks, reducing environmental impact, and having dedicated and proud employees," a France Pelagique statement said when the order was announced in April. This one, energy-efficient vessel will start the company's fleet renewal by replacing two vessels in service since the '80s.
To do it, Dutch yard ASD has worked together with Havyard, which in-turn brought in some star suppliers. "There was cooperation with ASD which did the initial design for the vessel. The work we have done continues," Andersen says.
Joint Design Work
So, you more or less sent the drawings back and forth? "More or less. They worked on a concept, and when they chose it, we developed it further. It's part of a process, a working process. We worked together with the owner to decide whose (technology) would deliver, as building with electrical motors isn't very common on these types of vessels. We spent a lot of time on it together with the owner," Andersen says. Have you been to France? "We've been everywhere," he says on the phone.
While crew comforts and working conditions will see a modern upgrade, the build's crowning achievement appears to be the vessel's power-management, electrical generators and propulsion
The Switch
Among the suppliers Havyard brought in was subsidiary, NES, the system integrator for the project, and Finland-based, The Switch — which delivered two permanent magnet (PM), 2,250-kilowatt propulsion motors and two, 3,055 kW permanent-magnet gensets (alternators) for the Bergen-based systems integrator. The Switch was a shoe-in after its factory-acceptance testing in March at Lappeenranta, Finland, revealed only reliability and the breakthroughs made.
Although experienced in geared electric propulsion, the work for NES is The Switch's first electric propulsion case for direct-driven permanent magnet motors; its first genset case and first case for a large commercial fishing vessel. Together, propulsion and generators normally mean noise or vibration — a problem for crew and easily spooked fish — but The Switch's permanent-magnate gensets, with no clanking to speak of and less structural noise overall meant noise could be brought below DNV GL strictures.
Ship Magnets
"The main decision-making criteria from the customer point of view was the extremely compact size and low weight of our PM machines combined with high-efficiency, especially when the ship is moving at low speeds," says The Switch's Jussi Paranen, before adding, "On propulsion motors, our competitors were offering conventional-type (asynchronous) machines which had more than double the weight, thus making the weight saving just from the two propulsion motors to be more than 40 tons. Combined with the compact physical size of the PM machines, the ship's overall design becomes much easier."
The direct-drive PM machines also showed efficiency gains over conventional motor types of "two to four percent-units" at "the nominal point". The gains increased at partial loads or low-speed steaming.
"This means significant fuel savings over the lifetime of the vessel," Puranan says, adding that demonstrating fuel efficiency raised eyebrows, as the variable-speed genset allows for easily controlled diesel-engine speeds that cut fuel use.
Yet another deciding sales point for a new-build hoping to start trials for the client's 30th-birthday ceremony was the brief delivery time: "The delivery time of the motors and generators was crucial, and yet we were able to deliver a fully optimized tailor-made design for this specific vessel in very short time." Finally, The Switch's motors tested well for thermal behaviour and "exceeded expectations", as fuel-efficiency testing raised eyebrows.
Norwegian Electrical Systems
NES confirmed The Switch's propulsion and power solution was 50-percent more compact than competing arrays. It was 35 t lighter, meaning 35 t of extra fish in the haul and fewer vessels chasing fewer schools of fish.
NES is delivering the frequency converters for the trawler developed by France Pelaqique and ADS. The vessel, due on the slip in December, is currently "in hull-construction stage", Andersen says, adding, as shipbuilders do, that the charterers can still order changes (like the addition of energy storage).
"No battery is to be installed on the new France Pelagique vessel, but it can be easily retrofitted if requested by the owners," NES's Paul Winson tells us during an early morning pause on a North American business trip. Winson says the battery retrofits NES recently agreed to do on a series of platform supply vessels were "a challenge" compared to a new-build trawler.
"The new France Pelagique trawler, with its state-of-the-art DC grid (called Odin's Eye), would be easier to upgrade with batteries than the older PSVs," he says, adding, that the vessel can be upgraded at a later date.
"NES is the system integrator and not only supplies most of the electrical equipment but is responsible for making sure everything works in harmony and reliably," Winson says.
Odin's Eye Enabler
Importantly, NES is delivering its brand new DC Grid solution called Odin's Eye to the France Pelagique new-build. It has never before been fitted to a fishing vessel, but it'll uniquely enable the fixed-speed Finnish generators onboard to operate at variable speeds.
"This makes this fishing vessel much more efficient on fuel-use and reduces harmful emissions considerably. Instead of having the generators running at full speed constantly, these ones will be able to vary the speed and power output to what is actually required, so no excessive waste," Winson says, adding, "It will also make the vessel much quieter which is more comfortable for the crew and better for catching fish."
NES has installed electric systems on four other fishing trawlers, but none of those had Odin's Eye, and the boats had more conventional AC diesel-electric and diesel-mechanical systems aboard. Designed originally for the offshore vessel market's enhanced safety requirements, the Odin's Eye adds similar benefits to fisheries vessels. Winson confirms there's great interest from fishing vessel owners: "Fishing vessel owners are always looking for competitive advantages and are very savvy to the new technologies available."
The fish-processing equipment on board by GEA is simple to integrate, Winson says. "The trawling solution is a bit more complicated," as the catch gear comes from a third-party supplier. "We will be supplying the DC power for (the process) equipment, but (the third party) are supplying their own drives and motors for the trawling system." The unspecified company will supply the vessel's automation system, so, "They will have better control of their own power requirements."
Industrial Breakthrough
Odin's Eye has been a huge success for NES, and sales are at record levels. "Carbon-neutral" passenger and ro-ro ferries dominate sales in Norway, where the public purse and political will exist to build purely electric ferries.
"Electrically, the new ferries are not much different in sophistication than the new French Pelagique vessel. The major difference is in the supply of electrical power.
The French Pelagique vessel has diesel generator sets and the new ferries have batteries," he says, adding that batteries make things more complex. Havyard's Andersen agrees, adding that even without a battery, "This (trawler) is special because the complexity is quite high, and it has an advanced processing system onboard."
Silent-silent Mode
With an option for a second vessel already aired, it's easy to think this has been just another order. Yet all the parties — from the owner on down — see this build as unique and a potential game-changer for the industry.
As Havyard marks its 100th Year, The Switch will be thinking Business Case No. 2 and beyond. After running PM gensets on R&D trial runs for a couple of years, they're keen to show the value of their PM propulsion and gensets: "This is a significant milestone not just for us but for the whole PM machine industry, since traditionally such silent vessels have used either DC or conventional AC propulsion motors to keep the underwater radiated noise level as low as possible," Puranen says, adding that having met DNV GL's "silent-trawl" Silent F rules for noise means vessels like pelagic trawlers, research ships and naval assets can sport silent main propulsion systems driven by compact, efficient, low-maintenance PM motors.
"Even before meeting us, the shipyard wanted to use PM machines," Puranen says, before launching into maintenance savings. "Brushless PM machines need minimal maintenance, as basically the only wearing parts are the bearings and cooling fan motors. Also, the reliability is excellent, because the moving part (rotor) is extremely simple, and the risk of mechanical failure is minimal."
(As published in the June 2018 edition of Maritime Reporter & Engineering News)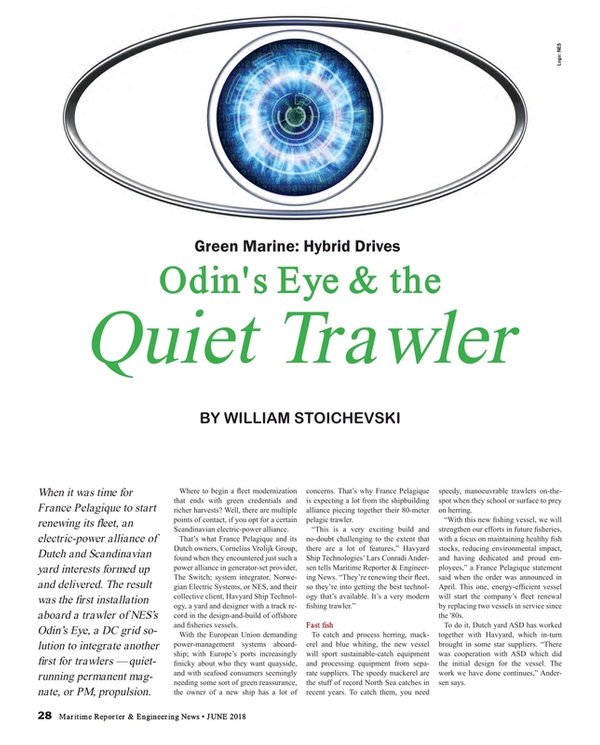 Read Odin's Eye & the Quiet Trawler in Pdf, Flash or Html5 edition of June 2018 Maritime Reporter
Other stories from June 2018 issue
Content