SNAME: Plotting the Path Ahead
By Gene Sanders, Executive Director, SNAME
As the Society of Naval Architects and Marine Engineers (SNAME) celebrates its 125th Anniversary, the new executive director shares his thoughts on the path forward for a successful future.
I'm Gene Sanders, and I have been given the enviable opportunity to take SNAME into its next phase in one the most important industries in the world! In my first few months as SNAME's new Executive Director, I've been working with the Board and various committees on new ventures and directives, which will be exciting and beneficial for our members and the industry as a whole.
Before I reveal my vision for the future, it's important to share our most recent challenges and accomplishments right here in Alexandria, Va. Our staff is well equipped to provide a new and fresh perspective as we build the path toward our future, and it's worth noting that most of our employees have not yet reached their one year anniversary with SNAME (myself included). I think that's a great thing! We have plenty of resources for historical perspective, and our staff is committed to identifying and solving problems vs. doing things because "that's the way it's always been done." So with this in mind, I'm going to open the proverbial kimono and let you know what we've been up to over the last six months.
First things first … the secret's out. Our website stinks! SNAME.org has been severely limited by inadequate and outdated technology, and our current site has neither the look nor feel of the highly technical organization it represents. Whether it's applying for or renewing your membership, searching the 12,000 + documents in our repository for that one important paper you need, or even just logging in to view your own profile, SNAME.org has excelled at complicating even the simplest of tasks! It therefore brings me great pleasure to tell you that our website is being completely overhauled. By the time this article is in print, you'll already see a more modern adaptation of our old site. While the functionally for this first phase is largely cosmetic, it's a taste of what's to come as we transition to an entirely new website in 2019.
Next, a note about our difficult to find content… You may have noticed that what once was difficult has now become impossible! To provide our members with the information and research they need, when they need it, we're migrating our digital content to a site called OnePetro.org.
One Petro offers better, faster, and more accurate access to SNAME documents, but it also hosts content from 20 additional associations in related industries. This means your searches can yield even more results from a broader range of sources, and SNAME papers will appear in searches by thousands of others outside the SNAME circle. It also means that we've had to "close the SNAME library" while we transition to One Petro, but when you see the end result, I know you'll agree it was worth the wait.
The third project is all about our database. I was shocked to learn that there are almost 1,000 different fields in our database, each one capturing a single facet of our members' personal and professional history and committee engagement, as well as detailed event and product information and the associated accounting documentation that goes along with all of it! We are now in the process of minimizing what we need to capture, to ensure your online experience (and HQ's) will be much, much smoother. And now to answer the big question… What are we doing for the next 125 years?
CORPORATE AFFILIATION
We have initiated the first SNAME program that allows an organization to take advantage of the benefits of individual membership through shared knowledge and expertise at our networking events, webinars, and presentations – while also increasing their organizaton's visibility via more traditional branding opportunities in SNAME media outlets. This is a great way to build and strengthen our industry relationships, which will in turn provide even greater value for our members.
EDUCATION
As we move forward, SNAME is already working on continuing education and certification programs for our members, and we plan to launch new and exciting learning and accreditation opportunities for our members. These new education programs will be a hybrid of both in person certification programs and e-learning technologies.
STEPPING OUT
In the past, SNAME has been regarded as a rather staid, stoic group. We did not self-promote, we didn't boast our many assets, we only offered an opinion only when asked (and even then, after very careful consideration). Our meetings and events were – and still are – highly technical conferences focusing on peer reviewed content and educational sessions, with the opportunity to network with others in our field. We will continue to follow this tradition, but we will expand our reach, drawing interest from and collaborating with others across similar fields and industries.
• SNAME New Technology Solution Center at OTC: For the first time, the Offshore Technology Conference is allowing one of its association affiliates to represent its strength on the show floor. SNAME will be hosting a technology solution center, featuring products and services necessary in the offshore community. This is a dynamic new venture for SNAME, one which just might serve as a model of SNAME's participation in future events.
• Strategic Outreach & Partner Events: At the 2018 International WorkBoat Show in New Orleans SNAME will host a reception for the show's OEM exhibitors. I invite you all to come to the show and listen in as our experts discuss "What Keeps You Up At Night?" – the top ten things a workboat manufacturer needs to know.
• Workforce Development: SNAME is in discussions with several groups regarding collaboration models designed to ensure ocean engineering professionals stay at the forefront of today and tomorrow's workforce needs. This includes board-level participation in DC StemNetwork, supporting a member-designed program that teaches math skills through boat building, and upgrading our career center, working with both our existing provider and one of the top recruiting firms in the world.
EDUCATIONAL MATERIALS
SNAME has recently released three updated T&R bulletins, and we're working on a 30+ chapter revision of our Marine Engineering text book, as well as an update of our renowned PNA series. We will be offering individual chapters for sale as they become available, and we've already got one complete chapter available for purchase, and four more are awaiting their final touches before release! In this regard, we are able to deliver content when it's ready, regardless of the status of additional chapters in the book.
SMC CONFERENCE
The Annual SNAME Maritime Conference is a solid (but underachieving) event, bringing more than 1,000 engineers together each year to discuss the latest in ship design and engineering. We need to take this to the next level, and have the products and services discussed in the classrooms available on the show floor for all participants to see, touch and feel. Much like a high school science fair, a tradeshow floor is the place to go to see relevant products in action and on display! In the past, SNAME had limited its exhibitor audience (and severely reducing any potential "Wow" factor) by confining the exhibition space to a tiny 8'x10' booth. You cannot fit any equipment in a space this size, and there is little attraction for a participant to visit the show floor. After all, when you're rubbing elbows and exchanging knowledge with fellow naval architects and marine engineers, why would you want to stop and collect brochures?
The ships that SNAME members design and engineer are among the largest products manufactured on the planet. I believe our conference should reflect this. SMC should be the largest product showcase for all things related to shipbuilding. That's tens of thousands of products! Where are they? Why aren't they at our expo? Well they WILL be! I have a vast amount of experience in growing some of the largest trade shows in the world. I have done it before, and I will do it again at SNAME. This won't happen overnight, but we'll be stronger in Tacoma, and we will be on our way to realizing this vision by the time we roll into Houston in 2020!
I don't know about you, but I'm excited! I invite you all to come aboard and join me on this journey as we head into the next 125 years. I may be the new guy, but I have absolute confidence in the ship I've been tasked to steer. After all, it's been carefully and skillfully crafted by the hands and hard work of every SNAME member since our keel was laid in 1893.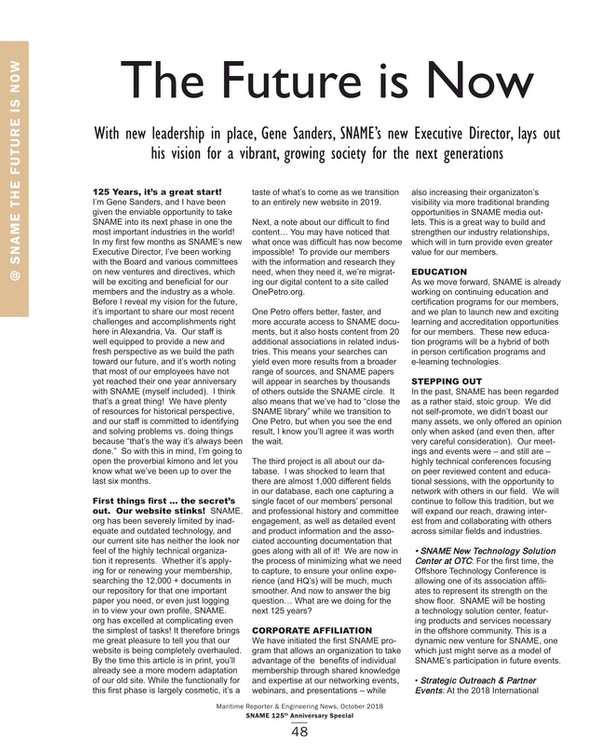 Read SNAME: Plotting the Path Ahead in Pdf, Flash or Html5 edition of October 2018 Maritime Reporter
Other stories from October 2018 issue
Content