Digitalization & A Connected Workplace
Alexander Buchmann, Managing Director of Hanseaticsoft
Technology, from mobile to cloud to social media, have all had an enormous impact on the way companies operate and interact with their staff and customers. However, research from technology media company IDG, found that while 89% of companies plan to adopt a digital-first strategy, only 44% of them have actually done it.
While the shipping industry has been slow to adopt digital technology, there are signs this is changing. According to the Navis Business Bellwether report – an ongoing benchmark study designed to track the perceptions, intentions and mind set of the global maritime industry – approximately 90% of respondents expect their company to increase technology spending this year and 56% indicate spending will increase by six percent or more.
Investing in technology, particularly cloud technology, could bring tremendous benefits to shipping companies – improving collaboration between teams on shore and at sea and creating a connected workplace culture that supports strategic business goals. However, companies need to be mindful of how they approach digitalization.

Changing Teamwork
A recent blog post on Slack, the work collaboration hub, on what digital transformation means for companies highlighted that many companies who approach digital transformation focus on the digital – the platforms and processes – rather than the transformation part.
The idea that businesses could just buy a piece of software and instantly increase productivity is appealing. But fundamentally, digital transformation is about changing how teams work together, not only what technology they're using to get that work done.
A report by the Seafarers International Research Center found that part of the effective operation of a modern vessel is determined by the quality of the relationships between shore side personnel and sea staff and recommended companies take steps to address the gulf between ship and shore personnel in order to improve ship-shore relations.
Cloud technology is doing just this for shipping and helping land and sea teams work together more efficiently. Cloud-based software is enabling companies to optimise the management of their entire fleet, automate their processes, improve their communications, increase their business performance, improve operational efficiencies and drive down costs.
The cloud is having a significant impact on the way companies now operate and will in the future. One of the major issues for companies is that tasks are carried out by both land and sea teams which can lead to a lack of transparency and overview across all departments.
The challenge has been how to integrate the systems and processes of different departments to a central data source. For example, the same information might get requested multiple times from the captain, which forces him to respond manually to each request.
The cloud is helping solve this, as it is enabling information to be centralized and made accessible no matter where staff are based. It is ensuring that systems and processes are integrated and data silos removed – allowing operators to gain a complete 360-degree overview of their fleet and entire operations. And most importantly, this is changing how information is exchanged and accessed. There is no more need to send emails back and forth, requesting or forwarding information. Data that is entered at one end is automatically available to everybody else using a cloud-based solution.
Shipping companies using the cloud have information available in real-time regardless of time or location, reducing time spent on administration.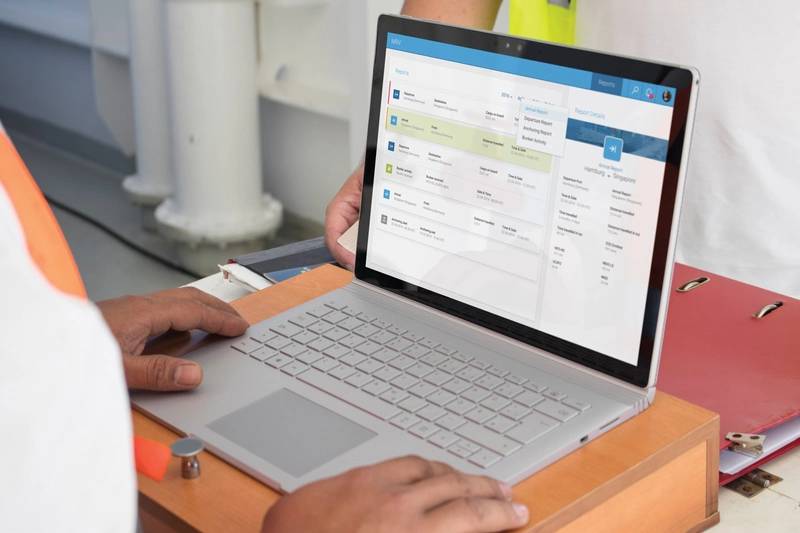 Image: Hanseaticsoft
Cloud Tech in Practice
A major benefit of cloud technology is the improved communication between staff on board ships and those in head office, so whether that's crew planning, the execution of payroll or the evaluation of seamen, digital data is always up-to-date and available where it is needed.
The cloud is also helping companies automate and improve tasks such as purchasing and stock planning as well as complying with regulations such as keeping track of waste, sewage and sludge disposals. Even staff well-being can be addressed using cloud applications, as crew shifts and rest periods can be tracked to ensure companies comply with industry guidelines and standards.
One company benefiting from cloud technology is the Peter Döhle Group, a provider of shipping services with more than 500 vessels. As a global company, the Peter Döhle Group demands safe, secure and quick information flows between all relevant parties ashore and at sea.
The company wanted to integrate and align information about its vessels and data from external partners with its internal company processes in one platform, plus have accurate and up to date fleet management information for all parties at any time, regardless of their location.
It was hoped that being able to access this information would accelerate information processing and improve the company's ability to react to events as they happen. Other goals were to remove data silos, which were costing the business time and resources, speed up communications and increase the efficiency of its vessel management.
The company adopted Hanseaticsoft's Cloud Fleet Manager solution to gain a single platform through which their entire fleet can be managed. The platform centralizes information so it can be viewed, analyzed and processed in real time using apps and mobile devices.
Today, Cloud Fleet Manager is used as a central, company-wide communication and information platform which has improved information accuracy and reliability and added business value. The extra work that used to be involved in managing data redundancies in Excel spreadsheets is a thing of the past.

Evolving Tech
A key benefit of using cloud applications is that they are constantly updated and improved as new technologies become available. These updates are automatically installed with no need for manual effort and help shipping companies future proof their business.
There is no doubt that cloud technology is helping teams work better and more efficiently together. Without the cloud it would be extremely challenging for crews, head office teams and other parties to keep up to date with processes and other management and administrative issues.
Improving how teams work together has enabled shipping companies to become more agile and responsive. In turn this digital transformation across the industry is helping companies meet ongoing challenges that could impact profitability and growth in the future. Companies not already embracing digitalization should make it a priority in 2019.

About the Author
Alexander Buchmann founded Hanseaticsoft in 2009 to develop software solutions for shipping companies. Since March 2017, Lloyd's Register one of the world's largest ship classification societies, holds a share in the company.




Read Digitalization & A Connected Workplace in Pdf, Flash or Html5 edition of March 2019 Maritime Reporter
Other stories from March 2019 issue
Content