Shipyard Capacity: A Brake on Decarbonization?
Paul Bartlett
The IMO's latest crunch meeting in early July may not have aligned global shipping with mid-century targets established in the 2015 Paris Agreement. However, its 2023 Strategy indicates a clear direction of travel. Energy supplies by sea are essential for many countries and therefore ships have a key role in supporting the world's energy transition – not only on their own account, but at a global level.
As world shipping accounts for about 3% of greenhouse gas emissions, its environmental importance attracts wide attention. And plenty of criticism. However, since a large volume of the world's energy supplies are transported by sea, the shipping sector will also play a central role as a key enabler in the global energy transition. Ultimately, it will provide transport and support for some of the new low-carbon and carbon-neutral energy sources that will be developed in the decades ahead.
Two types of ships, in particular, will play a central role in supporting global decarbonization over the next three decades. They are offshore wind vessels of various types; and liquefied natural gas (LNG) carriers.
Ambitious targets for offshore wind are being established in many parts of the world. In the U.S., the Bureau of Ocean Energy Management is working towards the Government's targets of 30 gigawatts (GW) of offshore wind by 2030; 15GW of floating wind by 2035, and a mid-century target of 100GW.
According to analysis by Philip Lewis, Director of Research at energy consultancy Intelatus Global Partners, U.S. states have announced plans for around 39GW of short- and mid-term offshore wind capacity so far. But they have identified 60GW of potential capacity over the longer term. Lewis estimates that final investment decisions for over 22GW of offshore wind capacity could be taken over the next three years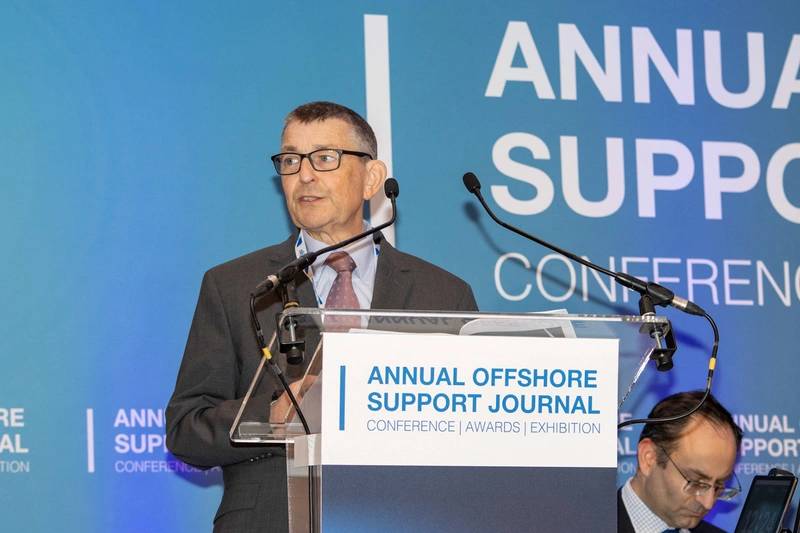 Philip Lewis, Director of Research, Intelatus.Delays are evident, however, Lewis warns, for various reasons. He predicts that the first commercial offshore wind farms will rely significantly on foreign flag vessels for foundation and turbine installation. Other support vessels, such as service operation vessels (SOV) and crew transfer vessels (CTV) will have to be built in the U.S. to meet Jones Act requirements.
The outlook is not bright, however. Lewis says it is already clear that ships being built in U.S. yards for Jones Act deployment are running late and are substantially more expensive – more so than expected – compared with those contracted by other owners elsewhere. U.S.-built SOVs, for example, are between 1.5 and 2.5 times as costly as those built in Europe. But the demand will still be there for U.S.-built SOVs and CTVs.
Intelatus' monthly U.S. offshore wind report identifies a short-to-medium term requirement for 6-13 SOVs and a longer-term requirement for between 40-80 units. So far, only three SOVs are being built in U.S. yards. Meanwhile, Intelatus' long-range forecast for CTV requirements indicates that 70-145 vessels are likely to be needed.
Even with project clustering, therefore, the supply chain could prove a limiting factor in the supply of Jones Act vessels. However, one recent project indicates that there could be some scope for upgrades and conversions. In mid-July, Hornbeck Offshore revealed a deal with Florida-based Eastern Shipbuilding Group Inc to convert a recently delivered Jones Act-compliant offshore supply vessel into a SOV.
The 279-foot vessel will undergo a series of modifications and upgrades prior to a scheduled redelivery in spring 2025. The project, conducted jointly with the ship's original designer, VARD, will enable the HOSSOV 300E to support both wind farm construction as well as operations and maintenance.
Earlier this year, Bernard Schulte Offshore took delivery of the modified Windea Leibniz, following an upgrade at the ship's original Norwegian builder, Ulstein. The vessel was converted from a SOV to a Commissioning SOV, with extra accommodation and a new height-adjustable pedestal for the motion-compensated gangway enabling operation in a range between 57 feet and 75 feet above the waterline.
LNG carrier logjam
Meanwhile, in the LNG sector, supplies of pipelined gas from Russia had to be replaced in a hurry last year during the months following the country's invasion of Ukraine. LNG imports to Europe, much of the gas coming from the U.S., drove record LNG carrier contracting.
The relatively small number of yards capable of building these sophisticated vessels are full in practical terms until at least the middle of 2027. Chevron's likely order of up to six ships at Samsung Heavy Industries will see the first deliveries in 2028. New ship prices have risen by close to 40% over the last two years.
Yet Panagiotis Mitrou, Gas Segment Director at Lloyd's Register, believes we need hundreds more LNG ships to support the energy transition. He pointed out recently that the world consumed more than eight billion tons of coal in 2002 for the first time ever. Coal is not only the dirtiest form of hydrocarbon energy, it is also only about half of the calorific value of LNG per unit of mass.
Writing in the classification society's magazine, Horizons, Mitrou said that when more gas came to Europe, a number of developing countries shifted back to coal for pricing reasons, boosting both consumption and production in countries including China, India, and Indonesia. So, he argued, the inelastic supply of LNG vessels because builders are full could well become a constraint on the world's energy transition.
Mitrou also pointed out that a significant percentage of today's LNG fleet is likely to face challenges with the IMO's carbon intensity rating systems. For example, there are about 240 steam turbine-powered vessels with poor fuel consumption which use conventional marine fuels and do not have boil-off management systems. When these factors are taken into account, the ships' carbon intensity indicator ratings are likely to fall into the two lowest categories, requiring remedial action on the part of their owners.
"Even if there were a way in which a thousand new LNG carriers could suddenly be built," Mitrou wrote, "which, of course, there is not, my view is that these steamers should not be decommissioned because they are needed to transport greener energy sources than coal. Unless traded LNG gets replaced by renewable energy, the net climate result of decommissioning LNG carriers will likely be significantly negative."
Even taking into account methane emissions, Mitrou said that each cargo shipped by one LNG carrier saves about 50% of the carbon generated by using coal to supply the same amount of energy. He insisted that the entire gas supply chain needs to be upscaled – not just LNG, but liquefied petroleum gas (LPG), ammonia and carbon dioxide too.
Retrofits and upgrades are needed, he said, to improve efficiency. Reliquefaction plant needs to be installed, or methane-to-hydrogen cracking systems, to minimize both methane slip, but also operational emissions.
"Only then can our industry say we have done as much as possible to ensure that the world's LNG fleet is not a brake on the world's energy transition," Mitrou declared.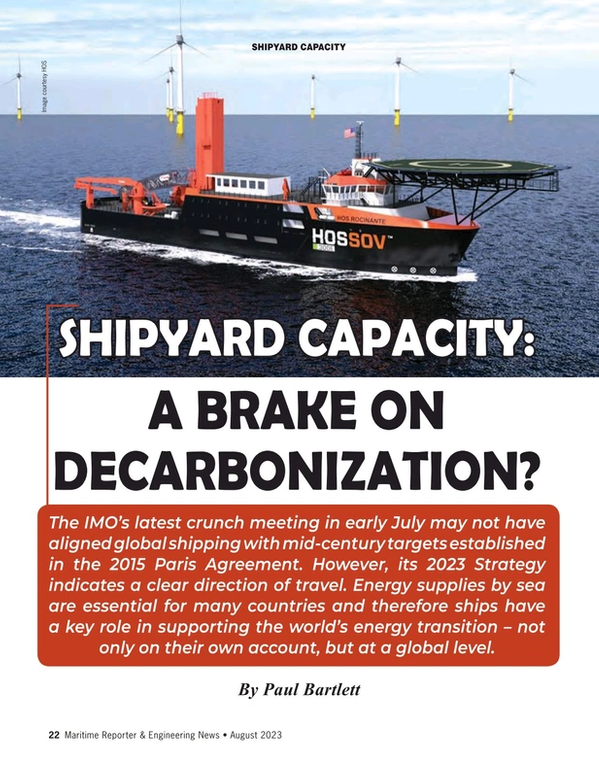 Read Shipyard Capacity: A Brake on Decarbonization? in Pdf, Flash or Html5 edition of August 2023 Maritime Reporter
Other stories from August 2023 issue
Content