Good News for Inland Waterways - Just in Time
By Michael J. Toohey
On January 17, 2014, Congress averted another government shutdown with a "just in time" delivery of an Omnibus Appropriations bill. Thankfully, some good news for the inland waterways also has arrived; Just in Time!
The recent Consolidated Appropriations Act of 2014, or Omnibus bill, has brought a healthy funding level to the U.S. Army Corps of Engineers. This new law contains the FY 2014 Energy & Water Development and Related Agencies Appropriations Act that funds the Corps' Civil Works program. The total program funding level of $5.467 billion represents a $749 million increase over the FY 2013 post-sequester enacted level, and is a 15.9% increase relative to FY '13 funding levels.
The Corps' Operations & Maintenance (O&M) account received $2.86 billion, a 25% bump over FY '13 post-sequester levels, the highest appropriations level ever for O&M in an annual appropriations bill.
Within the bill's 4.4% increase – to $1.656 billion – for the Construction account, Inland Waterways Trust Fund (IWTF) projects received a 28.6% increase over FY '13 funding levels, a 46.3% increase over the Administration's FY '14 proposed budget. The Trust Fund projects will get at least $81.5 million in additional undesignated funding above what was proposed in the FY '14 budget. The Corps is tasked with deciding where to spend these amounts, and details will be made available when the Corps submits its work plan 45 days from enactment of the bill. $163 million is provided for the Olmsted Lock and Dam project.
The legislation establishes a cost-sharing formula for FY14 funds for Olmsted from the 50%-50% cost-share to 75% General Funds and 25% Inland Waterways Trust Funds. The bill also authorizes up to four new starts to be selected from inland navigation, flood control and storm damage prevention, and ecosystem restoration mission areas, only one of which may be an ecosystem project. The Corps has 45 days from enactment to select projects for the new starts as well, with very specific guidance on use of the funds.
Additionally, the legislation significantly increases spending for port and navigation channel improvements, with $1 billion from the Harbor Maintenance Trust Fund. Beyond specific project allocations, the bill provides $47 million in additional funds to navigation construction; $27 million added for navigation O&M; $128 million in additional O&M funds for deep draft ports and an additional $42 million for inland navigation; additional $40 million for small ports O&M; and additional dredging funds of $5 million for Mississippi River Tributaries (MRT).
This is very welcome news to the inland waterways industry, whose lock and dam infrastructure is challenged because of declining funding levels to modernize and maintain it. Most of the inland waterways locks and dams were built in the 1930s with a projected 50-year life span. Today, of the nation's 241 locks, 57% are 50 years or older, while 26% exceed 70 years of age.
More good news came our way during the State of the Union address on January 28 when President Obama urged Congress to pass a Water Resources Reform and Development Act (WRRDA) this year, and connected the nation's waterways to jobs, saying, "Moreover, we can take the money we save from this transition to tax reform to create jobs rebuilding our roads, upgrading our ports, unclogging our commutes – because in today's global economy, first-class jobs gravitate to first-class infrastructure. We'll need Congress to protect more than 3 million jobs by finishing transportation and waterways bills this summer. That can happen," President Obama said during the speech.
The nation wins when the waterways transportation system is modernized in a way that is fair and equitable to our manufacturers, farmers and shippers because it can result in the creation and sustainment of American jobs, increased exports, and billions of dollars injected into a still-lagging U.S. economy. Failure to invest, however, risks America's competitive advantage in marketplaces around the globe.
WCI continues to press Congress to pass a final water resources bill that offers comprehensive capital investment to our nation's inland waterways system. Both the Senate-passed WRDA and House-passed WRRDA are strong bills that the Conference Committee should be able to reconcile quickly to be signed into law.
America needs a WRRDA bill just in time.


(As published in the March 2014 edition of Marine News - www.marinelink.com)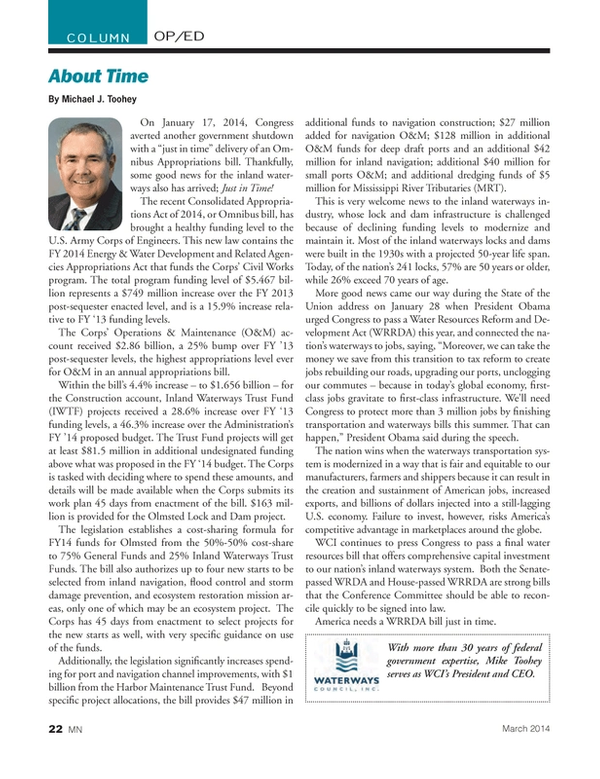 Read Good News for Inland Waterways - Just in Time in Pdf, Flash or Html5 edition of March 2014 Marine News
Other stories from March 2014 issue
Content