Offshore Insights from OMSA's Ben Billings
MarineNews
Ben Billings serves as President & CEO of the Offshore Marine Service Association (OMSA), a nationwide trade association headquartered in New Orleans that represents more than 200 member companies. OMSA's membership includes approximately 100 firms operating more than 1,200 vessels that provide transportation services to the offshore oil and gas industry in the Gulf of Mexico and around the world. It's arguably a very good time to be at the helm of OMSA, with a resurgent U.S. Gulf of Mexico deepwater market, a red hot Gulf Coast boatbuilding boom in progress and in general, a domestic energy situation the likes of which hasn't been seen in decades. Nevertheless, he has his work cut out for him in many other ways. That's because Billings leads the association's efforts to represents its members' interests before Congress, federal agencies, the federal court system, foreign governments, the International Maritime Organization (IMO), and state and local officials. OMSA also manages programs on Jones Act compliance, vessel security plans, safety orientation, environmental compliance, and operational training.
Even as the oil patch recovers, the pressure to relax certain aspects of the Jones Act continues. Fortunately, Billings knows his way around the Hill. Prior to joining OMSA, Billings worked in the United States Senate for Senator Mary Landrieu and the Senate Homeland Security Committee, where he held various positions including Senior Policy Advisor, Legislative Director, and Staff Director, working on numerous maritime issues including the Jones Act, TWIC, Title XI, MTSA, vessel and port security, inspections, crewing, licensing, oil spill response, ballast water, notice of arrival, responder immunity, and Coast Guard missions and assets. In other words, his skill package runs the full gamut of what OMSA members hold near and dear. A native of New Orleans, Billings today finds himself right at home at OMSA headquarters. Listen in as he weighs in on the current state of industry, what could come next, and the important work that will precede it.

You assumed the helm at OMSA before the New Year and now have a full quarter of work behind you. Give us your first impressions of the offshore marine outlook and current situation.
This is an exciting time for the offshore marine industry. Production in the Gulf has returned to pre-Macondo levels, drilling rigs are coming back after years in exile, and service companies are growing their fleets and commissioning bigger, more sophisticated vessels to meet demand and expectations. U.S. shipyards entered into 111 contracts last year for the construction of offshore oil and gas support and dynamic positioning vessels and America in fact is now a net exporter of these vessels, with over $500 million in OSVs sold internationally in 2012. A demanding and rigorous safety culture has also resulted in some of the best HSE statistics in the world. So, the market outlook and safety culture for workboats in the Gulf of Mexico is positive, which is good for our members, good for the Gulf region, and good for the country. And while the signs are positive and expectations are high, hyper-regulation has become the new normal for this industry, so an organization such as OMSA is needed now more than ever before.

You bring to OMSA deep Washington, D.C. experience from the legislative side of the equation. What can maritime organizations like OMSA do better to communicate "the message" to our elected officials and what is that "message"?
We need to proudly and unapologetically tell our story – the story of the U.S. as a maritime nation, the benefits of a strong merchant marine fleet as a source of national sovereignty and security, the job impact and economic importance of the domestic maritime industry both nationally and locally, the dominant role of marine transportation in commerce, the exceptional safety and environmental record of the U.S. maritime fleet, and the ongoing surge in domestic marine manufacturing and job creation. Once they understand the maritime industry and why it matters, we need to explain the absolutely critical role that our government plays in promoting this industry though construction loan guarantees and workforce training programs, taking a balanced approach toward regulation, and upholding the nation's coastwise shipping laws – whose origins date back to the framers of the Constitution – in order to create maritime jobs here in the U.S. instead of allowing foreign-flag vessels that don't play by the same rules to take those jobs and weaken our nation's economy and strategic defense capabilities.

What's the most pressing item on your plate and that of the OMSA family?
Our members are struggling to keep pace with a never ending tide of new and changing regulations. Compliance costs continue to grow, and smaller operators are forced to dedicate more time, effort, and manpower that they don't have available to government-mandated paperwork instead of sales, marketing, safety, or business development. This frustration is not uncommon in the maritime industry, but it's exacerbated among the offshore fleet which is subjected to requirements that are written for other types of vessels and make no operational or economic sense for OSVs, but are made applicable nonetheless.

Increasingly, U.S. flag operators are entering the highly specialized offshore marine construction game with new, built-for-purpose tonnage. This wasn't always the case. Is there enough sophisticated U.S. flag tonnage to get the job done in the U.S. Gulf today, or is the window still open for producers to ask for waivers and bring in registered vessels?
Market conditions and technological advancements are part of the reason for this trend. At the same time, lax enforcement of coastwise laws in the past caused fleet atrophy in the same manner that more consistent enforcement is now promoting growth. As energy development opportunities in the Gulf become more numerous and complex, the domestic marine industry is increasing and modernizing tonnage to meet customer needs in a cost-effective manner and creating good-paying U.S. jobs in the process. This is a win-win situation, and it's important that we continue translating advances in domestic energy production to economic growth in the domestic maritime industry.

As a native of New Orleans, a Washington Insider and someone with good familiarity to the local economy, markets and the impact that the OMSA family can have on all of that, what's your take on the coming five years? Are we headed in the right direction?
There's a great deal of opportunity in the Gulf of Mexico for continued offshore supply service, the addition of U.S-flag capacity for installation and construction, and for plug and abandonment work on older wells. Beyond the Gulf and in the years ahead, I'm optimistic about the resumption of lease sales in the Atlantic, new openings in Mexico's offshore market as a result of recent political developments, a pathway forward to increase exploration in the Beaufort and Chuckchi Seas off Alaska's coast, and development of Brazil's considerable offshore reserves. We're also keeping an eye on the Atlantic offshore wind market and potential transportation opportunities there. Opportunity abounds for the domestic offshore marine industry, but regulatory efficiency and enforcement of coastwise trade laws will both be necessary to fully realize the economic benefits.

You've already said that among your priorities coming into this job, proper enforcement of the Jones Act, sensible and efficient regulatory regimes, and delivery of value-added services to OMSA's membership are at the top of the list. Talk about the Jones Act for a minute – is it under assault at the moment, or have we reached a "safe" place for the time-being?
The threat remains, but I'd like to believe we're less vulnerable now, thanks to industry's sustained efforts to educate Congress and the administration about the importance of the Jones Act, dispel myths and exaggerations using economic data, and increase domestic vessel capacity to meet customer demand in a cost-effective manner. We work closely with the American Maritime Partnership (AMP) on the outreach portion of this effort and appreciate their leadership. Unfounded criticisms may continue to arise, but I'm confident that an objective and holistic analysis of the Jones Act will reveal its value as a source of economic strength to our nation, and our industry will always be prepared to demonstrate that fact.

SEMS – the Safety and Environmental Management System which has altered the offshore work safety rules and training regime – is impacting your membership. But how much, and more importantly, how much is it costing them? Is this new regulatory requirement worth the drag on the bottom line?
The Deepwater Horizon accident caused unprecedented damage, and I think every American expected their government and the drilling industry to investigate the causes and take reasonable steps to prevent another unmitigated blowout from occurring. The devil's in the details though, and some SEMS requirements are more sensible than others. If practical measures can be taken to prevent a serious accident that is otherwise likely to occur, those actions are worth taking. When the risk is negligible – in terms of its probability or consequences – the requirement may be altogether unnecessary. Where the risk is significant but the prescribed remedy overly burdensome or extreme – technologically, logistically, or financially – the requirement may need to be replaced. Offshore vessels are already subject to BSEE's SEMS requirements through a contractual relationship with the operators. Despite that fact, the Coast Guard is considering a new rule that would establish yet another SEMS regime and additional requirements for offshore vessels. This effort is both duplicative and unnecessary and could result in millions of dollars in compliance costs without producing any real benefits for crewmembers or the environment. It could even have the opposite intended effect, by reducing the focus on safety initiatives and environmental consciousness, in favor of carrying out new legal and administrative tasks instead.

The Bureau of Ocean Energy Management, Regulation and Enforcement (BOEM) controls the offshore oil & gas lease permitting process. That process has finally reached a better pace in the wake of the Macondo disaster. Is it moving fast enough? If not; why not? And, what can we do to make that happen?
The pace of permitting in shallow and deep water has improved in the Gulf of Mexico since 2010. The Bureau of Safety and Environmental Enforcement (BSEE) approved 129 new wells last year, including 57 in deep water. By contrast, only 2 deep water permits were issued in 2010. In March, the Bureau of Ocean Energy Management (BOEM) will also be holding the 4th and 5th of 12 lease auctions planned for the Gulf of Mexico area as part of the administration's 2012-2017 plan. These are positive developments. I'm sure our customers who engage directly in the leasing and permitting processes with DoI have some excellent suggestions to improve them, and I believe that BSEE is willing to listen. Admiral Jim Watson's collaborative style of leadership at BSEE was widely appreciated within the energy industry, and I believe they're looking forward to continuing that relationship with Admiral Brian Salerno, who replaced him last year. Despite marked improvements in the Gulf of Mexico, I would be remiss if I failed to point out the obvious fact that 86% of federal waters in the United States remain off-limits to energy development and the jobs it creates. So while the permitting process in the Gulf has largely rebounded since 2010 despite some kinks in the process, moratoria elsewhere and the cancellation of 2010 lease sales in Alaska and the Atlantic continue to stymie economic growth in other parts of the country.

Your predecessor, Jim Adams, had to deal with many challenges. These included fighting the Administration's offshore drilling moratorium, repealing the Coast Guard's flawed Notice of Arrival regulation, and taking a leadership position in the American Maritime Partnership (AMP) to strengthen the U.S. maritime industry, just to name a few. Tick off the three or four challenges that will immediately impact your tenure.
Jim has done an incredible job, and I've learned a lot from him during the course of our transition. Our organization is in a better place now because of his efforts, but new challenges in this business are always just around the corner. For one, our country's energy transportation infrastructure is struggling to keep pace with new sources of supply and shipping routes. That is true in the pipeline, trucking, rail, and marine sectors, and it's critical that America's energy and transportation industries work together with policymakers to address this challenge. In addition, foot-dragging and hurdles to new offshore energy development outside the Gulf of Mexico are impeding economic growth. Lastly, the breadth and confusing nature of STCW regulations published by the Coast Guard in December has left many in the offshore marine industry feeling baffled and overwhelmed. This is just a sample of the challenges we are focused on, but they loom large on the horizon.

As you begin your tenure at OMSA, we find ourselves collectively in a place where, arguably, the domestic boatbuilding climate has rebounded to its best position in more than three decades. What can we do collectively to continue that winning streak?
It's an important story that needs to be told, and proper enforcement of the Jones Act is paramount to sustaining this trend. The shipbuilding surge demonstrates the ability of domestic yards to respond to market demand for Jones Act tonnage. It also represents an economic boon to the U.S. economy that would have been outsourced to foreign economies if certain individuals had gotten their way. Instead, we are creating thousands of good-paying jobs here in the U.S., training the next generation of skilled laborers and mariners for promising careers in the domestic trade, expanding the employment pipeline for our military veterans, and strengthening America's merchant marine. Increased access to private capital is important to building on this success along with funding and reforms to MARAD's Title XI programs.


(As published in the March 2014 edition of Marine News - www.marinelink.com)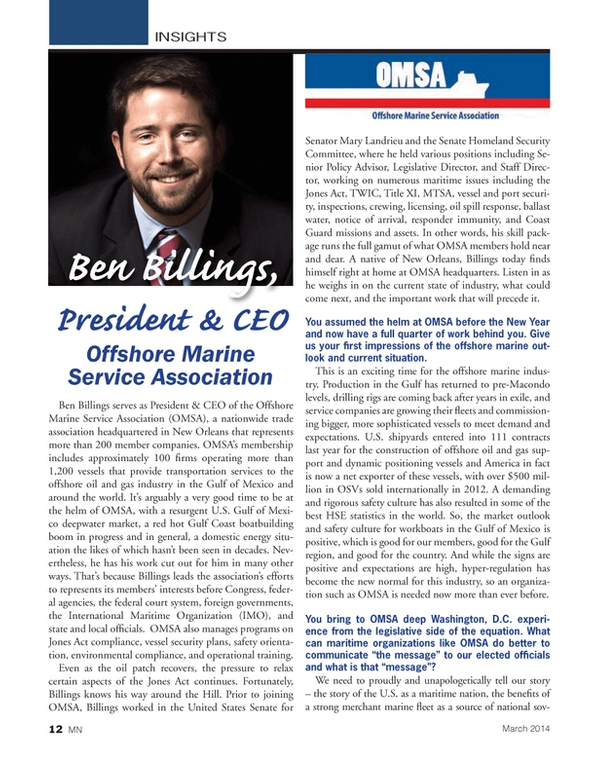 Read Offshore Insights from OMSA's Ben Billings in Pdf, Flash or Html5 edition of March 2014 Marine News
Other stories from March 2014 issue
Content