Insights: New York Canal Director Brian Stratton
Marine News
Brian U. Stratton was appointed Director of the New York State Canal Corporation in April 2011, to oversee the operation and development of New York's 524-mile Canal System, including the historic Erie Canal. The canal system, a historic system of waterways that dates back almost 200 years, was begun in 1817. Opened in its entirety in 1825, the Erie Canal is widely considered the engineering marvel of the 19th Century. But the canal system spans much more than the Erie Canal. It's potential as an inland marine highway is undeniable. Today, it attracts both recreation and commerce to its waters.
Stratton was appointed at the recommendation of Governor Andrew M. Cuomo, and serves as a member of the Governor's Cabinet. Prior to joining the Canal Corporation Stratton was elected Mayor of the City of Schenectady in 2003, and re-elected to a second term in 2007. During his tenure, he successfully identified and corrected the City's financial problems, returning Schenectady's municipal credit rating from the lowest in New York State to investment grade, including a sustained A- rating by Standard & Poor's. Also during his seven years as mayor, he worked with local leaders to attract more than $300 million in new private investment in the City of Schenectady, creating and retaining more than 2,000 jobs. As Mayor, Stratton also served from 2009-2011 as Co-Chair of the United States Conference of Mayors Water Council, leading mayors of more than 300 American cities in the discussion and national policy formation of issues impacting how cities provide safe and affordable water and wastewater services. His numerous awards include the National Association of Government Accountants (AGA) Distinguished Local Government Leadership Award in 2009 and the AGA New York Chapter Outstanding Achievement Award in 2008. Mr. Stratton received his Bachelor of Arts Degree from SUNY Oswego in 1980. Today, and as the chief executive of the New York Canal System, we work to ensure that commerce and recreation can exist side by side on the waterways and to improve infrastructure so that the system can realize its full potential, not only to the state of New York, but also to the nation's intermodal system. In August, we sat down with Stratton to discuss those efforts.

Give us a current situation report on the state of New York's Canal System.
The New York State Canal System encompasses 524 miles of navigation along four Canals, lakes, rivers and tributaries, providing a vital link for recreation and commerce, just as it has for nearly two centuries. As many mariners know, the Canal System suffered significant damage from Hurricanes Irene and Lee in 2011, and again during the summer of 2013. Under the leadership and direction of Governor Andrew Cuomo, we continue to build back better, stronger, and smarter. The entire Canal System is not only fully operational and navigable at this time, but today, is more resilient to future extreme weather.

The history of the canal system is a rich one. Today, arguably, it is under-utilized from the commercial side, but recreational users abound. What is its biggest value to the state of NY at this time? Do you see any of that changing in the near term?
Interestingly, today's New York State Canal System is about much more than commercial and recreational navigation, though that remains our primary mission. The Canal System also functions as a crucial source of multiple benefits and services including hydroelectric power generation, drinking water, and water for mining, manufacturing, irrigation, and research and development. In fact, overall, the Canal System supports in excess of $6.2 billion annually in these non-tourism uses. When combined with the approximately $380 million generated annually through tourism spending along the Canal, one quickly sees that today's Canal System is a vital economic development component for all of Upstate New York. I would expect that the Canal System will continue to evolve, as it has for nearly 200 years, based on how the world around it evolves and the needs of our citizenry.

How much of the current canal system (524 miles) is currently navigable for commercial cargo transit? What's the maximum controlling depth at this time? What would you like it to be?
All of the 524-mile Canal System is available for commercial use, depending on the draft required. The transport of bulk commodities is really limited at this point to the Waterford-Oswego route, where we have +/- 10.5' available, and we are working steadily to provide a minimum depth of 12' along that route. Obviously, we would like the entire Canal System to be at full depth but with the extreme weather of the last few years and the associated levels of sedimentation, we are making the same hard choices relative to priorities, in much the same way as other waterway managers throughout the country.

Logistically, much of the attraction that commercial shippers should see in the NY Canals involves shortened routes, shortened delivery times for cargoes and the positive impact that all of that has on the environment. Give us an example where a shipper might benefit from your shorter route from the Lakes to the port of NY/NJ.
For most of its life, the NYS Canal System has served as a complement to, not a replacement for, alternate land and water-based transportation options. Seasonality and dimensional restrictions mean that shipping by Canal may not always be a viable option for certain commodities or certain customers. But the huge reduction in distance between the Great Lakes and Port of NY/NJ which can be achieved by utilizing the Canal System is one of those major factors which can make us an attractive option under certain circumstances. For instance, the travel distance between Philadelphia to Lake Ontario is only 536 miles via the Hudson River and NYS Canal System, but 1,884 miles via the outside ocean route.

What would be your vision for the future of the New York State Canal System in terms of freight, commerce, passengers and/or recreation?
I think the Canal System will see larger vessels with overnight accommodations for passengers, like you see currently on the rivers and canals in Europe. The cruise industry has just exploded over there, and I think the historic Canals of New York can offer a similar experience right here in the United States. I also think that we are on the cusp of a major resurgence in commercial utilization of the waterway. Of course, this will be dictated by markets and influences on trade patterns beyond our control, but I think the inherent efficiencies of water transportation have a lot of companies remembering why Grandpa built the factory next to the water. We will do everything we can to provide a safe, reliable, and fully navigable waterway to facilitate increased commercial use. And finally, we will continue to make the enhancements necessary to provide a world-class recreational boating network for our customers throughout, and well beyond, New York State.

When we think about the New York State Canal System, we think "shortsea shipping" and "America's Marine Highway." What can be done in the short term to increase tonnage and traffic along this vital artery? Where do you think the biggest untapped commercial freight opportunities exist?
This is why we are so pleased that the Canal System was specifically designated by the U.S. Department of Transportation's Maritime Administration (MARAD) as part of the M-90 Marine Highway Corridor, and the Hudson River/ Champlain Canal as part of the M-87 Marine Highway Connector. MARAD has recognized what DeWitt Clinton and other pioneering New Yorkers did two centuries ago – that the Canal represents a vital link between the Midwest and the Eastern United States which is viable and competitive today. I actually think that some of the largest potential for utilizing the Canal commercially lies in goods, products, and technology manufactured right here in New York and exported to customers beyond our borders. This is what we call "originating cargo" and with New York enjoying a huge economic uptick through Governor Cuomo's Regional Economic Development Councils initiative and programs like Start-Up NY, New York is poised to once again put the "Empire" back in "Empire State" with the help of New York's original economic development program: the Erie Canal.

At its maximum capacity, New York Canals could remove a significant amount of traffic from the state's road and railways. What kind of 'intermodal' plan or blueprint is now in place in the Empire State and where does the canal sit within those plans?
Any comprehensive, effective and sustainable transportation strategy has to have at its core some multi-modal elements. Certainly, we know the Canal has limitations due to seasonality and dimensional restrictions. But we need to, as a State, identify what gaps exist that we can help fill, and what other modes of transportation we can best complement. Part of that is anticipating what impacts the expansion of the Panama Canal will have on cargo transportation throughout the eastern United States, and in New York in particular, and whether the time is right to introduce container-on-barge on the NYS Canal System. We had an excellent report – available on our website – prepared for us through a partnership with the NYS Energy Research and Development Authority in 2010. This report, authored by Goodban Belt, LLC had some very interesting things to say about containerization on the Canal System. So while we can anticipate the needs of the industry and logistics community – and prepare to the extent possible – the best thing we can do is to keep the Canal System in great operating condition for all who want to use it.

Your success at generating revenues, private investment and job creation in Schenectady is a great basis from which to do the same thing for the transportation system that you oversee. Can you shed a little light onto your management style and how you hope to move forward in a similar fashion for the NY state canal system?
Absolutely. The key to success in government or any other endeavor is in team building and utilizing your team members to the greatest effect. We have a tremendous team here at the NYS Canal Corporation and we have outstanding leadership. That leadership is Governor Andrew Cuomo – who has long been a champion on New York's Canals going back to his time as Secretary of Housing and Urban Development under President Clinton – to our Chairman, Howard Milstein – we are so fortunate to be empowered and given the resources to maintain this priceless resource.

(As published in the September 2014 edition of Marine News - magazines.marinelink.com/Magazines/MaritimeNews)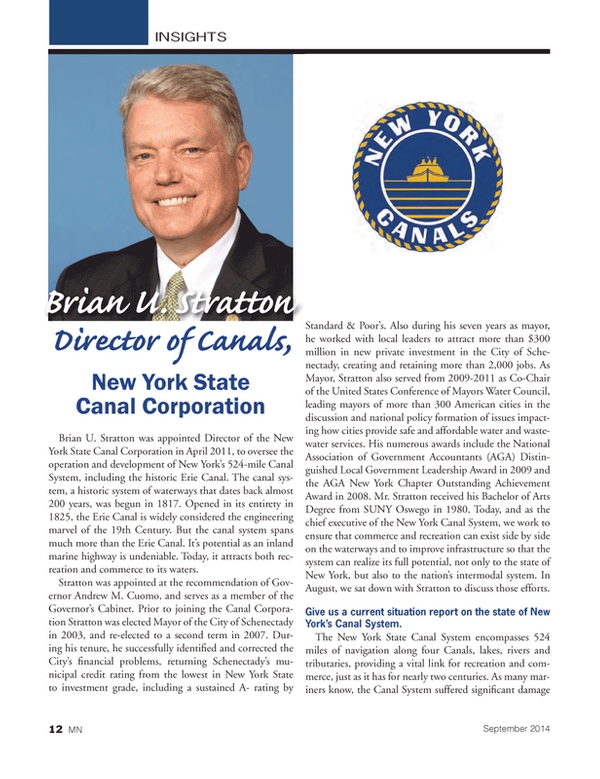 Read Insights: New York Canal Director Brian Stratton in Pdf, Flash or Html5 edition of September 2014 Marine News
Other stories from September 2014 issue
Content