Insights: Morton S. Bouchard III
Marine News
Insights: Morton S. Bouchard III - President and CEO, Bouchard Transportation Co., Inc.

When it comes to iconic, East Coast mainstays of the U.S. maritime industry, probably one of the first names that come to mind is 'Bouchard.' Likewise, Morton S. Bouchard III, who has served as President of Bouchard Transportation Co., Inc., the nation's largest independently-owned oceangoing petroleum barge company since 1996, also needs no introduction to Marine News [and Marine Link] readers. Bouchard's CEO since 1999, he is the fourth generation of Bouchards to lead the company since its incorporation in 1918. Promoted to President at the tender age of 32, Mr. Bouchard has continued the family tradition of investing profits in cutting edge equipment and following the passage of the Oil Pollution Act of 1990, he instituted the first double hull barge construction program in the United States. The company began building flat deck double hull ocean-going petroleum barges in 1992 and under Mr. Bouchard's leadership, continues to do so. Beyond this, Bouchard's ongoing fleet expansion includes the construction of two 6000-hp ATB tugs, both of which will join two ATB units currently under construction. Closer to home, and building on an All-American career in Lacrosse, his robust philanthropy for his high school and college alma maters has benefited a generation of scholar athletes on Long Island, NY, and beyond. But Bouchard's commitment to education and mariner training extends far beyond the playing fields. The Bouchard Transportation Company, Inc., Tug & Barge Simulation Center is nearing completion at SUNY Maritime College's Throggs Neck campus. Available to SUNY Maritime College students as part of their program of study, and to outside tug and barge companies for employee training, the facility mirrors Bouchard's resolve to create a safer workplace and a cleaner environment. In 2011, Mr. Bouchard established the Morton S. Bouchard Jr. Scholarship Program at SUNY Maritime in memory of his father. A staunch supporter of the maritime industry, Bouchard also serves on the Board of Directors of both the American Maritime Partnership and of the American Steamship Owners Mutual Protection and Indemnity Association, Inc. All that said; it is clear that Bouchard Transportation's storied history is only part of the story. As far as Morton S. Bouchard III is concerned, what comes next is just as important. Listen in this month as he talks about how things get done; the 'Bouchard' way.

Running a fleet in today's increasingly regulated environment can't be easy. If you had to point to one aspect of this business that is the most challenging, then what would that be?
The biggest challenges in running Bouchard Transportation fall into two categories; the first being the ever-changing regulations and the second being the continuous attempts to open the Jones Act. When a company makes an investment in an asset, it does so in compliance with the existing regulations so that the asset will last for its useful lifespan, if not longer. Lately, the worldwide regulatory agencies have been trying to implement changes without regard for the companies that made these investments in accordance with the regulations in place. I am all for modernization, and of course I too want a clean environment, but there has to be some consideration for these older assets that were built in compliance with the standard at the time, and now must be upgraded or scrapped without even a tax credit. The continuous failed attempts by companies to circumvent the Jones Act are also amazing to me. This legislation will not change. From our inception, Bouchard has invested well over five billion dollars in vessels built in the United States, crewed by United States seamen and owned by the Bouchard family. During the past few years, Bouchard has again invested well over one billion dollars in new equipment. This investment could have certainly been cheaper if built in foreign shipyards. However, consider all the jobs that were created and the taxes that Bouchard and the shipyard paid, again, in compliance with existing regulations, which gets back to my first issue in managing Bouchard - it all comes full circle. And as for the oil industry's complaint that rates are too high, I didn't hear them complaining years ago when owners were losing money. The Jones Act was fine then.

Many global operators are moving towards the practice of so-called "simulation based competency assessments." The more stringent assessments of skill, performed under realistic conditions, are changing the way deck officers in particular are trained – and assessed. Is Bouchard moving towards this practice?
Bouchard Transportation implemented this practice years ago. All Bouchard vessel employees must go through a training session before being fully employed. This is followed by a probation period during which evaluations are performed by the captain. Bouchard wheelhouse personnel are subject to the strictest hiring practices in the industry, and our safety record is a direct result of these practices.

What's the biggest change you've seen in the maritime business since you became involved on the water?
I started working on Bouchard vessels in 1974 when I was in high school. That is 40 years ago. The biggest change I have seen is in the education of the vessel employees. The employees today are much more aware of the importance of performing their duties in a safe manner, and only in a safe manner. I can confidently state that Bouchard vessel employees are the best Jones Act seamen. They are educated on all safety policies and procedures, and without them, Bouchard would not be able to continue to grow. I firmly believe, as does our management team, that we must not only invest in new modern equipment, but also invest in our employees.

What would you say is the biggest change you personally brought to Bouchard since taking the helm in 1996? Why did you set out on that course?
The biggest change that I brought to Bouchard has been to keep the company going. I still remember very clearly a meeting I had with my father after OPA 90 was passed. My father and I had a very close relationship within Bouchard, and outside of the company, and I miss him every day. We had lunch and he threw the OPA 90 regulation on the table and asked if I read it. I told him not the entire legislation but parts, and he responded he wanted to sell the company. The legislation scared him with its statements on criminal liability and double hulls. I responded, "Why don't we just build double hulls?" We started doing that in 1992 and continue to do so today. Bouchard was also the first company to install Intercon on vessels. Hence, the biggest changes I am responsible for at Bouchard include becoming the first company to build double hulls, the first company to install Intercon and the first company to take an aggressive approach in educating our employees on the importance of safe operations.

The Maritime Association of the Port of New York and New Jersey inducted you into International Maritime Hall of Fame. The honor paints you as a maritime visionary who best exemplifies the qualities of futuristic thinking. Give us an example of that in practice.
Well, thank you for that compliment. The best example is our fleet today. All of Bouchard barges – 80,000 to 255,000 barrels – are equipped with Intercon; no other company can say that. However, these changes are not my vision alone; they were also the vision of our valued customers and employees. Bouchard was the first Jones Act company to build double-hull oceangoing ATB barges with Intercon.

Why this coupling system and not another? What makes it best suited for your purposes?
Simple. It is the best, the safest, and the most reliable. Intercon is more expensive than others, but the product stands on its performance. Brian Everist also provides the highest level of customer support and stands behind his product. This assists Bouchard in being more reliable and safer. I always tell our customers that Bouchard Transportation is the best and we only equip our vessels with the best equipment. That is why we are an Intercon customer.

Controlling emissions and at the same time, increasing efficiencies is a challenge for any operator. You have 21 tugs listed on your web site with an average age of 14 years for those hulls. When it comes time to renew these vessels, do you favor repowering or will you go the replacement route with appropriate EPA tier engines?
Bouchard will in all likelihood do both. However, I may leave that decision up to the fifth generation of Bouchards, my sons.
Have you considered the "LNG as a fuel" route and do you have any plans to build in that arena? If not, why not?
Yes we have. In the planning stage of the two new builds presently under construction, we had a full day of meetings studying the feasibility of fueling the tugs and barges with LNG. After a long day (we met for 14 hours), I decided that the infrastructure was not available and the ability to design a vessel with the fuel storage capacity was not there. That said, I do think Bouchard will eventually have an LNG vessel and be a factor in this market.

In August 2014, you announced the next step in Bouchard's fleet expansion; the construction of two 6000-hp ATB tugs. What's special about these hulls and when all are delivered, what will be the average age of your fleet(s)?
These two tugs, Bouchard Boys and Evening Light, will be matched up with the B.NO.210 and B.No.220 and will be equipped with Intercon and segregated ballast. This design has been proven in the M/V Brendan J. Bouchard & B.NO.215, M/V Linda Lee Bouchard & B.NO.205, M/V Jane A. Bouchard & B.NO.225, which are all 115,000 bbl. Intercon units.

You've done a lot for SUNY Maritime; notably making possible the Bouchard Transportation Company, Inc., Tug & Barge Simulation Center. The Center will be available to SUNY Maritime College students as part of their program of study, and to outside tug and barge companies for employee training. Will Bouchard mates and captains train there?
I am very proud of this investment, and yes, Bouchard wheelhouse employees will do their required training at the BOUCHARD TUG & BARGE SIMULATION CENTER. I believe anytime a company can make an investment that will educate students and employees, and at the same time make operations safer, it is an investment worth making. It will pay dividends in the future for all involved.

The AMS Safety Advisory Committee has released the names of the Maritime Safety Award recipients for 2014. Bouchard Transportation won the 'Tug and Barge Safety Award.' Prior to that, Bouchard Transportation was recognized by The Chamber of Shipping America (CSA) with 41 Jones F. Devlin Awards. The awards highlight vessels that have operated for two years without a crew member losing a full turn at watch because of an injury. What's the secret formula involved with that kind of record?
I do not feel there is a secret formula. It is a corporate policy that starts at the highest level of management and is implemented by our safety department, and followed by our employees. Bouchard employees believe in our Safety Management System and that is a credit to VP, HSSE Mike Brady and his staff. Bouchard would not receive these awards if the vessel employees were not well-educated on safety and believe in the system. It benefits us all.

Retired Coast Guard Officer Brian Hall has joined Bouchard Transportation as Southern Port Captain / Vetting Manager. When it comes to vetting, this aspect of vessel selection by potential charterers is becoming more and more burdensome to operators. What's your take on vetting in today's world and how does Bouchard deal with this aspect of its business?
Bouchard Transportation is very happy to have Captain Brian Hall join our management team. He brings another level of commitment to safety, and has already had a positive impact on safety and safety awareness. I believe in a very strict vetting policy. Bouchard implemented a six month SIRA Inspection Policy on all of our vessels. The more inspections, the quicker you find deficiencies, and make the corrections that keep the vessels operating in a safe manner. I do not feel it is the charterer's responsibility to do a better job of vetting; it is the owner's responsibility. Owners must be aware that vetting today is the cost of operating safely, and a cost that can only lead to savings.

Your firm is International Safety Management (ISM) certified, issued by ABS. ISM is typically thought of as a larger vessel, blue water certification. Could you have certified with a different, perhaps lesser standard? Why ISM?
ISM is very comprehensive and covers our entire operation. Yes, it is very onerous and costly, but it has made Bouchard a safer company.

You are also American Waterways Operations (AWO) Responsible Carrier Program (RCP) certified. Subchapter M is coming – what does that mean (if anything) for Bouchard and its fleet? Are you looking at any significant operational or equipment alterations when it does come? Or, is ISM in effect far more stringent than the requirements of subM?
Bouchard is still studying the effects of SubChapter M. We are watching this closely.


(As published in the November 2014 edition of Marine News - http://magazines.marinelink.com/Magazines/MaritimeNews)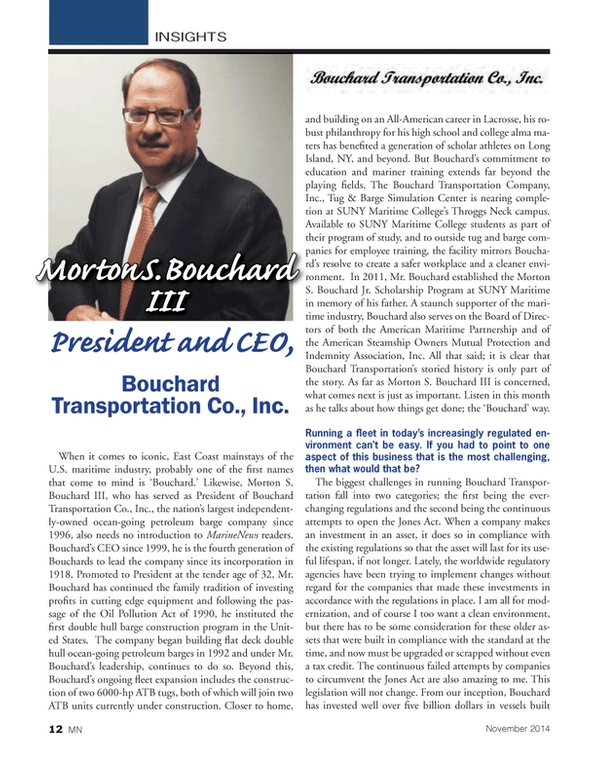 Read Insights: Morton S. Bouchard III in Pdf, Flash or Html5 edition of November 2014 Marine News
Other stories from November 2014 issue
Content