Dometic's Workboat Play
By Joseph Keefe
Workboat operators are taking a second look at Dometic's SeaXchange Reverse Osmosis Systems as missions expand and demands on these vessels increase.
It's no secret that Dometic Group's products are sold in almost 100 countries, supported by as many as 6,000 employees. Better known on the water for their penetration of the recreational and yacht markets, Dometic's attention is now focused on the workboat sector as well. Beyond a complete range of air conditioners, engine room ventilation systems, refrigerators, awnings, cookers, sanitation systems, lighting, mobile power equipment, comfort and safety solutions, the need for a clean and reliable source of water is paramount for today's offshore fleets. That's where Dometic's SeaXchange Reverse Osmosis Systems come in.
Featuring a compact design that yields a surprisingly small physical footprint, as well as high quality components that are designed for continuous high performance, the SeaXchange RO System boasts high rejection levels with a user friendly interface. There is more than one way to purify water, but Dometic chose to use reverse osmosis because of its cost effectiveness and ease of maintenance. The system is designed to produce the same high-quality, purified water anywhere – in open ocean waters, in harbors or in brackish water, regardless of temperature or level of dissolved solids in the water.

How it Works
In the reverse osmosis process, feedwater is forced under pressure through a semi-permeable membrane, which removes nearly all the dissolved solids and produces fresh, potable water on the other side. This method rejects up to 99% of salts, contaminates, and pollutants.
Dometic's Sea Xchange XTC and Spot Zero ZTC Series double-pass combination systems provide operators with the ultimate flexibility in purifying feed water from not only a dockside potable water source, but also from seawater or brackish water source. From a dockside source, with one touch, the Dometic Spot Zero ZTC Series fresh water RO system will automatically process and purify feed water and will remove 95%-99% of the total dissolved solids before sending the purified water to the vessel's onboard tank.
From a seawater source, Dometic's Sea Xchange XTC Series fully-automatic seawater RO system will first process raw seawater or brackish water, and then will send the product water from the XTC system to the Spot Zero ZTC automatic fresh water RO system for further processing to create a true double-pass process before the ultra-purified water is sent to the vessel's tank. According to Dometic's National Account Manager, Joe Pinto, this unique double-pass process produces the purest, cleanest water possible, whether the source is from land or sea. He adds, "Dometic is the only company in the marine industry that offers this unique combination of high quality water purification products."
Pinto explains further, "This is a true double-pass application, where the first pass is the seawater RO system, and the second pass is the fresh water RO system. This is how the two types of solutions are fundamentally different. Also, with our XTC/ZTC Combination Systems, the user is also able to process dockside water before it goes to the vessel's tank."

Workboat Applications
Recently, a Dometic RO system was installed on a diveboat which will be delivered in the second quarter of this year to Aqueos, an offshore service operator that provides a full range of services that include Marine Construction, Commercial Diving, Remote Operated Vehicle (ROV), and Vessel contracting services. In this case, they are building a high speed dive boat designed to accommodate a crew of approximately 12 divers. As it turns out, weight considerations make it impossible to carry enough fresh water for hotel loads, showering and washing of equipment. And, the vessel will likely spend expended periods offshore serving Aqueos clients.
The SX Series system being installed is a seawater RO system only. The water system layout on the vessel is such that the product water from the seawater RO system goes directly to the vessel's water tank. In this case, the vessel's water system layout does not call for RO purification of dockside water.
According to Chris Allard, President of Metal Shark Boats, a Dometic watermaker made a lot of sense. He explains, "We installed a Dometic system based on our experience with the company, their support and service. And, we suggested the Dometic unit to our client who followed our advice."
Allard also addressed the power footprint of the unit, saying, "Relative to the other loads on the boat, the watermaker is a relatively small consumer. All in all, it is not a major cost driver on the operation of the boat." In practice, Dometic's sea water systems are energy efficient for typical systems powered by piston pumps. The operating energy requirement for SeaXchange systems, for example, is 2.25 kW. This requirement can readily be supported by most marine generator systems found on most vessels.
It also turns out that one of the most precious commodities on many workboats is space itself. That's not a problem with the Dometic solution. For example, the Dometic Sea Exchange Sea Water Reverse Osmosis system measures 18.5" x 48" x 24"; weights range from 145 to 175 pounds, depending on the model you choose. And for those with especially tight quarters, the SeaXchange system can be converted to modular systems in a couple of easy steps. The watermaker can be installed in the engine room but also anywhere a particular vessel has room for it.
This particular diveboat is intended to operate in the Gulf of Mexico initially, but eventually, it could provide worldwide service. And, at that point, the quality of water on board will be especially important. Where local potable water cannot be fully trusted, Dometic's SeaXchange will more than keep up with on board demand. The U.S. Coast Guard recommends 30-gallons/per person per day for drinking, showers, cooking and cleaning. In terms of safety alone, a reliable watermaker is an excellent investment. At many ports of call, such as locations in the Caribbean, Mexico, Central and South America, foreign marinas can charge as much as 50 cents a gallon, and in reality, the quality of that water provided is suspect.
Workboats: real world missions, demands
Dometic insists that watermakers are important for safety, fuel economy and convenience. That much is clear. Offshore service providers not accustomed to needing a robust, reliable water supply, might need to take a second look. As the deepwater oil and gas play takes operators further offshore, for longer periods of time and to places where shoreside water quality is at best, uncertain, the need for watermakers becomes more obvious. And, in a world of $50 crude oil, the bottom line is becoming even more important. The offshore service provider that can make its own water and not have to fill water tanks to the detriment of deadweight cargoes for their clients will create that much more of an advantage in a buyer's market for offshore support. And then there's the fuel economy to consider.
Dometic SeaXchange Sea Water Reverse Osmosis Systems come in capacities ranging from 600 to 2200 gallons per day. But, says Dometic, it's not gallons per day you should focus on; it's gallons per hour. In order to run your watermaker, you will need to operate your generator. Hence, if you run your generator for four hours per day, and need to make 100 gallons of water per day to replenish the previous day's supply, you will need a watermaker with a 25-gallon-per-hour capacity.
For Metal Shark, a rapidly expanding boat builder now with two Gulf Coast locations, the choice is clear. Chris Allard told MarineNews in February, "We have used Dometic products for many years on hundreds of boats. The company, service and support are all excellent – during installation, as well as post delivery." For the rest of us, something we take for granted – clean, safe water – is even more important when out to sea. As missions expand and change for more offshore operators, these firms are beginning to look at enhanced water making capabilities for myriad reasons. When they do, they will increasingly look to Dometic.
(As published in the March 2015 edition of Marine News - http://magazines.marinelink.com/Magazines/MaritimeNews)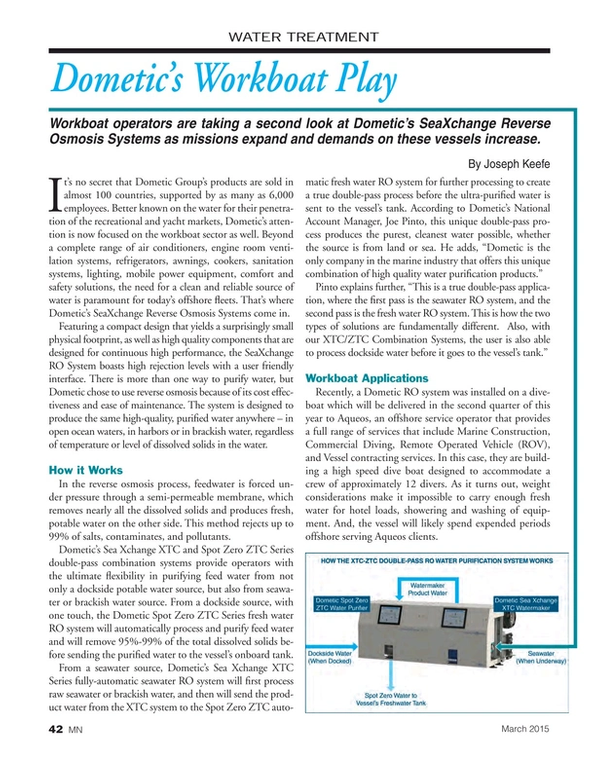 Read Dometic's Workboat Play in Pdf, Flash or Html5 edition of March 2015 Marine News
Other stories from March 2015 issue
Content