Marine News Editor's Note
Joseph Keefe
Fleet Optimization is a broad term which might be described as the best practices and equipment that will make any collection of vessels more environmentally correct, economical and yes, attractive to prospective charterers. In this edition, it means whatever I say it means. Separately, and as the closely watched rig count in the U.S. Gulf in the U.S. Gulf continues to drop – dipping below 80 percent utilization as we went to press – so, too, go the rates for offshore supply vessels. As such, and if you operate a workboat in this climate, you can probably be forgiven if SATCOM, Software and water treatment technology (of all things) aren't necessarily the number one thing on your plate when you sit down at your desk each morning. That said; all three items, at one time or another, someday probably will.
It is clear – at least to me – that the brown water, workboat market has grown up considerably over the course of the last two decades. It already represents 99 percent of our commercial merchant marine in terms of hulls alone. But the sector has also embraced a technology boom that has its vessels literally bristling with leading edge equipment that, in some cases, eclipses that which is happening on the blue water, deep draft side. Beyond this reality, a more sophisticated and better educated mariner is now the rule and not the exception in this sector. Management software naturally comes along with all of that forward thinking, and the workboat world is steadily embracing its arrival. That story begins on page 30.
Operators and workboats can collect all the data that they want, but if that information isn't synchronized and shared across multiple internal stakeholders in near real time, it probably isn't doing anyone much good. Nor will it optimize your bottom line. For that reason, it may be finally time for workboat managers to take the final step that will tie all of their technology together. We're talking about SATCOM, of course. The days of putting up with spotty cellular coverage and slow data transfer are finally coming to an end. SATCOM for workboats is here; it is affordable and very soon, you won't be able to compete in these markets without it. Inside, you'll find out how and why.
"We're from the government and we are here to help." If you are one to cringe when you hear that kind of outreach from the federal government, this is the one time perhaps that you ought to think again. The U.S. Environmental Protection Agency's SmartWay program has reached the inland waterways. Encouraged by success on land, EPA has begun a new Barge Freight component of the program which they say will help to more completely determine the carbon produced by freight supply chains, and to see the environmental benefits of barge transport. It turns out that the EPA has a seat waiting for you at the SmartWay table. If that's not fleet optimization, then I don't know what is.

(As published in the March 2015 edition of Marine News - http://magazines.marinelink.com/Magazines/MaritimeNews)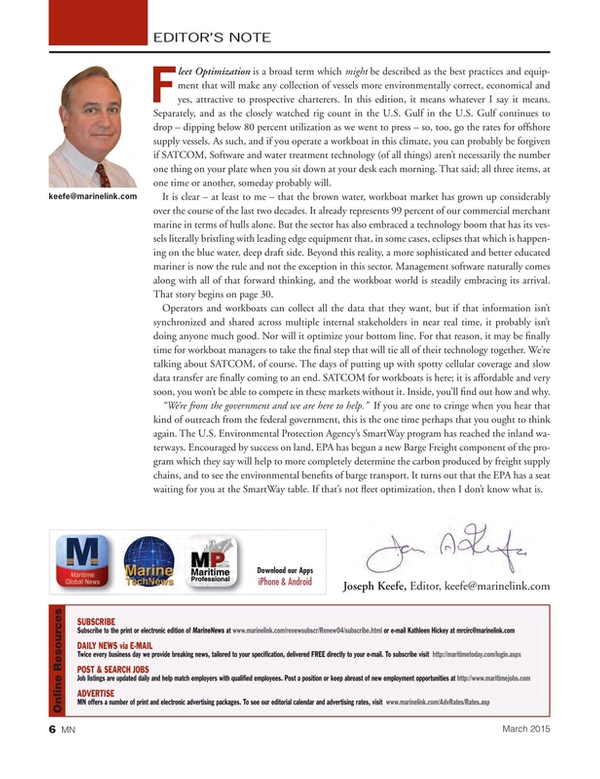 Read Marine News Editor's Note in Pdf, Flash or Html5 edition of March 2015 Marine News
Other stories from March 2015 issue
Content