Will Paper Logs Sail into History?
By Sarah McCoy
Helm Marine Software's product team leads burdened brown water workboat operators out of the wilderness – and confidently into compliance.
Four to six forms a day and that's before Subchapter M rules take effect. That is how many forms Helm Marine Software's product team figures a typical inland vessel must deal with, every day. Their research shows that OSV companies have around 100 different forms to complete and Dry Bulk companies have around 70.
Skip the forms, and under Subchapter M, vessels without Certificates of Inspection (COIs) won't be fined. They will also be tied up at the dock. Being able to quickly produce evidence of seaworthiness and safety management will be more important than ever. If a software system could quickly and efficiently access that data, could it be time to stop using paper logs? The answer is YES.
Convenience to Compliance
"Our whole mission is to bring convenience to compliance," says Rodger Banister, VP of Marketing at Helm Operations. Helm Marine Software has specialized in the workboat industry for its 16 years. Based in Victoria, British Columbia, for-profit Helm has earned a reputation for striving to improve the workboat industry's safety standards. Last year, Helm became a subsidiary of the not-for-profit, Tokyo-based classification society, ClassNK, itself a strong proponent of HSQE (Health, Safety, Quality, Environment). ClassNK also has deep roots in the inland, brown water sectors; not necessarily here in North America, but that could also be about to change.
Helm offers two software suites, Helm Marine Operations Software (MOS) and Helm CONNECT. Helm MOS, the older program, relies on installed software and Local Area Networks to transmit from vessel to shore. Helm CONNECT customers use the web. Both use an intuitive interface to record data and sync it back and forth from vessel to shore. Helm MOS customers include Blessey Marine Services, URAG, Seaspan, Crowley Marine Services and Florida Marine Transporters. The largest of Helm's roughly 1,000 MOS clients is the towing and emergency response company Svitzer. Still in beta form, the soft launch of Helm CONNECT already has three customers. "The first customer is a smaller OSV company looking to break into the deepwater market with larger vessels that have to be ISM compliant," explains Banister.
"The second customer is a large inland barging company looking to be prepared for Subchapter M. The third customer is looking to better manage maintenance tasks and give more transparency to its customers from a compliance point of view. They also really do not like their current maintenance software because it's too difficult to use."

Sub M Solution
Helm's HSQE software addresses the Maintenance portion of Subchapter M for American customers. "It will be a complete solution that will record all Subchapter M requirements by the end of 2015," says Banister. "We have clients that are planning to use it for Subchapter M, but not actively doing so." The details of Subchapter M are yet to be finalized by the Coast Guard and the voyage from an older system into the digital world can feel like a leap of faith. But, as Helm CEO Ron deBryune explains it, "It is all based on the very simple principle: 'Say what you do, do what you say and prove it.' Turning reports and forms into information at your fingertips means having all the information saved and accessible, and that means creating a database."
Two years ago, Banister had a meeting with a man he calls "Captain Bob." "Captain Bob" arrived with a fat manila folder full of forms. "It really surprised me because I thought they were completing the odd form." But there were forms to fill out on a daily, weekly and monthly basis. Hundreds of forms. Operating efficiently is not just a matter of completing the forms, Banister points out. Crews must scan them, email them to the shore and store them onboard as well. With paper forms, "Once the form is completed, it's a static piece of information," he says.
"But if you want to use that information, to get smarter about how it is you run your compliance, how you run your preventive maintenance, somebody has to take that data and plug it into something else as well so it's not a waste of time that's happening," Banister says. If, for instance, an engine develops problems, digging through a massive paper log to find past readings and maintenance information can take time. In addition, "when you're keeping paper logs, oftentimes what happens is those logs don't find their way to the shore for three weeks at a time," says Banister. "Real time information helps them plan better and it helps them forecast better."

Automating Compliance
Plugging the information into software instead of using a paper system is called automation. While Helm's software is far from the only choice out there, its newest offering may be one of the easiest to use. Web-based Helm CONNECT does away with specialized software installations and connects the user to shore through any tablet or computer. If the vessel has no cellular signal at that moment, the program saves the information onboard and syncs again when there is a signal. The software is web-based, runs on most browsers and is optimized for tablets. The computer or tablet only needs 8 GB Ram, a 2 GHZ processor, Windows 7 or 8, or 8.1 Windows Server. Helm recommends using Google Chrome or Internet Explorer 11 as a browser.
Banister says, "Hardware isn't a big concern because Helm CONNECT is delivered through the web. As for user hardware, the better performing a computer you're using, the better the performance will be. We do recommend a modern web browser." Helm's goal for CONNECT is that eventually it can be accessed from any device. Customers who buy the preventive maintenance bundle of five applications pay $150 a month. Some companies charge by the size of the vessel or the industry, says Banister. "We don't want to that. We want to make it simple to do business with us."

Helm CONNECT
Helm CONNECT is built as a series of apps for various workflow-based tasks. Helm CONNECT HSQE focuses on preventive maintenance and compliance and Helm CONNECT Jobs helps with dispatch, scheduling and billing for harbor services. Customers buy only the apps they need.
To get started with CONNECT, users log into a website and download a small program onto a local computer. All that is needed is a TCP/IP connection, standard Internet protocol. Some companies buy overlapping cell phone service in order to connect as often as possible, but the program is designed to work without a connection to shore and will save the data for when a connection is available. Ideally, the software syncs every five minutes. It is agnostic about what type of computer or tablet is used. There is no minimum level of connectivity and the data can move as fast as the connection allows. There are no SATCOM partners. The software is built to be flexible enough to accommodate third party applications, so that all systems can talk to each other.
Bill Reid, VP of Product for Helm, says that customer data is secure, even when using the web. All messages are coded and both Helm and host Amazon Web Services are vigilant about keeping the data secure. Helm's software geniuses have worked hard to make the software as easy to use as possible. Helm aims to have the apps themselves act as a guide for users by using simple language and allowing the user to see only what they need with nothing extraneous.
Ultimately, Helm sees efficiency inextricably linked with safety. They are betting that their user-friendly software is a catalyst for a safety culture. According to Banister, "If people understand that safety is not imposed upon them but is intrinsically in their best interest, there's less resistance and more willingness to want to perform prescribed safety measures. Software that gets in the way of work will not be used and will not be a resource." Helm wants crews to shift from an attitude of "have to" to "want to" use the software.

To achieve this, the process of designing the software looks different than at many companies. Helm calls itself the first software designed by crews. Banister says that what often happens in industries, including the workboat industry, is that the people who are going to use the software are not the ones who design it. When they first start with a customer, instead of talking about software, Helm's staff asks, "How do you work? How do you go ahead and do what you do to achieve your goals throughout the day?" Eventually, Helm goes back to the client with a rough design of how the software works. It's a step by step thing that they themselves have created."

Looking Ahead
According to Banister, there should be room for Helm to grow in the workboat industry. H adds, "The way the industry breaks down is that there are many, many companies with fewer than ten vessels in their fleet and I think that for the majority of those companies they are probably managing their preventive maintenance and compliance through paper and email." All of those are potential new markets for Helm. Separately, and as ClassNK provides an opening to other markets through 130 offices around the world, Helm also provides an introduction to ClassNK for the inland waterways industry.
Helm's founder and CEO deBruyne says, "The change in the regulatory environment could make workboat companies require class societies to support their safety management system." Banister is careful to say that Helm and ClassNK retain neutrality with companies not classed by ClassNK. "Privacy is our utmost concern," says Banister. He added that Helm will continue to operate as an independent company and its software will remain available to all regardless of class, shipyard or owner. Helm's client data and sensitive information will also remain confidential.
Confidently bringing convenience to compliance, one company at a time, is the ultimate goal of Rodger Banister and Helm. Eliminating the hassle of tedious paperwork is just another happy consequence of doing so.
(As published in the March 2015 edition of Marine News - http://magazines.marinelink.com/Magazines/MaritimeNews)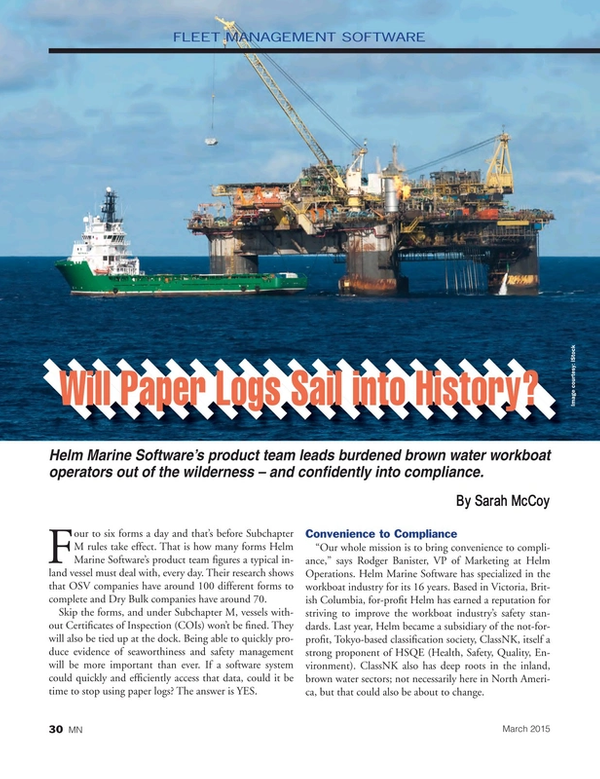 Read Will Paper Logs Sail into History? in Pdf, Flash or Html5 edition of March 2015 Marine News
Other stories from March 2015 issue
Content