Interview: Dave Anderson, President, Passenger Vessel Association
Posted by Nicole Ventimiglia
Dave Anderson is the President of the Passenger Vessel Association (PVA). He also serves as General Manager/Director of Operations of Fire Island Ferries, Inc., Bay Shore, N.Y. on Long Island. The company has provided passenger service, freight service and water taxi service to Fire Island communities since 1948. The firm operates 23 subchapter T and K vessels ranging from six to 400 passengers. Anderson, an honors graduate from CW Post Long Island University where he earned his BA in Communication Arts in 1984, also holds a 100 ton Masters license which he earned in 1983. Dave is an industry leader and is recognized as such serving on the United States Coast Guard's Sector Long Island Sound Area Maritime Security Committee, Harbor Safety Committee, FSO and CSO Security Committee and the Committee for the Sector's Maritime Transportation System and Recovery Plan. He has been with Fire Island Ferries since 1984 and has been active in PVA since 1995. He currently is serving on the PVA Board of Directors as Vice-President and has served as Chairman of the Safety and Security Committee for PVA since 2005. Fire Island Ferries, Inc. has been an active member of NAPVO and PVA since its inception. As 2016 begins, Anderson finds himself leading PVA through an important time where looming regulatory issues, safety concerns and a challenging business climate have all come together for all manners of domestic ferries and passenger vessels. His take on what comes next, and more importantly, how PVA intends to navigate the coming year, is therefore especially important. Listen in this month as Dave Anderson weighs in on the state of the domestic passenger vessel industry.

What is the primary goal and function of PVA?
PVA aggressively advocates on behalf of owners and operators of U.S. passenger vessels to their lawmakers and regulators. While much of this work occurs at the Federal level, there are occasions when our organization is also involved in state and even local issues. PVA is also dedicated to safe and secure operations and remaining good stewards of the environment. To accomplish this, PVA provides its members with innovative tools and guidance to assist in compliance and training, and to address the evolving operational needs of passenger vessel operators. As an example, the PVA Green WATERS program was developed exclusively for members as a voluntary program aimed at reducing waste and operating in a cleaner, greener and more sustainable environment. PVA's ultimate goal is to help advance the U.S. passenger vessel industry by promoting a strong business operating environment for our members.
Give us some insight on the scope of the Passenger Vessel Association. How many companies and/or vessels does your association collectively represent?
PVA membership includes 530 companies around the country – including vessel operators, as well as suppliers and vendors for the industry. PVA members operate in nearly every port in the country and include small family businesses, large corporate organizations and a variety of public government passenger vessel operations. These operations involve a diverse variety of vessels including public and private car and passenger ferries, dinner cruise vessels, sightseeing and excursion vessels, amphibious vehicle (DUKW), whale watching and eco-tour vessels, sailing vessels and overnight cruise vessels. We are extremely proud of the fact that the U.S. passenger vessel industry safely carries over 200 million passengers annually.

PVA is developing a safety management system called Flagship. Tell us about it. Who is using it and what are some of its measurable benefits?
We are very excited about FLAGSHIP; a safety management system that has been designed by passenger vessel operators and is specifically tailored for passenger vessel operators to allow them to easily take their organizations to the next level in terms of safety management. We are fortunate that our industry has a stellar safety record. We have developed FLAGSHIP to advance safety even further and to ensure continuous improvement. FLAGSHIP is actually scalable to meet the needs of passenger vessel operators of all sizes and types. Importantly, the Coast Guard has been working with PVA on developing FLAGSHIP every step of the way, and we are hopeful that they will ultimately approve the program as an alternative to regulation. FLAGSHIP has undergone at least a year's worth of testing in the field by nine PVA member companies. Now that the FLAGSHIP framework is complete PVA will work to grow its user group community to include more operators.

Arguably, the most frustrating aspects of the Coast Guard's casualty investigation and reporting processes are its perceived inconsistent application, inappropriate restriction of operations and an outdated reporting form. Has there been any progress in the past 12 months on this front?
PVA and its members have long been frustrated with the marine casualty reporting process because of inconsistent reporting requirements from port-to-port. As a result, we have worked hard to advocate for significant changes in this program that would make it less onerous on industry. The recent release of the Navigation and Vessel Inspection Circular (NVIC) on marine casualty reporting was a significant step forward in improving this vexing situation. This new guidance provides several changes that directly address our concerns. For example the NVIC directs all immediate marine casualty reports to be made to a designated live person within the local Coast Guard. Additionally, the NVIC has further clarified terminology dealing with vessel groundings. It now includes two additional definitions: "bump and go" and "intended grounding or striking." The document makes clear that the mere "loss of propulsion, primary steering or any associated component or control system ..." does not, by itself, constitute a reportable marine casualty. However, there are still some areas where it doesn't go far enough. The $25,000 property damage threshold for a reportable marine casualty has not changed. This dollar value is far too low and has not been adjusted for inflation in decades. This cannot be increased to a realistic figure through a guidance document and requires a regulatory change. Additionally, the language describing momentary loss of propulsion, steering and control systems still remains confusing, particularly when it comes to interpretation and additional requirements placed on operators by local Coast Guard investigators. We will see how this NVIC is applied in the field as the true test of its effectiveness.

If you had to choose just one issue that is facing PVA members that you deem the most important to address in the coming year, then what would that be, and why?
Safe boating outreach and education is one of PVA's primary strategic initiatives going forward. Across the country, PVA members have become increasingly concerned about increased congestion on the waterways and frequent encounters with human-powered recreational craft, particularly those that are rentals. PVA vessel operators are encountering growing numbers of persons in craft such as stand-up paddleboards, kayaks and small electric boats who may not be aware of their responsibilities under the Navigation Rules of the Road. These dangerous encounters are becoming more and more common on many domestic waterways. To elevate this issue, PVA Board Members met with National Transportation Safety Board (NTSB) Chairman Chris Hart to voice concerns, and to emphasize PVA's commitment to safety. Since this meeting, the NTSB has begun planning for a Waterway Users Forum tentatively scheduled for the spring of 2016. PVA is also working with experts from the Coast Guard's Office of Boating Safety and Office of Waterways Management explore opportunities and ideas for strategic outreach and education to promote safe boating and communication on the water. PVA has spoken to the Boating Safety Advisory Committee, urging these industry experts to incorporate a discussion of this issue into its Boating Safety Grant Programs. As an organization, we are committed to safety and we stand ready to work with all waterway users to ensure a safe boating environment for all.

Security has to be an issue of enormous importance to the PVA and its membership. For example, you have worked to exempt vessels of less than 150 passengers from security plan and TWIC requirements. At the same time, what has been done to improve the security awareness footprint of this class of vessel?
PVA member operators are extremely secure. This attention to security actually predates 9/11 as maintaining the security of vessels for both passengers and crew has always been fundamental to safe vessel operations. Responding to the Maritime Transportation Security Act of 2002, PVA developed, in conjunction with the Coast Guard, an Alternate Security Program which offered members a far-reaching security program that could be implemented easily and effectively. This program is now being used by many PVA members and has saved them thousands of dollars in development costs. PVA continues to work to ensure that security regulations are reasonable and effective, and are based on Coast Guard risk assessments. To help maintain a strong security posture, PVA also offers a variety of training and informational tools for members that have been developed in conjunction with the Transportation Security Administration (TSA).
PVA works with Coast Guard to analyze incident data. What developments and positive steps have emanated from that effort?
Reinforcing PVA's commitment to safety and continuous improvement, we've partnered with the Coast Guard to review the industry's incident data. As a result of this analysis, we have identified that slips, trips and falls account for the majority of the reportable incidents on board domestic passenger vessels. Our desire is that this partnership with the Coast Guard will help us develop non-regulatory guidelines that PVA members can use to reduce slips, trips and falls aboard their vessels, and as a result, enhance safety for both passengers and crew. In recent months, we've also seen increased activity from Coast Guard enforcing the "interference with safe navigation of a vessel law" or more commonly known as "rail-jumper" or "wake jumper" amendment. This increased use of this statute came from PVA's urging at several quality partnership meetings. There have been several fines issued on the basis of this law and it has enhanced safety and the protection of our mariners.

Are there any other regulatory changes looming for the industry that give you and your collective membership particular concern? If so, which ones and in what ways do the new rules impact operations?
PVA is awaiting the issuance of the TWIC Reader final rule. We have gone on record opposing TWIC Readers for passenger vessel operators. We feel strongly that TWIC Readers will not enhance security and would only add unnecessary costs and administrative burdens on operators who are already extremely secure. The final rule is under review by the Department of Homeland Security (DHS) and then will move forward for evaluation by the Office of Management and Budget (OMB). So the release of this rule is still some time off.
(As published in the January 2016 edition of Marine News - http://magazines.marinelink.com/Magazines/MaritimeNews)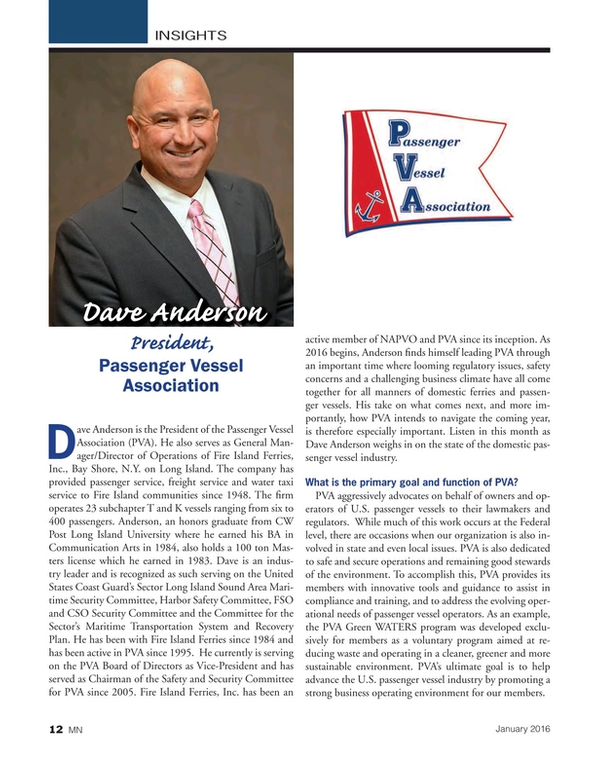 Read Interview: Dave Anderson, President, Passenger Vessel Association in Pdf, Flash or Html5 edition of January 2016 Marine News
Other stories from January 2016 issue
Content