One Small Step toward Sustainable Coastal Shipping
By Robert Kunkel
Short sea shipping is alive and well on America's East Coast.
In the United States, counties and states directly on the shoreline constitute less than 10 percent of the total land area (not including Alaska), but account for 39 percent of the total population. From 1970 to 2010, the population of these counties increased by almost 40 percent and are projected to increase by an additional 10 million people or 8 percent by 2020. Coastal areas are substantially more crowded than the U.S. as a whole, and population density in coastal areas will continue to increase in the future. In fact, the population density of coastal shoreline counties is over six times greater than the corresponding inland counties. And that's the problem. Population density creates congestion and pollution along our Interstates, our highways and local roadways.
Short Sea Shipping & Harbor Harvest
Recognizing the roadway congestion problems, Europe developed the Marco Polo Plan and invested billions in the development of a short sea-shipping program in early 2004. In the Americas, the U.S. Department of Transportation and the Maritime Administration started by first building a short sea cooperative program with private industry and following with the America's Marine Highway under legislation established by Section 1121 of the Energy Independence and Security Act of 2007 and amended in Section 405 of the Coast Guard and Maritime Transportation Act of 2012. The mission was to integrate a marine highway system into the U.S. surface transportation system and relieve congestion.
Has it worked? Simply put, it has been difficult. The coastal movements of container and trailer into and out of the noncontiguous zones have finally drawn new tonnage and technology into the trade. That said the development of actual coastal movements on the East or West coasts of the country have difficulty competing with the cost of trucking and the finest Interstate highway system in the world. Taking all that into consideration, Harbor Harvest and Amtech may have found a small niche that can work towards solving some of those cost issues by developing a shorter trade route and embracing the local farm-to-market movement in agriculture and food service.
The project intends to provide an alternative transportation platform coupled with a vertical integration of retail space and support of the organic farm market located along the Connecticut/Long Island Gold Coast and Hudson River area. The U.S. Maritime Administration has designated these two Marine Highways as M295 and M87. Both are considered eligible Marine Highway corridors for government and public support. Harbor Harvest intends to provide an emission free "eco-delivery" marine coastal network based upon proven Hybrid propulsion and aimed at providing environmental sustainability to an agriculturally based cargo.
The Hybrid Vessel
Alternative Marine Technologies recently delivered a Lithium powered Hybrid research vessel to the Maritime Aquarium of Norwalk Connecticut. The Spirit of the Sound has operated nearly flawlessly for over one year and has been a major factor in proving that the BAE HybriDRIVE system developed to power the vessel is both efficient and dependable. The project completed by Derecktor Shipyard, BAE Hybrid Systems, Corvus Energy and Amtech has received awards at several marine conferences and industry functions. A follow on vessel is currently being constructed at Derecktor for CUNY Brooklyn for research projects in New York's Rockaway Inlet. Amtech is the construction supervisor for the second vessel in the series.
Using the same Catamaran design and Hybrid propulsion system, Derecktor and Amtech reconfigured the future series of vessels to carry 9,000 pounds of protected refrigerated cargo and 3,000 pounds of deck cargo. Vessel speed is 15 knots and the Lithium battery component allows emission free operation for approximately three voyage hours before charging is required. The vessel can be charged at a shore side facility or while underway. The envisioned trade routes have been tested with the Norwalk Research vessel to confirm fuel efficiency, battery life and the use of several proposed dock locations in Long Island and Connecticut. In all of the tested routes, the vessel can deliver the required cargo in nearly half the time required along the congested land based routes.
Taking into account the 'gentrification' of the Connecticut 'Gold Coast,' the Hybrid cargo vessel will be quiet, fuel-efficient and without exhaust emission while carrying local farm produce, dairy, wine and meat products on refrigerated pallets. The vessel's maximum draft is less than 4'6" and is easily accepted at Marinas, Yachting centers, Ferry terminals or industry based working berths. Door to door delivery will be completed by Pedago Lithium electric bikes, capable of 400 pounds of cargo carriage and by small EV vehicle where longer distance delivery is required.
Bluezone refrigeration technology allowing extended storage periods of the organic products both aboard the vessel and at the distribution centers is also employed. A retail farm-to-table retail market and butcher shop has been successfully introduced in East Norwalk, Connecticut to allow a vertical integration of revenue from distribution, delivery services, product transportation and retail sales. The retail center has been featured in Modern Farmer, the Connecticut Northeast Organic Farmers Association and several Connecticut local news programs to rave reviews.
The Cargo and Trade Routes
The millennium generation is returning to the cities and neighborhood small businesses in an attempt to reduce their carbon footprint. They live, shop, eat and play where they can walk to work, ride their bike to the farmers market or use mass transit to meet their long distance transportation needs. The environmental benefit that accompanies this 'local' mentality needs to also translate into our maritime transportation systems. We owe them an emission free and sustainable system of moving goods into and around the local economy they have embraced.
In 2011, the Lower Hudson & Long Island Resource Conservation and Development Council completed the Hudson River Foodway Corridor Study sponsored by NYSERDA. 36,000 farms and 7 million acres of farmland were identified in the study. The value of the products sold was estimated at $4.4 billion. As much as 75 percent of the farms were identified as family owned and had annual sales below $50,000 simply due to the fact that they could not get their products to consumers in New York City. As a result, 670,000 acres of farmland have been lost between 2000 and 2010. Similar conditions were found in Connecticut as the geographical relationship of point of farm origin compared to consumer and wealth location created logistics issues. An efficient marine transportation system can open new markets along the Hudson River corridor of Marine Highway 87 and across Long Island Sound on Marine Highway 295. The Harbor Harvest Hybrid vessel provides that efficiency and looks to service those new markets.
Amendments have been added to recent Marine Highway legislation to allow parcel cargo movements within designated projects. Existing legislation targeted only containers and domestic trailers. The movement of parcel cargo by pallet or box is handled by LTL (less than full load) trucking and that market provides a more stable playing field for the movement of parcel cargo on water. There are limited LTL trucking services that provide refrigerated movements and the roadway congestion, bridge tolls, parking issues and diesel emissions have both extended the time required to complete a Connecticut to Long Island or a Kingston to New York City movement which in turn has increased the quoted price. The marine Hybrid movement is now cost and time competitive.
Based upon previous attempts to move freight off the congested highways and along the U.S coasts, this is the first time Amtech has seen the numbers work; a surprising fact considering the current cost of diesel fuel and price of oil. In the meantime, Harbor Harvest is working with several environmentally based groups, the States of Connecticut and New York to gather public support and work towards raising additional capital to support the construction of ten vessels.
Green, clean, efficient and workboat powered short sea shipping is coming to Long Island Sound and the Hudson River. This is truly an event that can only be described as one small step for short sea shipping and one large step for the Northeast agricultural community. And, not a moment too soon.
Robert Kunkel, President of Alternative Marine Technologies, previously served as the Federal Chairman of the Short Sea Shipping Cooperative Program under the Maritime Administration and the USDOT from 2003 until 2008. A past Vice President of the Connecticut Maritime Association, he is a contributing writer for Marine News. A graduate of the Massachusetts Maritime Academy, Kunkel sailed as a licensed engineer and continued his career in ship construction at NASSCO and Hyundai Heavy Industries, among others. He is a senior member of the Special Committee on Ship Operation with ABS and an elected member of the NCB.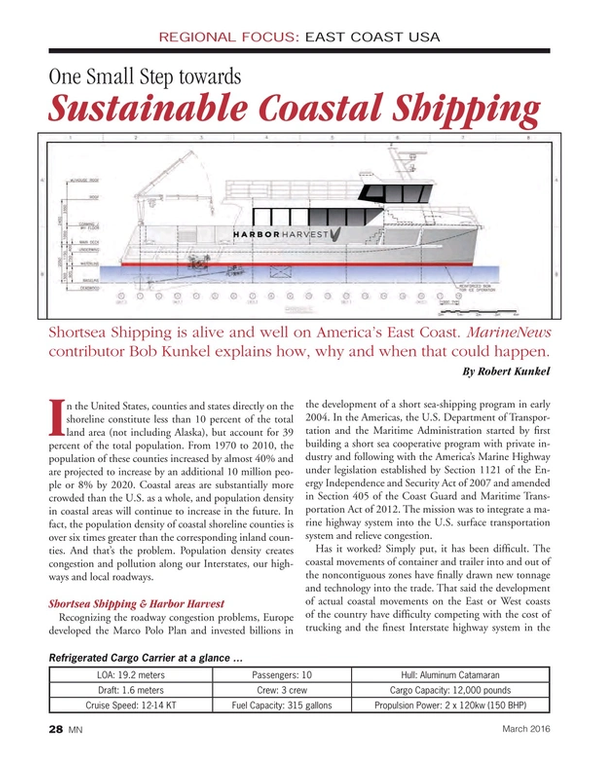 Read One Small Step toward Sustainable Coastal Shipping in Pdf, Flash or Html5 edition of March 2016 Marine News
Other stories from March 2016 issue
Content