Can Domestic Shipping Become Our Industry's Farmer's Market?
By Robert Kunkel
The Future of Shortsea Shipping and Domestic 'Markets'
Arriving at the Farmer's Market this morning I made the decision to grill some hand cut rib eye with fresh vegetables and potatoes later that evening. I searched several of the local farm kiosks to find the mix I wanted and then reached into my pocket to pay for my choices. The price for all this local fare is not competitive with Cosco or Walmart, but I know the vegetables are organically grown without chemicals and the local beef is grass fed. The price point may not be right but the effort supports local business and the farmers who work hard to provide us sustainable products and quality.
Why not follow that thought process to create the future of domestic shipping?
The Jones Act Discussions
The Jones Act 'debates' were alive and well the first quarter of 2016. Low energy prices, U.S crude export, the age of U.S. domestic container vessels and the falling levels of period charters in the medium range tanker market fueled new media reports. As a result, the fortune tellers gazed into their crystal balls to determine how the current set of down markets can or will affect future growth in our domestic trades.
Kinder Morgan, now reportedly ranked as the highest profile Jones Act fleet tanker build out of the decade with eight MRs on the water and eight newbuilds in various stages of construction and delivery, recently looked to sell a 50% stake in their domestic fleet operation. The fortune tellers are eager to report a new valuation point based upon the offers received. Considering the current spread between a Korean built 50,000 deadweight product tanker and the same design (built U.S.), it obvious that we build to the market.
There is no doubt the fall of energy prices and the export of U.S. crude has affected the domestic tanker market. Where reports of $115,000 per day period charter rates fueled new building contracts and a rush to provide MR capacity for crude movements Gulf to Northeast some years ago, few remember that the market was $45,000 per day when the first NASSCO deliveries and the American Phoenix were under construction not two years before that. The current market today hovers around $60,000 to $65,000 per day for a long term, major oil backed charter. This is a significant drop from the market peak we saw not more than eighteen months ago at $75,000 to $80,000 per day. Though many want to speak to the domestic trades being 'protected,' the fact is that nothing protects the owner or the operator from the cyclical nature of shipping.
The Offshore market is no different. Many historical owners and operators contracted for OSVs, PSVs and Offshore construction vessels to support deep offshore drilling in the U.S Gulf. Most, if not all have stopped construction and placed new tonnage into layup. The down cycle of this market is a sad story today as many have lost jobs in the shipyards and in the U.S. Gulf as a result of the downturn.
The cyclical nature in both of these markets is nothing new. Offshore tonnage has been in and out of layup for decades. U.S. shipbuilding has seen either feast or famine because of it. The problem is not only domestic, the cycles exist internationally and we have seen a disaster in the dry bulk trades due to over building coupled with China's economic downturn in recent months. One of the major differences in the business is that the international owner and operators are afforded several means to recover. In an upscale market there is a windfall opportunity to sell your second hand tonnage for a profitable return. In a downscale market, there is an exit strategy to also sell your tonnage and stop the losses when the downfall occurs. The price to build U.S. Flag ships and operate domestic tonnage does not afford U.S. owners those opportunities.
That resale inability and the absence of an exit strategy force many owners to operate domestic tonnage well beyond an age usually acceptable in the international trades. U.S. built replacement tonnage is expensive and becomes difficult to support in a cyclical market when first delivered. That issue has also entered into the Jones Act debate early this year with a vessel lost in the Puerto Rico trade and an investigation entering mainstream media. The age of the vessel has been raised despite the fact that she was properly inspected, by the U.S. Coast Guard and Class and operated by competent officers, crew and managers. To question the condition of the vessel now, is a travesty and is disrespectful to those who lost their lives in the accident. The accusation disrupts the entire theory and application of ISM, Class and Flag survey.
Look Ahead
The age of the Jones Act fleet has never been a secret. The cost to build U.S. in comparison to the foreign shipyards has also been the subject of debate for years. Technical sustainability at an economical cost is what needs to be developed in the domestic fleet and recent regulations, environmental issues and ship design may provide an opportunity to close the gap and end the debate.
The U.S. shipbuilding industry needs to support U.S. manufacturing if we are ever to become competitive in a shipbuilding market. As Amtech, we also build in Korea and the yards support hundreds of local businesses during the construction. In fact, the shipyard in most cases is the lifeblood of the city and those local merchants. Nearly all of the equipment utilized in U.S. 'bluewater shipbuilding' is purchased and shipped from Asia and Europe at a cost well above what the foreign yards pay. Logistical costs, Custom duties, and service support contribute to those higher build costs. Look at past examples. When the global fleet advanced from steam propulsion to large two-stroke diesel engines, no U.S. manufacturer was successful in developing major propulsion systems. All of our propulsion systems in recent deliveries are Korean or Chinese built.
We still trade on steamships in several non-contiguous trades and only recently has the Lakes fleet started major propulsion refits. Why? The vessels cannot meet the regulatory standards of emissions and the time has come to make the change. The new regulation has disrupted the business.
The EPA now requires a TIER 4 engine rating with regard to stack emissions. During a recent large ATB project we completed, only one engine set for the tugboat could meet those standards and a U.S. manufacturer built it. The General Electric V250 may be a medium speed engine, but it has become a domestic market leader due to environmental sustainability issues and we should learn from that lesson. This engine package will not be boxed up and shipped across the Pacific.
Ballast Water treatment is another example. The IMO regulations have been pending for twelve years and four years have passed since the U.S. Coast Guard provided their guidelines. Few, if any owners comply, as of the January 1, 2016 date mostly due to mass confusion. The cost to purchase and install the units has in many cases been quoted well above $1 million. Considering that we are a 'domestic fleet,' has anyone asked what invasive species we are protecting ourselves from on a voyage between Houston and Tampa? Does the international regulation apply to our domestic movements or is this a $1 million dollar cost savings in our construction?
Most see the environmental requirements as disruptive to historical business models. The latest discussions in Europe have looked to define the new challenges as 'disruptive sustainability' with the belief that shipping will need to face future innovations that will go beyond the aspects of current financial engineering.
Embracing Domestic Sustainability
U.S. shipbuilding and a small sector of domestic operators have already embraced the sustainability model by building the first LNG propelled container ships and LNG bunker barges. Environmental considerations took precedent in those decisions and they should be recognized for that effort. We need to continue this path in our shipbuilding practices and move away from generic designs and machinery that will be obsolete within the next decade. The tag is correct. It is 'disruptive' to current operations and with that said we should recognize that we could create a local sustainable marketplace. No different than organic agriculture creating its farmer's markets to move and sell fresh quality product priced above the large box stores.
In a digital world, the introduction of innovative technology is a daily function of social media and Internet activity. The future of shipping is discussed everyday within Amazon, Facebook and Instagram. Rolls Royce and Wartsila design departments are introducing unmanned platforms working off of data provided by current AIS systems and long range traffic centers to move autonomous transport forward. Battery technology, gas technology, fuel cell technology – all theoretical applications ten years ago in automotive and aircraft design – is now being applied to all form of transport including shipping.
Scandlines has christened their newest hybrid ferry, the M/V Berlin as part of ambitious environmental strategy. A hybrid propulsion system powered by a Corvus Energy ESS (Energy Storage System) is capable of producing 6000 kW or nearly half of the diesel electric propulsion system design of 15,500 kW. This is their fifth Hybrid delivery. More Hybrid applications will come.
New technology and a Farmer's Market mentality is our path forward. Build quality and innovation. The Jones Act debate is a tireless loop and the domestic fleet will not be a continuous series build nor should it be a rush to an overstated market and or be marketed to provide military comfort. The speed of technological information will no longer allow ships operating on our coasts that are 30 to 40 years of age. Be disruptive, look towards sustainability and understand the costs associated with that environmental strategy. We can be competitive in that market.
Be local, ship local, buy local – that is domestic shipping. That is our Farmer's market.
The Author
Robert Kunkel, President of Alternative Marine Technologies, previously served as the Federal Chairman of the Short Sea Shipping Cooperative Program under the Maritime Administration and the USDOT from 2003 until 2008. A past Vice President of the Connecticut Maritime Association, he is a contributing writer for MarineNews. A graduate of the Massachusetts Maritime Academy, Kunkel sailed as a licensed engineer and continued his career in ship construction at NASSCO and Hyundai Heavy Industries, among others. He is a senior member of the Special Committee on Ship Operation with ABS and an elected member of the NCB.
(As published in the June 2016 edition of
MarineNews
)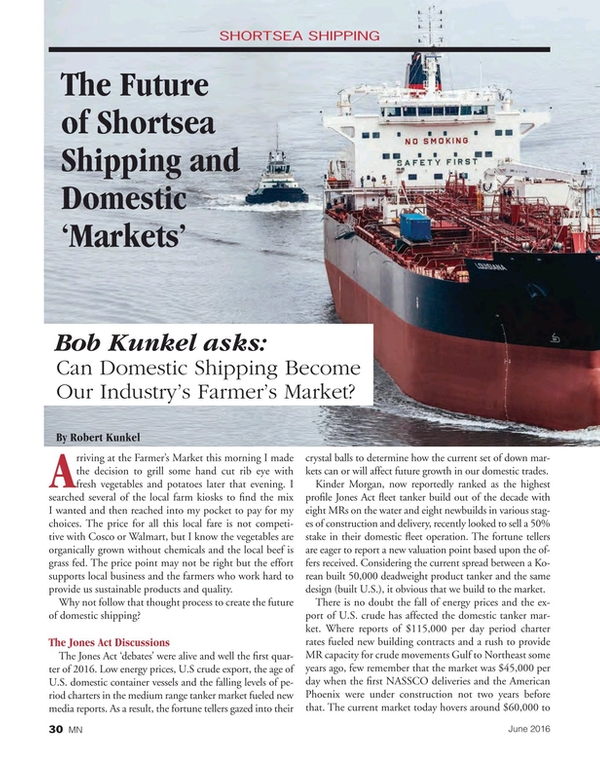 Read Can Domestic Shipping Become Our Industry's Farmer's Market? in Pdf, Flash or Html5 edition of June 2016 Marine News
Other stories from June 2016 issue
Content