Tech File: Fire Boom for the US' Worst Oil Spill
By Al Allen
On April 20, 2010, the Deepwater Horizon mobile offshore drilling platform was destroyed as a result of a catastrophic blowout of the Macondo 252 well in the Gulf of Mexico. The blowout resulted in a continuous discharge of approximately 3.19 million barrels of oil over three months covering approximately 30,000 square miles of the Gulf. It was the worst accidental oil spill in U.S. history.
Due to the massive amount of oil being spewed into the Gulf, three aggressive oil removal methods were authorized: mechanical skimming, dispersant application and controlled burns. Controlled combustion – "in-place," or in-situ burning (ISB), proved to have the most impressive oil elimination rate. Over the course of the spill, 411 controlled burns were conducted removing over 300,000 barrels of oil from the surface.
Typically, there are two types of fire containment boom: actively-cooled booms made with water-wicking or absorbing material or auxiliary coolants and booms made of fire-resistant materials such as ceramics and steel. Five brands of fire boom were deployed in the Gulf Spill ISB operation. Among them were two Elastec systems: the Hydro-Fire Boom and the American Fireboom.
Boom Performance
According to an independent fire boom evaluation report by BP America, the ELASTEC Hydro-Fire Boom systems "collected the most oil and were responsible for the highest volume of oil burns per system." The Hydro-Fire Boom's patented water-cooled design increased its staying power resulting in some burns lasting nearly 12 hours in duration. ELASTEC American Fireboom was the second most successful fire boom utilized. The American Fireboom, made of ceramics and steel, was originally developed by the 3M Company and refined by Elastec. It too survived burns lasting nearly 12 hours in duration.
The BP evaluation report concluded that, "Booms with ceramic floatation systems became less capable of retaining oil with each burn. But, an interesting observation was that the [ELASTEC] American Fireboom developed a build-up of oil residue that would impregnate the fire resistant fabric. This would enhance the oil holding properties of the boom and increase the number of times it could be used. This probably extended its containment capability and allowed for more burning time. The [second generation] versions of the American Fireboom systems proved to be reliable as well and allowed multiple burns. In general, non-water-cooled or dry fabric booms suffered more than water-cooled booms when exposed to wave action following a burn. The more flexible American Fireboom fared better than others in this respect."
Some dry-fabric fire boom systems performed admirably, although they could not match the endurance or the retention capability of the water-cooled ELASTEC Hydro-Fire Boom. Fire boom performance data from the BP evaluation report are summarized in the accompanying table.
The BP report also states, "The data speaks for itself. This report should make it clear that the success of a fire boom is not only determined by its capability to contain oil and maintain a large fire; it must also sustain its oil containment capability and endure the constant fatigue stresses imposed by the varying wind and wave action. Effective fire boom must also retain its structural and thermal integrity while deployed for burning, and while on the water, waiting for the next burn."
In-situ burning has some of the same limitations involved with mechanical recovery and dispersant application. These may include high wind and sea conditions, visibility and the nature and distribution of the oil. Controlled burning, under a broad range of environmental conditions (tropic, temperate or arctic) almost always removes oil much faster and more efficiently than other response options. Burning also eliminates the need for onsite storage of recovered oil and the transfer of such fluids to shore or backup storage vessels. A comparison of the costs of mechanical removal, dispersant application and controlled burning reveals that ISB is almost always less expensive than other response methods.
Air Emissions
During the ISB operation in the Gulf, large smoke plumes from the burns raised questions about air pollution. Researchers from the NOAA Earth System Research Laboratory (ESRL) and NOAA's Cooperative Institute for Research in Environmental Sciences (CIRES) found that the total mass of organic particles formed from evaporating surface oil was about ten times larger than the total from all of the controlled burns. This meant that the controlled burns were less harmful to the air and the environment (especially in close proximity to any personnel) than if the surface oil had been allowed to spread naturally and evaporate. About one-third of the volume of most crude oils consists of volatile hydrocarbons, many of which are considered toxic, and will evaporate from an unburned oil slick. These volatile hydrocarbons and as much as 95 to 98 percent of the original volume of oil burned is actually eliminated on location.
Detailed records were taken of each burn during the Deepwater Horizon spill showing that in-situ burning, under the right conditions, is a safe and effective method for the removal of large volumes of spilled oil. In practice, neither burning, chemical dispersants nor mechanical cleanup, used individually or in concert with each other, will ever account for the removal of all oil spilled. No one technique should ever be discounted. In a major spill event, every tool should be considered and used, if safe to do so, for the removal of as much oil as possible. Even if each of these response techniques accounted for only a small percentage of an offshore spill, well-planned and executed response, together with natural degradation processes, would likely keep 50 percent or more of the oil from reaching shore.

All photos courtesy of Elastec

The Author
Al Allen has been a technical advisor and field supervisor involving hundreds of oil spills around the world, including the Deepwater Horizon incident in 2010. A skilled plan writer, field response coordinator, trainer, and expert witness for hundreds of oil industry, government and academic organizations involving more than 75 countries, he is also the author of numerous publications, and holds three patents on specialized spill control systems.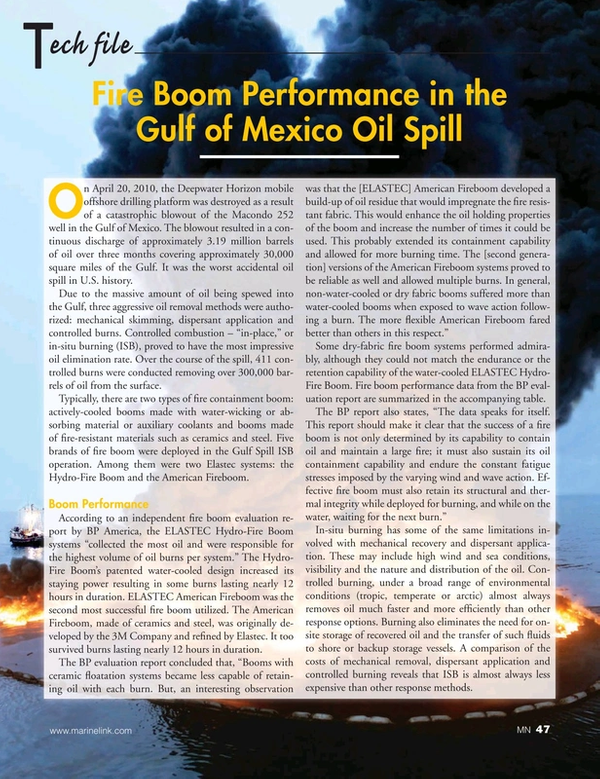 Read Tech File: Fire Boom for the US' Worst Oil Spill in Pdf, Flash or Html5 edition of June 2016 Marine News
Other stories from June 2016 issue
Content