Hybrid Technology for Military and Commercial Vessels
By John Haynes
The Hour of Power Comes of Age
The marine industry is now recognizing the potential of utilizing hybrid power and innovative propulsion systems. Certain maritime sectors are potentially well suited to hybrid systems. These include ferries, pilot boats and workboats that have relatively consistent duty cycles. For military applications, hybrid systems are relevant for patrol, intercept and autonomous vessel duties.
Submarines have utilized batteries and stored energy for many years. Diesel/electric systems have long been in use, but these are not hybrid systems. The diesel/electric vessel uses its engines to connect directly to an electrical generator; the power in the system is then transferred electrically to the propeller shaft via a motor controller and electric motor. The system may have multiple generators and multiple motors, but until recently there was no storage of electric energy.
Emissions and the Balance of Power
On January 1, 2015, Emission Control Areas (ECA) came into effect for the USA, Canada, the North Sea and the Baltic. Separately, China has voluntarily imposed ECAs in effort to reduce pollution. Options to reduce emissions include exhaust cleaning 'scrubbers.' Operators that infrequently visit ECAs may make a commercial decision that it is cheaper to be fined than to comply, but this is not a viable option for ferries and cruise ships on a regular port rotation.
The traditional operating model for shipping is to moving goods from point-to-point quickly. Slow steaming is introduced in order to lower costs by reducing fuel consumption. The requirement for 'power' is also changing for many professional small craft operations. As new technologies evolve, objectives more important than pure speed include power trains that do not fail, redundancy, extended operating range, reduced costs, fuel economy and environmental compliance.
The professional workboat sector is also entering a period of rapid change and commercial opportunity. Boat builders, engine manufacturers, technology designers and naval architects are now developing hybrid systems for pilot boats, tugs, survey vessels, patrol vessels, yacht tenders and unmanned craft. All of the benefits that appeal to shipping also apply here.
Hybrid systems are not a 'one size fits all' proposition. To that end, a consistent process of quantifying operating conditions helps to identify which duty cycles are hybrid solutions candidates and, indeed, first adopters. With vessel life cycles of over 20 years, naval architects and builders of new craft will offer designs that have space and access routes to enable retrofit of hybrid installations. Today's focus is on the sub IMO/80 feet (24 meter) workboat sectors.
Green Energy Provides Military Power
For military applications, hybrid systems give patrol vessels the ability to turn off their main engines to loiter silently on station at sea with a low heat signature. Training exercises and maneuvers that require command and control from slow moving or stationary vessels could utilize stored energy from high energy battery systems. Patrol vessels will still use their main engines to move rapidly from point to point. Once in position, a vessel can patrol slowly on battery electric power. This will be particularly relevant to vessels undertaking port or estuary patrols at low speeds. Stealth and the element of surprise have many applications for customs, border, riverine and fisheries protection. For specialist operations, boat teams could utilize stored energy to approach the target in silence. Once the energy is on board, engine designers could also configure the main engines to use extra kilowatts of battery power to create increased top speed for short bursts.
As requirements grow for 24/7 security in ports and waterways, Unmanned Surface Vehicles (USV) will be considered for various roles and the drivers for rapid technology development are significant. As no crew changes are required, USVs can remain at sea for days at a time. As diesel engines were not designed for 'start- stop' operation, hybrid systems that enable USVs to use stored energy will be a viable solution.
Batteries can be initially charged from shore power or mother vessel. During missions, batteries can receive their main charge from a diesel generator, with a secondary charge from solar power. In the near future, alternative sources of energy, including wave action, will provide free sustainable energy sources that can be utilized to sustain unmanned vessels for extended durations at sea.
The Hour of Power
The Hour Of Power is a hybrid concept using a combination of diesel/electric/battery that enables a vessel to use conventional diesel engines and propulsion, charge batteries when running diesels, charge batteries from shore power, run on battery/electric for up to one hour or loiter on battery for significantly longer. The concept enables vessels to run in and out of port for an hour on electric with battery power and then carry out their open sea work on diesel power. The aim of this hybrid solution is to enhance conventional power and propulsion systems. Vessels can reduce emissions and improve fuel consumption, while extending engine maintenance periods and engine life.
The Hour of Power focuses on hybrid solutions linked to viable business cases. This is not green energy for the sake of it. Many commercial harbors around the world have 10 knot speed limits for low wash or safety reasons and are within one hour of sea. For commercial organizations, the simple concept of running vessels with zero emissions shapes decisions that lead to improvements of in-service systems and procurement of next generation vessels. The overall objective is fuel savings and improved efficiency.
There are various methods to determine the most efficient speed for a vessel to travel at on battery/electric power. Naval architects can create vessel-by-vessel models, but identifying how many kilowatts of alternative energy needed can be a simpler task. One of the main criteria that enable battery/electric power to work efficiently is to operate the vessel below both 'hump' speed and 'hull' speed. The start of the hump is beyond the point where the boat exceeds its displacement hull speed.
The hump is clearly defined on the speed / resistance curve for any size of vessel. As speed increases a fuel meter shows fuel consumed, which will significantly increase at the hump. Another source of information is to generate a speed / power curve from the engine management system that shows how many Kilowatts of energy are consumed at a particular speed. For the sake of simple calculation this should be done in zero current and zero wind conditions. Separate allowances can be made for favorable or opposing current and or wind. The main objective is identifying how many Kilowatts of battery energy are required to replace Kilowatts of diesel energy.
Hybrid for Wind Farm Service Vessels
Certain maritime sectors are potentially well suited to hybrid diesel / electric systems. These include pilot boats and wind farm support vessels undertaking maintenance. Both have relatively consistent duty cycles, often running seven days a week, to drop off or collect pilots and technicians. If wind, wave and tidal energy installations are striving for genuine 'green' credentials it is logical to reduce consumption of fossil fuels wherever possible.
A typical working day starts with the WFSV crew preparing the vessel for departure at 06.00. The vessel would be disconnected from shore power which has been used for overnight battery charging. The vessel can leave the dock on battery/electric power, which also means zero emissions. At the outer sea buoy, diesel power takes over for the high speed transit out to the wind farm and to deliver the technicians onto the wind turbines, during which time, batteries are recharging.
Many vessels have hours of waiting in the wind farms, as they are on standby they cannot anchor. Loitering at low speed and low revs is not an efficient load cycle for diesel engines, plus it leads to increased maintenance and reduced engine life. This loitering period could be on battery power. Later in the day, diesel power is used for the high speed transit to port, with the batteries again recharging. At the sea buoy, battery power takes over to enter the harbor, with zero emissions.
Next Generation Cells and Batteries
U.S. battery manufacturer XALT Energy has the experience of taking high voltage battery projects from concept through cell production into the finished system for maritime applications. The company works with builders, naval architects and operators to analyze workboat duty cycles. Robert Young, Technical Lead for Marine Applications at XALT Energy told Marine News, "Engine management data can be matched to battery characteristics to develop the most efficient solutions. Onboard energy management systems are designed to ensure that battery systems operate at optimum performance. The objective is hybridizing and electrifying marine vessels to produce financial benefits and reduced emissions." XALT designs scaled, modular Lithium-ion battery systems that consider the footprint, weight, cost benefits and safety case for marine applications.
Operators have learned that power and performance are relevant, but reliability and durability are important factors for all types of propulsion. A vessel with battery/electric capability linked to two main engines, one generator and a battery bank has various power options that greatly improve redundancy and 'get home' capability. For example, banks of batteries can be permanently installed in each hull on catamarans. For workboats designed to carry ISO containers, an alternative would be to create portable energy units that could be carried on deck. As many workboats are designed to have modular payloads this would enable containers to be moved between vessels as changing duty cycles, or contracts with green credentials, require alternative energy on board.
The Hybrid Future
The IMO Energy Efficiency Design Index (EEDI) aims to reduce emissions from large ships by 30 percent between 2014 and 2025. Countries developing new green energy policies may want to enter the offshore wind, tidal and wave energy sectors by specifying vessels that harmonize with the global reduction in the use of fossil fuels. Class rules, safety, performance and cost are relevant to naval architects when considering innovative battery power and diesel electric propulsion systems. The challenge for designers is to engineer solutions utilizing hybrid technology which are both practical and affordable.
As new sources of energy become available it is important to identify which energy source best fits the vessel, duty cycle and environment to give efficient power when it is needed. Since no two vessels, routes or captains are alike, decisions can be improved with data logging and analysis. Commercial off the shelf power management systems will ultimately bring together all components with 'big data' solutions to create optimized whole vessel hybrid systems. As other sectors – ashore and afloat – move rapidly towards hybrid solutions, commercial and military small craft will do the same. How that plays out will make all the difference.


Images courtesy of John Haynes & Shock Mitigation
The Author
John Haynes is an Associate Fellow of the Nautical Institute, a Yachtmaster Ocean and Advanced Powerboat Instructor. Subject matter expertise includes high speed craft consultancy, product development and specialist training. He is Operations Director of Shock Mitigation, providing WBV Awareness training
www.shockmitigation.com
and founder of the RIB & High Speed Craft Directory
www.ribandhsc.com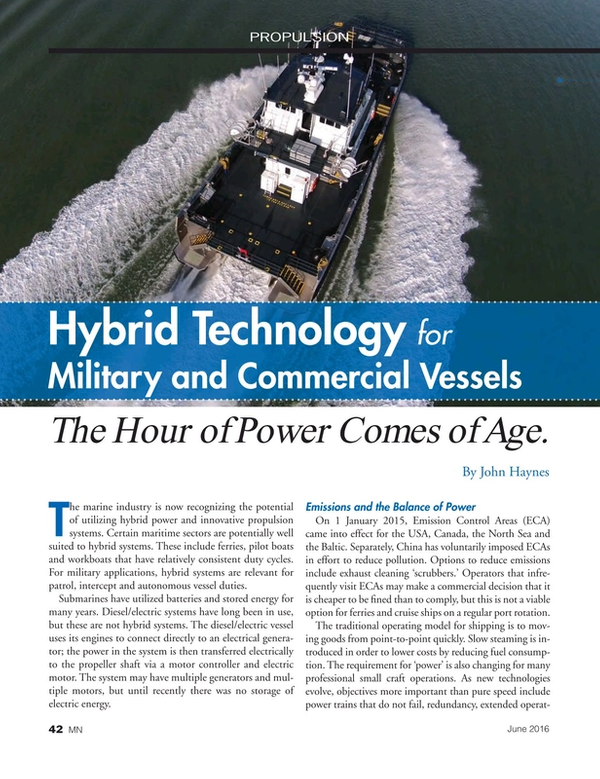 Read Hybrid Technology for Military and Commercial Vessels in Pdf, Flash or Html5 edition of June 2016 Marine News
Other stories from June 2016 issue
Content