ABS' Howard Fireman Weighs in on the US Brown Water Sector
Marine News
Howard Fireman, Senior Vice President and Chief Technology Officer, joined the American Bureau of Shipping (ABS) in 2013. Fireman is responsible for leveraging the latest advancements in technology to drive the development of innovative products and services that promote safety and improve the delivery of class services in the marine and offshore industries. Since joining ABS, Fireman has also served as President of the ABS Nautical Systems Fleet Management Software product line where he has overseen significant advancements in the software and achieved growth in every sector. Fireman came to ABS from the U.S. Navy, where for over 35 years he was recognized as a distinguished leader in the areas of naval ship design, hull form optimization, total ownership cost, total ship systems engineering, design integration, research and development, and fleet operational support. Fireman holds a Bachelor's and Master's Degree in Naval Architecture and Marine Engineering from the University of Michigan. He also received a Master's Degree in Technical Management from Johns Hopkins University. He is also a recipient of many industry awards including the Society of Naval Architects and Marine Engineers Admiral Taylor Medal, American Society of Naval Engineers Gold Medal and University of Michigan College of Engineering Distinguished Alumni Award (Naval Architecture and Marine Engineering). Fireman's leadership, and track record with technological innovations now turn to the new Subchapter M towboat rules, where ABS, among other things, offers a turnkey service that spans class, software and boots on the ground when it comes to surveyors. Listen in as he weighs in on the nation's brow water sector, and the journey to compliance ahead.
What is the most important issue facing inland marine transportation providers – especially those impacted by subchapter M towboat rules – today? Why? What can they do about it?
One of the biggest challenges for some owners impacted by Subchapter M will be integrating safety risk management and safety assurance concepts into repeatable, practical systems because this approach to safety will be new to them. There is a learning curve to understand, develop, and implement a Safety Management System (SMS), and for many, there will be a large amount of additional data to be collected and reported on. This might seem overwhelming for some organizations. Figuring out how to do this is no small task, but using an IT system to integrate critical maintenance, crewing and HSQE activities will make complying with the new regulation straightforward. Brown water companies have an opportunity to consider fleet management systems to assist and minimize the regulatory burden. Our focus has been on delivering a solution that works the way the crew does on the vessel. The tool does not require any software on board, and because it is offered in the cloud, there is no IT infrastructure required. As a part ABS, we have the advantage of working closely with our internal compliance specialists to ensure accuracy in our solutions.
Describe the ABS approach to the rapidly developing subchapter M compliance and solution game.
ABS is a Recognized Organization and an approved Third Party Organization (TPO) of the USCG; so ABS can provide a custom approach that supports Subchapter M compliance during plan review, construction and throughout service life. ABS is the best single resource providing engineering plan review services to cover all aspects of design review for compliance with Subchapter M, including Structural Arrangements, Machinery, Piping, Electrical Systems and Equipment, Fire Protection and Lifesaving Equipment. Choosing to utilize ABS Engineering services removes the need to send drawings to multiple individuals or entities based on scope/discipline of their engineering license.
Is the inland industry ready for a software approach to safety – that is to say is technology the answer, or can operators continue to us paper documents, etc?
Technology available today is making it possible to deliver solutions that meet regulatory requirements without overburdening crew. For example, the USCG recently accepted the use of electronic log books with Subchapter M. Good software design can begin to de-emphasize paper documents and bring the marine sector into the 21st century. Solutions should be designed to capture the data necessary to comply in the normal course of managing day-to-day operations, making compliance a byproduct of operations not an additional burden.
Subchapter M towboat rules: will it make industry safer or is it just another paper exercise (think ISM)?
If the approach to safety management and the software tools that is used to deliver it is embedded in the operational process and put into the hands of the crew in an accessible way, then safety culture will be strengthened on a company basis and across the industry. ABS has developed its entire application with that approach in mind.
Many consortiums have been formed to create so-called 'sub-M' solutions. These take the form of class societies aligning with software providers and sometimes, survey firms. ABS houses all of those capabilities in-house. Does that set you up in an advantageous spot?
ABS is uniquely qualified to meet our client's needs in this marketplace. We provide services from design through reporting of subchapter M compliance. Towing vessel operators serving US inland waterways, coasts and harbors can choose between annual USCG Guard inspections and using a Towing Safety Management System (TSMS). For those choosing the TSMS option, ABS has a full suite of services and is already working with owners to develop baseline surveys to help them achieve compliance. The ABS Nautical Systems software was developed with a tight linkage to ABS objectives, leveraging our in-house experts, to help operators easily comply with Subchapter M requirements – regardless of the method they choose.
ABS-NS has recognized and proven e-solutions for clients. But, you are best known for your blue water solutions. Can that same product scale down to the needs of brown water stakeholders, especially when the latter demographic sometimes chafes at rules designed for blue water being pushed down to the inland rivers?
We believe our blue water experience offers us an advantage in this market. Many of the safety management requirements and concepts needed to comply with Subchapter M are already supported with our current application. The US inland/brown water market is a key focus area for us. We are customizing mobile and web solutions by market sector, reworking our current application with features that deliver only what is required for that market sector. We launched NS Core in 2016 as a lighter weight solution for workboat segment. NS Mobile is launching in the first half of 2017 as a crew-oriented task management solution. We believe this approach will greatly increase adoption with very little training.
What keeps you up at night – especially in terms of the e-business (clarification – cyber, automation) side of the equation? What can be done about it?
At ABS, we embrace technology and recognize it as the enabler to improve opex, but that brings new risks. That's why, in addition to tools and technologies that work to improve efficiency – such as enhancements to NS or data integration or management and other automation tools, we are very focused on issues related to Cyber enabled systems. We need to ensure we have the right tools in place to support timely and effective decisions for our clients but also need to deliver processes and systems that mitigate risks to operations. ABS is working to develop solutions. Our technology team works closely with specialists in data security, automation and cyber as well as our clients and industry to offer a complete portfolio of solutions to take advantage of these technologies while ensuring security.
(As published in the March 2017 edition of
Marine News
)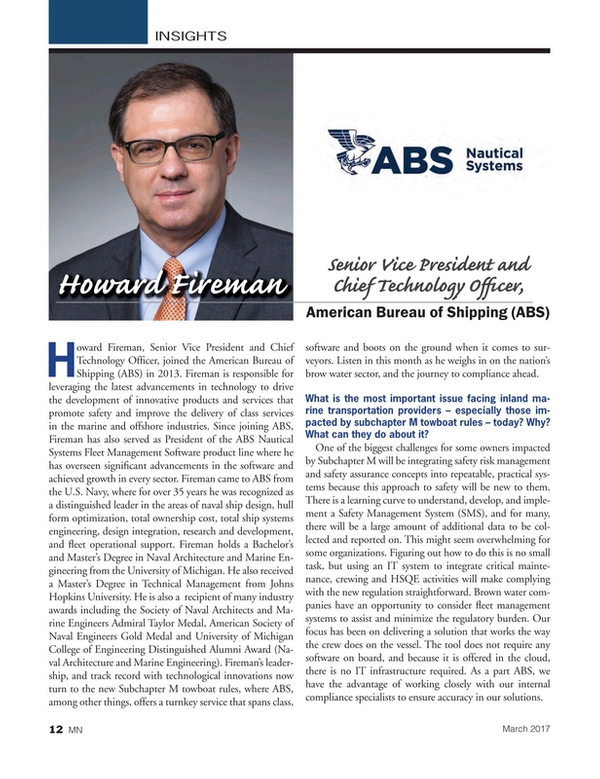 Read ABS' Howard Fireman Weighs in on the US Brown Water Sector in Pdf, Flash or Html5 edition of March 2017 Marine News
Other stories from March 2017 issue
Content