The Many Missions (and Capabilities) of Weeks Marine
By Joseph Keefe
The almost 100-year old firm has many specialties, including the ability to construct innovative, complicated tonnage for its own purposes.
The slowdown in barge construction in some sectors hasn't dampened the need for specialty barges in other areas. In many cases, these mission requirements can involve the repurposing of existing tonnage using sometimes innovative and unusual design parameters. Such was the case when Cranford, NJ-based Weeks Marine (WMI) completed the conversion of an existing ABS deck barge into a loadline compliant, semi-submersible, all self-contained unit. Its first assignment involved transit to Canada for the launching of concrete caissons in Halifax, Nova Scotia for a new pier.
In July 2015, WMI and its subsidiary, McNally International (McN) – a heavy-construction company and wholly owned subsidiary of Weeks – met with JMS Naval Architects to develop plans for the conversion. McN already had two small barges used for caisson launching, but required a larger, more efficient barge to meet the demands of a new assignment.
Leveraging the resources of WMI equipment, personnel and facilities, McN contracted with JMS to come up with a design using existing equipment. It was agreed that the ABS Loadline deck barge Weeks 246, built in 1981, would be used as the platform and pontoons – previously fabricated for use in the protection of the temporary highway offshore of the FDR Drive in Manhattan – were to be used as wing walls. David Forrest, naval architect with JMS Naval Architects & Salvage Engineers, took the lead design role in the project. John T. Devlin, Sr. of Weeks Marine told MarineNews, "David was the inspiration behind this project. I can't say enough about his knowledge and vision on this."
Forrest says simply that the project was a good fit for JMS. He explained, "We had not done much work with Weeks Marine before this project, but they were aware of us, and our interest and history with unusual projects. We had an initial meeting to learn more about what the barge needed to do, and to discuss some of the limitations and ideas that were being floated around – including a new design/build from scratch, which was eliminated due to the time constraints of the upcoming jetty construction project in Halifax beginning this month. Following that initial meeting, we put together a proposal and concept design, and were able to get started on the detail design pretty quickly."
That involved a number of tasks. "First, we evaluated the structure of the existing barge, and wing wall pontoons and developed drawings for the required modifications to the structure," said Forrest, adding, "We performed a detailed stability analysis to determine what types of cargos could be lifted in the submersible mode, and we designed a new ballast and venting system to increase the flooding and deballasting times to the target values of 90 minutes each direction. The final design piece was the supports for the wing wall pontoons; it was important that the wing wall pontoons be removal so that transits through the St. Lawrence Seaway could be undertaken for future projects."
Taking Shape
WMI's Greenville yard started work in the fall of 2015. JMS met with the various team members at Weeks Marine and McNally Construction regularly through the design and modification process and performed site visits when necessary. Regular meetings allowed JMS to take full advantage of the collective operations knowledge and experience on the Weeks Marine and McNally side. Throughout the project, JMS worked with ABS to ensure that relevant drawings and calculations were reviewed for compliance with Load Line regulations.
A McNally team headed by Greg Burke worked alongside and in conjunction with WMI personnel as the project moved forward. This team oversaw the conversion and ensured that the design would meet all needs for current and future caisson fabrication as well as having the ability to use the barge for drydocking McN vessels and possibly even for use as a submersible transport barge. Devlin adds, "I can see this barge used as a semi-submersible for transporting floating equipment as well as a heavy lift transport for ro-ro operations, something which WMI does often."
The broad reach and versatility of the Weeks business portfolio came to light during the project. That's because the firm performs many missions; construction, dredging, salvage, and towing among them. And when they need equipment, they often turn inward to produce it. Devlin explains, "WMI converts and upgrades many pieces of floating equipment in our various yards located in Jersey City, Camden, Houma and Bourg, LA as well as Hawaii. While most of the work done in our yards is for internal use, we have done quite a bit of work for other companies as well. We have recently constructed concrete plant barges and submersible transport barges for the Tappan Zee Bridge project."
According to Devlin, a caisson is basically a bathtub shaped concrete structure used to build bulkheads. Fabricated on a barge and when completed, the barge is submerged to allow the concrete structure to 'float off' and be moved into position. Once set, the caisson is completed and filled with stone to set it on the harbor bottom, forming a new section of bulkhead. And says Devlin, McN has been successful at this procedure for several years, but as the caisson designs grew larger it became evident that a larger barge was needed.
Innovative Design Yields Impressive Capabilities
The new unit, the J.G. Burke, has an impressive capacity of 5,000 tons, able to handle caissons measuring 150 by 65 feet, weighing 3,000 tons each. Designed to be submerged by flooding all 15 compartments using remote controlled butterfly valves, the barge, once submerged, can be elevated using an on board compressor. The monitoring system was designed and installed by Electronic Marine systems (EMS) of Rahway, NJ. All systems are enclosed in a control house set 20 feet above the main deck. Beyond this, the barge has also been equipped with two self-elevating spuds to help keep it in position while on site.
As it turned out, the biggest design challenge, according to JMS, involved working within the parameters of the existing components that were used. Forrest explained, "By using an existing barge, and four existing pontoons for the wing walls, there were significant cost savings, but it was more difficult at times to design around existing structural arrangements. While attempting to maximize those benefits we had to keep the modifications as simple as possible and minimize the need to add new structure to compensate for less than ideal existing structure. Securing the wing wall pontoons to the barge with removable brackets required installing significant supporting structure inside the ballast tanks. All of the fit up and welding had to be done in place, and it was important to always keep that in mind while we worked on the design."
Forrest also points to the unusual design, and what that brings for his client during real operations. "This barge is very similar to a dry dock in how it operates, but due to its unique wing wall configuration, clear access is available from three sides for pouring concrete and placing rebar. A clear working deck of 150' x 65' is available. You would need a 100' wide dry dock to do what this one does, but it couldn't transit a 78' wide seaway. This one can."
But the advantages of this particular vessel go beyond its primary initial mission, especially in terms of its versatility. Forrest told MarineNews in April, "It makes perfect sense for Weeks Marine and McNally Construction to use the barge for dry docking other vessels when it is not being used for caisson construction, as it is perfectly capable of doing so." Other uses for the barge include transporting heavy cargo; ro/ro or float on/float off. With the ballasting system, the barge can be adjusted to match pier heights, or trimmed for launching. And, the barge has retained its load line, so it is additionally able to be used for transporting cargo on offshore routes.
The project ultimately brought together all divisions of WMI and McN, as well as some innovative vendors. Devlin adds, "Over the course of twelve months, all involved were able to build a unique piece of equipment that will serve McN and WMI over the years to come."
Looking Ahead – and Behind
WMI's Devlin says that Weeks hopes to get at least ten more years of service out of the converted barge, performing myriad tasks for multi-faceted firm. For now, the J. G. Burke joins WMI's fleet of barges, cranes, tugs, dredges and specialty equipment. That equipment notably includes both a 300' drydock and a new hopper dredge of 8,000 cubic yard capacity, which is expected to launch in the summer of 2017. Founded way back in 1919, the company started with two floating cranes in the Port of New York, handling bunker coal and dry ballast. By World War II, the company had expanded, with seven cranes in its fleet. Today, the firm employs about 1,200 (half of those afloat) and its considerable fleet of multi-missioned workboats is well over 600 vessels.
The Halifax job, says Devlin, is an interesting assignment, but WMI routinely performs all manners of marine construction on a daily basis. For example, one particularly high profile recent assignment involved converting a deck barge into a stone placement barge for work at the Tappen Zee Bridge. In this case the barge was fitted with a hopper, conveyor and state of the art monitoring system to place stone bedding, at precise depths, over a large area under the new footprint of the bridge. Another ABS Loadline barge was converted to a processing barge to process dredged material for transport to an upland disposal site. Separately, the Marine Services Division recently adapted a Model 28 Clyde stevedoring crane to remove an 8,000 ton sunken drydock in Texas.
Devlin wouldn't tell us what comes next for WMI, but no doubt whatever it is, it will be unique in terms of mission, and innovative in terms of the techniques and equipment used to solve the problem.
The J. G. BURKE (ex-Weeks 246) Caisson Launch Barge at a glance …
OFF'L #: 643092
Length: 250'
Beam: 75'
Depth: 16'
(*) LOA (Overall) 250' x 105' x 36'
Light Draft: 3.5' mean
Certification: ABS Oceans
Capacity: 5,000 tons
Clear Deck (Side Launch): 150' X 75'
CLEAR DECK (Stern Launch): 205' X 65'
Wing Walls: (4) each 40' X 20' X 18'
Spuds: (2) Each 36" x 80' pipe self-elevating
(*) 105' width takes into account the added width when pontoons are deployed. They can be folded over onto deck (or removed) to get the 75' width. 36' refers to the maximum depth / draft when the unit is submerged during operations.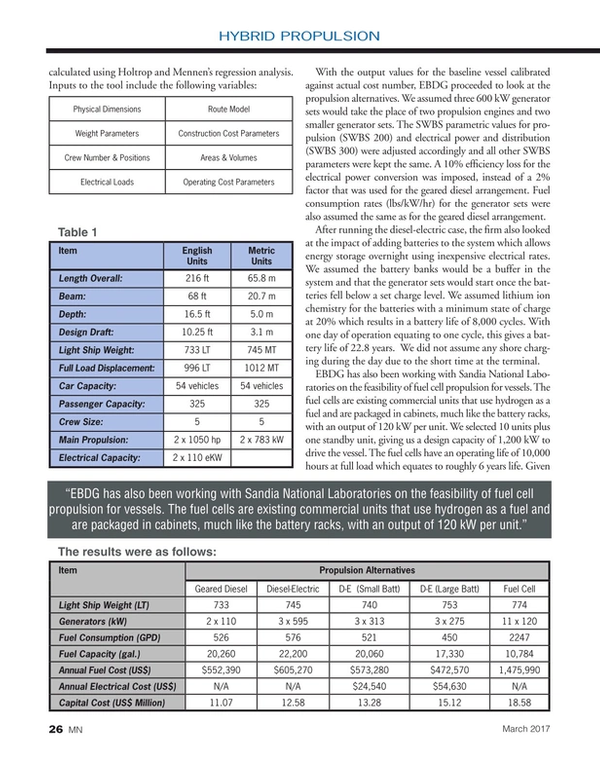 Read The Many Missions (and Capabilities) of Weeks Marine in Pdf, Flash or Html5 edition of March 2017 Marine News
Other stories from March 2017 issue
Content