WSF's M/V Kaleetan on Board with Sherwin-Williams
Marine News
A total of 5,300 gallons of Sherwin-Williams Protective & Marine Coatings ensures that one of Washington's most valuable assets will provide service for years to come.
With a longstanding history of ferry operation in the Puget Sound, Washington State Ferries (WSF) was in need of a coatings company with just as strong of a reputation when preserving the 3,634-ton M/V Kaleetan auto/passenger ferry in the summer of 2015. Built in 1967 in San Diego, Calif., the M/V Kaleetan – which means "arrow" in Chinook – first went into service in early 1968 and was rebuilt in 2005. In June 2015, all areas that could be accessed dockside were in need of coatings as part of a state preservation project.
Longtime Sherwin-Williams Protective & Marine Coatings customer Puglia Engineering, also known as Fairhaven Shipyard, was awarded the preservation contract. Located in the Fairhaven district of Bellingham, Wash., this was a great opportunity and undertaking for Fairhaven Shipyard. By working with the engineering group of WSF Department of Transportation (DOT), Sales Representative Ray Meador worked diligently to offer solutions, win the bid, and have Sherwin-Williams specified 100 percent for the Kaleetan project. As a result, over 5,300 gallons of Sherwin-Williams Protective & Marine Coatings products were applied on the M/V Kaleetan vessel.
The 90-day project included coating of the entire inside of the 382-foot vessel, along with both pilot houses and all vehicle and pedestrian decks. To complete the restorations, the Kaleetan was divided into 10 zones, in which blasting and painting took place simultaneously. The standard was SSPC-SP-6 Near-White Metal followed by one coat of Corothane I GalvaPac Zinc Primer, and then more than 2,000 gallons of SeaGuard 6000 marine epoxy on steel and 140 gallons of SeaGuard MP epoxy applied direct to aluminum. Crews applied an additional coat of SeaGuard 6000 epoxy with a stripe coat on edges and welds prior to applying 1,000 gallons of Hi-Solids Polyurethane.
Fairhaven purchased a new Graco XL 70 with multiple guns and hoses from Sherwin-Williams to complete the job. The shipyard ran up to four painters in multiple zones to meet the three-month project timeline, which was completed on September 24, 2015. The shipyard ran three crews seven days a week. Sherwin-Williams Marine Technical Service Representative Sam Schuetz provided support for the project, with assistance from Technical Service Rep Gordon Riffel.
Non-skid coatings were outsourced to loyal Sherwin-Williams contractor All-Star Cleaning & Preservation, as the company has an extensive history of applying non-skid coatings. All-Star applied American Safety Technologies MS-7CZ epoxy primer over Corothane I GalvaPac Zinc, followed by AS-250 Non-Skid. The stripping and safety areas were coated with AS-200 acrylic epoxy for the flexibility and ultraviolet protection needed.
In lifeboat areas, Fairhaven brought in contractor Calman Industries to apply the polyurethane and EnviroLastic Polyurea systems. They spray-applied EnviroLastic AR520 SS Polyurea and EnviroLastic AR250 Polyurea. "The polyurea application in the lifeboat area was extremely successful," said Schuetz. "This system impressed all inspectors and administrators with WSF, and along with the success of another past project, WSF is looking at other possibilities where polyurea can be used on its vessels."
All WSF Ferries are painted in a distinctive white and green trim paint scheme. They feature double-ended open vehicle decks and bridges at both ends of the ship, so the ferries do not need to turn around when loading and unloading passengers and cargo. According to Schuetz, the Kaleetan preservation project offered several opportunities, including a great amount of tech service assistance that was required and the possibility of getting Sherwin-Williams into more specifications for future WSF contracts.
"Puglia-Fairhaven Shipyard using Sherwin-Williams products on the Kaleetan project resulted in a very satisfied Washington State Ferries," said Schuetz. "Through the project, Washington State Ferries inspectors were impressed with the process of Fairhaven and the results of Sherwin-Williams products."
Part of the Washington State Department of Transportation, WSF runs 10 automobile and passenger ferry routes serving 20 terminals located in the Puget Sound and the San Juan Islands. Designated as part of the state highway system, the agency was the largest ferry operator in the United States and the fourth-largest ferry system in the world in 2014, maintaining the largest fleet of ferries. As of 2015, there are 24 ferries on Puget Sound operated by the state, and WSF is currently building more ferries to keep up with growing demand on the ferry system.
With a complete line of time-tested, high-performance products and some of the most innovative technologies in the coatings industry, along with 150 years of coatings industry experience and marine market expertise, Sherwin-Williams delivered for this project, on time and leaving nothing to chance – protecting and preserving the M/V Kaleetan and allowing it to return to service in the Puget Sound as scheduled.
(As published in the March 2017 edition of
Marine News
)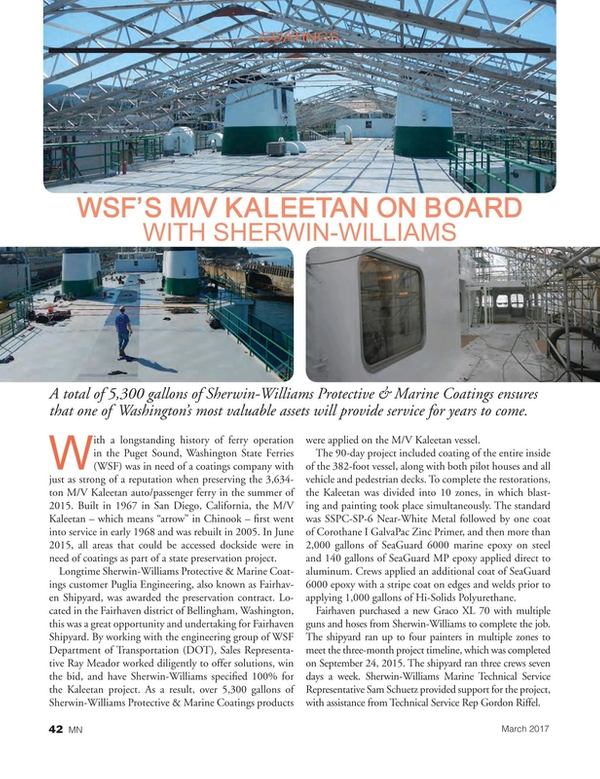 Read WSF's M/V Kaleetan on Board with Sherwin-Williams in Pdf, Flash or Html5 edition of March 2017 Marine News
Other stories from March 2017 issue
Content