Interview: Robert Kunkel, Alternative Marine Technologies
Marine News
Bob Kunkel needs no introduction to Marine News readers. Kunkel, President of Alternative Marine Technologies, previously served as the Federal Chairman of the Short Sea Shipping Cooperative Program under the Maritime Administration and Department of Transportation from 2003 until 2008. A past Vice President of the Connecticut Maritime Association, he is a contributing writer for Maritime Logistics Professional magazine and of course, Marine News. A graduate of the Massachusetts Maritime Academy, Kunkel sailed as a licensed engineer and eventually continued his career in ship construction at myriad venues. Arguably, there is no one on this side of the pond with more experience in foreign and domestic shipyards alike. With no formal ties to any yard, he is an ideal sounding board for the domestic boatbuilding industry as we race ahead into the second quarter of 2018. This month, as our featured INSIGHTS subject matter expert, Kunkel weighs in as perhaps no one else in industry can.
Give us a sense of where U.S. shipbuilding sits today – financially, strategically and its prospects for the near term.
Shipbuilding is suffering globally. The traditional commercial markets of dry bulk and containers have suffered for periods longer then any previous recorded cycle of boom to bust. As a result, few if any vessels are being built in those market sectors. The shift in crude prices has also affected both dirty and clean sectors in the wet markets despite a huge MR product carrier delivery through 2017. China is slowly closing the "pop-up" yards and Korea is suffering through a consolidation of majors along with the closing of some of the smaller second tier builders.
Some believe it's the 'perfect storm' with emission issues, poor freight markets and the fact that banks and private equity are slowly moving out of shipping. All of which makes it difficult to finance projects. Your question may be looking for technical answers. That said; we need to understand that Cargo is King. Without those bullish markets and that continued investment shipbuilding suffers. We have offices in the U.S., Korea and China and we see the global comparisons and trust me: no one is killing it.
Most if not all of the U.S. shipyards, both top tier and second tier have limited or no backlogs. The orders are just not there and as a result domestic shipbuilding is also suffering. The largest influence has been the collapse of our offshore and crude markets. The savior might well be LNG. Taking all of that into consideration we have a long road ahead and that road may lead to changes in how we look at the domestic markets and domestic shipbuilding. The changes will occur in the larger tier one yards or what is left of them. A resurgence of Navy builds may be the answer and that is a discussion for another time.
American yards, especially those smaller, so-called tier 2 builders, compete well in certain sectors (typically 300' and down) with foreign yards. Why is that?
The answer goes well beyond ship size or length. Every smaller "Second Tier" yard we work with delivers a quality product and competes with their neighbors on final delivered cost. A new construction project has many cost levels an owner and builder must analyze. It goes well beyond the simple calculation of labor and material. A yard will look at production liability when a new design or technology is submitted, financing through construction as a payment plan is developed, or the liability of contracting with an owner who may not be there at the end of the project to take delivery. This is a huge business decision when looking at a $12 million dollar ferry or a $130 million dollar product tanker. From the owner's side, we look at delivery location, deviation costs to move the vessel from delivery yard to place of business and available parts and service at that business location. With that analysis, what would your decision be to build a 5,000 horsepower tug or ferry that was going to work in the U.S. Gulf? Would it be a build in Korea or Italy and deal with the delays and costs of getting the tonnage to the business location or would you choose a Texas yard where she goes right to work upon delivery? The Jones Act as legislation doesn't necessarily play an important part in that analysis for smaller tonnage.
You have probably spent more time in Korean yards than any other U.S. technical subject matter expert. Tell us about what they do right, what we could learn and the areas in which we'll never be able to match.
My Korean opportunity reaches as far back as 1981 and was nothing more than being in the right place at the right time. The U.S. government 615 Waiver in the 1980s actually allowed many U.S. companies to participate in a lottery to build U.S. flag tonnage in a foreign yard and I was lucky enough to take a project manager's position on a series of Panamax bulk carriers. It was more than an eye-opening experience as a young engineer to work in a shipyard as beautiful as Hyundai. As a result of that experience, we established a relationship with Hyundai Heavy Industries and Hyundai Mipo Dockyard early in their development and continued working with them right up to opening our office within the Hyundai Mipo Dockyard in 2015.
The yard and the country have an amazing asset and that is their work force. They are proud of what they do and relentless in the pursuit of excellence in design and production. One of the most promising reasons they are successful is the ability to draw young talent into the industry both in the design office and out in the yard. We have been lucky enough to employ more then several former Hyundai employees at Amtech that have held many of those positions.
I continue to be impressed with their production schedules. Not once have I seen a milestone missed in a Korean project from launching to delivery and that project management is what makes them successful. Let's remember there can be as many as fifty hulls under construction at one time in any of these yards and the movement from module construction to graving dock and erection is like a symphony. The basic reason for the successful orchestration is the fact that they build from completed designs, a wealth of production experience and work from approved production drawings form the first steel cut. Unfortunately, in many cases, we do not follow that pattern in the U.S. and we need to move away from building as the design is being developed.
You hear much about the vertical integration of the foreign yards in terms of steel production being tied to the shipyard conglomerate. Not unlike what our domestic shipbuilding industry once was. Is this a key reason for the difference in costs from U.S. to foreign yards?
The difference between U.S. yards and foreign yards is the relationship between yard and their vendors/suppliers. The Korean yards are surrounded by their suppliers, most of them local and all dependent upon the success of the yard. This relationship runs from Main Engine to nuts and bolts. The economic success of these businesses and in many cases the city where the yard is located is reflected in the Builder's success. As a result, the suppliers support the system no matter where we are in the market cycle. Not so in the United States as we have lost our manufacturing base. Our yards are forced to pay transportation charges, duties and multiple levels of distribution networks to purchase and receive the same material. The suppliers are not dependent on the Builder; the builder is dependent on the supplier. This affects production schedules, leads to delivery delays and as a result either an increased price or contract defaults.
During a Korean product tanker build we can literally walk to the engine manufacturer, attend most if not all "factory authorized tests" by a short car ride or bicycle trip and in many cases circumvent production delays before they happen as we patrol the factories day to day. We are big believers in the vertical integration business model and it is a major factor in the competitive analysis we develop for owners when selecting a shipyard.
Foreign governments, even discounting the FMC contracts (which chiefly involve U.S. government money), are flocking to U.S. builders in the small, littoral patrol craft sector. What are we doing right?
I believe many of those manufacturers in this market will say, "Who cares, as long as we keep doing it?" It's been the change in warfare strategy where Special Forces are the first called and the speed to get them deployed has created a need for a high speed, stealthy lightweight craft. We have a large number of first class aluminum hull builders with experience gained from the U.S. Gulf offshore markets and this goes back to our discussion that the smaller yards as competitive. That said, its time for the United States to rebuild its global surface warfare fleet. We need more destroyers and frigates to police the oceans and extend our reach again past coastal waters.
Labor: at one time it was labeled as one of the big differentiators in cost between U.S. yards and foreign competition. Today, stakeholders say that pay gap has tightened to insignificance. Where does the real price advantage come from when it comes to domestic versus foreign shipbuilding?
In Korean, Japanese and European shipyards, the differentiator is not the cost of individual labor when compared to U.S. shipbuilding. I can't qualify that statement when it comes to China. Understand that we are talking about a specific man/hour cost for a shipyard trade as "labor" has many components – one of which is the actual total man-hours required to deliver the vessel at completion. On average Hyundai contracts and delivers a standard design in about nine months. The U.S shipyard's build period for a similar size vessel is closer to 18 months. Unfortunately some of the latest domestic projects have taken longer than that. We again attribute the difference to project management and the ability to build from a completed design package.
Marad is backing a plan to replace the aging state maritime academy training ships. That might take the form of a newbuild program of the so-called NSMV's. Or, it could mean the refurbishment of a laid commercial hull or two. What's the best way to go about this (if at all)?
We need to decide if leading as a maritime nation is in our future. We have a new Maritime Administrator with a Navy background and a new Secretary of Transportation with a family commercial shipping background. What better time to make that decision? With five very successful State Maritime Academies in operation, we owe it to these students to provide a platform that teaches them the latest technology in navigation and propulsion. That platform should also be capable of teaching them sustainability and environmental compliance. New construction is the path that can make that platform possible. Now ask who is actually being supported with that decision. Are we supporting the youth that has determined that a career at sea or in the maritime trades is the direction they have chosen? Do we continue as a Nation to build a commercial fleet that supports that career? Or do we limit the design and construction for these training ships to only U.S shipyards that will result in a cost that is not economically feasible? We tried U.S built cruise ships before and it wasn't pretty. Is the construction of a training ship platform gathering all of the latest technology to educate seafaring students a Jones Act required build? Can we work with a favored nation as a partner in Europe or Korea to make that build happen? Answer those questions and it my opinion we can look at either raising the level of interest at Marad or determining [if] the cost is prohibitive.
You are building an exciting new hull up on the U.S. East Coast. The Harbor Harvest program could well become a designated Federal Marine Highway project. Why is this important and what are you trying to accomplish in this corridor. Any plans for a second hull?
We believe new alternative marine technologies are the path forward in coastal shipping and a domestic building plan. The world looks to the United States as a technology leader. And that is not a quick off-the-cuff statement as AMTECH has reached into our own pockets to build for own account. With this project, AMTECH and Harbor Harvest are now owners and that is a big step for both the Marine Highway and us. The project research supports many of the questions we have answered here.
Historically, we have looked to reducing energy consumption as a means to reach environmental compliance and sustainability. The internal combustion engine drove that thought process in all transportation sectors. The quantum leap in battery technology and energy storage has changed that path. In the future will be creating as much power as possible through alternative energy sources and storing that energy. Solar, wind and Fuel cell cannot be turned on and off like an internal combustion engine. Storage is the key and we believe it will work towards reinventing the marine propulsion markets. The BAE HybriDrive system works towards that end.
Our Harbor Harvest Hybrid project has been submitted to the Secretary of Transportation after meeting Maritime Administration approval in the Marine Highway program. The application relieves congestion on our local highways and moves this freight without emission or environmental impact. You only need to drive on the U.S. Interstate highways to understand why we believe the Marine Highway's time has come.
How does it affect domestic shipbuilding? The project reflects our vertical integration model. The propulsion system and hull is U.S built at BAE Hybrid and Derecktor Shipyards – U.S manufacturers. The design and production drawings are complete and have resulted in two successful builds with the same hull form and as a result, a reduction in price to build. We have built the Harbor Harvest Ecosystem around the transportation platform with agriculture distribution centers and retail spaces supporting the move away from historical diesel trucking. It is our long-term goal to take this short haul model in larger RO/RO vessels and apply it to coastal itineraries in other ports once we prove it economically successful. This first phase will trade Long Island Sound and the Hudson River supporting local farmers and artisan chefs. Our Derecktor contract is 'one plus one' and a second hull is in the works. We have extended plans to deliver up to ten vessels and the community and cargo support is there to make that happen. Look ahead to the first Naming and Delivery ceremony in March of 2019. We'll get you an invitation.


(As published in the April 2018 edition of Marine News)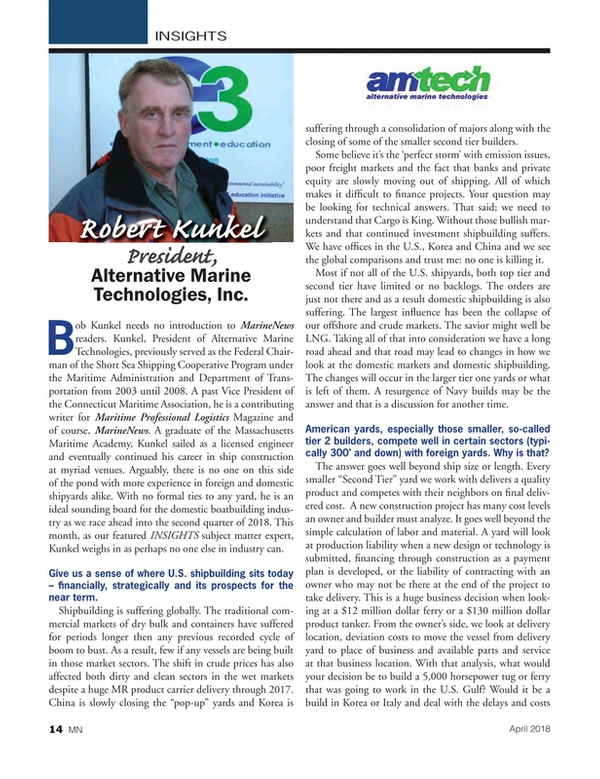 Read Interview: Robert Kunkel, Alternative Marine Technologies in Pdf, Flash or Html5 edition of April 2018 Marine News
Other stories from April 2018 issue
Content