Tech File: Material Handler Boosts Paducah's Productivity
Marine News
Located at the confluence of the Tennessee-Tombigbee Waterway, the Ohio River and the Cumberland River and just upstream from the Mississippi, the City of Paducah is an important hub in the inland waterways network. In 2015, newly appointed Paducah-McCracken County Riverport Authority Executive Director Bill Miller's first priority was to upgrade the port's infrastructure.
"Our 20 year old lattice boom crane was past its useful service life," he said, adding, "So the Board for the Riverport Authority authorized a bid spec to replace it with the best available equipment." Today, a new E-Series SENNEBOGEN 870 R-HD purpose-built material handler serves the stream of barge traffic that flows through port's bulk berthing area.
In service since mid-September 2017, the 870 R-HD was chosen, in part because it met the port's operational goals of speed, parts availability, service and an eco-friendly performance. Among the newest of SENNEBOGEN designs, the distinctive look of the 870 is notable for the massive 'Green Hybrid' hydraulic cylinder mounted between its two main boom lift cylinders. In a unique application using conventional and simple hydraulic engineering, the Green Hybrid system captures boom energy on every down movement of the boom and stores it safely in secure and protected containers at the rear of the machine. The energy is then released to assist the next lift of the boom. According to Sennebogen, this energy recovery process reduces the 870's fuel consumption by as much as 30 percent.
The 870's energy efficiency helped to meet the Riverport's environmental objectives. Its green performance is further enhanced by its Tier 4F compliant 355 HP (261 kW) Cummins diesel engine which adds another level of environmental protection.
Beyond the environmental advantages, and in the short time that the 870 has been operating, it has more than proven its production capability. Fitted with a 5-yard clamshell bucket and a bent boom with a total reach of 66 feet, the operators can easily reach down 50 feet below the cell to clear out barges filled with sand, aggregates and fertilizers. With local river water levels varying widely, making sure the boom could reach no matter the variance between low and high water was a critical requirement.
Brandeis Machinery, the SENNEBOGEN distributor in Kentucky introduced the operators and maintenance to the 870's service requirements of this ultra-quiet heavy duty performer. Today, the Sennebogen crane reduces operating costs by completing loads in a normal 8-hour shift, eliminating the need for overtime hours to empty the barges. That's because operators have adapted quickly from the previous lattice boom crane to the new hydraulic technology, is more responsive and user friendly. With better control and the cab being equipped with a floor window and able to extend out over the hold, it's easier to see into the load and there is less spillage during cargo operations. Bill Miller sums it up by saying simply, "Improvements like the 870 R-HD help us to further enhance the region's abilities to service new industries and expand our current business partners."
(As published in the April 2018 edition of Marine News)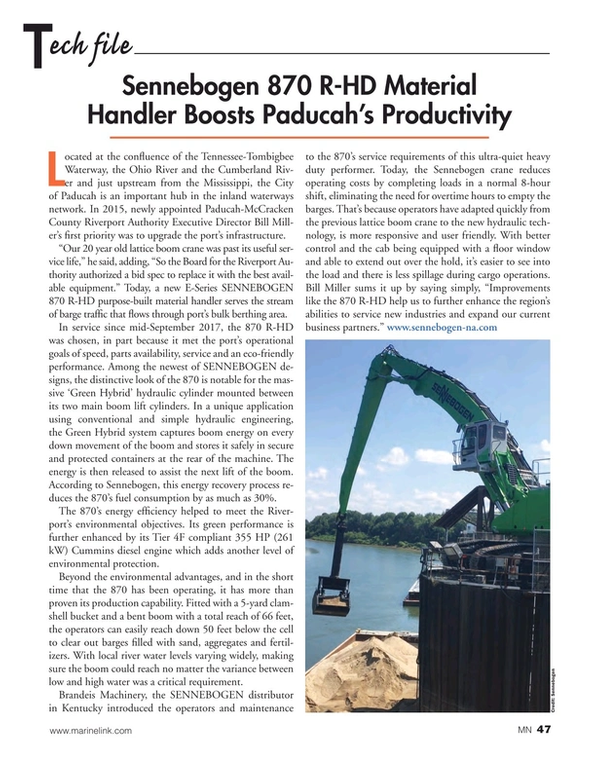 Read Tech File: Material Handler Boosts Paducah's Productivity in Pdf, Flash or Html5 edition of April 2018 Marine News
Other stories from April 2018 issue
Content