INSIGHTS: Joel Reid, Global Sales Director, COX Powertrain
Joel Reid joined Cox Powertrain in April 2015. He holds an EMBA in Business from the University of Chicago, a Master's Degree in Marine Surveying and a Bachelor's degree in Business Administration. Reid has been instrumental in bringing Cox's ground-breaking 300hp diesel outboard to market and has worked tirelessly over the last three years to create an enviable global distributor network. Reid is currently focuses his efforts on sales, distribution and support in the US market, which it is predicted to account for approximately 50% of Cox's diesel outboard sales globally. Reid is also finalizing the company's dealer network, which when finalized, will result in Cox being represented worldwide by as many as 40 distributors and 400 dealers in 60 different countries. The CXO300 diesel outboard, perhaps, got its initial push from the military and defense sectors. Today, it enjoys significant attention from almost every application in the marine environment. This month Reid explains why, where and how.

As a heavy-duty diesel-powered outboard engine, the CXO300 brings a long-awaited single-fuel alternative to the global commercial workboat market. What was the nexus of the idea?
The original concept of a high-powered performance diesel outboard was an idea of Cox's founder David Cox, and investor and Chairman Charles Good. After a few years of development, interest was sparked from the US Government and UK Ministry of Defence (MoD). The MoD's Defence Science and Technology Laboratory (DSTL) was so impressed by the concept, it agreed to provide Cox Powertrain with "invaluable technical assistance" in further developing the CXO300 for marine use, as well as providing US$3.18 million of funding. Following several prototype stages, we took the engine concept to the broader marine sector. It was then that we realized just how viable the development was and demand expanded further than the military sector.

The diesel outboard could be one of the most important developments for military small-boat operators in more than a decade. Would you agree?
That is a big statement. It certainly seems to be raising significant attention not just from the military but from almost every application in the marine environment. In this very heavily dominant outboard world we believe our 4 stroke V8 diesel outboard engine has game-changing potential for both military and civil applications, offering a significantly reduced weight and package size compared to conventional diesel inboard engines. Not only does it offer the torque and fuel efficiency of a diesel inboard engine, it also addresses the important changes demanded by the NATO single-fuel policy.

Cox Powertrain last year revealed the final concept of its highly anticipated diesel outboard engine, the CXO300. What was the primary reason for developing the engine: Economics, safety or another purpose?
The original drive was to allow the Navy to comply with the NATO single fuel policy. However, as we shifted away from developing a purely military engine to an off the shelf commercial engine that met military requirements, we started putting more focus on durability, fuel performance and ease of service to appeal to the commercial applications.

The final concept of the CXO300 is based on the proven technology of a 4-stroke, V8 architecture. It is the world's first 300hp diesel outboard engine ever to have come to the marine market and will deliver some advantages over gasoline outboards. Describe some of those advantages.
The Cox Powertrain diesel engine has 100% higher peak torque than the leading gasoline 300hp outboards and is 60% higher when compared with a leading 350hp gasoline outboard. This difference is amplified when looking below the mid-range rpm. The increased low-end torque will push heavy loaded hulls through rough waters with less strain on the engine and improve even further the fuel performance in comparison to similar gasoline outboards which are notorious for their lack of low-end torque. Larger vessels will clearly benefit from the higher torque, both at the low end when getting over the hump as at the high end when trying to achieve peak speeds when heavily loaded.
Where traditionally a quad 300hp or triple 350hp installation is needed, a triple CXO300 installation can offer fuel savings at the same cruise speed. The engine offers fuel savings of approximately 25% in comparison to a similar 300hp gasoline outboard, therefore allowing boaters to go that much further.
Most importantly, it is designed to last two to three times longer than equivalent gasoline outboard engines and eases the servicing process by allowing a "dry" service every 1,000 hours or once a year, whichever comes sooner. There are several other secondary drivers such as fuel commonality, as more and more vessels carry diesel generators, or space savings, as more vessels carry gyro stabilizers.

Which sector – commercial workboat or military small littoral craft – will benefit the most, and which was your target audience?
That's like asking who benefits most from diesel engines: civilian or military vehicles. They are two very different applications with very different drivers. The commercial operator will either enjoy significant fuel savings if moving from gas outboards, which is usually the main operational cost, or will gain from uptime if moving from an inboard, as downtime is notorious amongst such vessels due to the difficulty to access the engine or because the drives are permanently in the water. The Navy on the other hand, will be able to deploy missions without the need to overcome all the logistical challenges that come with gas, while the Coast Guard will be able to offer better support in cases of floods caused by hurricanes where they need the smaller vessels to execute the mission but they cannot bunker enough gas to last them beyond 48h.

What about noise – is there any substantial difference between the two engines (gasoline vs. diesel)? This consideration might be of particular importance in a municipal setting and/or military operations where stealth is paramount?
There really is very little difference in noise between the CXO300 and the quietest gasoline equivalent. Noise levels will not exceed those of their gasoline counterparts, and in practice the deeper hum of the diesel is much more bearable than that produced by high-pitched gasoline outboards. If anything, the CXO300 is slightly quieter when at full throttle.

Where will the CXO300 be produced? Are there any plans for a North American manufacturing base? If so, tell us about your potential North American expansion plans.
The CXO300 will initially be assembled and distributed from Cox Powertrain's UK headquarters, which is based at Shoreham Airport on the South Coast of England. Last year we opened our new state-of-the-art assembly and testing facilities in which we have invested heavily. North America is predicted to be our biggest market so plans are under way to open a dedicated US assembly and distribution facility in Florida in the near future, to facilitate a smoother delivery service for its customers in this region. Our US headquarters will service North, Central and South America as well as the Caribbean.

Do you anticipate any move towards offering more than one standard size for the engine? If so, why and for what new target market?
The CXO300 is the first in a series of high-powered performance diesel outboards to be developed by Cox Powertrain. We have plans to expand our product portfolio to offer more powerful outboards, primarily to accommodate the growing demand for higher hp and bigger vessels.

Crucially for commercial operators, the CXO300 offers at least a 25% better range compared to a gasoline outboard and is designed to last up to three times longer. The fuel savings are of course attractive, but what aspect of the design allows the engine to last three times longer?
Framed like that it would seem like the current gas outboard companies were not able to design a more durable engine, but the truth is that they simply haven't tried to because they are not targeting commercial applications. Current gas outboards are designed for the high-volume recreational markets, and as such they need to be cheap to appeal to the vast range of demand. Cox on the other hand has designed a product for the top 20%, the customers who are demanding enhanced features, quality and better service. To achieve this, we gave our engineering team a list of requirements that we knew the customers would either expect or positively value such as 1000h service intervals. The challenge for the engineering team is then delivering a product that meets these requirements within the package of gas outboard and with the minimum weight penalty. For example we knew the gearbox is generally the weak link in current gas outboards as a result of water ingress, requiring then a complete overhaul. Our gearbox has been specifically designed for our engine and we have engineered several features to first prevent water actually accessing the gear box but also thicker and deeper gear bevels. In addition to dimensional checks, given the potential for the generation of friction and wear in moving parts, particular attention is paid to components' critical surface roughness parameters.

What about weight difference – of the outboard engine itself and the fuel (gasoline vs. diesel)?
Keeping the weight low for the CXO300 has been one of the biggest challenges we have faced. Being our first product we preferred to err on the side of caution and have probably over engineered the CXO300, as a result of this our weight target for production is 838 lbs, similar to a 350hp gasoline outboard, however, we are confident that this will come down further as we bring out future generations of the CXO300.

Safety was a big issue for military operators when deploying gasoline outboards. Were military parameters a significant influence in this effort?
Absolutely. It was the military market who initially showed us the gap in the market for a diesel, high power to weight, performance outboard. With NATO also enforcing the single fuel policy, we wanted to provide military operators an alternative to inboards.

The CXO300 is said to have a 100% higher peak torque at the crankshaft than the leading gasoline 300hp outboards, which enables the craft to move more weight more efficiently, and reach peak torque and top power more quickly. For the non-engineer, can you explain that concept in layman's terms?
I'll try my best. Boat speed depends on how much blade surface your propeller has and how quickly it's spinning. This results in thrust that pushes the boat. Now if we consider that the bigger the propeller or the faster it spins (without slipping) the more hp we need, it then all comes down to: what does the power curve look like? Now this is when we get a bit geeky. Hp is a function of engine speed and torque, the higher the speed or the torque, the higher the hp, which translates into thrust onto the transom through the prop. A typical gas outboard will have very low torque and will spin up to 6000rpm, therefore you don't get any real hp, and thrust, until the engine is spinning at high rpm and consuming high levels of fuel. Diesel on the other hand has very high torque throughout the whole power curve and therefore delivers high levels of hp and thrust at low engine speed and continues to add thrust as the rpm's rise because the torque to stays high throughout the whole range.

Have you generated any sales as yet? If so, how many? And where, geographically and sector-wise (US / EU / Asia / etc), are these orders coming from?
Our order books officially opened in November 2018 and we have received a substantial amount of orders, with around 50% coming from the US and the balance from EU and Asia. Our production schedule for 2019 is currently full, so if you wish to order a CXO300 now, you will expect delivery in Q2 2020.

What steps have you taken to make sure that your customers receive an effective after-sales service?
After sales is one of the three pillars upon which we have built our business model. The whole reason the outboard market has taken over boat propulsion is as a result of ease of service and overhaul. Therefore, if our after sales service is not as good as our product, our offering will just crumble; our customers will only be happy if they can use the engine to go out to sea reliably. We have put in place stringent customer service milestones throughout our service network to try to offer a quicker service and more pleasant experience.

Diesels have a perception of being slow, producing black smoke on take-off. How does the CXO300 compare in that regard?
That is funny, being a marine person myself I've seen such engines and people approach me all the time assuming that it will smoke, and it'll be slow. I can guarantee the CXO300 is no smokier than a modern high-performance diesel V8 in car. The EPA emissions requirements on diesel engines are much more stringent than those on gas engines, therefore not only do we need to provide a very clean combustion for the pleasure of the operators but also because it is required by the EPA. As for the speed the reason people believe a diesel-powered vehicle will be slower than a gas-powered vessel is because they don't understand the role that the torque plays. The misconception comes from the automotive world where sports cars are predominately equipped with gas engines. While that makes sense for a vehicle with wheels on a hard and smooth surface, hence there is very little relative friction, a vessel is constantly going uphill since it needs to displace the water. What will determine the speed of a vehicle will be the speed that the shaft is spinning, and the torque required to get the vehicle moving. The CXO300 prop speed, with the lower 1.22 gear ratio, provides a similar prop speed as a standard gas outboard which is 3300 rpm, therefore there is no reason why the vessel with a CXO300 should not reach similar peak speeds as it would with a 300hp gas outboard. The only difference is that it will do so much quicker because the higher torque will get the vessel over the hump much quicker.
MarineNews readers can also learn more by viewing a recent Cox MR TV interview with Joel Reed. Click: https://www.youtube.com/watch?time_continue=3&v=eXyzNdrMrik to see the video.

This article first appeared in the June 2019 print edition of MarineNews magazine.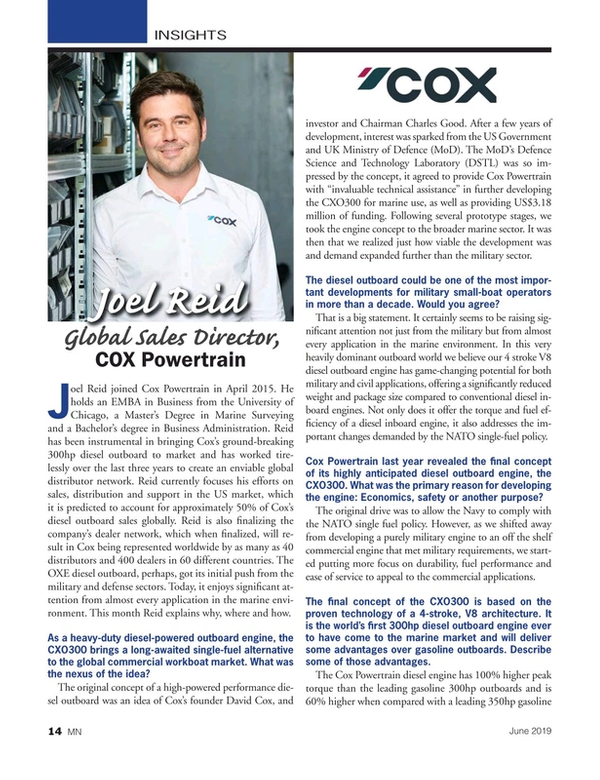 Read INSIGHTS: Joel Reid, Global Sales Director, COX Powertrain in Pdf, Flash or Html5 edition of June 2019 Marine News
Other stories from June 2019 issue
Content