BY THE NUMBERS: the OSV Markets
By Robert Day
US Offshore Support Vessel Analysis 2018 and 2019.

The US GOM Offshore Support Vessel (OSV) market is suffering, utilization remains poor, and many owners are still squeezed financially. However, a poor market forces people to adapt and for those willing to take risks, the upside can be extremely large.
US Owners 2018 vs. 2019: Within the US GOM, 2018 saw a period of strategic thinking and tactical business decisions. Tidewater Marine completed their merger with GulfMark Offshore to create the world's largest OSV player. With 250 vessels and a total fleet value of USD $1 billion, a new powerhouse was born to compete with the likes of Edison Chouest, both in the US GOM and globally.
Harvey Gulf successfully exited Chapter 11 restructuring within 77 days, with a clean balance sheet and fresh equity, ready for new business moves. Seacor Marine inked USD $130 million worth of new financing from a syndicate led by DNB Bank, looking to use some of the money for vessels acquisitions and growth. Hornbeck Offshore made an extremely well-timed purchase of 4 PSV's from fellow US owner Aries Marine for the bargain price of USD $36.6 million (Today's VV Value: USD 37.7 million).
2019 has seen a more offensive stance from US owners. Post-merger, Tidewater Marine has continued their aggressive scrapping of non-core tonnage, removing ~20 vessels from their fleet, explored possible acquisitions to renew the fleet, implemented their tier 1 OSV market standard and started to take advantage of their global fleet coverage (i.e. North Sea). Harvey Gulf continued exploring possible acquisition opportunities outside of the USGoM, notably looking to the North Sea, but nothing has materialized yet. They recently opened an office in one of the newest and most exciting oil and gas regions, Guyana, and won contracts both there and in Suriname. They have also expanded operations to West Africa, winning contracts in Nigeria. Hornbeck Offshore, one of the few US GOM owners to not utilize Chapter 11, announced a USD $100 million revolving credit facility with unnamed lenders.
In 2018 and 2019, US owners have been at the forefront of tackling this challenging market. Across the big pond in Europe, it's a very different story. European owners have not had the luxury of 'pressing the restart button' and utilizing the Chapter 11 process. Many still feel the effects from years of poor market conditions in the form of mounting debts and bank pressure. Examples include European titan Solstad Offshore who with USD $3.5 billion of debt on about 140 ships, admit they will need to undergo restructuring to improve their financial position. Market sources also suggest creditors could force Solstad to scrap their oldest vessels; as many as 25 ships.
Havilla Shipping who in May 2019 logged a net deficit of $10.5 million for 2019 and have put two nonperforming vessels on the market for sale under bank pressure. DOF warned in late May that it was unlikely to be able to pay back some of its bank loans and be in breach of covenants. Finally, in July, French OSV owner Bourbon Offshore had lenders Chinas ICBC Leasing demand repayment of debts. In October, Bourbon received a takeover offer from lenders as part of its restructuring plan.
European owners (especially the Norwegians) will not be able to ignore the changing face of the competition within the North Sea for much longer. Post-merger, Tidewater has streamlined not only its fleet but also its processes and operation, resulting in lower overhead and OPEX. In the North Sea, a post-Chapter 11 version of Harvey Gulf is primed to apply pressure to more traditional market players.
US GOM Utilization: Utilization has been an issue over the last few years in all operating regions, but none more so than the US GOM. VesselsValue calculates utilization by using recency of AIS, whereby any vessel that has not signaled for greater than 8 weeks is considered to be laid up. Anything else is considered working. Average utilization for the region in 2018 was about 60% and for 2019, utilization stands at about 65%; an insignificant increase, year-on-year. Actually, the US Gulf in both 2019 and 2018 had the lowest utilization and far below that of other international regions.
US Owner / US GOM Utilization 2019: Regional utilization is one thing, but company vessel utilization is also an important metric. Which companies have a fully functioning and working fleet and which have chosen to put large number of vessels into layup? In Tables 2 and 3, we can see that offshore titan Edison Chouest has the lowest fleet utilization out of the selection of owners. However, this is purely due to the size of the owner's fleet. They have the highest number of active vessels. Interestingly, Hornbeck Offshore have more vessels laid up than active, at 54% of their fleet in layup, whereas a smaller owner, Odyssea Marine, has 100% utilization of its 14-vessel fleet.
OSV Values: OSV values, especially PSV values, suffered heavily in 2018. The workhorse of the Offshore industry was affected by market transactions such as the four vessel enbloc bank driven deal of the Ram Nation and Ram Country (3,800 DWT, 2014/2015, Leevac) and Dwight S Ramsay and Betty Pfankuch (5,600 DWT, 2010/2011) for USD $36.6 mil. Also effecting values was the Lewek Aquarius (5,400 DWT, May 2012, Remontowa) being purchased for USD 11 mil SS/DD due, by REM Offshore. VV value's 'day before sale' was USD 14.8 mil. Over the course of 2018, VesselsValue data shows the value of a 0-to-5 year-old PSV dropped by ~20%.
2019 was slightly better year than 2018 for PSV values, but values did continue to soften. Indeed, VesselsValue data shows that over the course of 2019, the value of a 5-year-old PSV dropped ~10%.
Conclusion: US Owners have been extremely proactive over the last 2 years. Having adapted to the market, they are moving forward into 2020 and 2021 with renewed optimism and stimulation. However, all that glitters isn't gold, as the GOM as an operating region is still struggling compared to other global regions, and the global softening in values has done nothing for vessel and company values. Moreover, most reports suggest that US GOM oil production has been growing and shows no signs of slowing down. This growth has yet to filter down to the OSV owners and is unlikely to be seen in the short term which will continue to apply pressure to all owners. www.vesselsvalue.com
This article first appeared in the november 2019 print edition of MarineNews magazine.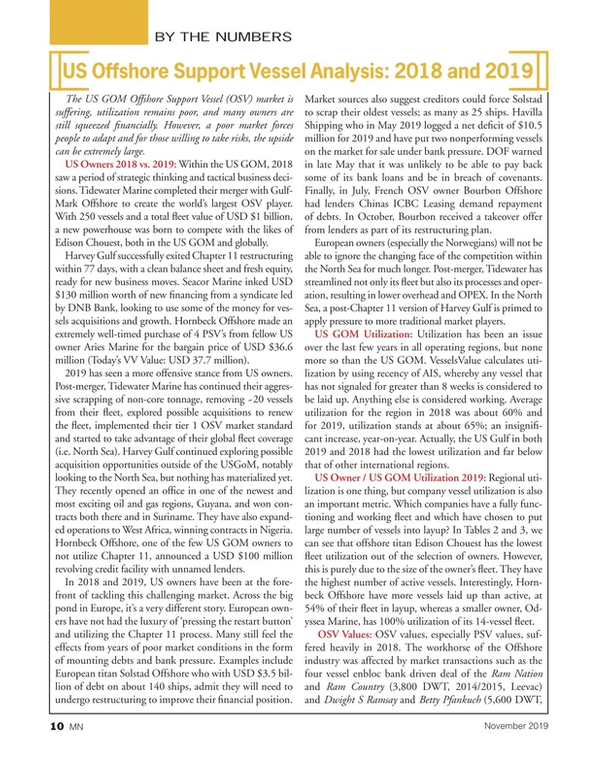 Read BY THE NUMBERS: the OSV Markets in Pdf, Flash or Html5 edition of November 2019 Marine News
Other stories from November 2019 issue
Content