Echo Voyager: New Frontiers in Unmanned Technology
By Kira Coley
Subsea technology has begun to change the way we explore, manage and defend the marine environment. Fleets of unmanned vehicles will create sensor networks above and below the ocean's surface and the ever-involving capabilities of these systems promise a future of robotic workforces completing dozens of complex tasks in challenging and dynamic marine environments. This will be especially vital in undersea defense as advancements in underwater technology brings about an age of stealth unmanned underwater vehicles (UUV) and intelligent submarines. The issue remains with reduced budgets and high associated costs of UUV operations from surface ships, hindering the speed to which an autonomous robotic future can be reached. Better known for their work in the Aerospace sector, Boeing aspires to deliver the defense and commercial sectors a game-changing UUV, in the revolutionary form of Echo Voyager.
Since the 1960s, Boeing has designed and operated manned and unmanned deep sea vehicles through the acquisition of Rockwell International legacy systems and U.S. Navy support programs. Currently Boeing offers three UUVs with varying capabilities: Echo Ranger, Echo Seeker and now, the Echo Voyager.
"We started off doing advanced underwater test shapes to support Navy Submarine hull design. Later in the 1990s, we started developing advanced autonomous underwater vehicles (AUVs) that can go out on their own from several hours up to a couple of days at a time," said Lance Towers, Director of Sea & Land research division, Boeing Phantom Works.
In 2001, Boeing's Echo Ranger UUV was built and contracted for ocean surveys and payload experimentation. The Echo Ranger is 18-feet in length and can operate at 10,000-feet depth. It was used in the Gulf of Mexico in concert with oil and gas companies for hydrographic surveys. These initial surveys allowed Boeing to learn how to give the later UUV systems capabilities which allow them to operate for longer periods of time and avoid obstacles.
Developed to undertake a variety of underwater missions such as infrastructure protection and subsea reconnaissance, Boeing's Echo Seeker UUV was introduced in 2015. The newest system brought increased operational depth to 20,000-feet, improved endurance and advanced payload capabilities.
While each vehicle offered significant improvements, Boeing still saw the Seeker and Ranger as test beds for continued advancement of the technologies. These vehicles only operate out at sea for a maximum of few days at a time, and they also required the assistance of a surface ship, adding dramatic overheads to UUV projects.
"The Seeker and Ranger operations were hugely valuable for our understanding of what our customers need. For example, in bad weather the vehicle would need to be recovered, placed on the ship and pulled into port to ride out the storm: you're still paying for the crew and ship time, regardless of if you're out at sea or in port. With all the experience from the first two UUVs, what we learned is that the operational cost for running underwater systems can be very high, limiting our customers reach. We felt it was important to come up with a game-changing advanced UUV that does not require surface ship support," said Towers.
Developed for civil and military intelligence, surveillance and reconnaissance (ISR) roles, the genesis of Echo Voyager was in 2011. Boeing had found a way to come up with the capability to allow maritime sectors to conduct today's missions, whether it is defense or commercial, in a far more cost effective manner. Echo Voyager introduces capabilities to the UUV realm which are not currently available.
The ability to wet launch from a pier, independent of any surface ship, significantly reduces the operational cost of missions. Due to its innovative modular design, the 51-foot autonomous submarine can also be maintained, refueled and repaired while in the water.
When it comes to the surface, it raises a mast and turns on a diesel generator, charging the lithium ion and silver zinc batteries that power the system while submerged. On the surface, it can communicate via satellite to offload data and download a new operational plan. Even at 50 tons, one operator can control multiple vehicles from anywhere in the world.
"The other game changing capability is that we developed a commercial interface for anybody's payload. Voyager can carry significant payload sizes from up to 30-foot long, 8.5-foot across in the payload bay: an equivalent to one and a half shipping containers," said Towers. "It has a tremendous amount of space and power that can be used for dozens of defence or commercial applications. In fact, it's about a factor of 100 greater payload space than other UUVs, as well as 18 kW of power."
Defense sectors all over the world are increasingly turning to unmanned systems to augment their manned capabilities. Until now, technological restrictions such as power and autonomous system integration have limited missions. The Echo Voyager negates some of these factors by offering a platform that can operate for up to 6 months at a time, powering vast payloads and travel up to 7,500 miles on one fuel tank.
"UUVs also need to operate in harsh environments. As you go deep, the pressure is significant – so at 10,000-feet below the surface you are seeing pressures of 5,000 pounds per square inch. Vehicles have to be able to withstand the pressure at depths, temperatures slightly below freezing and huge variations in these parameters," said Towers. "So, realistically we know things will fail. This is why we added several redundant systems which helps drive the vehicles size, but also so that you can lose a significant proportion of the systems and the vehicle will still come back. There are also six emergency backup systems: you can lose four primary computer systems and six emergency controllers and the last one will get the vehicle to the surface."
Over the summer, the Echo Voyager is scheduled for further testing and validation in Huntington Beach, California, when the vehicle will be placed in a large research pool. Once it is operating as desired, Boeing will then conduct open-ocean trials in Southern California, off the Islands of Catalina, and verify all the functionalities including depth of operation, avoidance and command control.
Towers said, "The intention for multiple customers is that we didn't want to develop the capability that only one customer would use, because that customer would pay for operational improvements. It's designed for defense, civil engineering, commercial and international, but there'll be multiple customers using this and sharing the cost of maintenance and upgrades over time. Right now we're focusing on working with different sectors to develop their payloads. Budgets are tight – Boeing funded these projects ourselves [no government backing or sponsorship]. We wanted to come up with the capability that allows a wide variety of customers to do today's missions at a far more cost effective manner."
In the short term, Boeing anticipates a wider use of these systems as the advancing capabilities of subsea technology allows us to extend out to different applications. Significant challenges must still be overcome, including vehicle maneuverability and cooperation between underwater systems for some more complex missions. However, as the technology advances, the way we use these systems will also reform how sectors operate. "Organizations such as NOAA currently complete fishing assessments with a surface ship using sonar systems, then deploy Remotely Operated Vehicles (ROVs). We have already demonstrated that by combining the sensors they use in our UUVs, we can gather the same data in less time using one platform. So, once the different sectors are comfortable with the technology, they will then start to re-evaluate today's processes and that is when we will really see defense, civil and commercial UUV operations at its best," said Towers.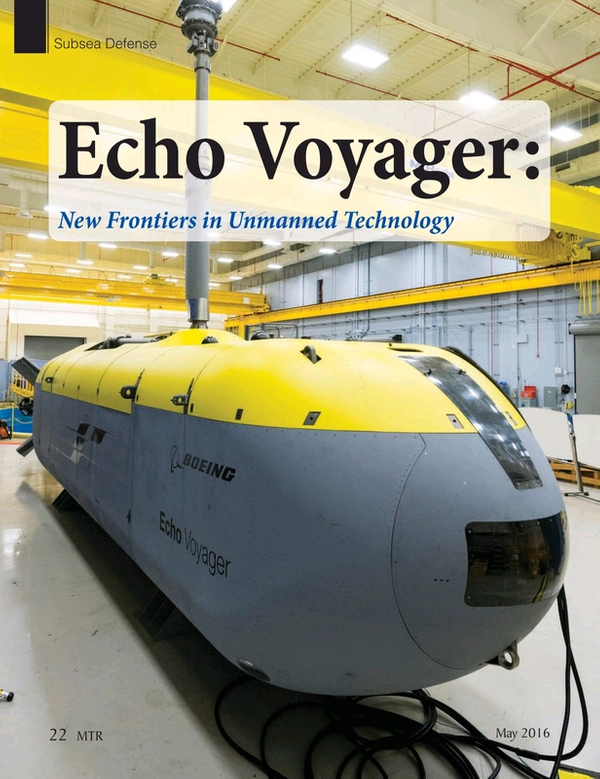 Read Echo Voyager: New Frontiers in Unmanned Technology in Pdf, Flash or Html5 edition of May 2016 Marine Technology
Other stories from May 2016 issue
Content