Norway's Subsea Valley Eyes the Future of Things
By William Stoichevski
"We're rolling in this downturn," beams Audun Martinsen, VP of analysis at Rystad Energy's harbor-front Oslo headquarters. Rystad has just opened in Rio and says demand for oilfield services stats from the Middle East is intensifying. Much of that interest is in Europe, where it'll be a while before the subsea segment fully recovers. Not sitting around, suppliers in Norway are designing smaller; targeting new markets and getting regulators to look at offshore rules changes that'll spur growth.
Blueye
One company trying new things and targeting the ocean space is Trondheim-based ROV start-up, Blueye Robotics. Despite displaying a "mini-ROV" at the Subsea Valley oil and gas show, project manager Christine Spiten says they're really marketing their ROV as an "underwater drone" for the mass consumer market.
"It's for exploring and inspecting out-of-the-way, not easy-to-get-to locations," she says. With one camera, a main thruster, two vertical thrusters and two GoPro cameras for quality, the Blueye is envisioned filming marine life; inspecting subsea infrastructure for gas leaks or surveying a ship's hull or harbor for the unexpected. The potential for this throw-overboard technology as a diver's companion is plain to see, as are its possible military applications.
Offshore, the Blueye could cheaply "supervise" the lowering of expensive subsea kit to the shallow-water seabed without calling on ROV expertise. At the sea bottom, LED lights could shine on suction piles or pipeline pigs or just illuminate organisms for the oceanographer, pro or amateur. Other markets, she confirms, are fishermen, harbors and biologists.
"We tested a lot of mini-ROVs," Spiten says, belying an interest in converting them for the consumer market, "But it wasn't fun (enough). Often there was just one screen and a lot of equipment to carry. We wanted ours to be as fun as flying a drone." Shipboard control is by tablet, joystick or virtual reality goggles via fiber-optic cable to the "drone" 100 meters down (max. depth). Projected price: $2,000.
EGGS Design housing
As if the Blueye wasn't small enough, a new version 30 percent smaller is understood to be under development for delivery next year, and the newest prototype was about to be shown when we went to print. It took 10 weeks to build a prototype, helped by local design consultancy EGGS Design — renderer of all from house-sized subsea manifolds and housings to handheld devices, rigs, and Rolls-Royce ship's bridges.
Kongsberg Maritime's Monitoring
Like the Blueye, Kongsberg Maritime's multiple-sensor enclosure, the K-Lander, could trim ROV costs for ocean monitoring that can reach $150,000 per day, according to VP, Subsea Monitoring, Soeren Themann. The K-Lander seabed observatory is the core of a Kongsberg Maritime subsea monitoring network, and starting this spring it will monitor the environmental impact of methane hydrate production. Methane hydrates are a "threat" to conventional oil and gas production for being so abundantly suspended in the world's northernmost oceans, including the coasts of Japan and Canada. This year's K-Lander "cage project" launches as we write and will transmit that environmental data from autonomous underwater vehicles, or AUVs.
Rambøll's "Wind" Platforms
Much of the effort nowadays by large subsea service providers and equipment vendors targets savings for oilfield operators. Getting in on projects early and standardizing designs are now known cost-cutters. Building things smaller; scaling back scope; eliminating duplicate engineering and documents or eliminating the use of costly vessels are the newest wave. Yet in Norway, where offshore fleet-owners are anxious, trimming back vessel use is a treasonous proposition. An idea that generates offshore fleet use is welcome, and Denmark-based wind turbine and offshore platform jacket designer Rambøll appears to have just the ticket: introduce to Norway simple "unmanned, minimum-facility platforms" which are ubiquitous in neighboring shallow-water oil provinces along with normally unmanned platforms. The platforms are understood to be considerably less expensive to build and operate than many subsea developments, and some 60-odd European oilfield projects are scheduled to be subsea tie-ins. Other subsea projects are shelved but would be feasible should Rambøll's Type O to Type 4 platforms be used. The idea has found major traction in Norway, where the Norwegian Petroleum Directorate has just disseminated Rambøll's report on the subject. Just five percent of Norwegian platforms are unmanned compared to from 25 percent to 30 percent in the Dutch, Danish and U.K. sectors, where water depths are often similar. Operator Statoil was convinced enough to order in December 2015 an unmanned wellhead platform, jack-up drill rig and one dedicated support vessel for the Oseberg Vestflanken 2 field development. The operator says $122m has been saved by opting for the concept.
W2Ws
"We're not trying to end subsea," says Rambøll administrative director for offshore pipelines, subsea and jackets, Henrik Juhl. Remote controlled operations at Rambøll-built platforms suggests "minimum service visits" due to the minimum of equipment at these facilities. The designs are "standardized" and those installed in the '80s are still in use. The Rambøll Type 4 design is the simplest and is used in the Gulf of Mexico without a helideck, accommodations or cranes. It means offshore ship owners' new, employment-saving "walk-to-work" vessels are used to ferry in specialists and supplies. There are five simplified platform designs, including a Type 2 pig launcher for pipelines with cranes and a Type O for up to 30 wells. For Norway, it's the wind industry's relatively incident-free, helicopter-free mode of accessing offshore wind turbines that might matter most. Some 91 European discoveries, Juhl says, are less than 50 km from technology-laden infrastructure, where these simple surface wellhead platforms could provide 26 to 52 ship visits or up to 3,000 hours of walk-to-work vessel time per-year, per-platform of up to 12 wells. Some 850 of Rambøll's 13,500 global workforce is committed to offshore oil and gas projects. Many more work in its wind-energy business.
It's unknown how long the oceangoing supply chain will continue looking at new markets or old ideas to boost business. Rystad's Martinsen says deferred offshore oilfield developments is only adding to "the jackpot waiting to happen" when demand for subsea suppliers again strengthens. By that time, more offshore service vessels, or OSVs, might be servicing more Rambøl unmanned platforms, and Blueye might be satiated by the consumer market alone.
"Offshore services need to survive 2016 in order to have a bright future," says Martinsen, who adds that a slow 2017 will usher in the "jackpots" of 2018-2020. We'll see whose jackpot it'll be.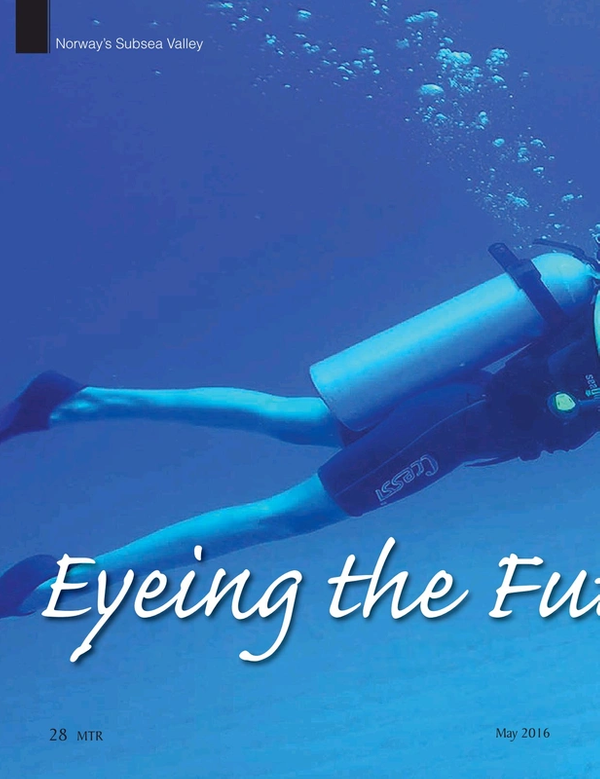 Read Norway's Subsea Valley Eyes the Future of Things in Pdf, Flash or Html5 edition of May 2016 Marine Technology
Other stories from May 2016 issue
Content