Erie Hack: The Start to the Smart Lake
By Max Herzog
Innovation has long been a part of life and work on the Great Lakes. The unique water resources of this region set the stage for technological advancement and continue to drive one of America's most dynamic regional economies. Despite their essential role in our commerce, industry and entrepreneurship, the Lakes are consistently undervalued as an economic asset and catalyst of innovation.
However, the systemic undervaluation of the Great Lakes has not gone unnoticed. The Cleveland Water Alliance (CWA), a collection of forward-thinking research institutions, industry leaders, environmental organizations and public utilities, came together to develop a new way of thinking about regional economic development. This framework focuses on creating a Blue Economy where innovating and monetizing solutions to water challenges replaces continued pollution of our resources as a key driver of prosperity.
DigitalC quickly saw the value of CWA's vision. As a catalyst of Northeast Ohio's civic technology ecosystem, DigitalC sees the Great Lakes as an opportunity to leverage big open data for positive community impact.
By bringing technology leaders together to craft digital solutions for water, DigitalC would help CWA accelerate the growth of a regional sector of data-driven solutions with the potential to ignite creativity and innovation across the nation.
It was this shared vision for community, economic and ecological development through the cultivation of an ecosystem of innovative water technology solutions that created the Erie Hack in early 2017.
Erie Hack was a $100,000 innovation challenge that activated more than 200 techies, creative thinkers, entrepreneurs and environmentalists from six cities around in the U.S. and Canada to tackle Lake Erie's key challenges with creative tech solutions. The competition quickly gained following, engaging more than 100 partner organizations as it put some of the region's best minds to work.
Many of the strongest Erie Hack teams focused on monitoring for nutrient pollution as a means to address harmful algal blooms (HABs), the type of ecological disaster that deprived Toledo residents of public water in 2014. Current research suggests that blooms of this scale will become an annual norm, threatening a regional loss of $1.3 billion over the next 30 years. This looming crisis has prompted the governments of Ohio, Michigan and Ontario to pledge a 40% reduction in nutrient pollution of Lake Erie by 2025.
CWA and DigitalC saw that the Erie Hack teams were onto something; projects funded by these regional governments, like the Sandusky Bay Initiative, are placing Lake Erie at the cutting edge of nutrient pollution mitigation, but there is a key piece missing. Nutrient data are not collected with the frequency or granularity required to understand the impact of individual projects or run data analytics to understand trends. Initiatives like Great Lakes Commission's ErieSTAT and USEPA's Nutrient Sensor Action Challenge show that important steps are being taken to address this problem, but an end-to-end monitoring solution has yet to be developed.
Having identified this need, CWA and DigitalC partnered with US Ignite to launch the Internet of H2O Challenge, a competition aimed at bringing next-generation networking, detection and analytics technology to bear on nutrient monitoring in Lake Erie. The partnership worked closely with the best Erie Hack teams and a handful of strategically positioned companies and research groups to populate this smaller challenge with pilot projects with the capacity to monetize and scale.
CWA and DigitalC are working with key local stakeholders at the City of Sandusky, Bowling Green State University, Heidelberg University and Great Lakes Observing System to enable participating teams to deploy their systems at existing research sites. These deployments will last up to a month and enable teams to leverage both their own data and data collected by research partners in their analytics.
Teams will also have access to a Software-Defined Network Infrastructure set up by Embedded Planet and WAN Dynamics to ensure that their data is kept secure and their solution is scalable.
In addition to awarding $50,000 in prizes to the winning teams, CWA and DigitalC plan to continue to accelerate their work by building a coalition dedicated to a "Smart Lake Erie." Groups like IBM, Great Lakes Protection Fund, the US EPA Innovation Team, Ohio Sea Grant, Cisco, Great Lakes Commission and Alliance for Coastal Technologies will continue to work toward a holistic monitoring system for the Lake. Currently, options are being explored for longer-term funding to accelerate, marketize and implement successful teams' technologies at scale so that they can have a concrete economic and ecological impact.
The sheer scale and energy of Erie Hack laid essential groundwork for the CWA and DigitalC vision. By forging transdisciplinary connections across the region and demonstrating the entrepreneurial and sustainability potential of water tech to a broad audience, each of the 42 competing teams played a role in elevating the conversation around the value of Lake Erie as a driver of innovation.
Now the best and brightest of these teams are pushing that vision forward with the Internet of H2O, diving deeper into one of the most challenging issues of our time and putting Lake Erie on the map as a hub of water tech innovation.
Tha Author
Max Herzog is Project Manage at the Cleveland Water Alliance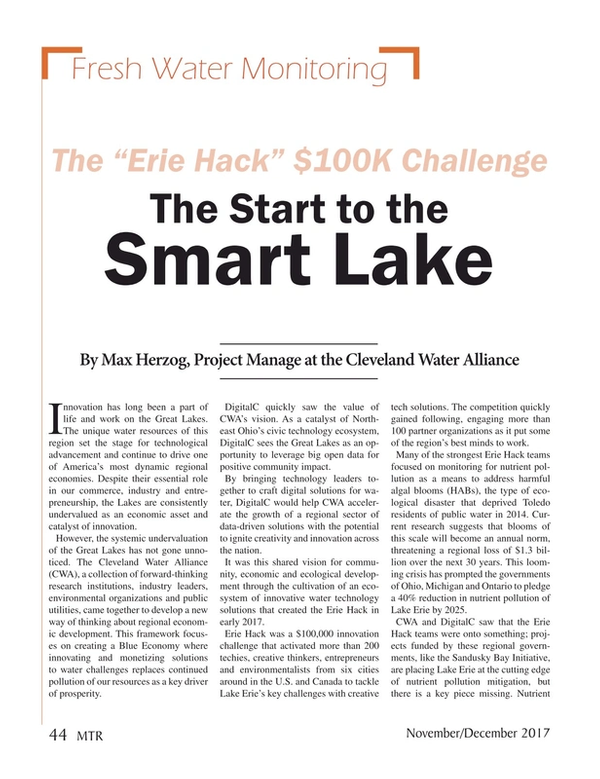 Read Erie Hack: The Start to the Smart Lake in Pdf, Flash or Html5 edition of November 2017 Marine Technology
Other stories from November 2017 issue
Content